Trust or Bust: What is Park Geun-hye's Real Nordpolitik? (Part II)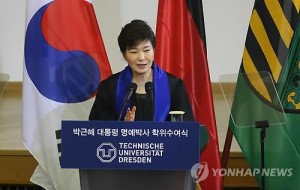 On March 28, 2014, ROK President Park Geun-hye made a much-trailedspeech in Dresden, Germany. To suggest that she "made history" is surely premature. Park was hardly the first ROK President—in fact, she was the fourth—to use reunified Germany as launching-pad for a volley of proposals targeted at North Korea: people-to-people contacts, enhanced co-operation, and so on.
The curmudgeons in Pyongyang weren't impressed. Korean Workers' Party (KWP) daily Rodong Sinmun snarled:
Park Geun-hye travelled around European states, churning out embarrassing words such as unification, co-prosperity and exchanges … We are seeing right through … Park's unabashed intention to harm us with poison embedded in her outward smiles.
Stripping out the hyperbole, might they have a point? Poison is over the top, but puzzlement is understandable. I too expressed this, in an earlier article.(This one is the second of a pair. You might want to read the other first, as it provides background for this one by examining the varied strategies towards North Korea pursued by the ROK's eight previous presidents). I wrote:
A year after Park Geun-hye took office … I can't for the life of me fathom what her policy towards North Korea really is. Her government has said many things, and done rather fewer. But they don't add up to a coherent whole. In fact they seem to pull in contrary directions.
What Park said in Germany can't be seen in isolation from the policies she's actually pursued on North Korea during her first year as President. The focus of this article is on those, rather than minutely parsing apart the Dresden speech as if it just fell from a clear blue sky. This exercise may help explain the North's surly reaction now. Ultimately deeds count for more than words.
Trustpolitik: Steering a Middle Course
Predicting how Park Geun-hye would handle the North seemed easy. She dropped two clues even before being elected President. For starters, she had visited Pyongyang in May 2002 and dined with Kim Jong Il; what would their papas have thought? People's Korea, a newspaper put out by pro-North Koreans in Japan (Chongryon), gave her an ecstatic write-up under the telling headline "Park Chung Hee's Daughter Goes to North," and pictured her smiling as she danced with a little girl at Mangyongdae Student Palace. A sourer Japan Times captioned the rather sartorially mismatched and wooden formal photo of Park and Kim—her style has leapt ahead since then; his, alas, never did—with the weird question, "Chip off northern bloc?"
First the visit, then the concept. In August 2011, Park, by then widely tipped as South Korea's next President, wrote a much-publicized article in Foreign Affairs. Entitled "A New Kind of Korea: Building Trust Between Seoul and Pyongyang," this coined a catchy new buzzword by advocating that "South Korea should adopt a policy of 'trustpolitik,' establishing mutually binding expectations based on global norms." The subtext was clear. Though a conservative, Park was distancing herself from the hardline incumbent Lee Myung-bak and signalling that her approach would be different. She spelled out her middle way, or at least what it wasn't:
Previous governments in Seoul have alternatively (sic) attempted to engage and deter Pyongyang. The ones that have emphasized accommodation and inter-Korean solidarity have placed inordinate hope in the idea that if the South provided sustained assistance to the North, the North would abandon its bellicose strategy toward the South. But after years of such attempts, no fundamental change has come. Meanwhile, the governments in Seoul that have placed a greater emphasis on pressuring North Korea have not been able to influence its behavior in a meaningful way, either.
If classically minded, you could call this a Scylla and Charybdis statement. Park was saying that, if elected President, she would plot a course somewhere between Lee Myung-bak's hard line and Kim Dae-jung's soft one. All would depend, then, on how she steered in practice.
Seek Sincerity? Get Real
Even as a concept, trustpolitik has weaknesses. Could the two Koreas ever really trust each other? And is trust the point? In a refreshingly iconoclastic op-ed last year, Chang Dal-joong, emeritus professor at Seoul National University, attacked what he called a "foreign policy mired in morality" and criticized President Park for demanding "sincerity" from North Korea and, indeed, Japan. In reality, "diplomacy is about eliciting a realistic compromise from limited possibilities." Not that this should exclude bold initiatives a la Kissinger and Nixon: "It is the destiny of a politician to cross the Rubicon without knowing what's on the other side."
Be that as it may, since Park's election in 2012 trustpolitik has become official policy. But Pyongyang hardly gave her a chance. As I detailed at the time, from early 2012, DPRK media broke a long silence on Park and began attacking her, nastily. On April 6 of that year, the inaptly-named National Reconciliation Council even called her: "a disgusting political prostitute." Shorn of the vile sexist slur, North Korea's rigid mindset couldn't grasp her subtle political dance over time in and around Seoul's conservative party, the better to capture it. The NRC complained: "She used to join hands with the conservative regime and ruling party when the situation turned favorable, but coldheartedly turned her back if she found it unfavorable even a bit."
Insults aside, this didn't seem a wise attitude towards a likely next President who was clearly offering them an olive branch. To her credit, Park was unfazed by this onslaught. She also remained calm when North Korea greeted her taking office in February 2013 with a war of words, wild even by Pyongyang's standards, plus one actual hostile deed: pulling all its workers out of the Kaesong Industrial Complex (KIC), the last remaining North-South joint venture. Why Kim Jong Un chose to posture and threaten all and sundry last spring is still obscure, but Park kept her cool and handled this, her first test, with aplomb. When the North finally backed off from its pointless hissy-fit, she was ready to talk. So far, so good.
Honey, I Shrunk the Agenda
Then the picture gets more mixed. Last summer's inter-Korean talks achieved their primary objective: to get Kaesong, up and running again. The KIC reopened by degrees from mid-September, under a new management structure that the South hoped would prevent any such trouble in future.
But the wider dialogue process involved a stumble and a puzzle. First, the planned high-level talks collapsed over a needless row about protocol, for which I fault Seoul (see here for why. The minutiae are complex, but the South saw a slight where none was intended. Also, to be told that Park "believes 'format governs contents,'" suggested an unhelpful formalist rigidity.)
When the two sides did get back together, the agenda mysteriously shrank. In June 2013, the South had been ready to discuss three issues: the KIC, reunions of separated families, and resuming tours to the Mount Kumgang resort, suspended since 2008. Yet by July, Seoul had changed its stance. It now insisted on settling things one at a time, refusing to link reunions and Kumgang—although the latter is the venue for the former. Pyongyang riposted by cruelly cancelling a family reunion in September at the last minute. This finally went ahead in February 2014, though that too was a cliffhanger owing to a familiar obstacle: annual joint US-ROK military maneuvers.
Soon after, in a March 1, 2014 speech marking the eponymous Samil anti-Japanese mass movement in 1919, President Park proposed regular family reunions, saying these "must no longer be isolated special events." (They were held regularly during 2000-07 during the sunshine era: a fact she didn't mention.) The North promptly nixed this. Most media reported simply that, implying that nasty Pyongyang was hanging tough again. But the Hankyoreh—a left-leaning source, but one whose current commentaries I find both sharp and fairly neutral—parsed the North's reported message carefully. There was the familiar objection to US-ROK war games as spoiling the atmosphere. Well, they'll soon be over. (In a similar vein, on March 17, 2014, Rodong Sinmun declared: "Had the U.S. cancelled Key Resolve and Foal Eagle … a decisive phase would have been created in improving inter-Korean relations"; while on March 27 the DPRK National Reunification Institute, whatever that is, in a diatribe, blamed the US for messing up North-South ties ever since 1948. This might be read as outreach to Seoul, in its way.)
But to return to the Hankyoreh, war games aside, the North's wider point as quoted was that:
[T]he [right] environment and atmosphere … is not currently in place … In view of the current relationship between North and South, major humanitarian issues such as scheduling regular divided family reunions are not of a kind that can be solved through inter-Korean Red Cross talks.
So not a blanket "no" to family reunions, but a demand for higher-level talks—last July and in February—to set a wider agenda. I'm not aware that Seoul has responded to this as such.
Kaesong: Would FDI Really Help?
But we are running ahead. To recap: Between last June and July, for some reason, the South changed its stance. Having been preparing to discuss at least a few issues at once, it switched to a more rigid and slower one-at-a-time policy. First up, was getting the Kaesong Industrial Complex working again. This has mostly been done. The new joint management structure, and pressing the North to allow essentials like mobile phones and the Internet—still a struggle: what century is Kim Jong Un living in?—strike me as the right thing, done in the right way. The one exception is Park's odd idea of internationalizing the KIC, which as I've argued elsewhere, seems doubly flawed. Few, if any, foreigners will come: why would they? And what basis is there to believe their presence would make the North behave any better?
With the KIC back on track, you'd expect a pro-active trustpolitik to be brimming with more ideas on how to take North-South relations forward. But you'd be wrong, at least until now (I'll get to Dresden later). Park's next priority was and is family reunions. But as we've seen, her new insistence on not discussing Mount Kumgang tourism at the same time, as she had been ready to do at first, surprised and angered the North. Hence cancellation, delay, and so far just one set of reunions with no schedule for more. I don't defend Pyongyang's playing cruel games with old people's grief, but I do understand their puzzlement and frustration.
Surely, restarting Mount Kumgang tours is an obvious way forward: a gesture to Pyongyang that would encourage reciprocation. And clearly Park has pondered this: as witness not only last June's aborted talks, but also the Ministry of Unification's latest Unification White Paper, published on March 24, which says Seoul will work for such a resumption. So what are they waiting for, exactly?
To Pyongyang—Via Moscow?
What else is happening? A stake in Rajin port, maybe. Putin's bizarre day-trip to Seoul last November produced an MOU for three ROK firms—steelmaker Posco, shipper Hyundai Merchant Marine, and state-owned KoRail—to invest in the recently rebuilt cross-border rail link from Russia's Khasan to Rajin port in the DPRK's Rason special enterprise zone. While interesting, it raises a few queries. First, it ain't a done deal yet: the companies sound cautious, unlike their government. Second, why does South Korea have to go through Russia to get into North Korea? Third: Doesn't this breach Seoul's May 24 regulations? That was the date in 2010 when Park's predecessor Lee Myung-bak banned all Southern trade with, and investment in, the North (except the KIC), as a reprisal for the sinking of the Cheonan two months earlier.
I've seen no good answer to these questions, especially the last. The Rason project, if it goes ahead, clearly breaches Seoul's declared business ban, which remains in force. Exempting Kaesong already made nonsense of this prohibition; although I'm glad Lee let the KIC live, or else the last remaining inter-Korean joint venture would have been lost. But why should Russia's Rason railhead be treated as a special case? There's no consistency in letting three big corporates break the ban, while pioneering small and medium enterprises (SMEs) who invested in the North outside the KIC were rewarded by losing everything, thanks to Lee, with zero compensation from Seoul.
Actually, Lee too was ready to make a Russian exception. Remember that gas pipeline? Had it happened, this too would have broken his own ban; but that seemed not to bother him. Some in Seoul go all mystical and misty-eyed about trans-Siberian trains. The late Kim Dae-jung called this an "iron silk road," linking Korea to Europe. In similar vein, last October, Park Geun-hye launched a Eurasia Initiative. Yet it's far from clear how this can make headway under current political conditions—as distinct from building a regional Northeast Asian economy, which is already under way. By contrast, talk of Eurasian land bridges is rhetoric, not reality.
True trustpolitik would, in any case, reconsider the May 24 measures, whose main result has been to shut ROK business out of the North and let China gobble up everything. Yet Park is still waiting for an apology for the sinking of the Cheonan. That'll be a long wait. She should learn from Chun Doo-hwan, who (as part one of this article noted) seized a Northern olive branch just a year after they'd tried to blow him up in Rangoon, and sought neither admission nor apology.
NGO Aid? Yes! Well Actually, No
What else would an active trustpolitik policy involve? One obvious step would be a green light to Southern NGOs, which used to aid the North and would like to start again. On this front, confusion reigns. Park and her government say they allow this, but in practice, they are picky—witness the recent fertilizer fiasco. On March 13, 2014 a consortium of NGOs abruptly cancelled a big ceremony to launch a campaign to send fertilizer to the North. Despite initial denials, it soon became clear they'd been leaned on: A week later ROK Unification Minister Ryoo Kihl-jae opined that "the timing isn't ripe" to send fertilizer. But why not? We're talking tiny quantities here: just 20,000 tonnes, not the 300,000 tonnes sent annually during the sunshine era, which ironically the unification ministry is still budgeting for even now in case things improve, muddying the waters even further. Nor is it convincing to wield a phoney distinction between humanitarian aid (good) and aid for development (bad). What's the problem? When will the time be ripe? Undaunted, the NGOs are still collecting fertilizer to send. Minister Ryoo should reconsider.
Just Call Me Peace Park
While eschewing obvious steps forward, the Park administration launches (or borrows) kites with no chance of flying, like a peace park in the DMZ. This idea has been around for a while, backed by the likes of Ted Turner. One sees the appeal, but let's get real here. How exactly do you turn the world's most heavily fortified frontier into a green oasis? Has the North ever shown any interest? Yet Park keeps trotting this out. MOU even budgeted 40 billion won for it, wasting everyone's time by making this manifest turkey a priority in its consultations with other ministries. In January, the National Assembly shaved 10 billion won off the peace park budget allocation, citing lack of feasibility. You could say that.
Now let's try to connect all the dots. Do you see a clear picture? I don't; just a peculiar mishmash. There have been some good things, but also much else that is variously confused, hyper-cautious, inconsistent, or plain eccentric. Trustpolitik can never grow that way. Unfreezing Mount Kumgang tourism, allowing business exchanges and NGO aid: each and all would make sense, so why aren't they happening? In Dresden, President Park did suggest expanding some civilian exchanges. Good idea, but why wait a year already?
Noodles for Sand
One recent episode sums up the absurdity of the current ROK policy, now even affecting the supposedly sacrosanct Kaesong zone. Firms building factories in the KIC are facing delays because sand is short. Or rather, they are only allowed to pay North Korea in ramen noodles and Choco Pies, not cash. No, I'm not making this up. The North needs money for diesel to run the machines that extract the sand. The South sends millions of dollars in cash for wages at Kaesong, and it's okay for Posco and others to sink up to $150 million into Rason because the President has a dream about Eurasia. But $50,000 for a bit of sand to expand the KIC? Verboten! It's just crazy.
Dying for Unification?
And then, on top, Seoul starts talking unification. It's long been problematic that both Koreas couch all their relations under the rubric of tongil (unification); when what they really need in the first instance is reconciliation between the two states, neither of which plans on ceasing to be. The discourse problem is inbuilt. Yearning for tongil can be as sweetly vague as motherhood and apple pie in the US. But it can also be sour, depending who's talking and who's listening.
Last December, Nam Jae-jun, who heads the ROK's pugnacious National Intelligence Service (NIS), gave his spooks a year-end pep-talk. Maybe he got carried away, but he was quoted as saying: "Unification is possible in 2015. Let's die together to bring about the unification of our land under liberal democracy!" As I commented before, except the last three words, that tone sounds all too menacingly North Korean. Forget trustpolitik: this means regime change. Nam was swiftly if mildly censured by colleagues like Unification Minister Ryoo and Foreign Minister Yun Byung-se, who said, "it is a little early to be talking about this at present." Too right, but it's a bad sign when the government teams are singing from different hymn-sheets.
A little early? Tell that to the President. This year, Park Geun-hye is talking up unification too. In a January 6 speech, she termed this a "jackpot … a chance for the economy to make a huge leap." This isn't the place for a cost/benefit analysis of unification, nor did Park offer one. But clearly she is serious. On February 25, she announced a new preparatory committee on unification, which she will personally chair. This appears to duplicate existing bodies like the National Unification Advisory Council (NUAC) and KINU, not to mention the Ministry of Unification. Strikingly, none of this preparation seems to involve the DPRK. The sound of one hand packing?
And so to Dresden. As stated at the outset, that speech is not the main concern of the present article, which is already long. Yet my overwhelming initial reaction has to be one of déjà vu.
To begin, the concept is hardly original. Three of Park's predecessors—most famously and substantially Kim Dae-jung in 2000, but also Kim Young-sam in 1995 and Lee Myung-bak in 2011—had already used visits to Berlin as a stage to reach out to North Korea. (Perhaps that's why Park picked Dresden as her venue instead, but same difference really.) While the symbolism is obvious, you have to wonder how this plays in Pyongyang. Today's reunified Germany is hardly A+B in terms of the two former states. They did not come together as equals: The GDR collapsed, and the FRG took over. It was miraculously peaceful, but most of the top East German elite lost their jobs—as North Korea's nomenklatura are well aware.
The substance was mostly old hat too. People-to-people interaction? This was well under way between the two Koreas during the sunshine era. Some of it begs questions—like proposing joint farming when you won't even allow fertilizer aid. She also offered to "invest in infrastructure-building projects … such as transportation and telecommunication." And: "Should North Korea allow South Korea to develop its natural resources, the benefits would accrue to both." True, and would already be accruing, as agreed at the second North-South summit in 2007, if only Lee Myung-bak had not reneged on such win-win cooperation by insisting the North must first lay down its nuclear weapons. That's a note Park has sometimes sounded too, but in Dresden, denuclearization appeared only towards the end; it seems not to be a precondition for her other proposals. Here, as elsewhere, clarity is needed on what Park is really offering, and under what conditions.
Calls for clarity are not new. Two weeks before Park Geun-hye won the presidency, North Korea's Committee for the Peaceful Reunification of Korea (CPRK) addressed a seven-point "open questionnaire" to her. As ever, you have to strip out much tiresome bombast and name-calling, but as I noted at the time some of the questions were fair ones. For instance: "Does she think it possible to have north-south dialogue and cooperation with 'May 24 measure' (sic) left intact?" In sum, while making no excuses for the DPRK's bad language and often provocative behavior, I do think they are genuinely unsure what to make of Park Geun-hye's plans for them. I share that uncertainty, and sadly, Dresden has failed to clarify matters.
With all previous ROK Presidents bar one, like them or loathe them, you knew where they stood on North Korea. That is crucial, if diplomacy is to have a chance; it's a necessary basis for trust. The exception was Kim Young-sam: one minute about to make history with what would have been the first ever inter-Korean summit, the next putting ROK forces on high alert after Kim Il Sung died. That confused and angered the DPRK. They couldn't figure the guy out: friend or foe? (Make that: good foe or bad foe?) They have the same problem now with Park Geun-hye. If she wants trustpolitik to work, and there is still time, she needs to review and take forward the issues broached above: above all Mount Kumgang, trade, and aid. That's a better way forward than firing off volleys of new ideas (some not so new), as in her Dresden speech. True, trustpolitik can only be conducted with North Korea as a partner, not a target. If these lessons are taken on board, then perhaps Dresden could mark a fresh start after all.