Korea's Changing Political Landscape: A 38 North Interview of Dr. Yoo Ho-Yeol with Mike Chinoy
"The military is the most powerful and well organized system instituted in North Korea and therefore, I think the North Korean system could be protected from outside aggression or invasion. It doesn't matter whether they have the nuclear weapons or not." ~ Dr. Yoo Ho-Yeol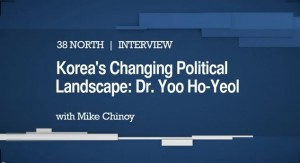 In the latest 38 North video, Mike Chinoy, Senior Fellow at the US-China Institute, University of Southern California sat down with Dr. Yoo Ho-Yeol, Director and Professor of North Korean Studies at Korea University to discuss the political transitions taking place on the Korean peninsula.
The interview is divided into four parts. You can watch them here or on our YouTube Channel 38northNK. Or download the transcript.
Part I (0:06) takes a closer look into Kim Jong Un's early months as leader—his hold on power, how he's navigating his family's legacy, and what policy directions he seems to be taking.
Part II (9:55) dives deeper into the question of North Korea's economy under Kim Jong Un. As economic improvement is largely believed to be a key test of the young leader's legitimacy in the long term, Dr. Yoo analyzes Kim Jong Un's willingness and ability to make economic changes in the current political environment.
In Part III (20:31), Dr. Yoo and Mr. Chinoy discuss South Korea's presidential candidates and the prospects for the North Korea factor to influence the upcoming election.
Part IV (27:00) takes a look at the North Korean nuclear issue, examining how US and Chinese foreign policy have influenced the North's nuclear stance and what is needed to make progress on this contentious issue.
---
Mike Chinoy is a Senior Fellow at the US-China Institute at University of Southern California. He was CNN's Senior Asia Correspondent and served as a foreign correspondent for more than thirty years. After joining CNN at its London bureau in 1983, Chinoy served as Beijing Bureau Chief from 1987 to 1995. During that time he covered the 1989 events at Tiananmen Square, earning the CableACE, duPont and Peabody awards. He was also Hong Kong Bureau Chief for five years. His other awards include the Silver Medal from the New York Film Festival and Asian Television Awards for his reporting in Indonesia and Taiwan. Chinoy's published two books, China Live: People Power and the Television Revolution (1999) and Meltdown: The Inside Story of the North Korean Nuclear Crisis (2008). He taught at the USC Annenberg School of Communication and ran the School's Hong Kong summer program 2007-2009. From 2006-2009 he was Edgerton Senior Fellow at the Pacific Council for International Policy.
---
Dr. Yoo Ho-Yeol is former Dean of the Graduate School of Public Administration of Korea University and a professor and director of North Korean Studies at Korea University. At Korea University he is responsible for teaching undergraduate and graduate students on the inter-Korean relations and North Korean politics and foreign policy since 1999. Prior to taking up his teaching position at Korea University, he served as a research fellow at the Korea Institute for National Unification (KINU). At KINU, he worked extensively on the relationship between North and South Korea as director of the Unification Policy Division (1998), the Office of Planning and Budget (1995-97), and the Information Management Division (1991-94).
Dr. Yoo will be President of the Korean Political Science Association in 2013, and has led various academic associations in the past, including the Korean Association of North Korean Studies (2008). He also is co-chairman for the nongovernmental organization Citizens' Unity for Right Society. He serves as a policy adviser for the Ministry of National Unification and the Ministry of Defense, as well as for the Unification Committee of the National Assembly. He is acting chairman of the advisory group in charge of planning & guidance for the National Council for Democratic & Peaceful Unification, and president of the Korea Policy Research Center, a private think-tank supported by the ROK Ministry of Unification. He was a visiting scholar at the Mershon Center of the Ohio State University in 2003-04.
Dr. Yoo received a B.A. and M.A. in political science and international relations from Korea University, and a doctorate in comparative politics from the Ohio State University. He is the author of Socialism in North Korea: Construction and Frustration (Seoul: Itreebook, 2004) and co-authored North Korean Policy toward Overseas Koreans (Seoul: Jipmundang, 2003) and North Korean Political System (Seoul: Eulyoo, 2000).