The DPRK Economy at a Glance
 A 38 North Interview of Dr. Yoon Deok-Ryong with Mike Chinoy
"There are many people who are waiting for real policy changes in North Korea because the North Korean government or the leader has promised something bigger in the future. But we don't see any concrete changes yet." ~ Dr. Yoon Deok-Ryong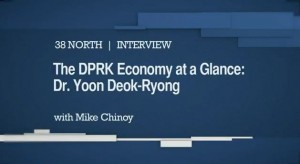 In this 38 North video, Mike Chinoy, Senior Fellow at the US-China Institute at USC sat down with Dr. Yoon Deok-Ryong, Senior Fellow at the Korea Insitute for International Economic Policy (KIEP), to discuss North Korea's economy both as it seems now, and its prospects for improving in the future.
Find more 38 North interviews here.
The DPRK Economy: 38 North Interview of Dr. Yoon Deok-Ryong with Mike Chinoy
Part I discusses the internal dynamics of the North Korean economy including the overall structural deficiencies of the current system, and the challenges facing Kim Jong Un as he works to legitimize his rule.
Part II (07:37) takes a closer look at the evolving role of markets and foreign investment in North Korea, and their potential to bring about overall improvements in the system.
Part III (13:47) examines the external factors affecting the North's economy, especially the role of China, South Korea and the United States.
---
Dr. Yoon Deok-Ryongis a senior research fellow at the Korea Institute for International Economic Policy (KIEP). Currently he also works as a member of steering committee of the Korea Investment Corporation (KIC), Korea's sovereign fund. He serves as a member of the advisory committee of Ministry of Foreign Affairs and Trade and Ministry of Unification. He was a member of the National Economic Advisory Council for the President. He also served as a Senior Advisor to the Minister of Finance and as a head of an evaluation team for public companies at the Ministry of Strategy and Finance. He is a member of several expert groups and advisory committees for diverse ministries and presidential offices in Korea.
Dr. Yoon was a visiting professor at the Paul H. Nitze School of Advanced International Studies (SAIS), Johns Hopkins University. He is also an invited professor at the Institute for Korean Unification Studies at Yonsei University. He received his B.A., M.A., and Ph.D. in economics from Kiel University in Germany. He was an executive director of PECC Korea and director general of APEC Education Foundation.
In addition to numerous papers and books, he is the author of "Asian Monetary Cooperation: A Search for Regional Monetary Stability in the Post-Euro and the Post-Asian Crisis Era" in Economic Papers (Bank of Korea 2000); "Searching for a Better Regional Surveillance Mechanism in East Asia" (HWWA, 2002); "The Role of Regional Development Banks: Financing for Development and Solidarity in East Asia" (Edward Elgar, London, 2003); "The Structure of North Korea's political Economy: Changes and Effects" (KEI, Washington DC. 2004); "How to Finance North Korea's Capital Requirements for Economic Recovery," (East Asian Review, Vol. 16, No. 2, 2004); "National Financial Revenue and Expenditure of North Korea" (KIEP 2005); "A Roadmap for East Asian Monetary Integration" (KIEP 2007); and "The Korean Economic Adjustment to the World Financial Crisis" (Asian Economic Papers, 2010).
---
Mike Chinoy is a Senior Fellow at the US-China Institute at University of Southern California. He was CNN's Senior Asia Correspondent and served as a foreign correspondent for more than thirty years. After joining CNN at its London bureau in 1983, Chinoy served as Beijing Bureau Chief from 1987 to 1995. During that time he covered the 1989 events at Tiananmen Square, earning the CableACE, duPont and Peabody awards. He was also Hong Kong Bureau Chief for five years. His other awards include the Silver Medal from the New York Film Festival and Asian Television Awards for his reporting in Indonesia and Taiwan. Chinoy's published two books, China Live: People Power and the Television Revolution (1999) and Meltdown: The Inside Story of the North Korean Nuclear Crisis (2008). He taught at the USC Annenberg School of Communication and ran the School's Hong Kong summer program 2007-2009. From 2006-2009 he was Edgerton Senior Fellow at the Pacific Council for International Policy.