A 38 North Interview of Park Cheol with Mike Chinoy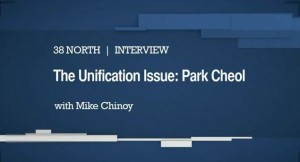 "Currently there is not much economic cooperation aside from the Kaesong Industrial Complex, but once inter-Korean relations are normalized and recovered, we expect economic cooperation between our countries to increase at least to the level of North Korea and China." ~ Park Cheol
In this 38 North video, Mike Chinoy, Senior Fellow at the US-China Institute at USC sat down with Mr. Park Cheol, Director, General Policy Division, Unification Policy Office, Ministry of Unification, to discuss inter-Korean relations in this first stage of the Kim Jong Un era, and the MOU's work to prepare for eventually unification.
The Unification Issue: 38 North Interview of Park Cheol with Mike Chinoy
Part I discusses his perceptions of North Korea's domestic situation under Kim Jong Un.
Part II (02:23) discusses the nature of inter-Korean relations since Kim Jong Un took power.
Part III (07:34) discusses the current work of the Ministry of Unification, including steps being taken to plan for an eventual unification process.
---
Park Cheol is the Director of the General Policy Division of the Unification Policy Office at the Ministry of Unification. He has previously served as Director for Exchange and Cooperation Planning Division at Inter-Korean Exchange and Cooperation Bureau; Director for General Management Division of the Inter-Korean Cooperation District Support Directorate; and Director for Education Planning Division of the Settlement Support Center for North Korean Refugees. Mr. Park holds a B.A. in Journalism from Seoul National University and an M.A. in North Korean Economy at the University of North Korean Studies.
---
Mike Chinoy is a Senior Fellow at the US-China Institute at University of Southern California. He was CNN's Senior Asia Correspondent and served as a foreign correspondent for more than thirty years. After joining CNN at its London bureau in 1983, Chinoy served as Beijing Bureau Chief from 1987 to 1995. During that time he covered the 1989 events at Tiananmen Square, earning the CableACE, duPont and Peabody awards. He was also Hong Kong Bureau Chief for five years. His other awards include the Silver Medal from the New York Film Festival and Asian Television Awards for his reporting in Indonesia and Taiwan. Chinoy's published two books, China Live: People Power and the Television Revolution (1999) and Meltdown: The Inside Story of the North Korean Nuclear Crisis (2008). He taught at the USC Annenberg School of Communication and ran the School's Hong Kong summer program 2007-2009. From 2006-2009 he was Edgerton Senior Fellow at the Pacific Council for International Policy.