North Korea Out of the Dark: The Story of the Pyongyang Business School
How a promising reform project brought good business practices to the world's most isolated country.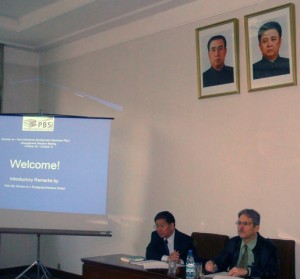 Rumors in early 2002 of upcoming market reforms encouraged me to accept a job offer as the North Korea country director by the global engineering giant ABB. After settling down in Pyongyang and seeing problems such as poverty in the countryside and food shortages, I realized that business education could be a panacea to a massive black hole in North Korea's development. With no end in sight, the North had, since the 1990s, been heavily dependent on foreign humanitarian aid. This problem motivated me to think up a cost-effective way to make food security more reliable and sustainable. I wanted to accomplish this by trying to reactivate the idle enterprises that were supposed to feed millions of employees and their families through the public distribution system (PDS).
North Korean authorities, with whom I spoke regularly, were also aware that a healthy economy would ease the chronic shortages. They did not want to drag along with what they called a culture of aid dependence. Still, finding solutions to the problem was easier said than done. The isolated business environment, marked by restrictive UN sanctions and, more importantly, an engrained fear of doing business in this demonized country, made it difficult to help legitimate North Korean companies purchase badly needed spare parts and raw materials. No sponsor or investor would put up millions of dollars to pay for those operations, especially in what they considered to be a risky market. We could, however, train managers to make the best out of the resources they already had.
With that in mind, I co-founded the Pyongyang Business School (PBS), which began trial seminars in 2004 and closed in 2010 after development assistance ended. At PBS, we tried to tackle one major problem: training North Korean executives who were familiar with receiving and executing orders in a centrally planned economy to take their own market initiative. To get their operations up to speed, they'd have to abandon much of the older draconian model, and become familiar with basic skills like accounting and controlling, marketing, supply chain management, and strategy.
That led me to draft the concept for a course geared toward managers, which contained the elements of most MBA degrees in other countries, but was aimed at experienced businesspeople. The school offered a one-year executive training program for 30 executives, about a third of whom were women. Every month it included a several-day-course. At the end of the program the participants earned a certificate. The school was standalone and not affiliated with any North Korean university, although it did report to the DPRK council of ministers, the North Korean version of government. I sent the idea to other groups that later became our sponsors: the Swiss government, a handful of multinational corporations, and the North Korean government.
Of course, our goal was never to foster a new business elite. We simply wanted to see North Korean managers optimize their practices, make hard currency earnings, and raise their businesses to a level fitting for international competition.
The North Korean government, on the other hand, was wary that we had an alternative agenda to subvert the political system. We put together pilot seminars to show that we, the Swiss initiators, had no strategic interest in North Korea. We wanted to demonstrate to the authorities that this was purely a business school, a provider of the hard skills that both private and state-run bodies needed. Whether they operated under a socialist or free-market system didn't matter.
We started with a very non-political subject, "Strategy and Strategic Management," and invited Professor Peter Abplanalp, a Swiss expert on business strategies, to hold a trial seminar. Peter had been working with Chinese educational institutions for many years; he was therefore sensitive to the similar political minefield that lingered in Pyongyang. Given his diplomatic tact, it was not surprising that the Chinese central government awarded him the "Dunhuang Award" and the "Friendship Award."[1] The latter is the highest honor given to foreign experts in China. It was thanks to him that we passed our first test with the North Korean government, and could get the school off the ground.
My main talking point in front of those wary North Korean officials was that the world's then best airline, Singapore Airlines, was state-owned. In 2004, Singapore Airlines had been lauded in the finance newspaper Euromoney, as "the best managed airline," and in the magazine Travel & Leisure as "the World's Best International Airline." We wanted to teach North Korean managers how to apply the same administrative know-how found in the Singaporean success story to North Korean businesses.
This Singapore anecdote could have been the motivation behind Air Koryo, to name one company, enrolling a senior manager in our business school. Another lure must have been my own activities representing since 2003 a number of multinationals in North Korea, which meant I was known in the DPRK business community. Local businesspeople saw this as a networking opportunity, and were interested in working with lucrative multinational corporations. The North Korean businesspeople and officials were also pleased that I could bring in knowledge from the outside world. That meant drawing on the resources of these companies such as easier access to know-how, investment, and foreign markets.
Nuclear Tests and Sanctions
Unfortunately, the raucous world of international politics threw a number of wrenches into our plans. After the North's first nuclear and missile tests in 2006, a number of multinationals and wealthy individuals changed their minds about sponsorship of the school. They feared getting caught in the middle of tightened sanctions and the bitter controversy that could ensue if they were perceived to be working with a "pariah" regime.
The project was in jeopardy, so I took extra pains to carefully select the lecturers. I mostly took on those with academic teaching backgrounds plus long-running business experience in Asia, in particular in China and Vietnam. As school director, I briefed them thoroughly on the sensitive political nature of their lectures, urging them, for instance, not to talk about South Korean chaebols (conglomerates) like Samsung and Hyundai. I often revised and sometimes censored their lectures and teaching materials accordingly.
Many of the teachers were high achievers in their respective industries. Most were from Hong Kong, but others came from other parts of the world. For example, one teacher of international marketing was a senior vice president at ABB, and a pioneer in developing new markets around the world. Others came from business backgrounds in Europe and Asia, with long careers at ABB, Siemens, Sony, and Apple. Yet another was a Singaporean, head of the Asian logistics center in Asia of SKF, the world's largest bearing manufacturer. He was one of the world's foremost experts in supply chain management.
I also invited the Swedish ambassador to the DPRK (and, by training, an economist) to talk about the European Union and its markets, business, and investors. Dr. Heinz Suelmann, Director of Human Resources Asia Pacific and member of the executive committee at BASF Asia, the world's largest chemical corporation, must have been the first person ever to talk about modern human resources management in North Korea.
With this colorful blend of nationalities and backgrounds coming and going on short lecturing trips, it was clear we carried no political agenda. We were very pragmatic, not following a single ideology—as were our North Korean partners.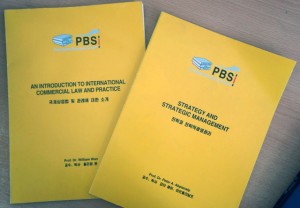 In the mid-2000s, one joint New Year's Joint Editorial in the country's leading newspapers—where the next year's priorities are outlined—mentioned that companies needed a strategy. It was the first instance, to my knowledge, when the concepts of corporate strategy and strategic management had been raised in a North Korean editorial.
The Party, it seemed, had learned about our strategy seminar and recommended it through the press. This seminar, and others, had indeed previously been translated into Korean and then published in English and Korean. We had distributed them widely to ministries, academies, universities, and enterprises throughout the DPRK.
Sending Students into Business
We placed several of our students in young business projects in North Korea. One became the head of the Korea Advertising Company, which was established in 2006. That year, the government-run Korea Central News Agency (KCNA) published a fascinating news item about the company. The article reported that the enterprise "which is doing commodity and trade advertising activities in a uniform way, makes and sets up advertising mediums of various forms and contents in streets, stadiums and international exhibitions and extensively advertising them through newspapers, TV and internet at the request of local and foreign industrial establishments and companies."
The Financial Times quoted another graduate of the PBS, Kang Chun Il, who said that the course had helped him "set high aims for the high-technology service center he manages, which offers a digital imaging facility and electronic reading room."
One of my finest students was in charge of a large Hong Kong-invested garment factory. The owners in Hong Kong told me that they were happy with their investment as the company had achieved a high level of competitiveness and that it became very profitable after its CEO was trained at the PBS. The company steadily increased its business volume over the following years and was able to hire more workers that it took well care of.
"Previously I hardly met people, but now I am able to interact and build networks. Thanks to this I got a partner in Hong Kong who invests into the construction of a factory here.""I did not know what a 'break-even point' is. Meanwhile I learned how to make profit and I analyzed the past 10 years of our business. This eventually helped me to manage a turn-around of our company".The above is testimony was offered by the heads of two North Korean companies who were students at the Pyongyang Business School (PBS), as to how they applied the lessons of PBS. Their statements were quoted by the Swiss governmental Development and Cooperation Agency in its "Asia Brief," published in January 2011.
I would sometimes bump into former students who, mostly with broad smiles, would happily tell me that they applied this or that lesson, which they had learned at the Pyongyang Business School, to their work. And with these lessons, they were able to increase productivity, reduce customer complaints, raise profitability, and so forth. The graduates and their companies seemed to have been energized thanks to the PBS, which was a good omen for an economy that had produced millions of jobless workers in the terrible crisis years of the 1990s.
The End of the Free Market Dream?
My involvement with the Pyongyang Business School ended in 2010, when the school was about to close. By the following year, the market-driven idealism of those earlier years had withered. Seminars ceased to be held on a regular schedule after the only remaining sponsor, the Swiss government, halted all its development cooperation at the end of that year, following a decision by the Swiss parliament. That's because a right-wing parliamentarian from the countryside—one with a rather trite worldview—persuaded the majority of the parliament that Switzerland should abandon working "with a totalitarian dictatorship which does neither respect human rights nor agreements regarding nuclear weapons programs and which is destabilizing the region."
From then on Switzerland limited its activities to humanitarian help such as supplying food. Basically, this meant that the government fell back into the fold of unoriginality that plagued the rest of Western aid organizations, a stance that was creating a "culture of dependence" for the North Korean people.
This experiment gave a push to at least a few North Korean businesses. Some of the students became change agents and pioneers in a business world stuck in the past, hopefully to the liking of Kim Jong Un, the country's young new leader who may pursue reforms in the future.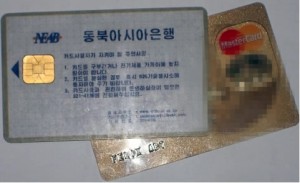 One visible change has emerged since PBS was in operation: local companies are getting more service-minded and mindful of market competition. There are, for example, two banks, fiercely competing with each other to get as many shops and restaurants to become their customers. PyongSu's pharmacies, for one, are now all equipped with the devices allowing customers to pay by debit card. The bank that introduced debit cards to North Korea was headed by a graduate of the Pyongyang Business School. I only hope that other businesspeople will pick up where I left up, and that more of these market changes will come.
Felix Abt, a Swiss businessman, is the author of the book A Capitalist in North Korea: My Seven Years in the Hermit Kingdom, released in December 2012.
---
[1] "The People's Republic of China Friendship Award" is China's highest award for "foreign experts who have made outstanding contributions to the country's economic and social progress" according to Wikipedia (accessed on December 21, 2012). Abplanalp got the award for training economic trainers ("training the trainers") mainly in the poor western Gansu province in the mid-1990s. One of his former students is today's governor of the Heilonjiang province.