The Fall of Choe Ryong Hae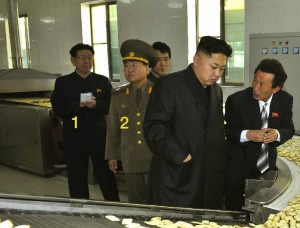 While speculation has swirled around the status of Vice Marshal Choe Ryong Hae for months, it is now certain that he has been replaced from his key post as Director of the Korean People's Army's (KPA) General Political Department (GPD). Choe's replacement, Hwang Pyong So, former first deputy of the party Central Committee's Organization and Guidance Department, was confirmed in a KCNA report on May 1 as the new head of the GPD. There is a herky-jerky quality to this personnel shift that is unusual, but so far no indication that it represents another broad purge such as occurred with Jang Song Thaek last December.
The formal shift may have occurred at a meeting of the Workers' Party of Korea (WPK) Central Military Commission (CMC) on April 26. The timing of that meeting was, itself, noteworthy, coming only six weeks after the previous CMC meeting. Publicized CMC meetings are a relatively recent phenomenon in North Korea; the pattern set over the past couple of years has been one every six months or so. The question, then, is what necessitated a second CMC meeting so soon, and was Choe's replacement—along with attendant problems—the cause.
The process of transitioning Choe out of the GPD, and perhaps equally important, figuring out a replacement, may have begun in February, when he dropped from public view. In late February, rumors circulated widely in Pyongyang[1] that he had been detained by State Security and his office searched.[2] If that indeed happened, Choe would have been regarded in the leadership as a marked man. Even having the rumors swirling around, however, suggested he had lost his footing in the leadership. Choe resurfaced on March 5, temporarily dispelling reports of his demise. He attended a meeting of the WPK Political Bureau on April 8, and the next day sat on the platform of the first session of the 13th Supreme People's Assembly (SPA), during which he was promoted to Vice Chairman of the National Defense Commission (NDC). A week later, on April 15, his on-deck successor, Hwang Pyong So, was promoted to a four-star general.
Subsequently, there was another string of events at which Choe seemingly should have appeared but didn't.[3] On April 26, North Korean media reported that Kim Jong Un had conducted an on-site inspection of an artillery sub-unit and expressed displeasure at the unit's performance. In particular, he complained that:
There are among some commanding officers practices of sending soldiers for other purposes and attaching less importance to the training. Of course, they might do sideline jobs for improving the living of service personnel and do their bit in building a rich and powerful nation as well. However, they should always give priority to making combat preparations.
And then in criticism that would seem to have landed directly in Choe's area of responsibility, he pointed out: "…the serious defects were manifested in the sub-unit's combat preparations because the party committee of the unit failed to successfully do the party political work, the work with the commanding officers and soldiers to help them perform their revolutionary duties."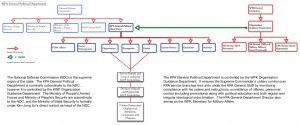 Reemphasizing that theme, the report on the unusually timed Central Military Commission meeting held on April 26 noted that Kim Jong Un "set forth important tasks" for "further developing" the military, stressing the need "to enhance the function and role of the political organs of the KPA" and noting "that the KPA political organs should conduct the political work in a fresh and dynamic manner to ensure that military affairs are carried out as intended by the party."
Possible Reasons for Choe's Replacement
The primary mission of the KPA General Political Department is to maintain the party's control and management over the KPA. Through a combination of ideological indoctrination, political education and surveillance, the GPD reiterates that the KPA is the "army of the party" and that KPA personnel's ultimate loyalty lies with the Suryong. This is the North Korean version of civilian control over its military and first line defense against a coup.
One reason cited in the rumors of Choe's detention in February was that he failed to boost the military's loyalties to Kim Jong Un. According to defector media,[4] KPA political lecturers were given literature which said, "the leadership system of the party in the people's army was not correctly established," and Choe assumed responsibility for that failure. Choe was also said in February to have violated the monolithic leadership system he was tasked to implement.[5]
Throughout 2012 and 2013, KPA personnel were mobilized to work on dozens of construction projects involving critical infrastructure (river dredging, power stations, hospitals, apartments/housing) and recreation facilities. These projects have been promoted as part of Kim Jong Un's benevolent leadership. Apart from Kim himself, there have been only two other officials reported as conducting on-site visits to guide economic work—the prime minister and Choe Ryong Hae, in his capacity as head of the GPD.
However, using KPA personnel in civilian-related construction projects has long been a bone of contention among the old guard in the KPA. As far back as the mid-1980s, there were signs that some in the military chafed at what they saw as over utilization of the troops in economic projects, to the detriment of their military missions. Choe's public association with these projects, along with the GPD's role in appointing and dismissing a number of high-level commanders and officers over the past few years, may have made him a controversial figure in the military.
At this point, there is no way of judging for sure how far he may have fallen. It is hard to believe that if his performance as GPD head was so objectionable that he will retain his post as National Defense Commission Vice Chairman. If he does keep that latter post, then alternate explanations for his dismissal as GPD head—such as health—will need to be examined.[6]
Choe Ryong Hae's replacement, Hwang Pyong So is both well-connected and well-qualified for his new job. He is also said to be mild-mannered and affable (unlike Choe who is reportedly austere and assumes an air of entitlement, in part, because of his revolutionary bloodline—he is the son of one of the leaders of the anti-Japanese guerrillas.) A classmate of Kim Kyong Hui's, Kim Jong Il's sister,[7] at Kim Il Sung University, the 67-year old Hwang[8] served as a deputy director in the WPK Organization Guidance Department since the mid-2000s with a portfolio that includes political management of the KPA. Hwang began escorting late leader Kim Jong Il during on-site visits and inspections at the same time Kim Jong Un was being groomed as a possible successor (around 2005). He was also tied to efforts to venerate the late Ko Yong Hui, Kim Jong Un's mother and beloved fourth wife of Kim Jong Il.

In fact, Hwang has greater experience than Choe working in the WPK's interface with the KPA as well as more connections with the military. His portfolio over the years has included some fairly sensitive intersections between the party and military including the WMD program (Hwang visited the KPA Strategic Rocket Force Command with KJU in February 2012), the Guard Command (which provides close protection escorts for senior officials, including those of the GPD) and KPA-owned economic sites. As one of the closest aides to Kim Jung Un era, Hwang has been privy to and vetted nearly every high command appointment.
---