The Future of North Korean Nuclear Delivery Systems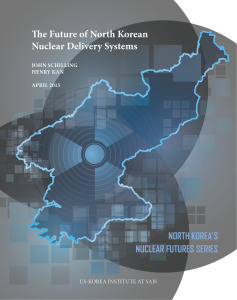 Pyongyang's inventory of delivery systems is a key factor in considering North Korea's nuclear future. While its current inventory is well developed, although limited to old Soviet technology only able to reach regional targets, North Korea has bigger ambitions and is seriously pursuing the deployment of more capable, longer-range, more survivable weapons. However, the future of its nuclear delivery systems remains uncertain given technical, engineering and other challenges the North will have to face.
This report details North Korea's current missile program and provides low-end, medium and high-end scenarios for its future delivery systems capabilities. In developing these projections, a number of potential constraints are considered, including engineering and technical challenges, access to foreign assistance and the regime's political and economic commitment to the modernization of its arsenal.
Download the report, "The Future of North Korean Nuclear Delivery Systems," by John Schilling and Henry Kan.
Find other papers in the North Korea's Nuclear Futures Series.