The Rise and Fall of General Hyon Yong Chol
Kim Jong Un dismissed Hyon Yong Chol as North Korea's minister of defense around April 30, 2015—this much we know, but little else about his fate is certain. South Korean intelligence reported the following month that the regime executed Hyon, but in truth, it remains unclear today if he is dead or alive.
If South Korean intelligence is correct, Hyon's death[1] would mark a grisly end to an illustrious military career[2] and feed into Seoul's narrative of a bloody wave of purges carried out by Kim Jong Un.[3]
But a number of signs suggest that the ROK government's report of Hyon's death is premature. North Korea has so far revealed no direct or circumstantial evidence to support the ROK National Intelligence Service (NIS) allegation, and the South Korean agency's past record does little to inspire confidence.[4] Moreover, no one outside Kim's inner circle knows what prompted Hyon's ouster, casting doubt on whether his presumed misstep justified the execution of a 66-year-old regime stalwart.
Hyon's dismissal and the appointment of General Pak Yong Sik as his successor—the sixth minister of defense since Kim took power just three and a half years ago—have had no observable impact on political stability in North Korea. Both were political non-events, as far as most ordinary DPRK citizens were concerned.
Kim retains a solid grip on power, using periodic purges of his senior aides to further cement his control. This constant reshuffling of North Korea's leaders is certain to stoke fear among party, state and military officials who must individually navigate the unpredictable and dangerous political environment. Some will redouble attempts at demonstrating their loyalty, potentially placing comrades in harm's way to prove their allegiance. Others may seek an early exit, opting to retire or attempting to defect.
Timeline: North Korean Defense Ministers during Kim Jong Un's Rule.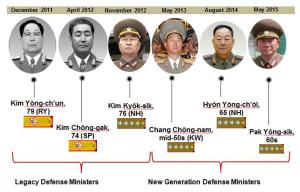 Hyon Yong Chol's Career
Hyon Yong Chol was an experienced and trusted military aide to Kim Jong Il,[5] who handpicked the seasoned general in 2010 to oversee his son's transition into leadership. Hyon, who served as Kim Jong Un's "left-hand man," never came across as someone who would contemplate a coup. In July 2012, Hyon joined just a few other military leaders to assist Kim Jong Un in removing Ri Yong Ho as chief of the Korean People's Army (KPA) General Staff.[6] After taking over Ri's job, Hyon "tamed" the General Staff and reasserted civilian control over both that office and the Ministry of People's Armed Forces (MPAF). When he became minister of defense in June 2014, Hyon nudged the incoming General Staff chief behind him in the military hierarchy.
Despite his meteoric rise during the leadership transition, Hyon endured considerable turbulence at the pinnacle of his career. He took his first public hit in October 2012, when he lost a military star after reportedly taking blame for a KPA soldier's bloody defection across the demilitarized zone.[7] Hyon took a second hit on April 30, 2013, when he lost another star and was transferred out of the General Staff to command the V Army Corps in Kangwon province.[8] Finally, Hyon lost his position as minister of defense around April 30, 2015, when he vanished from the public eye.[9] (Whatever the explanation for his latest misfortune, April 30 does not appear to have been a good date for Hyon.)
Yet Hyon was not necessarily executed. North Korea has not cleansed him from its public records as it wiped Ri Yong Ho and Kim's step uncle Jang Song Thaek from its official history. Official DPRK websites still reference Hyon by name, and state television continues to show him accompanying Kim Jong Un on past official appearances. There is no reason to believe that the Workers' Party of Korea (WPK) has changed how it handles the regime's political opponents. Unless it deletes Hyon's records at a later date, we must assume that he is still alive and Kim Jong Un simply replaced his defense minister, as he has done several times before.
So is Hyon permanently out? We need to wait and see.
Where's the Beef?
If Hyon is still alive, his political fortunes are a mystery. He may have been demoted in military rank and reassigned—as happened to him twice previously—or he may have been purged from the military and party and exiled to a remote area for "re-education." His punishment would depend on the nature and gravity of his offense, and outside observers do not yet know what that wrongdoing was.
Outside observers have proposed four explanations for Hyon's removal.
The regime found him guilty of "anti-party and anti-revolution crimes" or political disloyalty.
A number of South Korean media outlets suggest that the regime ousted Hyon after implicating him in behavior it considered questionable, disloyal or even treasonous. The Chosun Ilbo, citing NIS sources, claimed that Hyon was executed for "talking behind the young leader's back, failing to follow orders and complaining about the orders he was given."[10] The DailyNK, citing highly dubious "North Korean sources from South Pyongan and Ryanggang provinces," speculated that Hyon was purged for "acting as an autocratic warlord who refused to follow orders from the supreme leader"[11] and "did things on his own terms."[12] According to the NIS report submitted to the National Assembly on July 14, Hyon was allegedly publicly executed for some unspecified "anti-party and anti-revolution crimes."[13] Yet at present, we still have no direct or circumstantial evidence from DPRK official sources to substantiate these speculations.
In my judgment, Hyon would not have expressed disagreement with Kim or voiced a critique of the regime—either publicly or in private. The experienced general appeared savvy enough to know that any hint of personal disloyalty could cost him his life. On the other hand, if indeed Hyon had been charged with the "anti-party and anti-revolution" activities—one of the most serious political crimes in North Korea, even in a secret military court—the regime propaganda machine not only would have informed the people about it, but also capitalized on the "April incident" by portraying it as another "victory in the class struggle against the anti-party and anti-revolutionary elements, which will shine forever in the history of Kim Jong Un's illustrious party-building and annals of Korean revolution," and so on, just as it did in Jang Song Thaek's case. We have seen none of such propaganda justification for Hyon's ouster yet. Also, one can't dismiss the fact that, propaganda-wise, it would be highly counter-productive for the country's leadership to admit the persistence of the "anti-party and anti-revolution" activities within the WPK Politburo, NDC and CMC, in the year of the 70th anniversary of the victory of Korean revolution and WPK founding.
Pyongyang grew uncomfortable with Hyon's close ties with Russia, possibly implicating him in "state treason."
Many ROK experts regarded Hyon as "Moscow's man" in Pyongyang, just as they considered Jang Song Thaek to have advocated Chinese interests within the regime from 2011 until his arrest in 2013.
Kim Jong Un dispatched Hyon to Russia twice as his personal envoy—once in November 2014 and then again in April 2015—to discuss issues that included a possible resumption of Russian arms sales to the DPRK and a plan for Kim to visit Russia in May 2015. Pyongyang canceled Kim's trip this April, days after Hyon returned from Russia and around when he was removed.[14]
Hyon (1R) attends a reception honoring the 90th birthday of Russian Marshal Dmitry Yazov (1L) in Moscow, on November 8, 2014. Russian Defense Minister Sergei Shoigu (2L) is seen speaking with a microphone.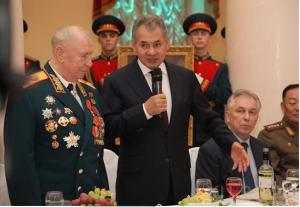 Hyon (1R) meets with Russian President Vladimir Putin (3L), Russian Defense Minister Shoigu (3R), and Chief of Russian General Staff Valery Gerasimov (2L) on November 8, 2014, at a reception held in Moscow to mark the 90th birthday of Dmitry Yazov, the last Marshal of the Soviet Union.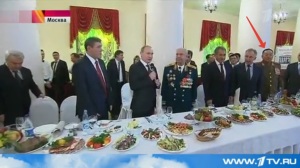 Hyon's ties to Russia may not have sat well with the regime's nationalist hardliners or its China sympathizers. The general's influence waxed and waned along with DPRK-Russian relations, and some Western observers speculated that he was canned for overselling Russia as a panacea for the North's woes—particularly its military modernization requirements.[15][16] Yonhap, meanwhile, curtly stated that Hyon was executed for "treason."[17] These experts expected Hyon's purge to weaken the "pro-Russia group" within North Korea's leadership and slow any DPRK-Russia rapprochement, just as Jang Song Thaek's execution undermined the "pro-China group" and led to a dramatic cooling in DPRK-PRC political relations.[18]
Still, no credible evidence links Hyon's dismissal to his extensive Russia ties. In my judgment, Hyon's dismissal is unlikely to have any material impact on the DPRK-Russian relationship.
Russian Ambassador Alexander Matsegora greets Hyon at the Russian Embassy on March 31, 2015.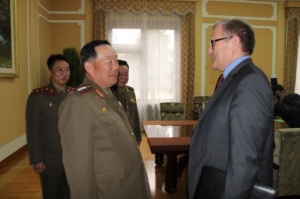 Ambassador Matsegora bids farewell to Hyon as the general departs for Moscow from the Sunan International Airport in Pyongyang, on April 13, 2015.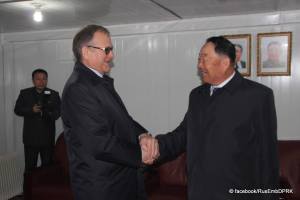 Hyon speaks at the 4th Moscow Conference on International Security (MCIS) in Moscow on April 16, 2015.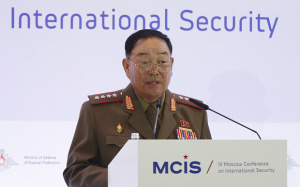 Hyon meets with Russian Defense Minister Sergei Shoigu in Moscow on April 15, 2015.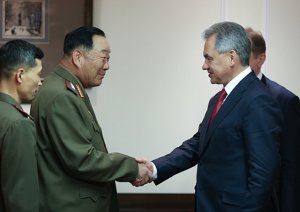 Hyon was ousted as a result of institutional party-military politics.
This hypothesis attributes Hyon's disappearance to the intransigent conflict between civilian party officials and military brass for control over North Korea's armed forces. Professional military cadres of the MPAF and KPA General Staff traditionally wage this latent battle with the political officers of the General Political Department (GPD), an office responsible for maintaining the ideological purity and political loyalty of MPAF personnel and General Staff officers.
Some evidence indicates that GPD Director Hwang Pyong So attempted to cut senior officers off from Kim Jong Un, presumably so he could turn GPD into a gatekeeper for all military contacts with the supreme leader. The below photo suggests that Hwang began inserting himself between Hyon and Kim several months ago. Hyon's purge, then, may simply have been the final step of a process in which he was gradually distanced from the supreme leader.
Hyon (1R) sits to the immediate left of Kim Jong Un at the third meeting of KPA battalion commanders and political instructors, held November 3-4, 2014.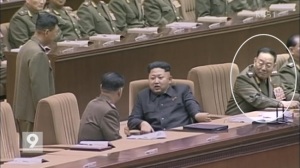 Hyon (1L) is seated next to Hwang Pyong So—no longer next to Kim—at the Fifth meeting of training officials held in Pyongyang on April 25, 2015.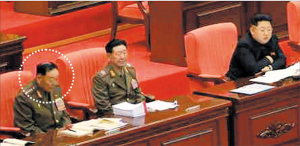 A power struggle between Hwang Pyong So and Choe Ryong Hae claimed Hyon as a victim.
This hypothesis characterizes Hyon's downfall as the result of a behind-the-scenes power struggle between Hwang Pyong So and another political rival: WPK Secretary Choe Ryong Hae. Hyon might have fallen victim to a palace intrigue orchestrated by Hwang, who primarily wanted to undermine Choe and root out the party secretary's supporters from the ranks of the legacy military brass.
A "Politics of Ranks" or a "Politics of Fear"?
Hyon's sudden ouster likely undermined the self-confidence of the KPA top brass and eroded the institutional foundations of the DPRK's military-first (songun) politics because it was done with an apparent disregard for the traditional bureaucratic process and standing operating procedures employed in the past. In the West, the development undermined contentions that the military calls the shots in North Korea.
If Hyon was only demoted, his reassignment could be interpreted as an example of Kim Jong Un's "politics of ranks" designed to keep the military "on a tight leash." His demotion would not be unusual even in this case, as it had happened to Hyon before in May 2013 (when it took place without public announcement).
If Hyon was purged and exiled or executed, his elimination could be considered part of a "politics of fear" intended to keep the military under Kim's thumb.[19] In such a case, one would also wonder why General Kim Kyok Sik, another former defense minister and chief of General Staff, passed away just days after Hyon's removal. He ostensibly died "from a natural cause," but doubts would persist.
What It May Mean
Western powers tend to interpret purges within Kim's inner circle both as signs of latent political instability and as evidence of his regime's willingness to betray even its most ardent supporters in order to survive. Both presumptions may encourage Western officials to favor "wait-and-see" strategies over new attempts at engagement.
Within North Korea, however, Hyon's spectacular rise and fall represents nothing extraordinary, especially after Jang Song Thaek's and Ri Yong Ho's purges. Still, it is a reminder to the nation's elites that Kim's arbitrary leadership style places a sword of Damocles over the head of every high-ranking official.
Kim's constant reshuffling of senior leadership assignments suggests he has not yet found military advisers he can trust and who execute orders as he wants. Meanwhile, the continuous churning at the top places extraordinary pressure on military leaders to protect their positions through outstanding performance and demonstrations of personal loyalty. The resulting atmosphere of competition undermines morale, breeds uncertainty and fuels debilitating fear.
—————————————————–
[1] James Pearson, "North Korea executes defense chief with an anti-aircraft gun: South Korea agency," Reuters, May 14, 2015, http://www.reuters.com/article/2015/05/14/us-northkorea-purge-idUSKBN0NY01J20150514.
[2] Hyon's prior roles included Chief of Staff of Pyongyang Defense Command, Vice Chief of General Staff and Director of KPA General Reconnaissance Bureau, VIII Army Corps Commander, and Director of General Bureau for Defense Mobilization served on North Korea's National Defense Commission and Central Military Commission, and as an alternate member of the Korean Workers Party Politburo.
[3] On July 9, South Korean Foreign Minister Yun Byung-se said North Korea has executed 70 officials under the current supreme leader, seven times the number reportedly killed during the early reign of his father.
Tong-hyung Kim, "Seoul: North Korean leader has so far executed 70 officials," Associated Press, July 9, 2015, http://bigstory.ap.org/article/c36a80a281f64f93b4e2c1f69fc02181/seoul-north-korean-leader-executed-70-taking-power.
[4] There is reason to doubt ROK media reports of elite-level purges in the North that base their findings on accounts from North Korean defectors or NIS sources. On July 9, Pyongyang publicly denied the veracity of ROK conservative media claims that Colonel-General Pak Sung Won, a former deputy chief of the KPA General Staff, had defected to a third country during a reported visit to Moscow last April. According to KCNA, Pak continued to lead construction work around the Masik Pass Ski Complex. On July 8, First Vice-Minister of Defense Colonel-General So Hong Chan, who had allegedly been "publicly executed," later re-appeared in the company of Kim Jong Un during his visit to the Kumsusan Palace of the Sun on the day marking the anniversary of Kim Il Sung's death. The re-emergence put to rest all ROK innuendoes that Colonel-General So was dead, purged, or even in trouble. He still has the supreme leader's trust.
[5] Hyon was one of five individuals Kim Jong Il promoted to the full general officer rank together with his son and sister Kim Kyong Hui on September 27, 2010, as a sign of special trust, in addition to Choe Ryong Hae, Kim Kyong Ok, and Choe Pu Il. He was one of five generals, in addition to two civilian appointees (GPD Directors Choe Ryong Hae and Hwang Pyong So) and two legacy military professionals (Kim Chong Gak and Hyon Chol Hae), whom Kim Jong Un personally promoted to the rank of vice-marshal.
[6] Hyon also supported the December 2013 arrest of Jang Song Thaek, step uncle of Kim Jong Un and a Vice Chairman of the National Defense Commission.
[7] The KPA serviceman shot and killed two of his senior officers in the middle of the day and made his way through the only transport strip between two Koreas which was not covered in land mines. See "N.Korean Army Chief Demoted After Defections," Chosun Ilbo, October 11, 2012, http://english.chosun.com/site/data/html_dir/2012/10/11/2012101100931.html.
[8] At the time, outside observers speculated that Hyon might have been unseated by Jang Song Thaek, who was digging a hole underneath Hyon's "good friend" Choe Ryong Hae. Hyon was Choe's protégé and an obstacle to his own ambition to expand his influence over the military.
[9] He was last seen before the demotion at the Mangyongdae Prize final soccer match observed by Kim Jong Un at the Yanggakto Stadium in Pyongyang on April 29 (Rodong Sinmun, April 30, 2013, p. 1), whereas he failed to attend the mass army-people rally in front of the Kumsusan Palace of the Sun, delivering Kim Jong Un's appreciation letter to the builders of its square, which was attended by all senior political and military leaders on April 30 (Rodong Sinmun, May 1, 2013, p. 1).
[10] "Kim Jong-un Continues Reign of Terror," Chosun Ilbo, May 14, 2015, http://english.chosun.com/site/data/html_dir/2015/05/14/2015051401073.html.
[11] Song Min Choi, "Hyon's execution referenced in NK lecture," DailyNK, May 15, 2015, https://www.dailynk.com/english/read.php?num=13191&cataId=nk01500.
[12] Ibid.
[13] "국정원 "北, 현영철 반당·반혁명 분자로 총살" Chosun Ilbo, July 14, 2015, http://news.chosun.com/site/data/html_dir/2015/07/14/2015071402430.html
[14] Timothy Heritage, "North Korea's Kim Jong Un Cancels Trip To Moscow: Russia," Reuters, April 30, 2015, http://www.huffingtonpost.com/2015/04/30/kim-jong-un-cancels-moscow-trip_n_7179522.html.
[15] "Kim Jong-un Continues Reign of Terror," Chosun Ilbo, May 14, 2015, http://english.chosun.com/site/data/html_dir/2015/05/14/2015051401073.html.
[16] A Hong Kong-based Phoenix TV reported that Hyon Yong Chol made the request to purchase four S-300 long-range launch units and their missiles when he visited Russia in April 2015, but Moscow was not impressed with Pyongyang's proposal involving the sale of mineral resources for the weapons and rejected a barter deal out of concern that it could negatively impact the "strategic balance" in Northeast Asia and cause alarm in China and other countries. Julian Ryall, "Did Kim Jong-un snub Putin because Russia refused to sell him anti-aircraft missiles?" The Telegraph, May 4, 2015, http://www.telegraph.co.uk/news/worldnews/asia/northkorea/11581247/Did-Kim-Jong-un-snub-Putin-because-Russia-refused-to-sell-him-anti-aircraft-missiles.html.
[17] "N. Korea confirms replacement for purged defense minister," Yonhap, July 11, 2015, http://english.yonhapnews.co.kr/northkorea/2015/07/11/0401000000AEN20150711002600315.html.
[18] Hyon's abrupt dismissal surprised outside observers, who had seen him meet days earlier with Russian Defense Minister Sergei Shoigu and Chief of General Staff Valery Gerasimov. On April 16, Hyon delivered a major policy speech at the Moscow International Security Conference. His unexpected downfall raised questions about how seriously the international community should take the DPRK's negotiators: do they really represent North Korea's leadership, or could they simply be dead men walking?
[19] Hyon's dismissal could rank as the most senior-level purge since the removal of former Chief of the General Staff Ri Yong Ho in July 2012 and the execution of Kim Jong Un's step uncle Jang Song Thaek in December 2013.