Central Military Commission Signals Growing Strength in Peninsula's Latest Crisis
On August 20 and August 27, Kim Jong Un convened an unprecedented pair of meetings of the Workers' Party of Korea (WPK) Central Military Commission (CMC), the top body responsible for implementing WPK political directives in North Korea's military. From 2012 to 2014, the CMC gathered twice a year, about once every six months. The August meetings took place within a week of each other, by contrast, bringing this year's total to three after a gathering held in late February.[1]
Kim ended the CMC's first August meeting by acting, with the body's assent, to place the DPRK on a heightened war footing against South Korea. The move came days after the ROK government blamed North Korean land mines for injuring two of its border guards and, responding to the perceived aggression, began to pump provocative information and music through its loudspeakers at the DMZ.[2] In an agreement finalized on August 25 to reduce tensions, the DPRK admitted and expressed regret for planting the land mines, and South Korea agreed to cease its loudspeaker messages.
Two days after the deal was reached, the CMC held another meeting where it replaced several members, according to state media.[3] The personnel changes and the commission's high profile role in the crisis reflect broader indications that Kim is building the CMC into a more inclusive and powerful organization.
Figure 1. Kim Jong Un presides over the emergency CMC meeting on the evening of August 20, 2015.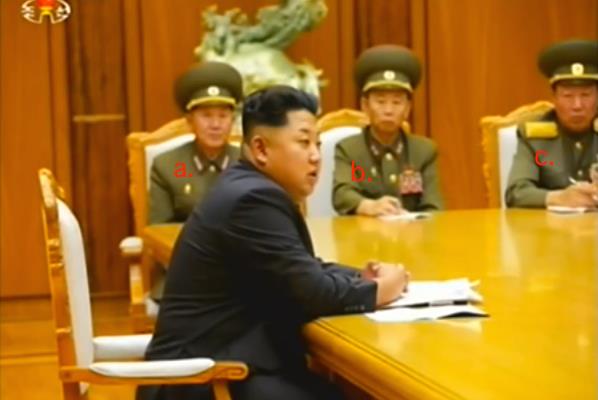 Background
At the CMC's first August gathering, the body assented to a Korean People's Army (KPA) Supreme Command order in which Kim Jong Un declared a "semi" state of war between the DPRK and ROK. Hinting at an atmosphere of unusual gravity, DPRK state media reported that the August 20 meeting occurred at 9:30 p.m. Korean Standard Time in the main conference room at Kim Jong Un's headquarters in central Pyongyang.
In observance of the Supreme Command order issued that evening, KPA's forward-deployed forces mobilized onto a wartime footing. In an English-language report, the Korean Central News Agency (KCNA) said that the Supreme Command order "set forth the duties and tasks of officials in charge of external affairs to fully lay bare the truth about the prevailing situation caused by the enemies' undisguised and surprise aggression."[4]
Figure 2. Kim Yang Gon (a) speaks during the August 20 emergency meeting of the CMC.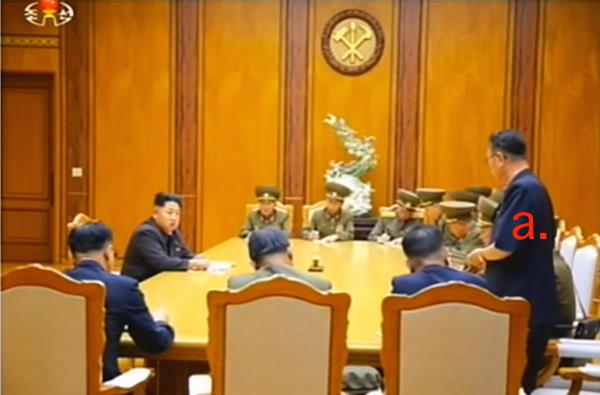 Despite the bellicose overtones of DPRK state media reporting, North Korea's coverage of the commission's proceedings includes, in hindsight, subtle hints of the country's imminent conciliatory gestures to Seoul. For example, Korean Central Television (KCTV) news footage of the August 20 CMC meeting showed Kim Yang Gon, a senior civilian intelligence manager who has long handled DPRK-ROK relations for Pyongyang.[5] While holding the official titles of WPK Secretary and Director of the United Front Department, he also plays a lead diplomatic role; in fact, KCTV photographs suggest he was the August 20 meeting's sole participant with a hand in North Korea's external affairs. Days later, Kim Yang Gon would serve as the civilian member of a two-person DPRK delegation to the North-South interactions that ultimately stamped out last month's crisis. The North's military representative in those August 23-25 interactions was Vice Marshal Hwang Pyong So, Director of the KPA General Political Department and CMC Vice Chairman. The presence of both men at the August 20 meeting appears to indicate a level of CMC involvement in adjudicating last month's inter-Korean dispute.
Figure 3. Participants at the August 20 CMC meeting.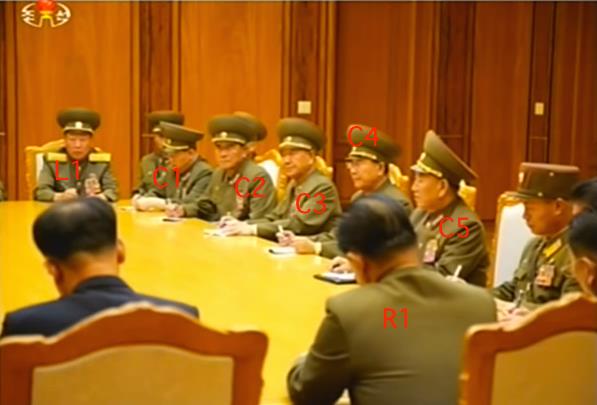 In another hint of the CMC's growing importance, its August meetings included participants who were not members of the organization. The first of the two gatherings reportedly involved an "expanded" roster of participants; while its attendees numbered no more than 20, officials with only peripheral links to the military were still able to attend and participate.[6] Since his 2011 accession, Kim Jong Un has held several "expanded" CMC meetings with participation from ground corps and other service unit commanders; operations commanders; mid-level officials of the KPA General Political Department; and central party cadres from the WPK Organization Guidance Department, the WPK Military Affairs Department, and the military-industrial complex. The attendance list at last month's CMC meetings was broadened further to include "officials in charge of external affairs" (i.e. the WPK United Front Department, the WPK International Affairs Department, and the DPRK Foreign Ministry), cabinet ministry officials, and chief secretaries of the WPK's provincial committees.
Figure 4. Kim Jong Un presides over the August 27 expanded CMC meeting.

Who Left? Who Joined?
Determining who was dismissed and appointed at the August 27 CMC meeting is complicated by the fact that North Korea's state media withheld identities of the gathering's participants. Specifically, the KCNA news item about the second August meeting merely notes that some CMC members had been removed from their positions in the body. This ambiguity, which appears to be a matter of conscious intention on the part of the DPRK's core leadership, has contributed to confusion in foreign media reports about which officials were dismissed.
It is important to note that DPRK state media seldom disseminate a full list of CMC members. The notable exceptions[7] were after the 3rd Party Conference in September 2010 and the 4th Party Conference in April 2012.[8] During the last three years, approximately 12 officials have been dropped from the CMC.[9] Still, North Korea's occasional past disclosures about the CMC's membership together provide a good working foundation to predict the organization's present composition.
Figure 5. The CMC's probable membership as of September 2015.

Like the WPK Political Bureau and the National Defense Commission, the CMC fills its seats with incumbent senior office-holders. In the CMC's case, members are drawn from uniformed military and civilian officials who lead the ministries, agencies, and commands that comprise North Korea's national security community. There is no reason to think that Kim Jong Un dramatically altered the formal CMC membership or broke the precedent of previous appointments at the commission's August 27 meeting.
Because certain CMC appointments routinely go to holders of specific positions, the latest membership alterations can be partly surmised from recent high-level changes to the KPA General Staff personnel responsible for command, control, planning, and operations of North Korea's conventional military forces. Since December 2014, Kim Jong Un and his close aides have dismissed and appointed more than half a dozen different military commanders, including leaders of the North's naval and air forces, the head of military operations, the head of the artillery command, a commanding officer of a special operations forces (SOF) unit, and all but two of the vice chiefs of the KPA General Staff.
Gen. Hyon Yong Chol's removal as defense minister earlier this year, for instance, strongly suggests that he has also been dismissed from the CMC. In May, word of Hyon's ouster from his position as minister of defense made international news headlines, along with the grisly rumor that Hyon had been executed by anti-aircraft artillery. Whatever Hyon's fate,[10] he was replaced as defense minister by Gen. Pak Yong Sik. Therefore, Pak was most likely elected as a CMC member at the August 27 meeting. Also presumably removed from the CMC was Vice Admiral Kim Myong Sik, who was dismissed as commander of the KPA Navy in February. He was replaced as Navy commander—and likely also on the CMC—by Vice Admiral Ri Jong Su, who concurrently serves as a vice chief of the KPA General Staff.
Another likely CMC elimination is Kim Kyong Ok, a leading Kim family political enforcer who appeared with Hyon on the same September 2010 military promotion list that formalized Kim Jong Un's leader-in-waiting status by elevating him to the rank of general. Kim Kyong Ok served from 2008 to 2014 as senior deputy (first vice) director of the WPK Organization Guidance Department, overseeing a portfolio that included internal security, the personal security escort for the core leadership (including the Kim family), and military personnel appointments. Rumors of the official's ouster surfaced in defector media during the fall of 2014.[11]
It is also reasonable to assert, with a moderate degree of confidence, that a number of CMC members were dismissed at the August 27 meeting as scapegoats for a decision to plant land mines at the DMZ. This shake-up appears to have been a cosmetic personnel change that was most likely part of the agreement between North and South Korea to ease tensions. It is important to note, however, that Pyongyang watchers are operating with a significant knowledge deficit because the identities of CMC members prior to the August 27 meeting were not always known.
The CMC's other dismissals and replacements will probably only become clear through DPRK state media coverage of KPA-based events, or of large national events such as a central report meeting to mark the 70th anniversary of the Workers' Party of Korea. Alternately, the identities of current and former CMC members may surface if the position of senior members of the DPRK national security community is disclosed through routine news reports, particularly on Kim Jong Un's on-site visits and military field inspections.
Conclusion
Personnel changes, whether to the CMC itself or to the KPA high command, might lead some Pyongyang watchers to conclude that there is volatility in the DPRK's political culture, especially in the upper echelon of the country's national security community. While there is indeed a degree of volatility, it is entirely machinated by Kim Jong Un and his closest aides.
The CMC shake-up that followed last month's inter-Korean tensions must be considered in relation to the recent expanded participation in its meetings, and to the non-military policy issues (such as foreign relations and flood damage) that appeared on the CMC meeting agendas on August 20 and 27. By connecting these little dots, this analysis concludes that Kim Jong Un has turned the CMC into the DPRK's primary institution to formulate and communicate policy, at least publicly. If this interpretation proves accurate, the body has grown into a powerful organization, the membership and activities of which, merit serious attention from the outside world.
____________________
[1] This was not the first time during 2015 that the core leadership convened unusual high level meetings. The WPK Political Bureau held two meetings within a week of each other on February 10 and on February 16. Kim Jong Un attended only the second (February 16) Political Bureau meeting.
[2] Specifically, South Korea reportedly played K-Pop music selections, news bulletins about the success of ROK cultural and economic activities overseas, and radio essays about the Pyongyang leadership neglecting the plight of North Korean citizens. See Park, Boram. "K-pop brandished in psych battle with N.Korea," Yonhap News Agency, September 6, 2015. http://english.yonhapnews.co.kr/national/2015/09/04/32/0301000000AEN20150904006400315F.html.
[3] The August 27 CMC meeting reportedly also addressed an undisclosed "organizational matter." Based on how state media reported the proceedings of the August 27 meeting, that issue appears unrelated to the CMC personnel changes.
[4] "Kim Jong Un Guides Emergency Meeting of the CMC," KCNA, August 21, 2015.
[5] Kim Yang Gon's presence at the August 20 CMC meeting might seem incongruous. However, Kim has previously been identified as having the position of Councilor of the National Defense Commission, which shares joint command and control over the North's military forces. Therefore, this was not Kim's first time at a civil-military power organization's gathering.
[6] Among those attending the August 20 CMC meeting were: Gen. Jo Kyong Chol; Col. Gen. Choe Pu Il; Lt. Gen. Pak Jong Chon; Gen. Kim Won Hong; Vice Marshal Hwang Pyong So; Gen. Ri Yong Gil; Gen. Kim Yong Chol; Yun Tong Hyon; Lt. Gen. Kim Chun Sam; Kim Yang Gon; Hong Yong Chil; Pak Chun Sam; Jo Ryong Chol; and, Ri Pyong Chol.
[7] The DPRK also disclosed the CMC's membership twice during the 1990s.
[8] This is due to reporting protocols in which the proceedings and results of the party conference are disseminated through state media.
[9] For an interactive graphic of the CMC's membership (charting changes between 2010 and early 2014), see Rockwood, Bill. "Inside Kim Jong-Un's Military Shake-Up." Frontline: Secret State of North Korea. January 16, 2014. http://www.pbs.org/wgbh/pages/frontline/foreign-affairs-defense/secret-state-of-north-korea/inside-kim-jong-uns-military-shake-up/.
[10] Interestingly, a man closely resembling Hyon Yong Chol appeared to be in attendance at the August 27 CMC meeting when photographs of the meeting were aired on KCTV's news broadcast.
[11] Kim Kyong Ok may have been removed from the CMC in February 2015.