North Korea Still Faces Significant Challenges in Developing a Sea-Launched Missile: Expert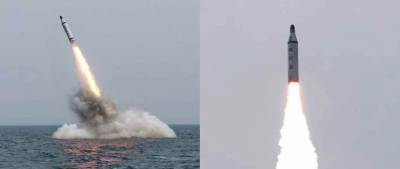 North Korea conducted what appeared to be another test of a submarine-launched ballistic missile (SLBM) off the east coast on Saturday, according to South Korea's Joint Chiefs of Staff and a report by Seoul's Yonhap News Agency. The missile was reportedly fired from Sinpo, South Hamgyong Province, at around 11:30 a.m. KST. The test came one day after the US and South Korea announced an agreement on the deployment of the Terminal High Altitude Area Defense (THAAD) system. An operational sea-launched missile, because it could be launched from different areas around the peninsula, would be one approach to overcome such a defense.
"Little information is available about North Korea's submarine-launched ballistic missile (SLBM) test yesterday beyond that the missile launched successfully and then broke up or exploded at about ten kilometers altitude," said John Schilling, an Aerospace Corporation Satellite and Launch Vehicle Propulsion Systems Specialist, and frequent contributor to 38 North, a project by the US-Korea Institute at Johns Hopkins SAIS. "We may learn more in the days ahead if more information becomes available. Nevertheless, it appears that the increased pace of testing of North Korea's Musudan missile is not limited to that program. It is quite possible that there will be more frequent SLBM tests and failures as well. Even with frequent testing, North Korea's SLBM program still faces significant technical challenges and will likely require several years to deliver an operational system."
Sinpo Shipyard is located on the east coast, and is the primary manufacturing facility for North Korea's submarines. An analysis of satellite imagery in January indicated that the shipyard was undergoing upgrades in preparation for a significant naval construction program. A report in May showed continued progress, and two weeks later on May 17, camouflage netting was spotted on the deck of a submarine, ostensibly meant to conceal ongoing development at the shipyard.