Sensationalist Squad: Olympic Coverage of DPRK Team Misses the Mark
Ah, North Korea at the Olympics. A chance for the world's media to see the DPRK's fittest citizens up close and ponder how unusual a country it is. Yet missing from all this hype, is just how normal the role of sports is for North Koreans.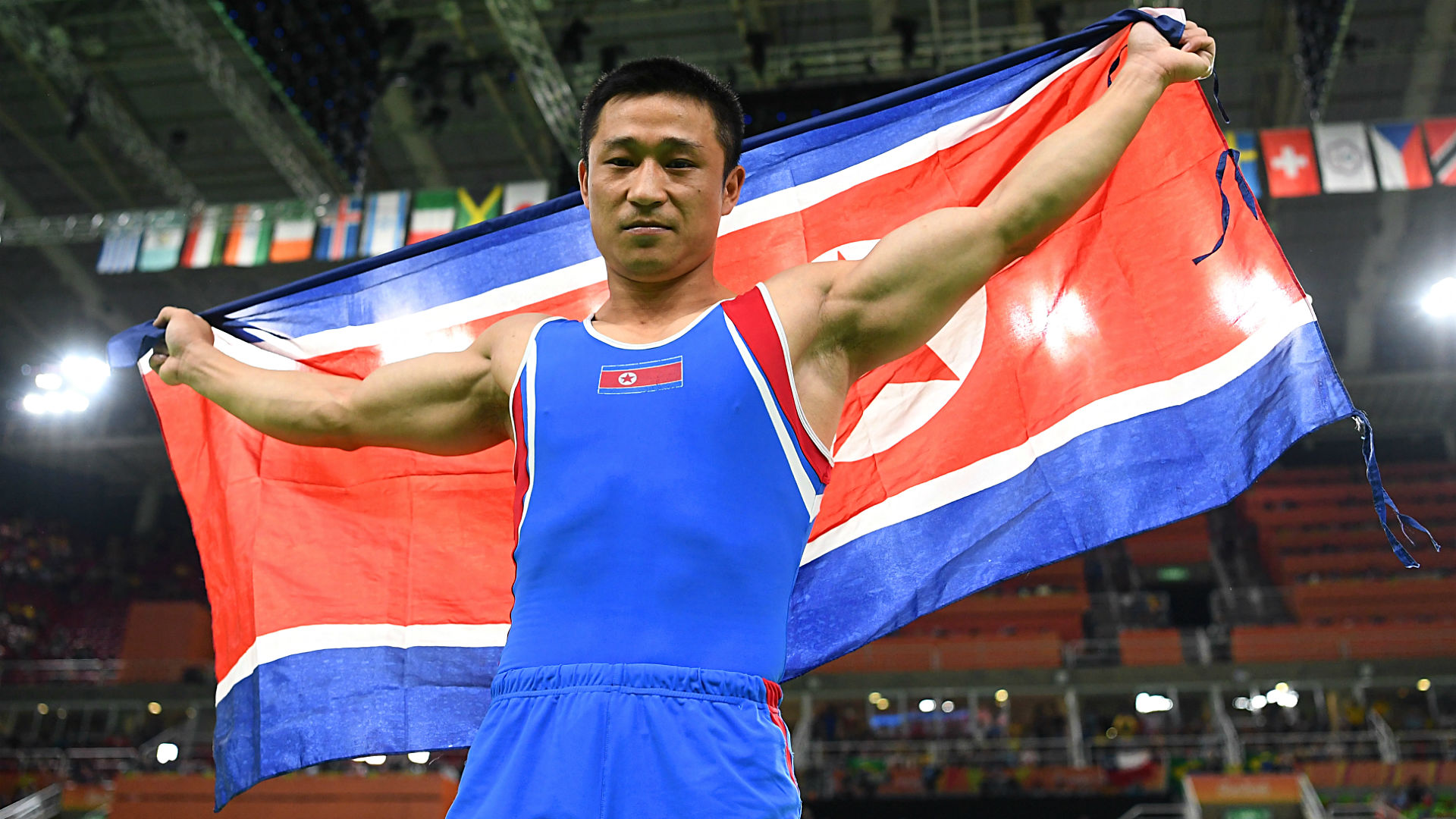 At each Olympic games, the media unavoidably get a little obsessed and speculate—sometimes wildly—on the North Korean athletes: their thoughts, their motivations, and their potential fate. This is for a few reasons. First and foremost, these are sports writers and generalists, not usually Northeast Asia based or focused correspondents, who can generally better understand the nuances, dead-ends and cultural barriers covering North Korea. The only North Korea stories journalists covering the Olympics write are, well, at the Olympics, once every four years. So when North Korean gymnast Ri Se Gwang didn't smile much, despite winning a gold medal for men's vault, the media guessed it was because of how oppressed he feels.[1] When the North Koreans weren't marching in the opening ceremony with the Samsung phones given to all athletes by the Olympic partners, the media speculated it was "likely in an attempt to control their access to information. Tight control may be part of an effort to prevent defection."[2] The former sentence is probably true, the latter probably isn't. The biggest reason was probably that carrying the symbol of your rival and enemy country's greatest corporate success is a worse public relations look than not carrying them at all.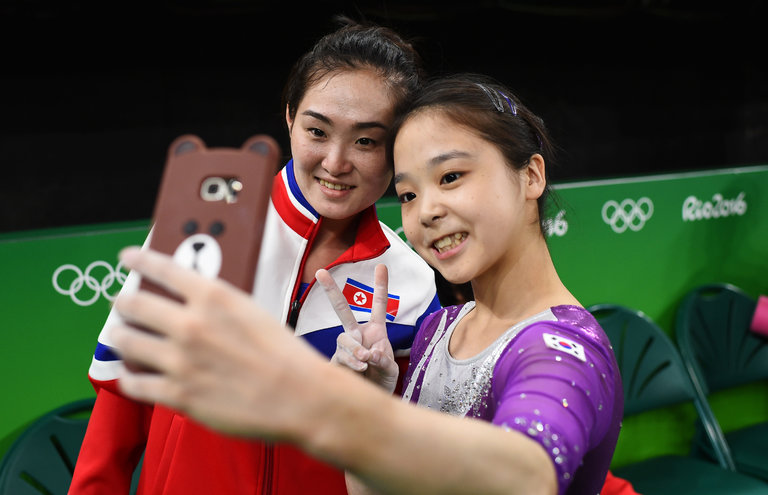 The media understandably obsessed over the symbolism of a selfie taken by South Korean gymnast Lee Un-ju and North Korean gymnast Hong Un Jong: it was a heartwarming shot of two athletes from a divided country sweetly and spontaneously smiling together. To the media's credit, they generally resisted reading too much into the selfie. But there was less reflection on how weak a symbol of unity that was, compared to Sydney in 2000, when North and South marched in the opening ceremony together under a unification flag, to a stadium-wide standing ovation. They did it again in Athens in 2004.
It was harder to resist musing on the question: "will they [the athletes] be punished for losing?" This comes up every Olympics. During the London 2012 Olympics, ABC produced the widely cited "North Korea's Key to Olympic Medals: Refrigerators For Winners, Labor Camp Threat for Losers."[3] Forbes and other news sites then expanded on that, sometimes even more definitively: "Freedom Of Choice For North Koreans At London Olympics: Win And Get A Refrigerator, Or Lose And Go To Work Camp."[4] It didn't help that a flag mix-up during the London games inspired much cogitation, when the DPRK women's soccer squad entered the stadium to find that a South Korean flag was being displayed by their line-ups on the big screen. After some confusion, they exited the field and waited for a correction. The Daily Telegraph subtitled their story on it as: "North Korea's women footballers may have felt they had to 'make a fuss' over last night's Olympics flag mix-up—for fear of being sent to the gulag if they did not."[5]
In fact, most of the tenuous evidence about elite athletes facing severe punishment for failures comes from interviews given by Lee Chang Soo, a former North Korean athlete who experienced being sent to a coal mine after losing to a South Korean in 1990. He was quickly back in action, however, as he defected at an international tournament in 1991 in Spain. Aspects of his story suggest that his career and social status were highly unusual, however. In a 2012 interview with Reuters, he indicated some undefined personality conflicts with his coach as well as high-level intervention in his life by none other than Kim Jong Il's brother-in-law, Jang Song Thaek.[6] This is highly dramatic and unusual, if true, and one senses some key elements of his tale were left out.
As it happens, in Kim Jong Un's DPRK, the role of sports and top athletes is fairly mundane. As in most countries, spectator sports are a distraction and a form of entertainment; domestic and European soccer matches are regularly shown in North Korea, for example, and watching them while drinking beer is something commonplace that (mostly) men like to do. In fact, on Friday night (August 19), KCTV showed Olympic water polo and archery competitions. DPRK athletes were not involved in the matches shown, but sports are fun—there's no need to overthink this. (Almost in a parody of itself, KCTV followed the sports broadcast by a report on a clothing factory and then one on coal mining: less fun.)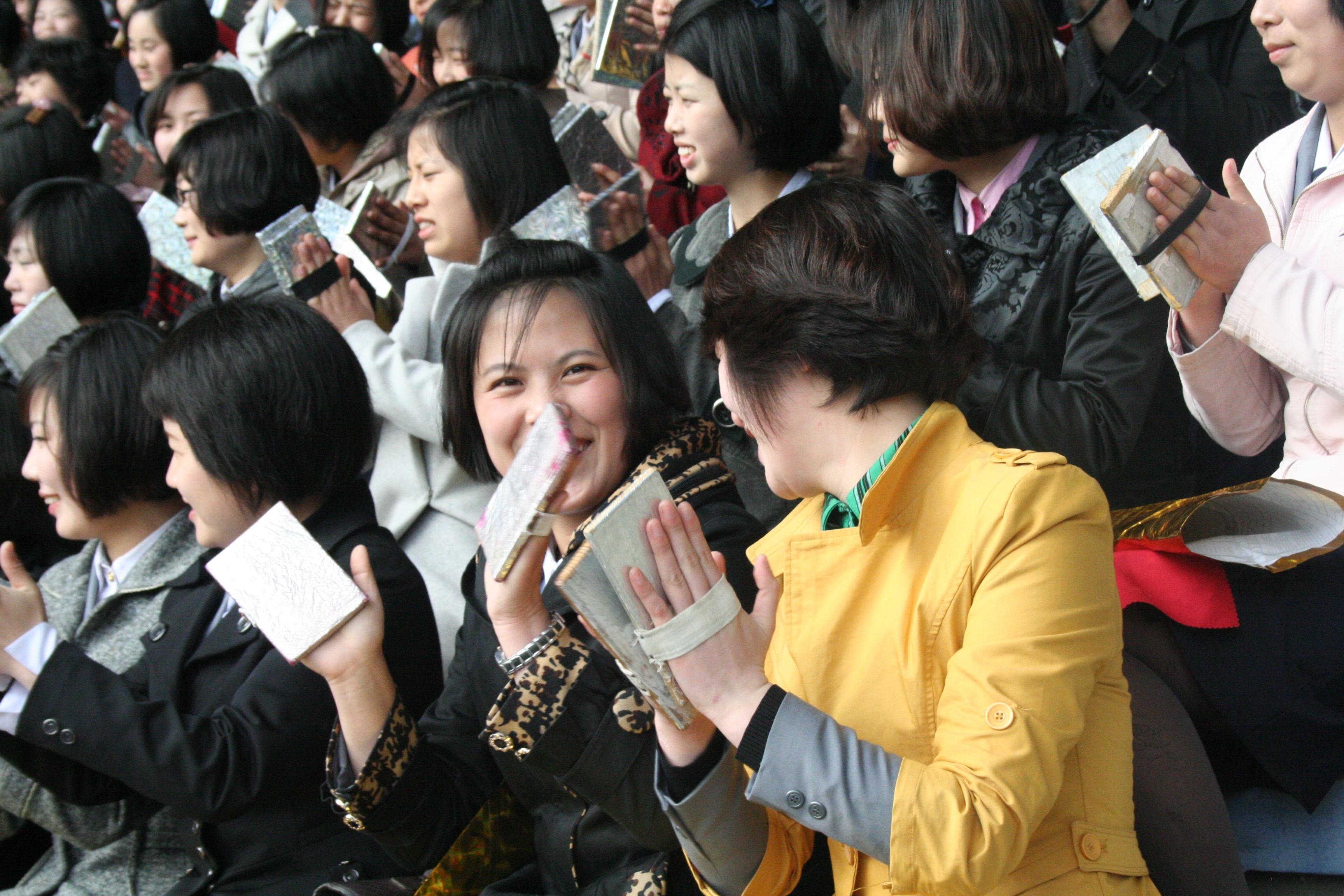 That said, in many Communist countries during the Cold War, winning at major sporting events was seen as a demonstration of the superiority of their system, both abroad and at home. While North Korea doesn't quite compete on those Cold War terms anymore internationally, winning naturally generates a sense of pride when it's the national team. In general, sports remain a great outlet for patriotism, even in Western Europe, where brash nationalism is viewed askance. The DPRK might be the most nationalist state in the world, thus sporting victories are an effective outlet for patriotic fervor. Top athletes become celebrities and national heroes in the North, as they do elsewhere.
To that end, Kim Jong Un has pushed elite sports development, with many facilities in Pyongyang refurbished since 2011. And while this year's North Korean team didn't beat the four gold medals won in 2012, they did earn one more medal overall in Rio.
An unattributed rumor cited in the media these last two weeks says that Kim Jong Un wanted five gold medals.[7] This is the best sort of DPRK media rumor: impossible to confirm and somewhat plausible. Perhaps more interestingly, Kim has also encouraged mass participation in sports. This is something that, in most countries, has followed the development of a strong middle class with income and time at their disposal. In the last five years, cities have seen mass-use sports facilities mushroom. These are not only the high profile water-parks and skating rinks in Pyongyang, but also tennis, basketball and volleyball courts in city parks.
People are encouraged to use them and you see old and young taking advantage of these facilities—mostly by men, except volleyball, which seems popular with both genders. They remain a manifestation of one of the Kim Jong Un era's biggest claims: that quality of life will be better. There are also, for Pyongyang's better off residents, newer swimming pools, gyms and squash courts, but these appear to be run on market principles, for profit, rather than part of a national policy.
As for its elite athletes, we'll probably see even more investment in them in the coming years. Perhaps at Tokyo 2020 they'll get their five gold medals. Or, as DPRK rifle shooter Kim Song Guk, who won a bronze medal behind South Korean Jin Jong Oh said, "[I]f the two (Koreas) become one, we could have a bigger medal…if both the gold and bronze medals came from one Korea, it could have been a much bigger win.[8]"
This certainly won't happen by 2020, but perhaps we could start dreaming about 2028. Then the media would really have something to talk about.
___________________
[1]Ajay Nair, "WATCH: 'Oppressed' North Korean gold medalist is overcome with sadness at the podium," Express, August 17, 2016, http://www.express.co.uk/sport/olympics/700891/North-Korea-gymnast-sad-Rio.
[2]"By the way, what is North Korea up to at the Olympics?" Washington Post, August 19, 2016, https://www.washingtonpost.com/sports/by-the-way-what-is-north-korea-up-to-at-the-olympics/2016/08/18/a16a3d6a-6559-11e6-96c0-37533479f3f5_gallery.html.
[3]Joohee Cho, "North Korea's Key to Olympic Medals: Refrigerators For Winners, Labor Camp Threat for Losers," ABC News, August 2, 2012, http://abcnews.go.com/International/north-koreas-key-olympic-medals-rewards-winners-punishment/story?id=16907983#.UJ0AQ-PZ8ii.
[4]John Clarke, "Freedom Of Choice For North Koreans At London Olympics: Win And Get A Refrigerator, Or Lose And Go To Work Camp," Forbes, August 3, 2012, http://www.forbes.com/sites/johnclarke/2012/08/03/freedom-of-choice-for-north-koreans-at-london-olympics-win-and-get-a-refrigerator-or-lose-and-go-to-work-camp/.
[5]John-Paul Ford Rojas, "North Korea Flag Mix Up: Players May Have Felt Under Pressure to Protest," The Daily Telegraph, July 26, 2012, http://www.telegraph.co.uk/sport/olympics/news/9428303/North-Korea-flag-mix-up-players-may-have-felt-under-pressure-to-protest.html.
[6] Heejung Jung, "Olympics-Revenge Burns for Former North Korean Judoka," Reuters, March 1, 2012. http://www.reuters.com/article/2012/03/01/olympics-korea-idUSL4E8E115V20120301.
[7]Adam Taylor, "The Olympics are tough for all athletes. For North Koreans, they're worse." Washington Post, August 10, 2016, https://www.washingtonpost.com/news/worldviews/wp/2016/08/10/the-olympics-are-tough-for-all-athletes-for-north-koreans-theyre-worse/.
[8]Park Jae-hyuk "Rio 2016: NK shooter fires up on unification of two Koreas" Korea Times, August 11, 2016, http://www.koreatimes.co.kr/www/news/nation/2016/08/670_211678.html.