Now Streaming: Intranet Protocol TV Service Arrives in North Korea
TV viewers in North Korea are no longer tied to watching shows at the time they air. The country has begun an "Intranet" Protocol Television (IPTV) service providing access to live and catch-up TV, according to a report carried by Korean Central Television on Tuesday, August 16. The IPTV service demonstrates greater media accessibility to the DPRK's four TV channels, previously available only through a simple, one-time over-the-air broadcast. North Korea's state TV appears likely to expand its potential reach by making programming available outside of its traditional 3pm to 11pm broadcast time, and free up viewers to tune in at their convenience.
The DPRK's new streaming service demonstrates a technological advancement for the country, as it is run off North Korea's Kwangmyong intranet, and could become an indicator of intranet accessibility in North Korean households.
Introducing "Manbang" Television Streaming Services
The 17-minute KCTV report, "망 TV다매체열람기'만방'" showed a small set-top box around which the entire system, called "Manbang" (만방), is based. It is said to be the product of the Manbang IT company, and would not look out of place alongside TVs in many countries.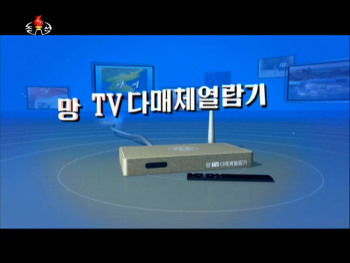 The KCTV report provides an update on internal North Korean TV broadcasting, confirming the current line-up of four channels. It also hints at the wide availability of digital TV, which was referenced in passing in a 2013 Naenara report as having started in 2012, but has never been explicitly detailed.
It is unclear if the Manbang service includes live streams of the TV channels or if they are received over the air. The antenna on the box looks more like a WiFi antenna, rather than one for television, but it could be used for TV given a strong enough signal. The set-top box hooks up the television screen to a high-speed data connection for other services.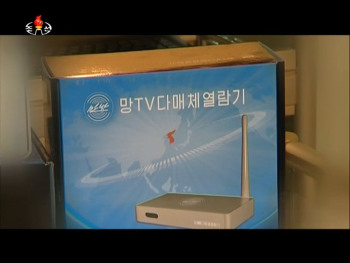 The ability to stream video over a network connection indicates homes connected to the service are enjoying what is typically referred to as a broadband connection. Indeed, in one image in the KCTV report, a stream is shown playing on the device and "4.61MB/s" is in the corner.
"MB/s" refers to megabytes per second, but a more common way to reference network speed is in megabits per second "Mb/s." The upper and lower case "b" are often confused, therefore creating ambiguity as to whether the stream is running at 4.6Mbps, a more likely speed for such video, or around 37Mbps (4.6MBps), the speed indicated.
The box connects to a TV via HDMI, and appears to have a couple of USB connectors on the back, conventional analog video and audio connectors and the antenna. When switched on, the home screen has icons for accessing live TV and the Manbang catch-up service alongside some settings menus.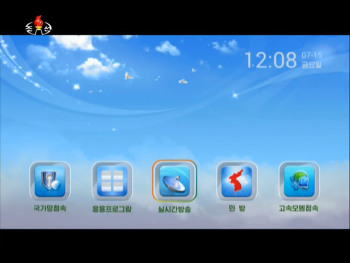 The KCTV report shows five live streaming channels:
조선중앙텔레비죤 – Korean Central Television
만수대텔레비죤 – Mansudae Television
룡남산텔레비죤 – Ryongnamsan Television
체육텔레비죤 – Sports Television
중앙방송 – (possibly national radio)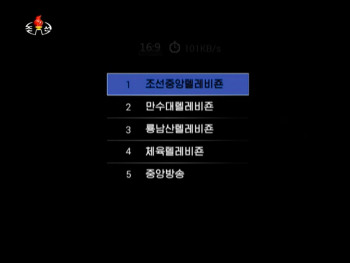 The on-demand service menus divide programming by channel and genre. One menu on the KCTV report showed a screen that apparently offers on-demand shows going back a full week. Viewers can ostensibly browse by day, scrolling through each day's programming and selecting a TV show to watch or browse by genre.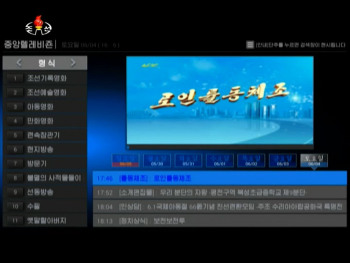 One of the pages is even said to rank the shows by popularity.
And television isn't the only thing available through the box. The news section links to reports on Kim Jong Un's activities, Juche studies and a number of other sources, including the Rodong Sinmun and Korean Central News Agency. In the KCTV report, the Rodong Sinmun's internal website for North Korean users is displayed on a television.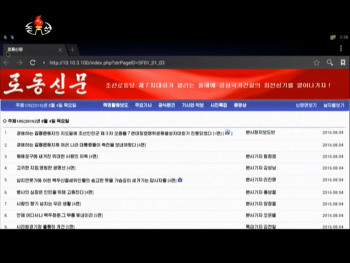 The KCTV report went to Sinuiji, where the service is said to be particularly popular. It showed the devices on display at what appears to be an electronics store and an interview of a family living in an apartment building.
Perhaps predictably, they said the Manbang service has improved their quality of life. The narrator suggested it's useful for students, as academic materials can be browsed from various institutions and the family noted that it makes available all newspapers, not just the Rodong Sinmun, and textbooks for primary and middle school.
The box is also shown in Sariwon being used in front of a class of young children.
The Manbang service was noted on a chart of domestic websites, captured by photographer Aram Pan during a visit to an e-library in Rason. The service was listed alongside its IP address and described as a site for Korean Central Television. That seems to indicate that the Manbang service is also accessible via computer, and the set-top box is providing a simple way for TV viewers to gain access to the service.
The launch of an IPTV service puts North Korea's TV broadcasting system closer to that of other more developed countries. By providing a catalog of recently broadcast programs, North Korea's state TV can expand its potential reach by making programming available outside of its traditional 3pm to 11pm broadcast time, and free viewers to tune in at their convenience. It may also help the country extend its distance-learning network into homes and offices. The same system could easily be used to provide vast libraries of lectures and educational material that isn't normally broadcast on television.
However, there is the question of availability: it is unclear how many apartment buildings and houses in North Korea have access to the kind of high-speed data service that such a service relies on. There is also the issue of control and monitoring, as with such a service, monitoring of what programs are watched per household is technically possible.