Assessing the Risk of Regime Change in North Korea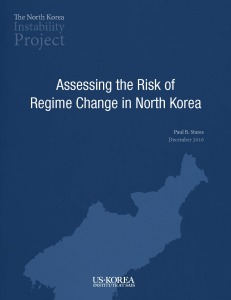 North Korea watchers are going to be scrutinizing the country very closely in the coming months for any sign that the ruling Kim Jong Un regime is feeling the effects of new and tougher financial sanctions and trade restrictions. The hope is that this pressure will chasten the North Korean leadership and force it to curb its provocative behavior and return to the negotiating table to discuss meaningful limits on its nuclear and ballistic missile programs. The likelihood of this happening is hard to gauge. What does seem certain, however, is that if North Korea maintains its belligerent posture and continues to not only menace America's regional allies but also pose a direct threat to US national security, pressure will grow for even more punitive action, including measures designed to actively undermine the Kim regime.
In anticipation that policy toward North Korea will become a topic for growing debate in the United States, especially as the next administration begins to review US options, this paper explores important questions about the prospects for regime change and its putative benefits. How might it occur, and what seems to be the most likely scenario? Can external pressure and other actions promote such change? What are the potential consequences and results? Can we assume that the preferred outcomes will be realized?
Download the report "Assessing the Risk of Regime Change in North Korea," by Paul B. Stares
Find other papers in The North Korea Instability Project series.