Is the Kalma Ballistic Missile Test Site Ready for an ICBM Launch?
North Korea has recently threatened to conduct its first test of an intercontinental ballistic missile (ICBM). Last week, media reports even cited "unnamed" South Korean officials stating a test of a previously unknown 2-stage ICBM "may be imminent."[1] While the North's ability to produce a 2-stage ICBM is questionable and validity of these reports remains to be verified, they have heightened concerns as to when Pyongyang may decide test launch an ICBM.
One of the possible locations for an ICBM test is the Kalma Ballistic Missile Test Site located on the shores of the East Sea adjacent to the Kalma International Airport.[2] Opened around May-June 2016, the test site consists of a single 24-meter-by-17-meter concrete-paved launch position surrounded by a sand berm, grading for a second firing position and graded access roads. It is supported by several components of the Kalma International Airport including a pull-through hangar for pre-launch preparations, two observation and support buildings and a paved parking lot. It is probable that the airport's radars are used to support ballistic missile tests by both tracking missile flights and ensuring that the East Sea airspace is clear of traffic.
Figure 1. Ballistic missile launch positions near the Kalma International Airport.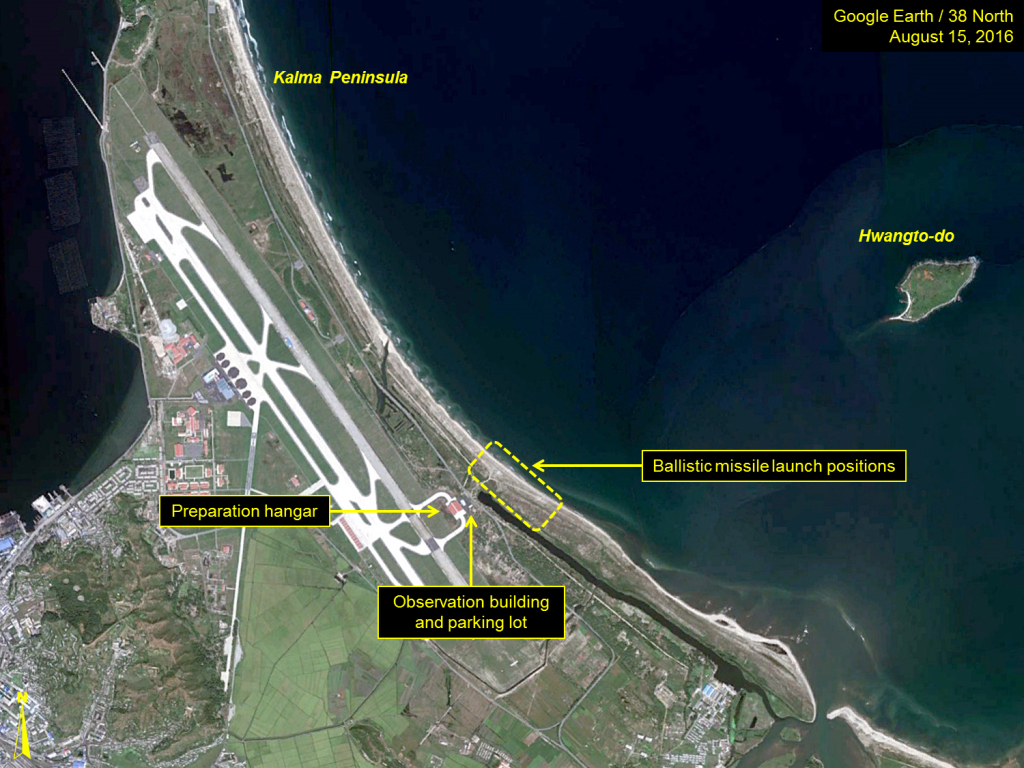 Kalma was used in 2016 to flight test the "Hwasong-10" (KN-07/Musudan) intermediate range ballistic missile (IRBM) on at least four occasions. But the site is also is capable of launching an ICBM from a transporter-erector-launcher (TEL). Moreover, Kalma might be a logical choice since it: 1) has been designed and previously used to test Musdan IRBMs, also a road-mobile missile like the new North Korean ICBMs; 2) can easily be supported by the infrastructure of the Kalma International Airport; and 3) like previous failed Musudan tests, a catastrophic failure of an ICBM would not impact North Korean soil.
In addition, recent commercial satellite imagery indicates that Pyongyang has made a number of improvements at the site suggesting that it could support an ICBM launch if the North decides to go ahead. During the past three months, several of the access roads have been re-graded and laid with gravel, suggesting preparation to handle missiles heavier than the Musudan IRBM like an ICBM. Second, a small 11-meter-by-11-meter pad has been graded and gravel laid. Third, the second launch position appears to have been regraded—although it remains unpaved—which when complete, would allow for simultaneous launches of ballistic missiles. Finally, new ground scarring a short distance from the firing positions suggests the intention to install two telemetry or camera positions, perhaps for monitoring a long-range missile test.
Figure 2. Upgrades underway at the Kalma Ballistic Missile Test Site.
Images include material Pleiades © CNES 2017. Distribution Airbus DS / Spot Image, all rights reserved. For media licensing options, please contact [email protected].
Figure 3. Layout of the ballistic missile TEL firing position.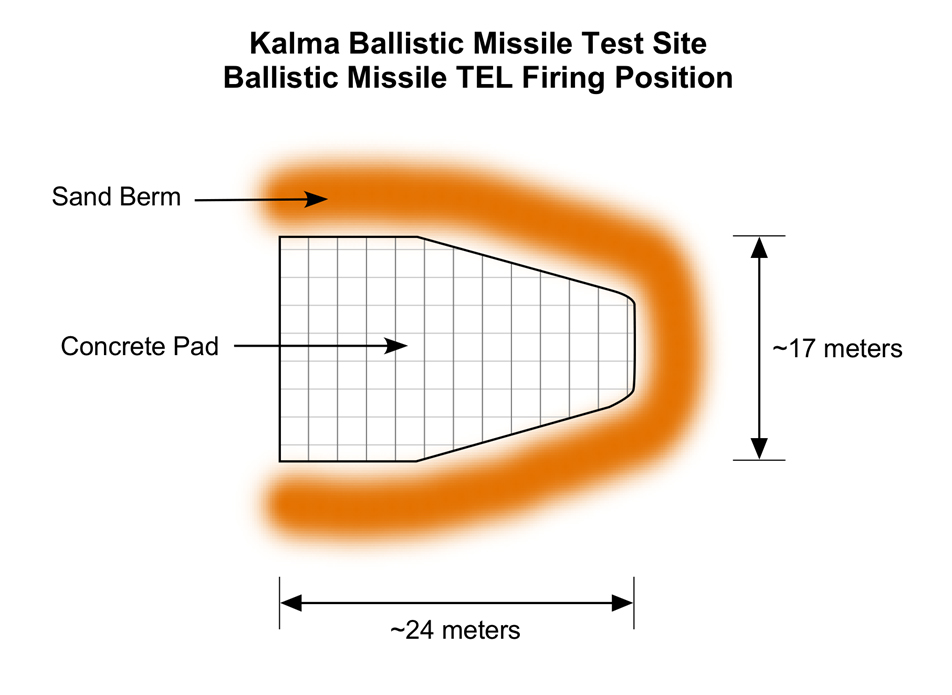 Pre-dating its role in the North's ballistic missile program, the Kalma Peninsula has long been used by the Korean People's Army to conduct large-scale artillery live-firing exercises, the most recent of which took place during December 2016.[3]
—————
[1] For example, see: "N.K. Repeats Threat to Launch ICBM As Trump Is Set to Take Office This Week," Yonhap, January 18, 2017; "North Korea May Test-Launch ICBM Soon," Reuters, January 18, 2017; and "N. Korea Has Likely Built 2 ICBMs, Placed Them on Mobile Launchers," Yonhap, January 19, 2017.
[2] The Kalma International Airport was formerly the Wonsan Airbase.
[3] "Kim Jong Un Guides Intensive Striking Drill of KPA Artillery Units on Front," Rodong Sinmun, December 2, 2016.