The Mexican Origins of North Korea's Latest YouTube Channel
A YouTube account that began livestreaming North Korean television last week is part of network of social media sites that have amassed millions of views for North Korean propaganda and appear to be based in Mexico.
The new YouTube channel, called "KCTV – Choson TV," was created on February 6, 2017, and has already livestreamed several hours of Korean Central Television. Each broadcast is labeled as a "test," and it's unknown if the livestream will become a regular service, but one thing is for sure: it's not coming from Pyongyang.
At the top of the page, it carries the "Korean Central Television" name and several photos from behind the scenes at the TV propaganda outlet. No doubt, they are meant to infer it's an official YouTube outlet.
The YouTube page is linked to a Facebook page called "Choson TV – Korean Central Television《조선중앙텔레비죤》." The same Facebook page used to promote a different YouTube channel called "KoreanCentralTV1," but that was deleted by YouTube on November 21, 2016.
YouTube never responded to questions on the shutdown and emails sent to the channel operator have gone unanswered for two months. The only explanation is a message saying it was closed for "violating YouTube's Community Guidelines."
But the Facebook page and new YouTube channel provide the first clues that the accounts are not official outlets.
The photos currently at the top of each page and those used previously are not behind-the-scenes images at all. They were widely distributed by Chinese state media in 2012 when China Central Television donated studio equipment to Korean Central Television.
And one that was previously used appears to have been downloaded from a North Korea Tech report on an interview by CCTV with KCTV anchor Ri Chun Hui.
Take a look at these Facebook cover images and the sources: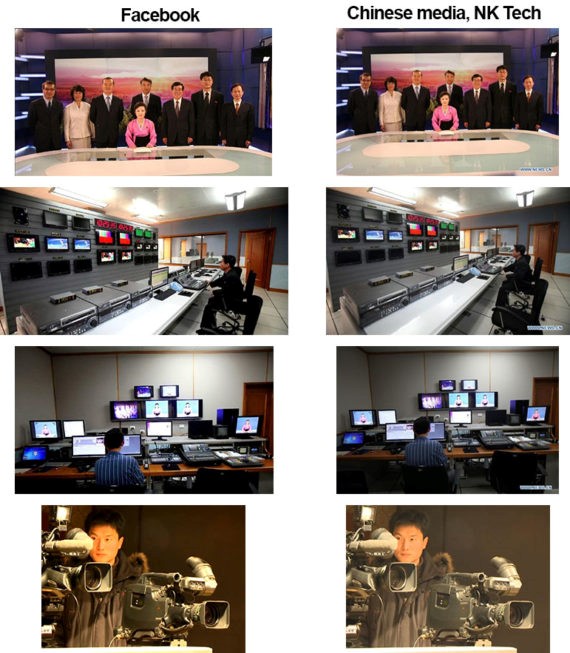 After the old YouTube channel was closed, its companion Facebook page made no mention of it or posted any commentary on the action.
It stayed silent for almost two weeks until it finally posted a video from the "North Korea Today (DPRK News Channel)."
The previous YouTube channel was launched in October 2014 and at that time it promoted the Korean Central TV YouTube channel to subscribers, and carried this link until recently.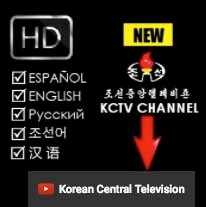 Like the now-dead KoreanCentralTV1 channel, "North Korea Today" claims to come from Pyongyang.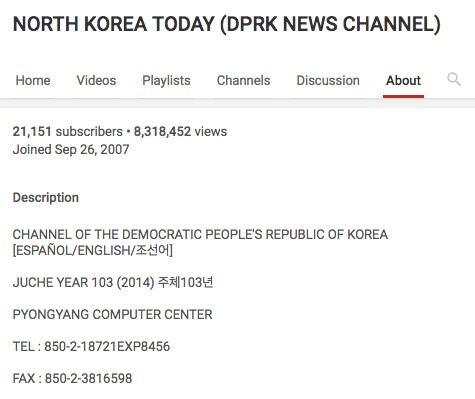 But if that's true it would be remarkable. The DPRK never refers to itself as North Korea. There's the unusual prioritization of Spanish as the first language, followed by English and then Korean and, perhaps even more remarkable, the only link on Google+ is to the Mexican DPRK Friendship blog, which no longer exists.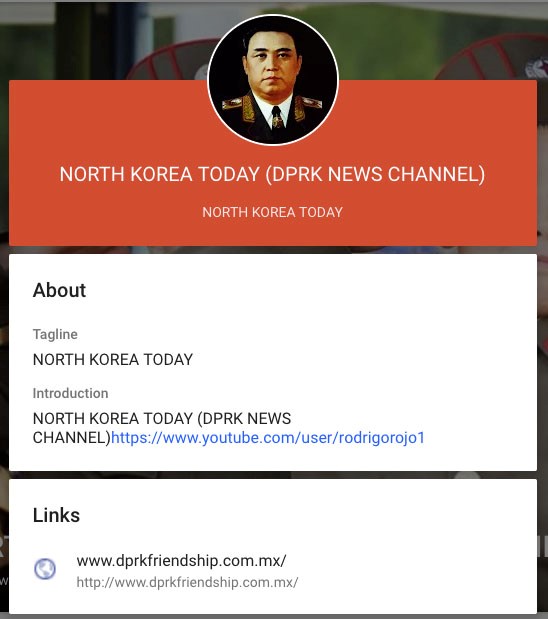 In fact, the "North Korea Today" YouTube channel is run by "Rodrigo Rojo," who claims in several online profiles to be based in Mexico.
In some of those profiles, he listed the now-defunct DPRK Friendship Mexico website as his own site.
At one time that site was also claiming to stream North Korean TV live although that too was fake. The website had simply embedded a well-known online stream provided by the SPTV website in South Korea.
Indeed, North Korean TV was not available in Mexico or any of the Americas until 2015 when it appeared on the Intelsat 21 satellite over the Atlantic Ocean.
I watched the YouTube livestream of KCTV this week and it was about 9 seconds behind the satellite feed. That's about right for a YouTube livestream. The stream also carried several giveaways that the source of the signal was a satellite broadcast – including this on-screen message from a satellite receiver: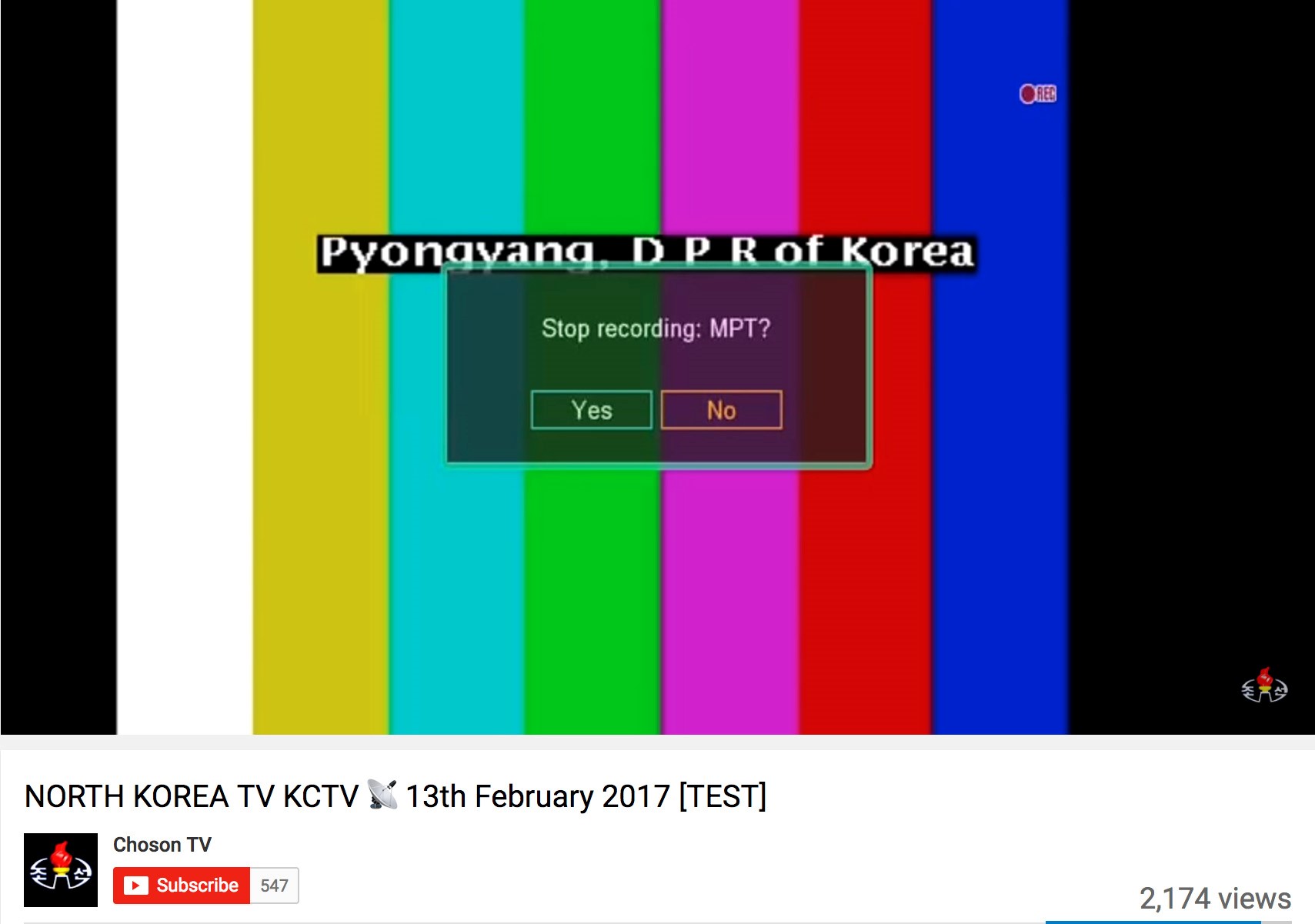 And there's another Mexican connection. The new Choson TV YouTube account links to three other YouTube channels: the companion "North Korea Today" channel, the leading "StimmeKoreas" channel and "Notimex," a Mexican news agency.
So there's a lot of evidence that the account is being run from Mexico and not from the DPRK.
But that's where the trail runs cold, for now. Messages to the Google account associated with the channels have gone unanswered, there's no reply on YouTube and Facebook messages haven't been returned.
Together, the YouTube channels and Facebook page have generated millions of views. The "North Korea Today" channel alone has 8.6 million YouTube views and that translates into thousands of dollars for "Rodrigo Rojo."