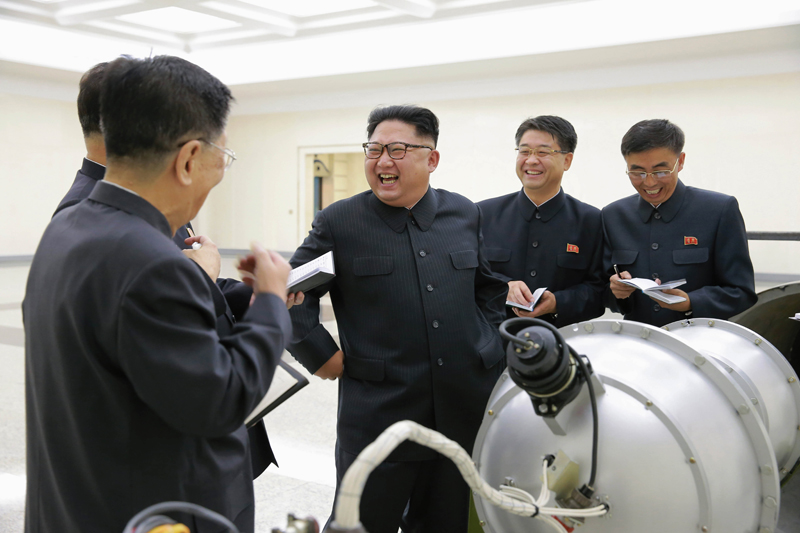 Trump Turns Kim Jong Un's Hopes into Achievable Goals
Three generations of North Korea's Kim family have dreamed of getting the United States off the Korean peninsula. Now, the Trump administration appears to be doing everything it can to undermine the US-South Korean alliance that has vexed Pyongyang since the armistice that ceased the Korean War was signed 64 years ago.
During his election campaign, Donald Trump's "America First" rhetoric caused broad and general consternation amongst US allies. Then, more than once, he suggested that maybe South Korea and Japan would have to go nuclear, raising the prospect that those countries couldn't count on the US nuclear umbrella and should be thinking about fending for themselves.
As soon as he took office, Trump decided to walk away from the Trans-Pacific Partnership (TPP), a 12-country trade agreement that did not include China. The TPP was widely seen as a move by the United States to reassure its allies and friends of its enduring security commitment to the region and to bind together non-Chinese economies in order to balance Beijing's growing political and economic clout in the region. Withdrawal from the TPP was interpreted by some of America's Asian partners, including South Korea, as a sign that the US was abandoning the region to Chinese influence.
In the spring of 2017, Trump suggested—during South Korea's snap elections after the impeachment of Park Geun-hye—that Seoul should pay for the Terminal High Altitude Area Defense (THAAD) anti-missile battery that was negotiated under Park's rule. The cost of the system is about $1 billion and the United States was to cover 100 percent of the costs, in part, because South Korean politicians and voters were deeply ambivalent about it. In order to make it politically palatable in South Korea, it at least had to come at no cost to the Korean taxpayer.
In the past month, Trump has made statements on two fronts that continue to profoundly undermine the US-ROK alliance. The first was his August 8 off-the-cuff "fire and fury" remarks. The second was his more deliberate disdain for the Korea-US Free Trade Agreement (KORUS FTA) that has been in effect for five years. Negotiations began during the Bush administration and the FTA was signed in 2012 during President Obama's first term. Trump is now threatening to unilaterally pull out of the deal, and soon.
In the meantime, Kim Jong Un is marching along at his own pace in his quest for a credible nuclear deterrent against the United States, as last week's missile and nuclear tests reemphasize. Pyongyang chooses more or less provocative ways of testing its nukes and missiles, but it has an end game and several overlapping goals in mind. That end game isn't nuclear war, which would lead to the destruction of North Korea and the end of the Kim dynasty. But driving a wedge between the United States and its allies, especially South Korea, is among the likely aims (or at least hopes). For that to work, however, it would depend on some "cooperation" from politicians in Seoul or Washington.
Historically, multiple US and ROK presidencies made sure that no unmanageable cracks emerged in the alliance in the 11 years since North Korea tested its first nuclear weapon in 2006. Four other nuclear tests as well as numerous missile tests have challenged the various administrations to stay on the same page. The allies pretty much did, even when their perspectives and approaches on North Korea significantly differed.
But that unified voice is now wavering. President Trump's apparent willingness to entertain the idea of war on the Korean peninsula unnerves South Koreans, especially if started by unilateral US actions. After Trump responded to news that North Korea had miniaturized a nuclear warhead with threats with "fire and fury," Pyongyang announced it was considering a missile strike around Guam. Trump in turn reacted by stating that if Kim "does something in Guam, it will be an event the likes of which nobody's seen before, what will happen in North Korea."
Later, on August 16, South Korea's President Moon Jae-in felt compelled to tell his citizens that he had "ruled out war" and that "Mr. Trump has already promised to consult with South Korea and get our approval for whatever option they will take against North Korea." Still, ordinary South Koreans are starting to wonder if the United States is too keen on escalating this crisis towards a conflict for which they will pay the heaviest price.
Furthermore, the Moon government (and Abe's in Tokyo) can't help but have noticed that Washington has become much more animated over Pyongyang's rapidly improving ICBM threat to the United States than the longer term ballistic missile and nuclear threat it has posed to US allies for at least a decade. The alliance structure is supposed to guarantee that both countries are absolutely committed to the defense of each other. US credibility in that regard is extremely strained if it appears Washington is willing to risk a regional war to prevent a theoretical attack on US soil.
US credibility as an economic partner is also at risk. In April, Trump called the Korea-US FTA "unacceptable" and "horrible." The effects of the FTA are debatable and gently calling for a renegotiation of some parts of it may even be warranted. However, it was revealed this weekend that Trump was considering completely pulling the plug on the FTA as early as this month.
This takes place not only as the North Korea crisis grows, but also while China's informal sanctions on South Korea for its deployment of the THAAD system in March continue to bite. Many Koreans already feel as if they deployed THAAD at the behest of the United States and have suffered economically for it. If Trump tears up the FTA now, it will seem that the US is turning its back to Seoul economically in a time of need. People are already frustrated at being buffeted between the strategic concerns of the region's great powers.
The South Koreans I talk to increasingly wonder: If the economic relationship is not advantageous and the strategic one imperils their country, what is the value of this alliance anymore? It is a not a huge leap from there to the question: "Why do we keep the US presence here at all?" It appears Donald Trump is gifting the wedge that Pyongyang has long hoped for all along.
Andray Abrahamian is a Visiting Scholar at the Jeju Peace Institute and the Center for Korean Studies, UC Berkeley.