Thanks to YouTube, North Korea Has Just Become Even More Opaque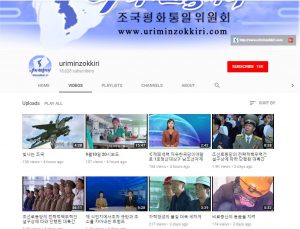 YouTube's decision to delete North Korean YouTube channels has served to highlight the sometimes-unintended consequences of sanctions and the absolute power enjoyed by Internet companies over their users. In doing so, the company has cut off a vital supply of video used by open source researchers, which means there is now less visibility into what's happening in North Korea. The Western world's understanding of North Korea is limited to begin with, cutting off access to these few windows into North Korean thinking and life further hampers our knowledge of the country.
On September 8, some in the open source intelligence community logged on to YouTube to find the "Uriminzokkiri" (우리민족끼리) channel was gone.
The only explanation from Google was a simple notice: "This account has been terminated for violating YouTube's community guidelines." At about the same time, the same message appeared on the "StimmeKoreas" YouTube channel.
Both had been on YouTube for about 7 years, each had thousands of archived videos and millions of views, and had become essential references for video from the DPRK. There were hours of news videos, documentaries and military programming that had enabled researchers to uncover numerous secrets about the DPRK over the years. Needless to say, those researchers were not pleased.
Adam Cathcart, a well-known North Korea scholar at the University of Leeds in the UK, wrote the termination of the two channels and a third, "Tonpomail," had caused "harm to the open source intelligence community, and to scholars who have used the channels to analyze North Korean discourse, leadership, intentions, and missile capabilities."
Curtis Melvin, who runs the popular North Korean Economy Watch blog, was more direct: "So today @Google and @Youtube seriously fucked OSINT community's ability to monitor developments in North Korea. An 'own-goal' for our side."
So, what happened?
At first, Google didn't want to answer. In what's become standard practice for major Internet companies, it remained silent on its decision.
On the surface, none of the three channels appeared to violate YouTube's terms of service but, as others have found out before, Silicon Valley Internet companies can pull service for just about any reason and will rarely entertain debate.
Earlier this week, in an article appearing in Foreign Policy, Cathcart criticized North Korea for its closed internet and argued that the inability of North Korean elites to access our media without filters would lead to more misunderstandings. According to Cathcart, "…now the shoe is on the other foot."
"I am sure that other scholars and analysts are shaking their heads today, all for their own specific reasons," he wrote. "The research landscape is suddenly less abundant, and the granular insights we had had into North Korea's propaganda apparatus and some of the methods by which Kim Jong-un controls the country are now no longer possible."
A few days later, after a handful of media reports, YouTube quietly restored Uriminzokkiri and StimmeKoreas. But just as researchers had begun rejoicing, Uriminzokkiri was gone again. This time it was for a different reason: "This account has been terminated due to a legal complaint."
Curiously, StimmeKoreas remained online but the operator of the channel was just as much in the dark about what was going on. He did not get any information why the channel was blocked and then unblocked a day later. Things finally became clear when YouTube started replying to queries from reporters.
"We love that YouTube is a powerful platform for documenting events and shining light on dark corners around the world, but we must comply with the law," it wrote. "We disable accounts that repeatedly violate our Community Guidelines or Terms of Service and when we are required by law to do so."
It seems the root of the action was new sanctions from the United Nations Security Council. Resolution 2375 froze the assets of the DPRK government's propaganda and agitation department, which the UN said, "has full control over the media." That includes Uriminzokkiri, which is a government mouthpiece run from a base in China.
Thus, for YouTube, the decisive factor was whether a channel is operated by the North Korean government. If so, under the new sanctions, it must take it offline. StimmeKoreas, which has remained online, carries North Korean video content but is operated by a private citizen. As the founder said in a statement, "I'm very interested in Korea so I started the channel to gather information about the DPRK in their own perspective. It's always important to see both sides, and this is a channel to see the DPRK's point of view, no matter what your personal believes [sic] are."
The issue highlights the fragile Internet links that North Korea relies on to get its message out to the world. Those links are just as fragile for researchers.
The Uriminzokkiri website, which is hosted by China Unicom, is still online and it has quietly started a new YouTube channel. It also hosts video on its own site and almost 8,000 videos on Chinese video streaming platform Youku. If China is to get stricter on implementing UN sanctions, their days could be numbered as well.
The incident also highlights the need for researchers to save and store as much as possible, and to keep local copies of everything. Because with increased sanctions and attention on North Korea, you never know when an account could get zapped and you could lose everything.