The Prime Minister, the President, and North Korea
Last month, a series of statements and actions by US President Donald Trump prompted concerns in Tokyo over the status of US-Japan relations regarding North Korea as well as trade. In a period only of two weeks, Trump declared—without prior consultation with Japan—that he would hold a summit meeting with North Korean Leader Kim Jong Un; imposed tariffs on imported steel and aluminum, but with exemptions for all major US allies except Japan; and made personalized comments on trade problems with Japan, saying "I'll talk to Prime Minister Abe of Japan and others—great guy, friend of mine—and there'll be a little smile on their face. And the smile is, 'I can't believe we've been able to take advantage of the United States for so long.' So those days are over."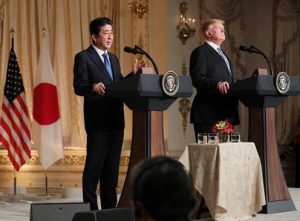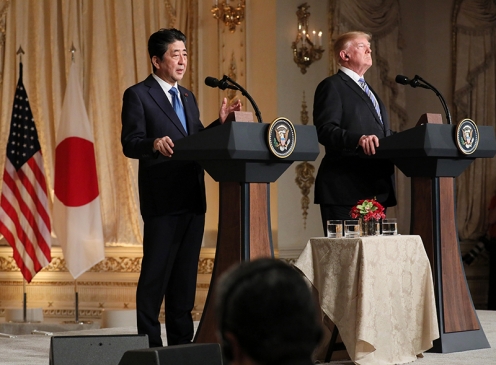 In response, Japanese Prime Minister Abe requested a meeting with Trump—which the president accepted—before the summit between North and South Korea. Abe's goals for the just-concluded April 17-18 meeting in Mar-a-Lago included:
Ensuring that Japan was not sidelined in the burst of high-level diplomacy over North Korea with Kim Jong Un's first overseas trip since taking power being a meeting with Chinese President Xi Jinping, the inter-Korean summit scheduled for April 27, and the planned meeting between Kim and Trump in May or June;
Clarifying that, in negotiations with Kim, Trump would not overlook North Korea's short- and intermediate-range missiles capable of striking Japan, and instead only focus on Pyongyang's intercontinental ballistic missiles that threaten the United States, as was suggested in recent comments by Secretary of State nominee, Mike Pompeo;
Keeping the US engaged in prodding North Korea to account for the Japanese citizens Pyongyang abducted, an issue that Abe brought to prominence earlier in his political career, which remains a major topic of interest in Japan; and
Boosting Abe's political fortunes as his domestic approval ratings have declined precipitously in the wake of influence-peddling and other scandals, which have seriously threatened his ability to remain in office.
During the discussions that took place last week, Trump affirmed that "Japan and ourselves are locked, and we are very unified on the subject of North Korea." A White House release at the conclusion of the meetings went on to note that the two leaders:
…confirmed their commitment to achieving the permanent and verifiable denuclearization of North Korea. They also reaffirmed that North Korea needs to abandon all weapons of mass destruction and ballistic missile programs. President Trump and Prime Minister Abe underscored that the global maximum pressure campaign will continue until North Korea denuclearizes. President Trump and Prime Minister Abe reiterated their strong commitment to boosting trilateral cooperation with the Republic of Korea in the face of the North Korean threat and coordinating closely in advance of U.S.-North Korea talks… President Trump affirmed that he will urge North Korea to promptly resolve its abductions of Japanese citizens, recalling the strong impression he received when he met the families of the abductees during his visit to Japan last November.
Abe thus appears to have succeeded in achieving his first three goals, with the fourth less certain. The Trump-Abe summit reaffirmed the closeness of the two countries' aims in addressing the North Korea threat. On missiles, both Yomiuri Shimbun and Mainichi Shimbun, two of Japan's largest-circulation newspapers, reported that a Japanese source accompanying the prime minister said President Trump affirmed that he would push North Korea to give up its short- and medium-range missiles, which pose a threat to Japan; a position confirmed at meeting on April 20 between Secretary of Defense James Mattis and Japanese Minister of Defense Itsonori Onodera. And on abductees, Trump said that "the abduction issue is important to me," and that Abe's "level of enthusiasm was unbelievable, and I said right then and there that we'd work very hard on that issue—trying to bring these folks back home."
As a result, the Japanese press has generally characterized the Mar-a-Lago summit as a success for Abe, but polls over the weekend show a slight drop in his approval ratings because the trip was overshadowed in the Japanese press by a sexual harassment scandal involving the top bureaucrat at Japan's Ministry of Finance. Meanwhile, his other scandals remain unresolved, and calls for Abe to step down have been increasing, with former Prime Minister Koizumi suggesting Abe resign at the end of the current Diet session in June.
Moreover, in addition to talks on North Korea, the Abe-Trump summit covered bilateral trade issues. Trump pointed to the "massive" US trade deficit with Japan at a news conference with Abe, and emphasized the need for free, fair and reciprocal trade deals between the US and Japan.
The two sides agreed to launch a new set of trade negotiations headed by US Trade Representative, Robert Lighthizer, and Minister for Economy Trade and Industry, Toshimitsu Motegi. But Trump's propensity to link trade and security issues has prompted concerns in Tokyo that the more Trump does to represent Japan's security interests in his meeting with Kim, the tougher he may be on Japan on trade. Last month, for example, Trump said he might delay the renegotiated Korea-US Free Trade Agreement until after the summits with North Korea have taken place. As Trump explained in a speech on March 28, "You know why? Because it's a very strong card and I want to make sure everyone is treated fairly and we're moving along very nicely with North Korea."
Trump's impulsiveness in making and changing critical decisions that affect America's closest allies, and Trump's vow to put America first, have also led to questions in Tokyo over the durability of the results of the April 17-18 summit. In that context, Japan has been exploring other avenues to advance its interests on North Korea, including attempts to work more closely with China.
Just before Abe departed for Mar-a-Lago, Japan and China held their first high-level economic dialogue in eight years (resulting in a pledge to accelerate negotiations on both a Japan-China-South Korea free trade agreement and the China-led Regional Comprehensive Economic Partnership) and agreed to pursue a broad improvement in bilateral ties through reciprocal visits to each country by President Xi and Prime Minister Abe. On North Korea, Japan and China agreed to take a concerted approach—including enforcement of UN sanctions—to prod North Korea toward complete, verifiable and irreversible abandonment of nuclear weapons.
So, while the Abe-Trump summit at Mar-a-Lago appears to have reaffirmed that the Washington and Tokyo are united in their approach to North Korea, Japan is taking nothing for granted. While Abe hopes and expects that Trump will follow through on his pledges regarding his summit with Kim, Japan is taking other steps to advance its interests and address the threats posed by Pyongyang.