The Sanctions Effect in North Korea: Observations from Rason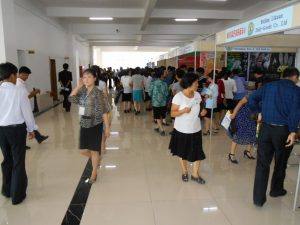 In cities and regions open to foreigners, the effects of sanctions can be seen, but they have clearly not been crippling. Prices for some products have fluctuated slightly, but shortages are not reported, and consumption still continues. Still, sanctions have caused enough problems that expressions of hope for the success of this year's summit diplomacy are universal among North Koreans in Rason and elsewhere.
Rason: Business Down but Not Out
A few summers ago, a fresh pile of coal sat on the second pier at North Korea's Rajin port. It was a windy year and gusts would pick up the coal dust and send it billowing out over the region's northernmost ice-free harbor, hanging ominously over the water. This year 15,000 tonnes of coal sat on the same pier, but unmoving: it had been there awhile, rained on and seemed lumpen, heavy in appearance. This was better for the air, but clearly worse for the port and for the producers: "we're having trouble exporting because of the sanctions," said a port official. He implied it would get out eventually, however.
Sanctions on exports and business relationships were significantly tightened in late 2017. By late summer 2018, however, anecdotal evidence from visitors, on-the-ground reportage and official sources suggest a few things: the consumer economy overall has been minimally affected; the ban on textiles and joint ventures has not really been enforced; but coal and seafood exports have been disrupted.
Indeed, in Pyongyang in early September, this author was told that "while some sectors of the economy have suffered, the price of food, clothes and daily use items has remained stable, so most people have been able to live normally." This slightly contradicts anecdotes from the winter and spring when people then were complaining that sanctions were indeed hurting spending power and families were spending more cautiously. But overall, the paradox of this past year appears to be that major exports remain hampered and yet in parts of the country that foreigners can visit, earning and spending appears to be fairly normal.
This may be in part because Pyongyang has pushed diligently for an import-substitution policy since Kim Jong Un took power, particularly in light industry. North Koreans now produce far more domestically than they did five years ago, especially clothing and food products. Textile exports to China appear to have been minimally disrupted.
Meanwhile, coal and seafood exports clearly have been hurt. One major factory in Rason that used to be visited by foreign delegations was now off-limits "because nothing is going on there right now."[1] Such companies may be running skeleton staff and other employees may have been able to move into other sectors. Even so, some belt-tightening has almost certainly occurred amongst wage-earners.
There are several possible explanations for why the ban on these key exports has not had a crippling effect on visible consumption. First, much hard currency is moved between larger state-owned enterprises, staying in relatively walled-off sectors that remain apart from visible consumption at the individual level. Significant portions of hard currency earnings may also stay outside the country, held elsewhere for a variety of purposes, illicit and otherwise. If the latter is true, the bulk of profits from those sectors may not have significantly entered the mainstream economy, other than through wages. The pain caused, for example, in the mining towns of Ryanggang Province, would have been mostly hidden from outside observers. Finally, the real enforcement period may have only lasted a few months, allowing industries and their employees to bounce back relatively easily.
Of all the sanctions passed in the last two years, it appears as if the ban on joint ventures has been the most flaunted. There are no mechanisms for countries to track and enforce what sorts of deals their companies have stuck in the DPRK. Moreover, with sometimes serious capital investments by Chinese partners and the sense that these sanctions won't last forever, it appears as if most foreign partners have simply decided to keep a low profile for the time being, conducting business as usual.
Overall, officials and businesspeople in both Pyongyang and Rason complain that sanctions have made things more difficult—particularly in the winter and spring—but also express resilience. Journalists and other delegations visiting factories in September generally were told that exports still continued. As a foreign visitor, it is difficult to assess the validity of claims of both suffering and resilience: there is value to the DPRK in portraying both, though the overall message can be characterized as "we've adjusted, though it has been hard."
Rason's Shiny New Toys
In mid-August, businesses in Rason were running booths at the 8th International Rason Trade Fair. The Trade Fair was held in a new facility in Rajin City, replacing the damp and dark socialist classicist Sonbong Cultural Center, where previous events were held. The building features a shopping center on the first floor and basement, with two floors of empty space above. The top floor hosted over 110 booths, roughly split between Chinese and North Korean exhibitors.
Reflecting the DPRK's improved international relations in 2018, both the Chinese and Russian Consul Generals came up from Chongjin to take part in the opening ceremony. Last year the Russians sent a more junior diplomat and the Chinese sent no one.
Rason's first escalators were in use, much to the amazement of some of the rural folk who had come to shop during the Trade Fair. Retail products for the home featured in the exhibitions, though drill bits, music systems, electronics parts and farm machinery were also present. Curiously, foreign products that featured a person's face on the packaging had had the faces scratched off or cut out (this has also been observed in Pyongyang.) It is unclear why this is necessary or what purpose it serves.
Many of the Chinese exhibitors had been recruited by a Beijing company specializing in exhibitions to participate and were there to "check out the local market." They tended to have no idea that the DPRK is under sanctions and were disappointed to hear that was the case in conversations. Some expressed disappointment that the market appeared smaller than they had hoped. Other companies had longer experience in the country, with one representative from a Chinese company saying through his relationships he "can get anything in and out" of North Korea.
A fairly large electronics parts manufacturer from Southern China was "considering investment" in the zone and was being courted by the local authorities. But it was also said that they were considering building a facility across the border and hoping to bring laborers over to work. This would be a poorer outcome for Rason, of course.
One interesting Korean display was by the Korea Company for Supporting the Disabled. This is something of an umbrella organization that houses smaller companies producing hemp textiles, high-protein snacks for kids and watches and jewelry. The manager said that after profits were reinvested in the companies, the excess was used to support a handful of disability-focused organizations. This might be the first example of a social enterprise in the DPRK.
Amongst the Korean companies, the display of a new Rason-based noodle factory stood out, occupying a central spot and offering free samples. Their factory was shown to visitors and was modern and clean. We were told it was state-owned, but it had the appearance and atmosphere of a joint venture or privately invested facility. An ostensibly state-owned fish farm was also available to tour; a visitor told us, however, that he knew of a Chinese investor in the project.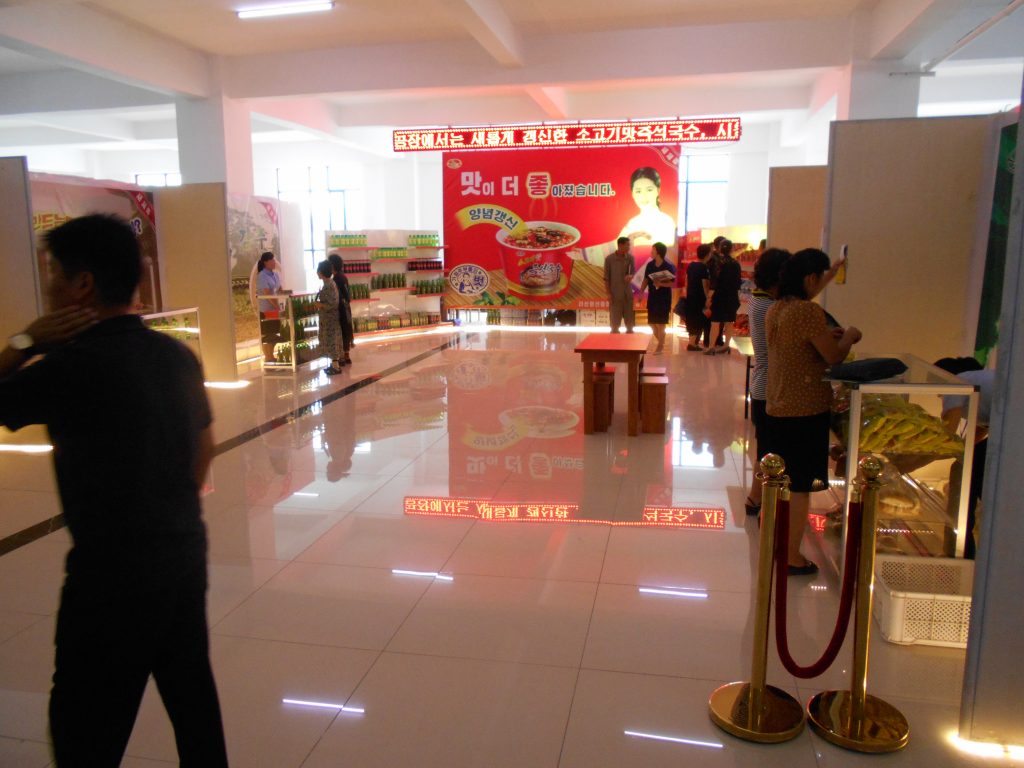 Regardless, as more state-owned enterprises have been forced to run on market principles and de-facto private enterprises housed by official organs, it is increasingly difficult to tell where "state-owned" ends and "private" begins. Certainly, the noodle factory's ramen was for sale domestically, not distribution. Indeed, while many Korean companies were looking to export, they sometimes found that local consumption was enough to operate successfully.
For example, one Rason company was set up several years ago to export footwear. Instead, they have found domestic demand sufficient to run their business. They regularly send shipments by rail to Pyongsong for distribution to Pyongyang and elsewhere. They sometimes ship by truck if an urgent order needs to be filled. Pyongsong is the national logistics hub for many goods.
Recent improvements in domestic logistics are also evidenced by the use of "Man Mul Sang," a (domestic) web portal through which people can order "everything," retail or wholesale. Domestic delivery takes about 10 days to Rason, while orders from abroad are possible, but "take much longer." A billboard explaining the service stood outside the fair, along with ads for a local company claiming to make electric cars, bread, soju, digital watches and those world-famous-in-Rason instant noodles.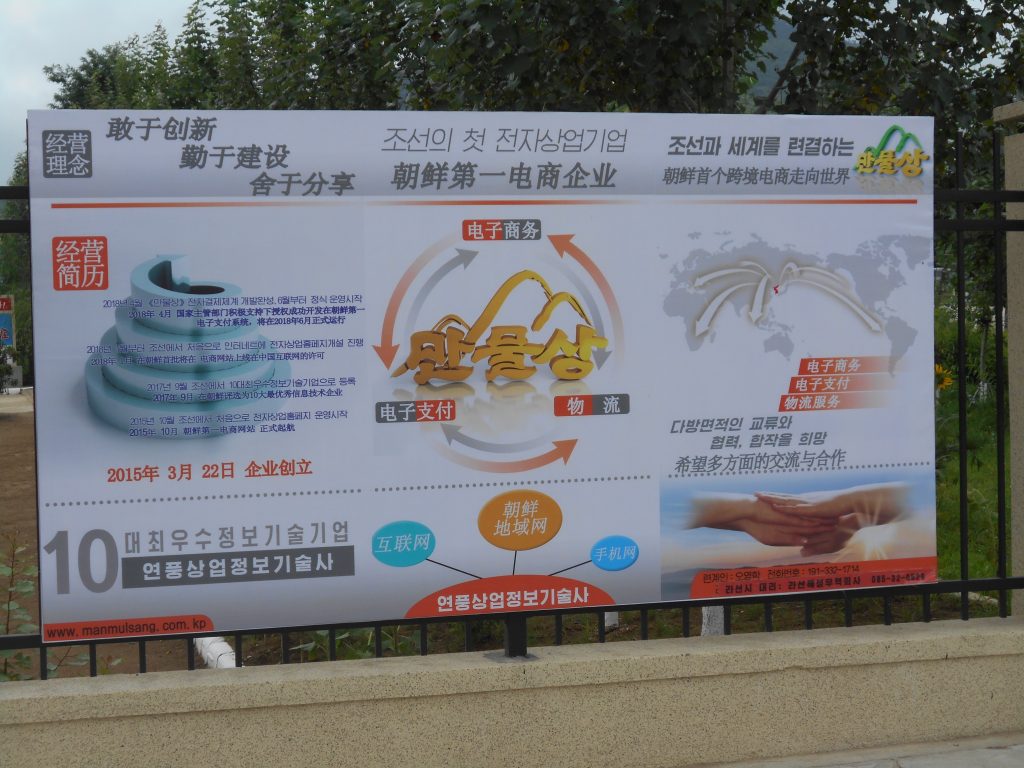 The efficiency increases that have been encouraged and codified under Kim Jong Un have certainly helped cushion the blow of sanctions that economic actors have faced in recent years. Greater domestic production has also helped the country weather the sanctions storm. Creativity, flexibility and self-reliance are pervasive as businesspeople small and large have learned over the years figure out for themselves what they need.
These things have helped people in various sectors survive in a high-pressure environment. All are looking forward to a lifting of sanctions and the unlocking of greater opportunities that this would portend. This is nowhere truer than in Rason, one of the three most connected cities in the country. There, like so many of us, citizens daily scan the news, wondering when that political breakthrough will arrive.
---
[1]

One must also be aware of the possibility that sanctions-busting was part of the "nothing going on" and that was why a visit was impossible—either way, it would represent sanctions having an impact.
---