China's Potential Role as Security Guarantor for North Korea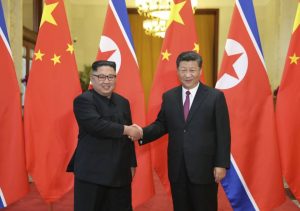 The recent developments on the Korean Peninsula have been dominated by North Korea's rapid rapprochement with the US and the revitalization of inter-Korean relations. These improvements suggest China still has unique leverage over the peninsula and a potentially important role to play in the denuclearization process.
Reports of China's Marginalization Have Been Greatly Exaggerated
A series of positive developments have occurred on the Korean Peninsula as a result of multiple summits between North Korean leader Kim Jong Un and South Korean President Moon Jae-in, Chinese President Xi Jinping and US President Donald Trump. It is notable that South Korea has recently been a more central player in these developments than China, which historically has played the more dominant role in North Korean affairs. Kim Jong Un's diplomatic activism since the beginning of the year and the Moon government's commitment to North-South reconciliation have catapulted Seoul into the role of facilitator and mediator.
The creation of the new North-South diplomatic track seemed to diminish China's traditional leverage, fostering anxiety in Beijing that its influence on the peninsula was becoming marginalized.[1] However, these worries were short-lived. Prior to meeting with Moon, Kim Jong Un made a smart move by visiting Beijing on March 28. The meeting appeased its only ally, ensured Chinese leverage on North Korea, and helped repair their frosty relations. On May 7, Kim met with Xi for the second time prior to his meeting with Trump to nourish ties with Beijing. While China did not participate in the Singapore Summit, its influence was certainly present. For instance, Kim flew the Chinese state-owned Air China Boeing 747-400 jet, which reportedly normally carries Xi, for his first overseas visit. Furthermore, the US commitment to halt large-scale joint military exercises with South Korea and the freezing of North Korea's nuclear and ballistic missile tests echoed China's "suspension for suspension" proposal.[2] One week after the US-DPRK summit in Singapore, Kim met with Xi for the third time in three months. The three visits reinforced China's view that it is a driving force behind developments on the peninsula and bolstered Beijing's confidence in its relationship with North Korea.[3]
While it did not play a major role in facilitating the Trump-Kim Summit, China's efforts and influence on North Korea going forward cannot be overstated. Should the summit and the follow-up diplomacy prove to be a turning point on North Korean denuclearization, the role of China in achieving this historic goal is bound to change, with significant implications for China-Korea relations.
Conflict of Interest or a Win-Win Situation?
China's policy toward North Korea is driven primarily by economic and security interests. On the economic front, while the Sino-DPRK trade balance is skewed towards North Korea, an open and stable regional market still benefits China, especially the Northeast Provinces. Access to the ice-free harbor in Rason—the Rajin port—could shorten shipping routes from China to Japan, cities in southern China and other Southeast Asian countries.[4] The goods transported through Rajin are mainly lumber, coal and other raw construction materials that largely fall under UN sanctions; North China's import of cheaper energy resources and minerals from North Korea is also affected by these sanctions. Both Russia and China have called for gradual sanctions relief should the situation on the peninsula improve.[5] A lifting of UN sanctions would create short-term business opportunities between Northeast China and North Korea.
As the North Korean market slowly normalizes, Chinese companies will face stiffer competition from other foreign investors trying to take advantage of low-cost offers from the North. China's trade volume—90 percent of North Korea's total foreign trade—and its dominance of the North Korean market are bound to decrease. But this is not necessarily a disadvantage for China—diversified investment sources will spread Chinese risk which has traditionally been high. Regardless, China will remain North Korea's primary trading partner, and its economic assistance will help sustain and facilitate the denuclearization process on the peninsula.
China's primary security concern is regional stability, which includes the physical safety of its border cities and maintaining the strategic balance in Northeast Asia. This means Beijing supports the denuclearization of the Korean Peninsula so long as it contributes to both of these aims. Due to North Korea's isolation from the international community, concerns have been raised regarding potential deficiencies in North Korean nuclear technologies and practices, especially along the lines of nuclear safety and accident management. Such concern was evident in September 2017 following North Korea's sixth nuclear test, when reports of an on-site collapse raised worries over potential radioactive spills.[6] This sentiment was most pronounced in China's border cities since most North Korean nuclear facilities are located in the western parts of the country.[7]
More importantly, North Korea is the centerpiece of strategic competition between China and the United States. Pyongyang has played into this competition well, seeking to restore China-North Korea bilateral political and economic support while taking initial steps towards denuclearization with the United States. In the long term, it is uncertain whether the North will choose to tilt toward China or the United States or to adopt a traditional small state diplomatic strategy of playing one country off against the other. The way China defines its own role will be one of the key factors behind North Korea's choice.
Bilateral Relations and China's Nonalignment Policy
China and North Korea signed the Sino-North Korean Mutual Aid and Cooperation Friendship Treaty (hereafter "Treaty") in 1961. This Treaty ratifies that the two nations can take all necessary measures, including military support, to oppose any country or coalition that might attack either nation, granting China a legal right to intervene on the Korean Peninsula during wartime. This right is extremely important to China to ensure its "Three-no's" policy towards North Korea: no war, no instability and no nuclear weapons (不战, 不乱, 无核). Also, the transformation of North Korea will play a significant role in determining China's success in maintaining a strategic balance in Northeast Asia, and possibly even in supplanting US leadership of the future regional order.
The Treaty notwithstanding, China does not believe it is obligated to defend North Korea in any conflict initiated by Pyongyang,[8] although, it is difficult to see how it could avoid getting pulled into any conflict on the Korean Peninsula. While China denies having a formal alliance with North Korea, claiming instead that their relations are a normal state-to-state relationship,[9] the international community generally sees them in this way. This contradiction is best explained by Beijing's lingering commitment to nonalignment and an "independent foreign policy (独立自主的外交政策)"—principles established by Deng Xiaoping in 1982 during the Cold War in an attempt to keep China out of the US-Soviet competition.[10]
Nonalignment has since shaped China's foreign policy; it has established different types of partnerships (伙伴关系) that, unlike traditional alliances, do not emphasize military cooperation and security commitment. China's rise and changing security environment have sparked debates among Chinese academicians whether the Chinese government should shift away from nonalignment.[11] In fact, it has already strengthened military exchanges and cooperation with some of its partner countries.[12]
A Chinese move away from nonalignment could have significant implications for China-North Korea relations: if the two sides strengthen military ties under a more formal partnership, the subsequent boost to North Korean deterrence could provide a security guarantee that would facilitate the denuclearization of the Korean Peninsula. However, this relationship is still a long way off. According to the Chinese Ministry of Foreign Affairs, China and North Korea do not have a partnership, but rather traditional friendship and cooperation.[13] This definition shows the unique position held by North Korea in Chinese bilateral relations, but also the ambiguity in their relationship, which undermines North Korea's trust in China as a security guarantor despite their historical relations and the Treaty.
A Security Guarantor?
North Korea has few security alternatives. The near-term prospects for concluding a peace treaty with the United States remain uncertain. Washington may be prepared to declare, with conditions, a formal end to the Korean War, but taking the next step—negotiating a peace treaty—is more complicated as it will have to address a broad range of issues regarding the American troop presence in South Korea, US influence in Northeast Asia, and North Korea's denuclearization. At the same time, North Korea will need Chinese support to increase its leverage in those negotiations, and under certain conditions, China is willing to oblige in order to ensure Chinese interests are represented even with the North's other bilateral arrangements. This dynamic was evident during Kim's first visit to China in March 2018, where both Xi and Kim recognized the development of the China-North Korea friendship as a "strategic choice" and jointly stated that their bond would remain unchanged.[14] It is clear that both sides intend to decrease the mutual distrust that has been building since the end of 2011, with the aim of elevating their ties.
There is no doubt that China hopes to play an instrumental role in shaping any future peace and security regime for the Korean Peninsula. To maximize its influence, Beijing could consider extending a formal security guarantee to North Korea. This would not necessarily involve a nuclear umbrella like the one America has over Japan and South Korea. Rather it would mean a binding Chinese commitment to defend North Korea against external attack, once Pyongyang has taken concrete and sustainable steps towards denuclearization. This would be a difficult decision for Beijing, but it might be necessary to resolve this decades-old issue.
Whether North Korea will be interested in Chinese security guarantees is uncertain and warrants further research. It is clear, however, that Pyongyang will require one or several brokers who can address its demands and protect its interests as it moves down the path toward denuclearization to underpin any security commitments the US may make under this administration.
The views and opinions expressed in this article are those of the authors alone and do not necessarily reflect the official policy or position of SIPRI.
---
---