War with North Korea Would Attack American Workers
Last fall, when war with North Korea seemed imminent, Senator Lindsey Graham said that, "if there's going to be a war to stop [Kim Jong Un], it will be over there."
But for more than 406,000 Americans whose jobs depend on trade with South Korea, that's not true. Though a diplomatic process appears to be progressing, it is important to remember what is at stake.
While the Korean Peninsula would bear the brunt of the physical violence, the United States likely would suffer severe economic damage. Even without nuclear weapons, a conflict on the Korean Peninsula could slow the US economy to 2009 levels and eliminate 45,000 American jobs in just two sectors.
The Economist Intelligence Unit, a subsidiary of The Economist magazine, analyzed the US automotive and agriculture industries to better understand the economic impact of a war. The auto industry is an import market (Korea is a key parts supplier for cars built in America); agriculture is an export market (Korea is the sixth largest customer for US farmers). Together, both industries reflect just how closely the US and Korean economies are integrated. By analyzing the number of jobs at risk in these sectors in specific states, the consequences of a war become clearer.
A war with North Korea would have the biggest impact on the automotive industry in three states—Michigan, Alabama and Georgia. Between autoworkers, distributors and other supporting industries, nearly 25,000 Americans could lose their jobs.
In Georgia, more than 11,000 jobs would be eliminated. Some of those losses would be at the Kia Motors plant in West Point, Georgia, but lost shipping means the port cities of Savanah and Brunswick could be hit even harder. There would also be major layoffs at car dealerships, which, with average annual salaries of $57,200, could have an outsized impact on the Georgia economy.
While Georgia would lose the most jobs, Michigan would be hit hardest because its autoworkers earn relatively high wages compared to other states. With the average auto manufacturing job paying $73,100 a year, mass layoffs would be devastating for many Michigan families.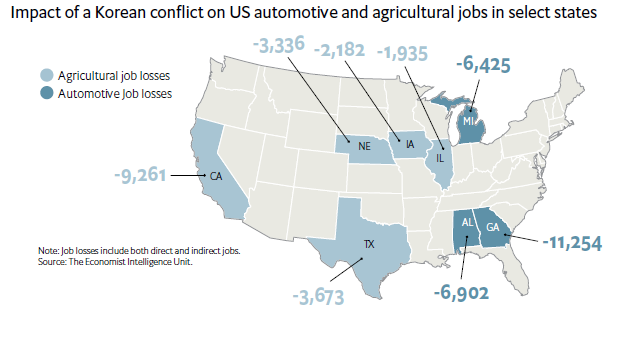 In Alabama, where Hyundai, Honda and Mercedes Benz all have plants, nearly 7,000 jobs could disappear. One hundred percent of Alabama auto imports from South Korea are in the form of parts, which are then used in models from around the world. During a war, this supply line could be badly damaged if not destroyed.
The Economist analysis is notable in part because of its focus on jobs tied to imports—a body of research already exists on jobs related to exports, including in Michigan, Alabama and Georgia. According to Korea Matters for America, Michigan has about 8,000 jobs tied to exports to South Korea and exports $1.4 billion annually in goods in services. Georgia's exports to South Korea support 8,211 jobs and are worth roughly $1.5 billion per year. In Alabama, exports to South Korea create just under 3,500 jobs.
The Economist builds on this research by estimating export-based job loss in the agricultural sector. South Korea is the sixth largest customer for US farmers, and in the event of a war, California, Texas, Nebraska, Iowa and Illinois would all be hard hit. These five states could lose a combined 20,000 jobs. In California, rice and orange growers would take the brunt. The beef sector would lose over 4,000 jobs in Texas and Nebraska alone. In Iowa, pork producers and related industries could lay off as many as 2,200 workers. About 2,000 food manufacturing jobs would disappear in Illinois.
To put these numbers in context, recall the Indianapolis-based Carrier air conditioner plant that President Trump and Vice President Pence fought to stop from moving to Mexico. That plant supported 2,100 jobs, and even with tax breaks and the full weight of the White House, fewer than 1,000 could be saved. As one former employee said, "We were really a family. It's not just that I'm a lost paycheck away from homeless now. I will never find a job like this one again." Imagine that experience for 45,000 American workers.
These case studies help explain why war on the Korean Peninsula, even without nuclear weapons, would stall the US economy. US GDP growth would shrink to one percent—the weakest since the 2008 financial crisis, and a far cry from Trump's promised four percent. Financial markets would buckle, wages would fall, and oil prices would spike.
The impact would even be felt under the Christmas tree. South Korea is the world's main producer of LCD displays for smartphones and TVs, and the second biggest source of semiconductors. Damage to production facilities could cause worldwide shortages in consumer electronics and take several years to replace.
The economic costs for the US really start once the shooting stops. According to economists Gareth Leather and Krystal Tan, it could add up to as much as $1 trillion to reunify North and South Korea. The amount is roughly what the US has spent over 17 years in Afghanistan, and up to three times the estimated cost of reunifying East and West Germany. Rebuilding the North's economy and managing the flow of refugees would be especially costly. The US could not escape responsibility for bearing some portion of these expenses.
Rebuilding the South economy would also require huge investments. South Korea is the world's eleventh largest economy and exports more goods and services than all but six other countries. It is home to major auto and electronics companies, including Samsung and LG, as well as Hyundai and Kia. Leather and Tan write that, "If the US were to spend proportionally the same amount on reconstruction in Korea as it did in Iraq and Afghanistan, it would add another 30 percent of GDP to its national debt."
While the human costs are paramount, there are important lessons to draw from economic analysis of a possible war on the Korean Peninsula. First, the US-South Korea alliance makes both countries stronger, safer and more prosperous. Keeping the peace is in both country's national interest. Second, the administration and Congress must be honest with the American people about what it would mean if the North Korean issue ultimately had to be resolved by force.
One thing is clear. A war with North Korea would not be just "over there."
Read the full EIU report here.