North Korea Proceeds Down a Nuclear Path
Reports about the unusual "closed-door meeting" of the Workers' Party of Korea Central Military Commission (CMC)[1] on July 18 suggested that North Korea remains committed to its strategic weapons development and production plan, including its nuclear weapons. This meeting builds on recent statements by North Korean officials implying that Pyongyang will proceed with its strategic weapons plans and that the moratorium on nuclear weapons and long-range ballistic missile testing is off the table.
While the omission of the word "nuclear" in North Korean coverage of the CMC meeting has led to speculation that the North is softening its position, photographs of the meeting do not support that conclusion. In fact, they make clear that the nuclear program is still a centerpiece of the North's policy.
"Nuclear War Deterrent" vs. "War Deterrent": Significant?
The CMC meeting echoed wording from the June preliminary meeting, calling for the strengthening of the country's "war deterrent."[2] By contrast, reports of the May CMC meeting had referred to the need for further increasing "nuclear war deterrence."[3]
North Korea may have omitted "nuclear" to dial down the tone of recent messaging, but it does not necessarily translate into actual policy implications. For instance, North Korean state media used "war deterrent" and "nuclear war deterrent" interchangeably during the years that byungjin was the official state policy (2013-2018), when Pyongyang's openly stated goal was to simultaneously build nuclear forces and develop the economy.[4]
Reading Between the Lines: The Photos
If North Korea's intention was to modulate the tone of the text by leaving out the word "nuclear," it made its intent clearer through the photos. By deliberately releasing photos of the CMC's "closed-door meeting" in which nuclear weapons specialists were present, and even shown speaking, Pyongyang was signaling that its nuclear program remains central to its policy.
Two key figures appearing in the photos were Hong Sung Mu, vice director of the party's Munitions Industry Department, and Ri Hong Sop, director of the Nuclear Weapons Institute and formerly the head of the Yongbyon Atomic Energy Research Institute. Hong and Ri are widely known as North Korea's top nuclear weapons developers. Both were prominently shown in photographs with Kim Jong Un at nuclear weapons-related events in 2017, including Kim's guidance of "the work for nuclear weaponization" that September.[5]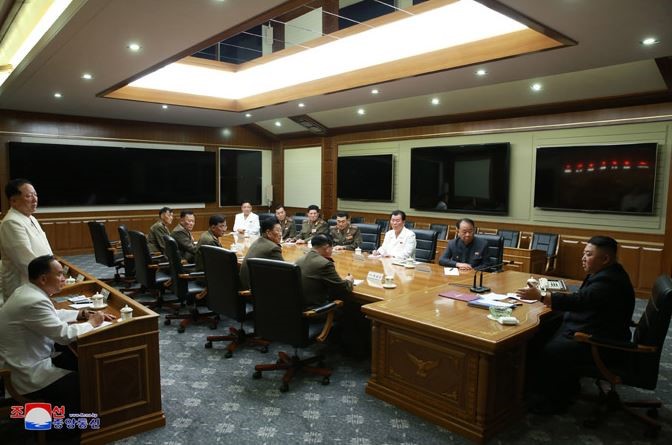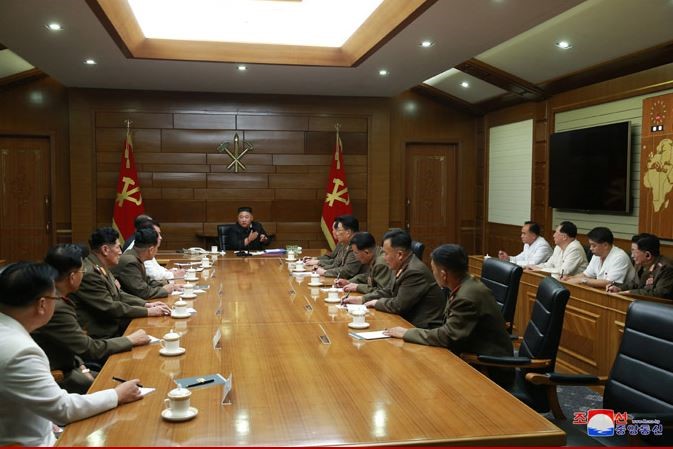 In the Context of Recent Statements
This nuanced treatment of nuclear weapons in CMC meeting coverage is consistent with recent statements by North Korean officials, which indicated denuclearization is off the table for now and North Korea will proceed with its weapons development to cope with US "long-term threats."
In a press statement marking the second anniversary of the US-DPRK Singapore summit, for instance, Foreign Minister Ri Son Gwon explained that denuclearization may be a US goal but is not North Korea's. He said, "Our Republic's unchanging strategic goal is to build a more solid force to manage the long-term military threats of the United States."[6] Underlining the point, Ri's statement echoed the language of the May CMC meeting, even revealing that the CMC had "discussed the national strategy for nuclear development."[7]
On July 4, First Vice Foreign Minister Choe Son Hui said, "We have already formulated a more concrete strategic calculating table to manage long-term US threats. Our national policy will never be adjusted or changed depending on external variables like somebody's domestic political schedule."[8]
While Kim Yo Jong's July 10 press statement seemed more conciliatory in tone than the previous Foreign Ministry statements, the bottom line was consistent with North Korea's position since the Stockholm talks in October 2019: there will be no denuclearization talks until the US withdraws its "hostile policy."[9] Kim added that North Korea must plan for "long-term threats" from the US and "strengthen and steadily increase our practical capabilities," which implied going ahead with North Korea's weapons development and production plan.
---
---