Inspector O and the Lost Opportunity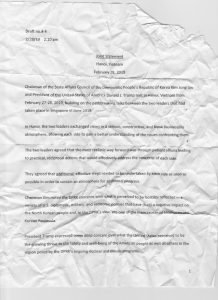 I found Inspector O sitting by himself on the patio, near the steps leading down to the seashore.
"Long time no see," he said. "Have a seat. There's a breeze, so maybe you can do without the mask." He indicated his was folded in his shirt pocket. "If the waiter insists, we'll oblige, though I haven't seen a waiter since I got here."
I sat down across the table, which was no more than four feet wide. As imperceptibly as possible, I moved my chair back from the table. "Do you have any idea how hard it is for me to travel these days?"
O moved his chair closer. "Do you have any idea how hard it is to find a country that will accept your passport?"
"Ah, that explains it." I moved back another inch or so. "I didn't think St. Lucia was your style."
"Whatever works," O said. "The hotel is fine, I really like the drinks in the bar that come with the little umbrellas. Nice and relaxing. People here don't seem to have a care in the world."
"So it seems. You have business in this paradise?"
"Only you, Church. I got orders and an economy plane ticket, so here I am. You want something to drink?"
I thought about it. "Fruit punch if they have it. Something without alcohol."
O looked concerned. "Health problems?"
"No, just age. Alcohol makes me sleepy."
"Maybe we should move into the shade? If you get sunstroke, I'd catch hell when I get back home. They still think you're useful."
"And you don't?" I smiled.
"This might be my last assignment, Church. I have something for you." He reached under the table into an old leather briefcase.
"I hope it's not money."
"No, better than that. It's something from Hanoi."
"A tee shirt?"
"Funny man. No, it was something important that was supposed to be handed to your president, but in the excitement never got passed. When someone," O stopped here and looked around carefully before lowering his voice and leaned toward me, "someone read a summary of Bolton's book, believe me, there was a mini-explosion. I'm surprised it didn't set off the rictus scale."
"Richter."
"You read the book I imagine. Bolton apparently says there was supposed to be a joint statement worked out at the end of the Hanoi talks. Kim Yong Chol was told by," again O paused and looked around before going on, even more quietly than before, "by the Top to take care of it. There was a draft already prepared, I'm told, but the old man didn't hand it over. Either that or he gave it to Bolton, who never passed it on."
"You kidding me?"
The sea breeze picked up a little, and neither of us spoke for a minute or so.
"No, Church, I didn't fly all the way here to joke around. I'm supposed to hand it over to you. Since after the Bolton book everyone knows how he effectively destroyed the meeting, I guess there's still someone at home wondering if there is a way forward. Maybe sideways." He shrugged. "You saw the statement by Kim Yo Jong?"
I nodded. Silence again, this one more fraught. Finally, O cleared his throat and look out at the ocean.
"I can already tell you," I said, "I don't know what to do with whatever it is you're holding."
"That's what I told them you'd say. Here," he passed over a piece of paper that had been folded and folded and then folded again, as if had been in the back of someone's drawer for a couple of years. "You don't have to read it now. Maybe better if you don't, since you'll ask me questions and I don't have any answers."
"This is legit?"
"Come on, Church, we've known each other too long to start raising questions like that."
"OK, I'll read it back in my room, then I'll decide what to do with it."
"That's entirely your business. I've done what I was sent to do. Mission accomplished, as someone once said." He looked at his watch. "Oops, I have a sailing lesson and then scuba." He got up to leave. "Maybe I'll see you at the bimbo contest tonight."
"Limbo," I called after him, but he was already down the steps and striding across the sand.
Back in my hotel room, I opened one of the tiny bottles of Scotch supplied by the hotel, drank most of it from the bottle since there was no glass, and then unfolded the paper. I read it once, finished the rest of the little bottle, and then read it a second time, more slowly. "Ah," I said to no one in particular, "John Bolton strikes again."
Joint Statement
Hanoi, Vietnam
February 28, 2019
Chairman of the State Affairs Council of the Democratic People's Republic of Korea Kim Jong Un and President of the United States of America Donald J. Trump met in Hanoi, Vietnam from February 27-28, 2019, building on the path-breaking talks between the two leaders that had taken place in Singapore in June 2018.
In Hanoi, the two leaders exchanged views in a serious, constructive and frank businesslike atmosphere, allowing each side to gain a better understanding of the issues confronting them.
The two leaders agreed that the most realistic way forward was through patient efforts leading to practical, reciprocal actions that would effectively address the concerns of each side.
They agreed that additional, effective steps needed to be undertaken by each side as soon as possible in order to sustain an atmosphere for additional progress.
Chairman Kim noted the DPRK concerns with what it perceived to be hostility reflected in a variety of US diplomatic, military and economic policies that have (had) a negative impact on the North Korean people and, in the DPRK's view, are one of the main causes of tension on the Korean Peninsula.
President Trump expressed some deep concern over what the United States perceived to be the growing threat to the safety and well-being of the American people as well as others in the region posed by the DPRK's ongoing nuclear and missile programs.
The two leaders agreed that a good possible place to begin exploration of tangible actions to address the concerns of each side was to consider the important role that the Yongbyon nuclear center plays in the North Korean nuclear program, and the impact of post-2016 UN Security Council sanctions have on the well-being of the North Korean people.
To that end, and fully acknowledging the enormous challenges difficulties in overcoming years of hostility between their two countries, Chairman Kim and President Trump instructed their negotiating teams to meet within the next 60 45 30 days to redouble efforts to find the most effective means of achieving in concrete ways each of the four goals laid out in the Singapore joint statement.
Chairman Kim and President Trump expressed the firm conviction that it was crucial to establish a means of regular communications between them, and to meet again at a time and place convenient for both sides in order to evaluate progress in the ongoing working-level negotiations.