Kim Yo Jong Stays in the Picture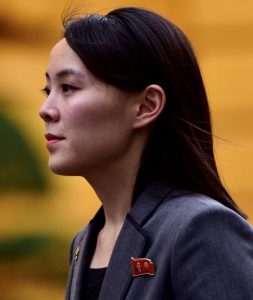 Despite her auspicious family ties and her perch at the top of North Korea's political heap, the career of Kim Yo Jong, the North Korean leader's younger sister, will proceed along the same path as other DPRK elites. Whatever substantive positions and/or political offices she holds will be affected and shaped by the current prevailing political and policy environments.
At the Eighth Congress of the Workers' Party of Korea (WPK), much was made of Kim Yo Jong's "demotion" from the Political Bureau (Politburo), the party's lead power organization. However, this interpretation fails to recognize the broader context of this move. She and her peer group of core DPRK elites in the Central Committee apparatus all saw their job responsibilities and titles redefined and changed at this Congress. At the same time, she was one of the last of the appointments to the Political Bureau made during the 2018 "charm offensive" to remain until now, as most of the other officials associated with it have either retired or been reassigned.
Furthermore, when assessing Kim's career, her role as the gatekeeper for Kim Jong Un remains intact, a crucial position in a political system like North Korea's. Finally, when looking at the potentially decades left in Kim's career, this move off of the Political Bureau at her young age is neither the first nor likely the last time she will experience this kind of power transition as she carves out her space in the regime.
Kim Yo Jong and the Political Bureau
Most of the attention on Kim Yo Jong's current status focuses on her being dropped as an alternate member of the Political Bureau. This was not the first time this has happened. She was first elected to the Political Bureau in 2017 and then removed in 2019, which also sparked media reporting speculating that she had fallen out of favor or been demoted.[1] She was later elected back to the Political Bureau in April 2020 before being removed during the first plenary meeting of the Eighth Party Central Committee, held on the sidelines of the Eighth Party Congress.[2]
This second dismissal from the Political Bureau appears to be less about her personal performance over the past year, and more a consequence of the DPRK's evolving political environment. The Eighth Party Congress publicized and authorized a series of fundamental changes to the Central Committee's power organizations, like the Political Bureau, and how the party operates overall. The Party Congress enhanced the authority of the Political Bureau and its Presidium over policy and personnel affairs. With that change, the membership composition of the Political Bureau, which earmarks slots for incumbent senior officials, was reallocated.
The current post-Party Congress Political Bureau consists only of first-tier DPRK leadership (i.e., Minister, Director, Chief). Second-tier positions, such as Kim Yo Jong's deputy (vice) directorate, were eliminated entirely. The change in her status and the political offices she held reflects the overall trends of major institutional changes in the North Korean political environment.
Kim Yo Jong's removal from the Political Bureau, however, does not necessarily portend her complete absence from this powerful organization or its meetings. While further public events and other activities are necessary to accurately gauge how the Political Bureau functions under Kim Jong Un, its meetings have routinely been held on an "expansion basis" and included DPRK elites with the same or similar rank as hers. For example, at a performing arts event held to celebrate the Eighth Party Congress, she was one of only two officials seated with other members and alternate members of the Political Bureau. This indicates that even though she lacks the alternate member credential, she remains within the top 50 of the regime's formal hierarchy.
Even if the Eighth Party Congress and Kim Jong Un had given Kim Yo Jong a Kim family exemption from the new qualifications for Political Bureau membership, there was always a high probability that her career would be affected by Pyongyang's current policy environment. The Party Congress, along with other political events during the last half of 2020, is shifting North Korean policy priorities away from foreign affairs and diplomatic engagement toward bolstering the country's defense industry and the developing missiles and WMDs.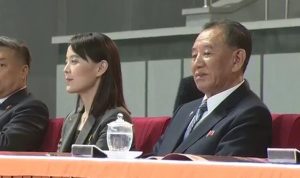 A combination of the COVID-19 pandemic and storm damage to housing and the country's critical infrastructure finds Kim Jong Un and the core leadership leaning into an overall policy environment focused on military affairs, internal security (emphasizing a corruption crackdown) and the defense industry. In that environment, any remaining elites associated with the 2018 "charm offensive" now operate in a diminished capacity.
This is the broader context in which Kim Yo Jong was removed from the Political Bureau, reverting back to a more behind-the-scenes role in the country's political culture. The first wave of these personnel changes occurred at the 2019 Central Committee plenary meeting when former Party International Affairs Department boss Ri Su Yong retired and former Foreign Minister Ri Yong Ho was removed from office and transferred to a new position.
In 2021, this also affected the careers of Kim Yong Chol and Choe Son Hui. Kim Yong Chol retained his full Political Bureau membership, but he was removed from the Party Central Military Commission. He was also appointed as a Central Committee Department Director, but was not appointed to the revamped Secretariat. This latter personnel move eliminates Kim Yong Chol from his previous senior policymaking role, subordinating him to Ri Pyong Chol, who was elected to the Secretariat.[3] Choe Son Hui was demoted from full membership on the Party Central Committee to alternate membership.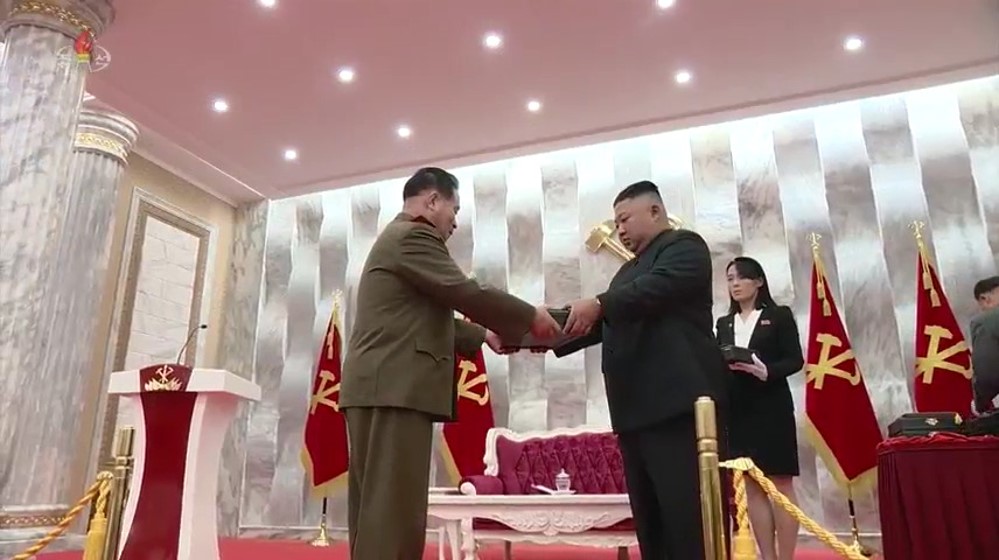 The Gatekeepers
Further studies about the function and role of Kim Jong Un's Personal Secretariat, his executive office, are warranted. But when assessing Kim Yo Jong's career in the context of the Eighth Party Congress, we need to examine how it affects the Suryong's (leader's) gatekeepers. Until the Party Congress, Kim Yo Jong was one of the elite's public figures representing the Personal Secretariat; the other was Jo Yong Won. After the Party Congress, the situation around Kim Jong Un's gatekeepers appears to be more fluid.
Jo Yong Won was one of the biggest "winners" of this party event. He was elected to the Political Bureau Presidium and Central Military Commission and, most importantly, to the Secretariat.[4] These positions establish Jo as one of the regime's critical decision makers. With his new role as secretary, Jo has probably assumed some of the daily grinds of reporting and management responsibilities previously discharged by Kim Jong Un. It also means that, while he still might interact on a daily basis with Kim, Jo has new tasks to complete.
These moves indicate that Jo's role is shifting toward greater party and state affairs responsibilities, and away from the room where Kim Jong Un deliberates and decides on policies and how they are executed. With Jo's new job and responsibilities, Kim Yo Jong is the only known public figure who is still in the room. In a political system like the DPRK's, this level of access and influence is an asset for her.

There are two ways, currently bandied about by analysts and media reports, in which Kim Yo Jong's access translates into tangible and observable manifestations of power. The first are meetings held by the Political Bureau. When we watch Kim Jong Un sit at the table at a Political Bureau meeting, he always has a pile of papers or a briefing book in front of him. Even with some of the changes made during the Eighth Party Congress, the Political Bureau is not entirely a decision-making organization. While the state media reports about decisions that are adopted or authorized by the Political Bureau, it merely deliberates on and discusses a series of decisions that Kim Jong Un has already made.
When we factor in the technical role of the Personal Secretariat, and one of its leading cadres like Kim Yo Jong, we find the institution and individuals who channel the leader's thinking and comments and prepare the documents from which he reads when he attends Political Bureau meetings. The Eighth Party Congress has decreed that the Political Bureau can meet without Kim Jong Un's attendance or participation, but that does not mean the meeting's documents and decisions won't be authored, if not shaped, by him and his Personal Secretariat gatekeepers.
The second way one might measure Kim Yo Jong's power is through her role as a key Personal Secretariat employee (in addition to being the leader's sister). In this capacity, she has current and direct knowledge of Kim Jong Un's whereabouts, activities and physical and mental health. Her position reminds us of the hypotheses and assumptions of Pyongyang watchers who puzzled over Kim Jong Un's public absence during April and May 2020. In terms of "real power," there are few, if any, core DPRK elites whom Kim Jong Un would admit to his bedside.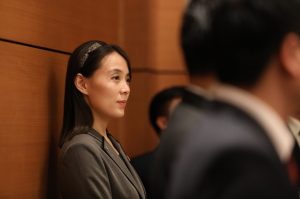 Some observers seem to think that a sick or debilitated Suryong's lines of authority were or could be usurped by Kim Yo Jong as one of his close aides. The reality, however, is that much of the DPRK leader's daily business is pro forma—reports are received and processed, and documents previously approved are signed and dated. In these circumstances, there is little space for Kim Yo Jong or other close aides to stretch out their tentacles and undermine Kim Jong Un's leadership.
We'll Be Here a While
One interesting analytic thread that has surfaced about Kim Yo Jong with regard to Kim Jong Un's public absence during spring 2020 is the concern that she will assume so much influence in the regime that she could eclipse her brother's authority as the "Decider" or that Kim Jong Un will view her as a potential rival. This is one of those situations where Pyongyang's elites have greater insight about North Korea than North Korea watchers. Kim Yo Jong is a skilled operator in the DPRK's political culture. She has been a core leadership figure while her brother cashiered numerous hacks and coat-holders, such as the 2013-2014 purges of her uncle Jang Song Thaek and his patronage network and the 2017-2018 purges within the Korean People's Army (KPA) General Political Bureau. This is a woman who knows the boundaries in which a savvy and successful influential elite can thrive without testing her brother's tolerance.
It will be at least another decade before it is time to worry about whether Kim Yo Jong represents a viable alternative power center to Kim Jong Un. When a 60-something North Korean official is dismissed from the Political Bureau or the Central Committee, then they have little hope of being readmitted to the center of power. Kim Yo Jong is 32 years old, making her half the age of her elite peers in the Central Committee apparatus. With Kim Jong Un having imposed a mandatory retirement age of 80 (plus or minus) on senior DPRK officials, her dismissal from the Political Bureau and a lower public profile for now should be seen as a small bump in the road of what is likely another 50 or so more years in North Korea's decision making and political cultures.
---
---