Ri Pyong Chol's Fancy Footwork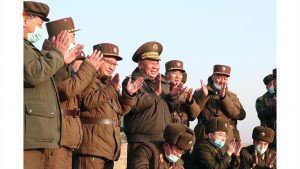 In continuing its signals that it is keeping the door open for reengagement at some point with the US, North Korea downplayed its launch on March 25 of two short-range ballistic missiles, and responded to US President Joseph Biden's remarks at his first press conference the next day with a relatively subdued statement. That approach appears intended to conform to the line advanced in Kim Jong Un's work report to the Eighth Congress of the Workers' Party of Korea (WPK) in January—shortly before Biden's inauguration—which depicted the June 2018 Singapore US-DPRK Joint Statement as the basis for a "new" US-DPRK relationship.
Kim Jong Un did not attend the missile launch on March 25. Instead, the test was overseen by Ri Pyong Chol, a ranking party and military official who is essentially in charge of the North's WMD programs and who also oversaw a test launch in March 2020 in lieu of Kim.[1]
On March 26, Rodong Sinmun, the party newspaper, carried its report on the missile launch on page two. However, page one of that same edition carried articles and pictures of Kim Jong Un talking to officials about city planning and transportation. The message for the domestic audience would seem to be that while the North was continuing its military buildup, Kim Jong Un himself was more focused on internal economic concerns.
At his press conference on March 26, President Biden was asked about the North's missile launch. He said:
"…there will be responses—if they choose to escalate, we will respond accordingly."
"But I'm also prepared for some form of diplomacy, but it has to be conditioned upon the end result of denuclearization."
The North may have read the tone of the president's remarks as echoing its own tempered approach. In particular, his phrase, "the end result of denuclearization" could have been seen in North Korea as leaving the way open again for the US to utilize, in some form, the Singapore Joint Statement's formula: "Reaffirming the April 27, 2018 Panmunjom Declaration, the DPRK commits to work toward complete denuclearization of the Korean Peninsula."
Pyongyang's response to the president's remarks was unusually fast—the next day—and very high-level in the form of a statement by Ri Pyong Chol. Ri's statement contained a number of signs of restraint:
It did not attack the president by name;
It expressed "apprehension," not "condemnation" of the president's remarks; and
Its final warning was swaddled in a noticeably soft formulation: "If the U.S. continues with its thoughtless remarks without thinking of the consequences, it may be faced with something that is not good." That latter phrase, "something that is not good," is on the lower end of North Korean rhetoric, or a deliberately muffled threat.[2]
In many respects, the combination of Kim Jong Un's appearance the day of the missile launch tending to infrastructure concerns, and then Ri's statement pulling its punches, has the hallmarks of a concerted effort by the DPRK to wait and see what the new US administration will do next.[3] As long as it continues this rhetorical bobbing and weaving, the North is leaving itself considerable room to maneuver.
---
[1]

"Test-Fire of Super-large Multiple Rocket Launchers Conducted in DPRK," KCNA, March 30, 2020.

[2]

"Ri Pyong Chol Expresses Deep Apprehension over U.S. President's Statement Faulting DPRK's Regular Testfire," KCNA, March 27, 2021. Author emphasis added.

[3]
---