Rakwon: North Korea's Video Conferencing Paradise
The COVID-19 pandemic caused the rapid expansion and normalization of video conferencing around the world, North Korea included. While Zoom may be the most prominent platform for businesses globally, North Koreans are connecting through a domestically developed video conferencing system called Rakwon (락원), which means "paradise."
The software was developed at Kim Il Sung University about a decade ago. However, while it was first reported in 2012, it had rarely been mentioned in North Korean media until 2020, when it began appearing regularly in news bulletins covering pandemic response efforts. It seems the software is now in use nationwide at organizations, enterprises and government offices.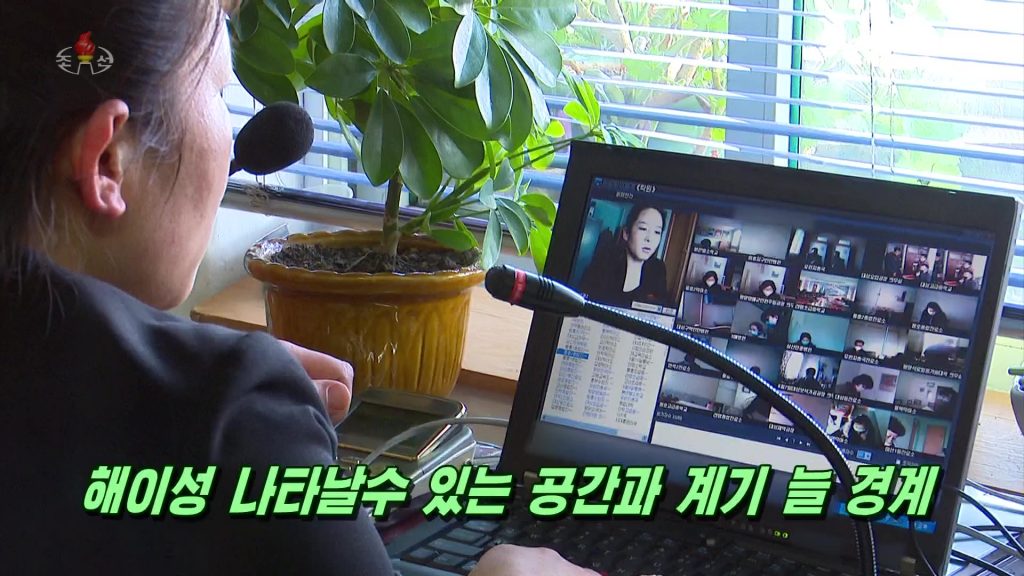 Early Development
Development of Rakwon was first reported in January 2012 by Chosun Sinbo, the newspaper published by the General Association of Korean Residents in Japan (Chongryon).[1] The article noted that the software, developed at the IT Research Institute at Kim Il Sung University, had won a gold prize at a science and technology festival in September the prior year. It even included a photo of Rakwon running on Red Star, North Korea's home-grown version of the Linux operating system. Later versions also appear to be compatible with Microsoft Windows.
Development took place at the same time the country was working on developing both a telemedicine system and a remote education system. All three technologies help people in remote areas connect with some of the expertise present at institutions in the capital city. In North Korea, this is particularly important given the restrictions on travel, especially to Pyongyang.
After its initial disclosure, Rakwon wasn't mentioned again until 2019, when the Korean Central News Agency reported its development as if it had recently taken place. The report said Rakwon had been "introduced throughout the country" and highlighted that the group behind it had won the "February 16 Science and Technology Prize" for 2019.[2]
The Interface
The Rakwon desktop is made up of four basic areas. In the top left is a view from the user's webcam, and below it is a list of participants. On the right side of the screen, smaller windows show videos of the other participants, under which is a chat window.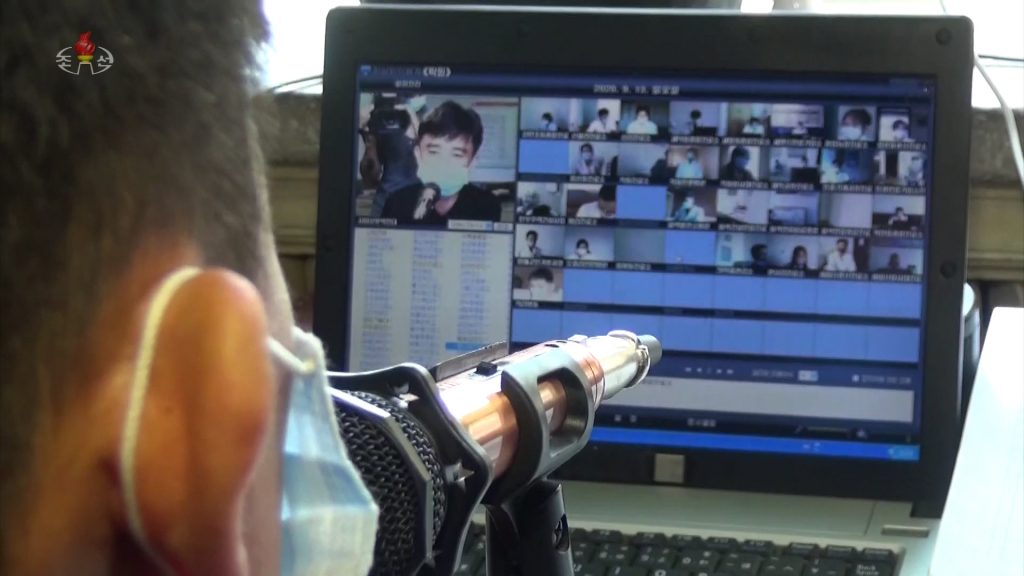 Pandemic Use
Throughout its coverage of the COVID-19 pandemic, Korean Central Television has regularly shown the Rakwon software in use in workplaces and factories up and down the country.
It was seen in use at the Hydrometeorological Agency (State Hydro-Meteorological Administration) in a broadcast showing preparations for a late summer typhoon, and in places as varied as the Mangyongdae District Youth League Committee and the science and technology room of the Pyongyang Power Distribution Station.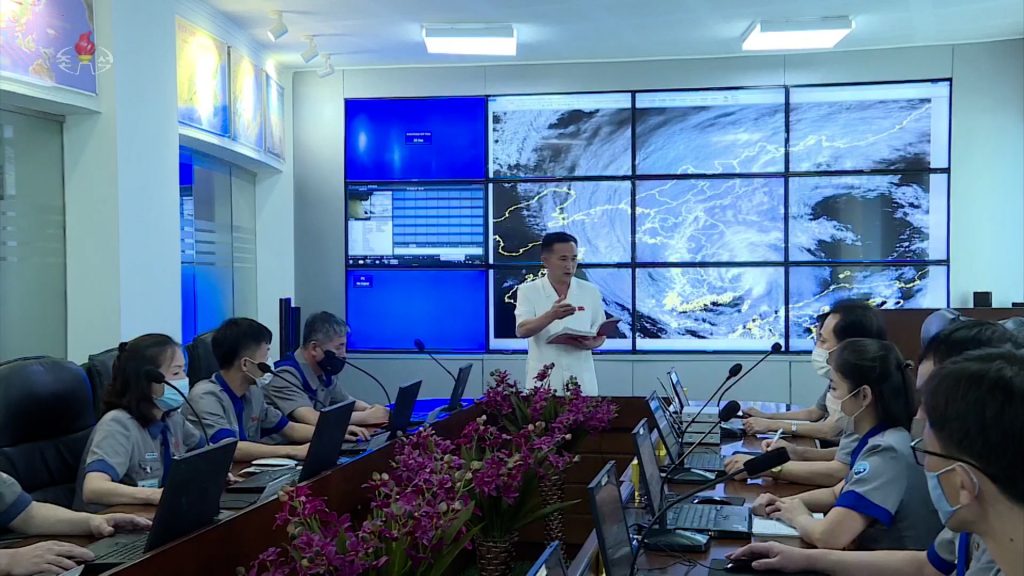 The system was used at least twice during 2020 in meetings led by Kim Jong Un. Its earliest reported use was on June 23, 2020, when Kim led a preliminary meeting of the Central Military Commission via videoconference. This was the first time North Korean media had reported a meeting being conducted entirely online as well as the first account of Kim managing a meeting virtually.
A month later, on July 25, Kim convened an enlarged Politburo meeting at the Central Committee office building in Pyongyang to discuss the COVID-19 situation in Kaesong City. No images were published of the first meeting, but those of the second show Kim Jong Un and 26 senior officials around a table and two large screens mounted on a wall opposite Kim. One of the screens appeared to be running the Rakwon software.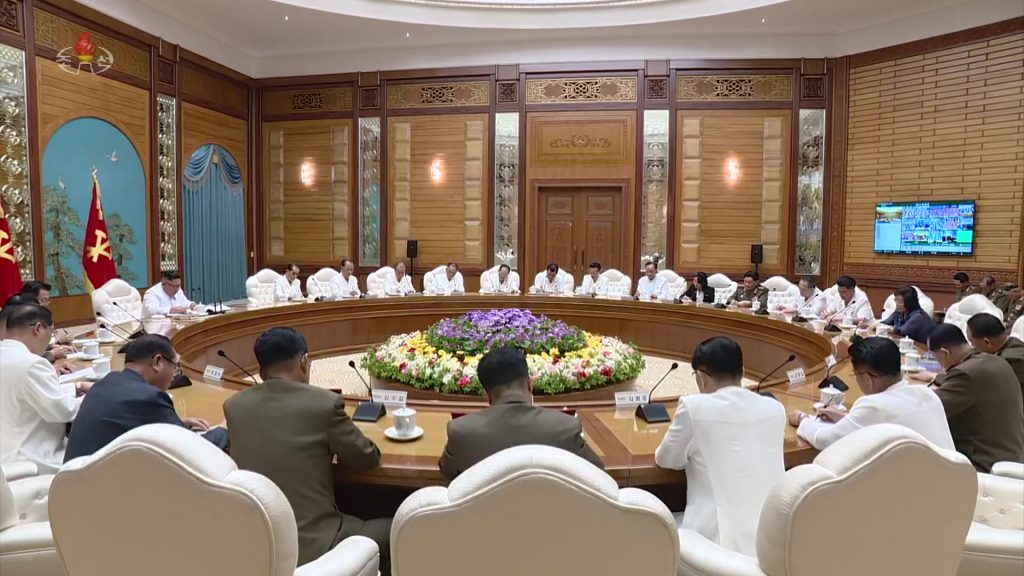 One close-up image broadcast on December 1, 2020, showed just how widespread the system is. In a news report on preparations for the 75th anniversary of the founding of the Workers' Party of Korea, a screen at the General Federation of Science and Technology of Korea showed 37 participating organizations.
The list indicated that many of North Korea's largest industrial enterprises are now linked together and with provincial and central government organizations under the Rakwon network.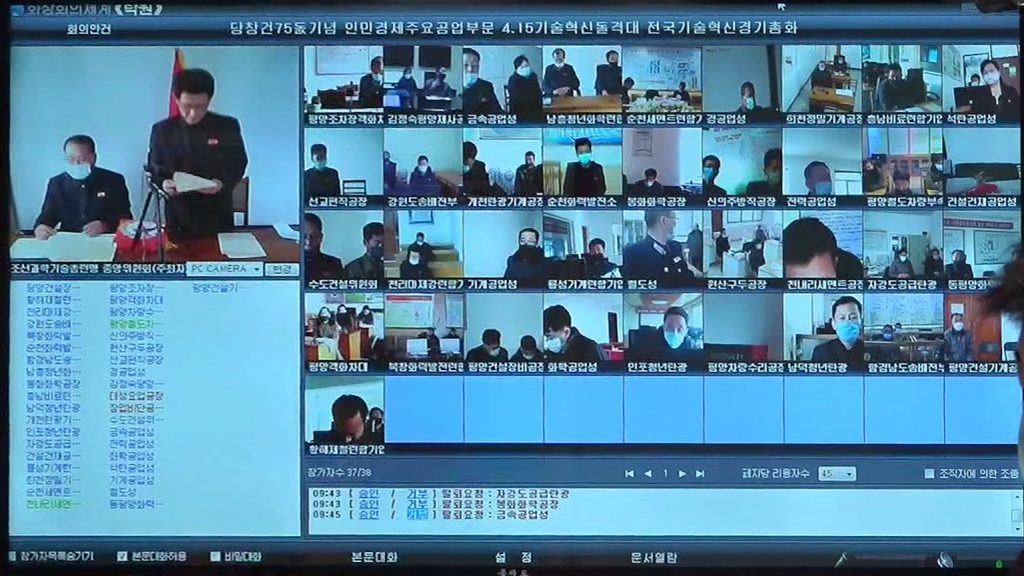 Row 1 (left to right): Pyongyang Marshalling Yard Passenger and Freight Car Office, Kim Jong Suk Silk Mill, Ministry of Metal Industry, Namhung Youth Chemical Complex, Sunchon Cement Complex, Ministry of Light Industry, Huichon Machine Tools Factory, Hungnam Fertilizer Complex, Ministry of Coal Industry
Row 2: Songyo Knitwear Factory, Kangwon Electricity Transmission Office, Kaechon Coal Machine Factory, Sunchon Thermal Power Plant, Ponghwa Chemical Factory, Sinuiju Textile Mill, Ministry of Electric Power Industry, Pyongyang Railroad Car…(cut off), Ministry of Construction & Building-Materials Industry
Row 3: Capital Construction Commission, Chollima Steel Complex, Ministry of Machine-building Industry, Ryongsong Machine Complex, Ministry of Railways, Wonsan Shoes Factory, Chonnae-ri Cement Factory, Jagang Coal Supply, East Pyongyang Thermal Power Station
Row 4: Pyongyang Train Station, Pukchang Thermal Power Station, Pyongyang Construction Equipment Factory, Ministry of Chemical Industry, Inpho Youth Coal Mine, Pyongyang Car Repair Factory, Namdok Youth Mine, South Hamgyong Electricity Transmission Office, Pyongyang Construction Machine Factory
Row 5: Hwanghae Iron and Steel Complex

International Links
While Rakwon is the main video conferencing software in use on North Korea's domestic network, it is not used to conduct international video conferences because no one else has the software. Instead, some foreign video conferencing options are available, such as Voov, from China's Tencent. Earlier this year, Choson Exchange conducted a number of remote education lessons over Voov with students in the DPRK.
Looking Ahead
The continued development and expansion of North Korea's telecommunications network is one of the priorities laid out by Kim Jong Un during his speech to the Eighth Party Congress of the Workers' Party of Korea in January.[3]
As it expands and reaches deeper into the country, more organizations and offices will be able to connect and benefit from video-based systems like Rakwon and the national telemedicine and tele-education networks. This will help correct the imbalance in knowledge and expertise between Pyongyang and the provinces.
---
[1]

"성능향상된 콤퓨터화상회의체계," Choson Sinbo, January 16, 2012.

[2]

"Video Conference System 'Rakwon' Developed in DPRK," KCNA, Mary 22, 2019.

[3]

"Great Programme for Struggle Leading Korean-style Socialist Construction to Fresh Victory On Report Made by Supreme Leader Kim Jong Un at Eighth Congress of WPK," Rodong Sinmun, January 10, 2021.
---