North Korea's Enduring Economic and Security Presence in Africa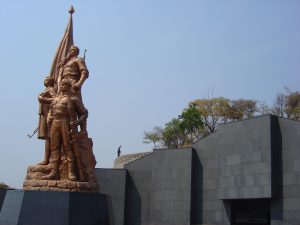 Three decades after the end of the Cold War, North Korea maintains an economic, diplomatic and security footprint in Africa. North Korea's engagement on the continent is sustained by its pressing need for hard currency, desire to escape international isolation and the inconsistent compliance of African countries with multilateral sanctions against the Democratic People's Republic of Korea (DPRK). North Korea's enduring appeal as a partner with these countries can be explained by its low-cost arms transfers, African efforts to develop indigenous defense infrastructures, North Korean dispatch of guest workers to meet labor needs and the use of ideologically based soft power. While North Korea's array of partners in Africa has steadily declined since the early 2000s, the North's presence on the continent is larger than anywhere else in the Global South.
The Historical Legacy
North Korea's current collection of partnerships in Africa are an inheritance from the Cold War. Due to its strident opposition to European colonialism and apartheid in South Africa, North Korea established a broad array of diplomatic relationships in Africa during the 1960s. North Korea's closest relationships were with fellow socialist states, such as Ghana under Kwame Nkrumah, Egypt under Gamal Abdel Nasser and Guinea under Ahmed Sékou Touré. The North accrued sufficient support in Africa to block South Korea from joining the Non-Aligned Movement. And during the 1970s and 1980s, North Korea converted its diplomatic presence into security partnerships in Africa. It sent pilots to man Egypt's MiG-21 jets during the 1973 Arab-Israeli War, started training the Zimbabwean army's Fifth Brigade in 1981, deployed technical advisors to support the People's Armed Forces for Liberation of Angola (FAPLA) in the mid-1980s and aided Mengistu Haile Mariam's crackdowns on dissent in Ethiopia.
North Korea's contemporary web of partnerships in Africa reflects these Cold War legacies. Current and former authoritarian leaders, such as Sudan's President Omar al-Bashir, Zimbabwe's President Robert Mugabe, Angola's President José Eduardo dos Santos and Uganda's President Yoweri Museveni, perpetuated their Cold War relations in the decades that followed. North Korea's opposition to white minority rule in South Africa created lasting goodwill there and in Zimbabwe. In April, North Korea used congratulatory messages to highlight two of its longstanding relations in Africa. Supreme Leader Kim Jong Un congratulated President Emmerson Mnangagwa on the 41st anniversary of Zimbabwe's independence on April 18 and South Africa's President Cyril Ramaphosa for Freedom Day on April 27.
However, North Korea's partnerships with countries that have close relations with the US, such as Egypt and Nigeria, suggest the DPRK's relationships with Africa are driven by more than historical memory. A March 2 United Nations (UN) Panel of Experts (POE) report revealed that North Korea maintains a wide network of illicit military deals and guest worker linkages in Sub-Saharan Africa. The report also listed entities in South Africa, the Democratic Republic of the Congo, Eritrea, Somalia, Uganda and Nigeria as potential violators of UN sanctions against North Korea. The revenue stream from this cooperation is relatively small. African countries import $100 million of North Korean goods and export $17.5 million in goods to Pyongyang. Nevertheless, it provides North Korea's cash-strapped regime with precious hard currency and an antidote to its international isolation.
The Toolkit
North Korea has a modest toolkit for expanding its presence, influence and foreign policy goals in Africa, encompassing military assistance, law enforcement capacity building, economic development and ideological propagation. In relative, if not absolute terms, these investments have yielded a good return at a relatively low cost.
Arms Transfers
Arms transfers are the most durable component of North Korea's presence in Africa. The primary weapons systems that the DPRK has transferred to Africa in the post-Cold War period are Scud-class missiles, portable surface-to-air missiles and military radar systems. Nigeria's public deliberations about purchasing missiles from North Korea in January 2004, which persisted in spite of strident US opposition, underscored the appeal of North Korean missile technology in Africa. In August 2013, North Korea "supplied 100 precision-guided rocket control sections and 80 air attack satellite-guided missiles to Sudan," netting Pyongyang more than $6.4 million. In August 2016, the North attempted to ship 30,000 rocket-propelled grenades worth $26 million to Egypt. This grenade shipment, which consisted of replicas of Soviet-era and Chinese models, was thwarted on its way to the Suez Canal. North Korea has also exported $6 million worth of missiles, radar and air defense systems to Mozambique.
While the appeal of North Korean arms comes from their low cost and no-strings-attached sales, the risks associated with violating UN sanctions loom large over African countries. After Egypt's arms purchases from North Korea were exposed in August 2017, the United States suspended $96 million in aid and delayed $195 million in funding to the Egyptian military. To reassure African countries that its arms transfers are deniable and low-risk, North Korea makes extensive use of third parties, sells arms through its embassies and uses its state-owned companies to negotiate opaque deals. In 2009, North Korea attempted to ship arms to the DRC by using Ethiopian Airlines and transiting through South Africa. Until 2017, North Korea routinely used its embassy in Cairo to transfer arms to Egypt and other African countries. North Korea's weapons transfers to Mozambique resulted from a partnership between Haegeumgang Trading Corporation and Mozambican state-owned defense company Monte Binga, which was facilitated by secret loans undertaken by Mozambique's security services.
Training and Defense Industrial Cooperation
As UN investigations have repeatedly exposed North Korea's clandestine weapons deals, some of Pyongyang's anti-Western security partners, such as Zimbabwe and Bashir-era Sudan, turned to Russia as a lower-risk and more reliable arms vendor. Russia's military training agreements in Sub-Saharan Africa, which provide counterinsurgency and logistical training to 20 countries, have eroded a traditional pillar of North Korean involvement in Africa. To maintain its foothold on the continent, Pyongyang offers specialized law enforcement training to African countries and assisted the development of indigenous defense industries in Africa. These offerings distinguish North Korea from alternative partners, such as Russia and China, and explain the exceptional durability of Pyongyang's presence on the continent.
North Korea's training partnerships with Uganda and Ethiopia are especially deep-rooted. North Korea has trained Uganda's police forces since 1988 and assisted the operations of central Uganda's Nakasongola factory, which produces landmines, bullets and firearms. Commandos from North Korea's special operations division train elite Ugandan troops in martial arts and helicopter gunnery operations and work covertly out of Uganda's airbases. The persistence of Uganda-North Korea cooperation, which survived the US-Uganda cooperation in the "Global War on Terror" and diplomatic pressure from South Korea's President Park Geun-hye, underscores the value that Museveni places on North Korean military assistance. North Korea's military training for Ethiopia also has its origins in the Cold War, as Pyongyang provided assistance to the Derg regime in the 1977-1978 Ogaden War against Somalia. Additionally, North Korea has modernized the Gafat Armament Industry and Homicho Ammunition Industry factory complexes, two of Ethiopia's largest weapons manufacturers. Beyond these core partnerships, North Korea has also repaired Tanzania's MiG-21 fighter jets and trained Mozambique's special forces.
Economic Ties
In addition to its security partnerships in Africa, North Korea has dispatched guest workers to friendly countries across the continent to work primarily in the construction and public health sectors. Tanzania maintained North Korean health care workers until two North Korean medical clinics in Dar es Salaam were closed in April 2016 for using fake medicine and hiring unqualified doctors. Angola has the most North Korean guest workers with 1,000; Nigeria, Algeria and Equatorial Guinea each have about 200, and Ethiopia and Tanzania have around 100. These workers are present in violation of UN Security Council Resolution 2397, which called for their repatriation in December 2019. Tunisia is the only African country that has submitted a report to the UN on the repatriation of its North Korean workers. Nigeria, which signed an economic cooperation deal with the North in 2014, expelled ten guest workers in late 2019. Many guest workers were still present, however, in local clinics in Nigeria during the COVID-19 pandemic. In June 2020, North Korea and Nigeria signed a public health cooperation agreement, and Nigerian Health Minister Osagie Ehanire claimed that Nigeria had a "desire to learn" from North Korea in the sphere of public health.
Prior to facing sanctions from the US Department of the Treasury in August 2017, North Korean construction company Mansudae Overseas Projects had operations in 14 African countries, and its largest projects were in Namibia, Botswana, Angola, Zimbabwe and Senegal. As recently as July 2020, Manusdae had an extant contract to complete an open-air market in southwestern Namibia. In the agriculture and manufacturing sectors, North Korea strikes clandestine trade deals with African countries, which can result in the movement of workers and goods. For example, the DPRK supplied the Susan-1 and Susan-2 fishing trawlers to Mozambique, a product of a joint fishery cooperation venture in 2013, but this deal was reportedly liquidated in December 2017. And the March 2021 UN POE report revealed a $480,000 transfer of electrical goods from North Korea and South Africa in September 2020.
 Ideological Soft Power
North Korea enjoys close relations with authoritarian states in Africa and builds monuments that further the ideological agenda of these regimes. As Mugabe was impressed by Kim Il Sung's Juche ideology of self-reliance after visiting Pyongyang in 1980, he commissioned Mansudae to construct the National Heroes' Acre in Harare that extols the Zimbabwe African National Union-Patriotic Front (ZANU-PF) party's anti-colonial ideology. Manusdae has also constructed a giant statue of former Democratic Republic of the Congo (DRC) President Laurent Kabila in Kinshasa, a memorial to Angolan independence figure Agostinho Neto and the Béhanzin statue in Benin, which has a raised hand in defiance of French imperialism. These projects provide hard currency but also reinforce the bonds of anti-colonial and authoritarian solidarity that North Korea has cultivated in Africa since the 1960s.
Conclusion
In spite of the unprecedented UN sanctions regime against North Korea, Pyongyang maintains a residual portion of its once diverse array of Cold War-era partnerships in Africa. North Korea's synthesis of arms sales, military training agreements, guest worker deployments and ideational bonding mirror its outreach strategies towards other Global South partners, such as Syria, Cuba and Iran. Due to the opacity of North Korea's business dealings in Africa and the uncooperative attitude of many African governments towards the UN POE, these covert relationships could persist for years to come.