Pro-North Korea Paper Acknowledges "Food Crisis"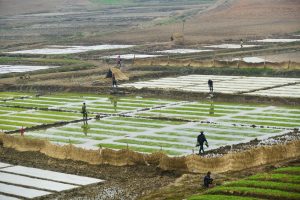 The pro-North Korean paper Choson Sinbo on July 8 reported that North Korea addressed a "food crisis" and the need for stable food supply during the Third Plenary Meeting of the Eighth Workers' Party of Korea (WPK) held from June 15 to 18. This seems consistent with reports of food price fluctuations in North Korea and efforts to control those prices, and indicates that Pyongyang views its food problem as serious enough to deal with as a "food crisis."[1]
While explaining the significance of the party's role in steering the five-year national economic plan, the article said:
At the plenary meeting, "On Establishing Emergency Measures to Overcome the Immediate Food Crisis" was presented as a separate agenda. The Marshal [Kim Jong Un] mentioned the deviations that were manifested in food supply in the past and expounded on positive measures and rational ways for supplying food to the people continuously and in a stable manner. While doing so, he issued a special order that he personally signed.[2]
Choson Sinbo's explicit admission of a "food crisis" goes beyond North Korean central media readout of the June plenum, where they only hinted at the seriousness of the country's food problem by citing Kim Jong Un's highly unusual acknowledgment of the "people's food situation becoming tense" due to damage from last year's typhoons.[3] Although Choson Sinbo technically is not a North Korean media source, it apparently has editorial ties to Pyongyang, and almost certainly got from it a green light to publish the name of the agenda–probably because, while North Korea's official news reports on the plenum did not mention the "food crisis" agenda, North Korean state-run television's documentary on the plenary meeting did. The article was penned by Choson Sinbo's senior writer Kim Ji Young, who regularly explains North Korea's key policies and issues that Pyongyang itself is reluctant to discuss.
It is extremely unusual for North Korean media and even pro-North Korean outlets to mention the term "food crisis" in reference to North Korea. Even in years of severe natural disasters and food shortages, North Korea's official news agency KCNA and Choson Sinbo mentioned "food shortages" and potential "food problems."[4] This does not necessarily mean, however, that the country's current food situation is worse off than those years. It is possible that North Korea under Kim Jong Un is more receptive to the use of the term "food crisis." North Korean central media typically use "food problem" or "eating problem" as euphemisms for food shortages, pairing up these terms with a range of depictions to indicate the level of severity.
Whether Pyongyang deals with the food situation again at a party meeting in the coming months, and whether there are any notable shifts in North Korea's use of "Arduous March," which Kim Jong Un brought up at a meeting of party cell secretaries in April, should be good indicators of how Pyongyang is coping with its food problem.[5]
---
---