Coping With Natural Disasters: How the EU Can Support More Effective DPRK Disaster Management Mechanisms
The humanitarian situation in the Democratic People's Republic of Korea (DPRK, or North Korea) is challenging, due in part to the combined effect of the pandemic and climate change. A coordinated effort by France, Germany and Sweden could lead the European member states as well as the European Union (EU) to reengage North Korea on a non-sensitive but nevertheless crucial issue, i.e., to establish effective mechanisms for prevention, preparedness, response and recovery of natural disasters. Such an initiative would improve the lives of North Koreans.
North Korea is currently locked in a state of dual isolation. In addition to being a target of one of the most comprehensive sanctions regimes of the international community currently in place, the country went into a full-scale national lockdown from the outside world as a way to prevent an uncontrolled spread of COVID-19.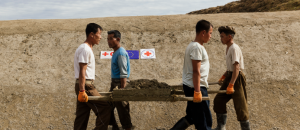 This has left the DPRK in an extremely challenging situation, as was admitted repeatedly throughout the previous year by Chairman Kim Jong Un. In April, he even compared the case to the Arduous March of the 1990s. Yet, North Korea has so far publicly refused humanitarian aid coming from South Korea and COVID-19 related aid on multiple occasions. For example, Pyongyang rejected two million doses of AstraZeneca vaccines as well as three million doses of Chinese-made Sinovac under the COVAX program. This refusal seems to be explained primarily by the fear of a political instrumentalization of this aid by Seoul or Washington, but also by the absence of massive donations of tens of millions of doses.
Meanwhile, the country has been affected by natural disasters, including early summer droughts and late summer storms and floods, which have negatively impacted crops. Moreover, food insecurity has prevailed for over the past three decades. In 2019, North Korea stood out as the worst-hit country by typhoons in all of Asia. According to the Asian Disaster Reduction Center, four out of ten North Koreans were impacted by storms in 2019 alone, i.e., 10.1 million people. In 2020, North Korea was hit by three major typhoons within a span of just three weeks. Over the previous two and a half decades, there have been only four years "during which no major flood events were recorded" (2001, 2008, 2009 and 2017).
North Korea is trying to address these challenges. In January 2020, at the Fifth Plenary Meeting of the Seventh Central Committee of the Workers' Party of Korea, Chairman Kim Jong Un emphasized the need to establish a well-structured "national crisis control system against natural disasters."[1] A year later, in its report made at the Eighth Congress of the Workers' Party of Korea, he asserted "severe natural disasters that hit the country every year…were severe obstacles to the economic work." More recently, at the latest meeting of the Political Bureau in September 2021, he argued that "all the cities and counties [should] make their areas remain unperturbed and safe from any natural disasters."[2]
This political priority is also reflected in concrete actions. If North Korean efforts to reduce the impact of natural disasters date from the late 1990s, as recalled by the former British charge d'affaires in Pyongyang, some measures have been taken recently "within the framework of a government disaster management capability plan for 2019-2030 (the 'National Disaster Risk Reduction Strategy')." For instance, a State Committee for Emergency and Disaster Management was established in 2014, as explained recently by Benjamin Katzeff Silberstein. Moreover, in our exchanges with North Korean diplomats in Europe and abroad, the country's interest in European experience and know-how was mentioned repeatedly.
The European Union and individual member states (EUMS) might be among the most promising actors to get involved in this regard. As part of its critical engagement strategy toward North Korea, the EU remains deeply committed to humanitarian assistance. Between 2007 and 2019 alone, the EU and EU member states provided roughly €240 million in aid to North Korea ($278 million), and all four resident nongovernmental organizations (NGOs) in the country are European (two French, one German and one Irish). EU member states have also ensured that NGOs receive waivers from the United Nations Security Council Resolution 1718 Committee. Yet, European humanitarian assistance is now reaching an all-time low due to the pandemic and the related restrictions, with all humanitarian staff having left the country.
Meanwhile, for the last 25 years, the EU has been working with numerous countries in the Indo-Pacific most affected by natural and human-induced disasters on disaster preparedness and response—including, among others, Afghanistan, Pakistan, Iran and Myanmar. In Vietnam, for example, EU-funded humanitarian aid interventions include developing systems for an early response based on weather and risk forecasts. A signatory of the Sendai Framework for Disaster Risk Reduction (2015-2030), the EU is now ensuring that disaster preparedness is systematically embedded across all sectors into humanitarian aid programs and projects.
We believe Europeans should present a key initiative to assist and support the establishment of a more effective mechanism for prevention, preparedness, response and recovery of natural disasters, including floods and droughts, in North Korea. This initiative would not be politicized, should not be overly publicized, and would require planning and coordination between the three EUMS with the most leverage with North Korea, and also the most divergent policy approaches to the country.
Since Paris is often considered as pro-sanctions and Stockholm as pro-engagement, a biased but persistent perception, an "E3 format on North Korea" gathering France, Germany and Sweden would provide the broader approach to launch such an initiative while then gathering the needed consensus within the 27 EUMS. The approaches of these three countries are broadly complementary, and they have already collectively provided as much humanitarian aid to North Korea as the European Union as a whole over the last decade.
France is the only permanent member of the United Nations Security Council—a key country in adopting and implementing international and autonomous sanctions on North Korea—while focusing the work of its French Cooperation Office in Pyongyang on humanitarian and cultural assistance, including through two French NGOs Triangle Génération Humanitaire and Première Urgence.
Germany, including its political foundations, is very active in the country through capacity-building programs. The Christian Social Union in Bavaria (CSU)-affiliated Hanns-Seidel-Foundation has been conducting projects in the country for over two decades, such as a recent project to strengthen the North Korean Forest Management Research Institute's technical capacities.
Sweden, the only EU country with a special envoy for the Korean Peninsula, has acted as a key facilitator of dialogue with North Korea, including between Washington and Pyongyang. It is the single largest provider of humanitarian assistance to the DPRK from within the EU and remains one of the strongest proponents of facilitating humanitarian exemptions and mitigating the unintended consequences of sanctions.
In concrete terms, this initiative would first aim at presenting some EU member states a national mechanism for prevention, preparedness, response and recovery of natural disasters while sharing experience through online interactions. The EU could also offer lessons learned and present best practices from its EU Civil Protection Mechanism as well as its EU Disaster Risk Management Knowledge Centre created in 2019. In a second phase, and when sanitary conditions allow it, field projects could be supported by the EU and the EUMS through European NGOs operating in the country and professional training in Europe as well as in North Korea. This capacity-building initiative could begin quickly, even before the reopening of the borders, using the video-conferencing capabilities recently installed in Pyongyang, which would allow officials—for example, from the Ministry of Land and Environmental Protection—to participate.
The European Union and its member states have an opportunity to adopt a more proactive strategy on North Korea, as one of us advocated in early 2020, and contribute to improving the living conditions of the North Korean population. As the impacts of climate change continue to grow and the international community calls for increased international cooperation in the wake of the 2021 United Nations Climate Change Conference (COP26), such a European initiative would meet a North Korean priority and a global concern.
---
[1]

"Report on 5th Plenary Meeting of 7th C.C., WPK," KCNA, January 1, 2020.

[2]

"Third Enlarged Meeting of Political Bureau of 8th C.C., WPK Held," KCNA, September 3, 2021.
---