Newsweek's Misfire on Aid Monitoring in North Korea
My long-time acquaintance, Asia analyst Gordon Chang, recently offered his perspective on the provision of humanitarian assistance to North Korea in Newsweek magazine. After reviewing the editorial, I am compelled to respond. The broad-brush condemnation of food aid to North Korea casts a shadow over the ongoing work of US and Canadian nongovernmental organizations (NGOs) providing humanitarian assistance (including some food aid) to the neediest of North Korea's citizens. American organizations actively strive to comply with the US government licensing and operational requirements for working in North Korea as set forth by the Departments of Treasury, Commerce and State.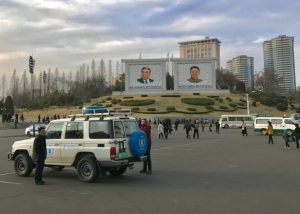 Indeed, the diversion of food aid and other humanitarian assistance has been of paramount concern for international donors working in the Democratic People's Republic of Korea (DPRK) through the years. My first trip to the country in 2002 was in response to the question of diversion and additional food aid issues by then US Senate Agriculture Committee Chairman Dick Lugar and other US officials. Among other points of concern, North Korean officials had not been allowing the World Food Programme (WFP) to perform spot-checks on the distribution of food aid. At that time, about 90 percent of US food aid to the DPRK was handled through the WFP, according to the Congressional Research Service (CRS). Notably, the US government has provided virtually no food aid to North Korea since 2009.
Over the past 19 years of working on North Korea-related issues, first in the Senate and later in the nonprofit sector, I've witnessed considerable progress by food and humanitarian assistance donors to the North in establishing more effective monitoring mechanisms.
Admittedly, for those who view children and the neediest of North Korean citizens as acceptable victims of war, no level of monitoring of food, medical and other humanitarian assistance to North Korea may satisfy. However, for those who support the provision of assistance to the neediest segments of the North Korean population, they can be assured that US NGOs, as well as the majority of other international donors to the DPRK, place high value and go to significant lengths to be sure aid makes its way to intended recipients.
While the US government has not provided food aid to North Korea for several years, US NGOs have been operating in North Korea on a separate track, some as far back as the 1980s. These efforts have been largely focused around provision of medicines and treatments for persons suffering from disease and other medical challenges and nutritional support for children and vulnerable adults (pregnant/nursing women), as well as initiatives to build long-term food security for the people of North Korea. Over the decades, American humanitarian workers on the ground in North Korea have developed meaningful and often longstanding relationships with North Korean citizens, which helps facilitate their work.
Anecdotal evidence strongly suggests North Korean citizens at the local level know that their own lives or the lives of their families or communities may have been saved because of the provision of US and other humanitarian assistance to their country. This reflects the best in citizen diplomacy.
Therefore, the editorial's statement that "Donors unfortunately allow the regime to distribute their food, which leads to a multitude of ills, including the regime bragging that other nations are sending tribute to the Kim family" is a misfire when it comes to the work of US NGOs and their direct contact with North Koreans at the grassroots level.
Pre-pandemic and prior to North Korea closing its borders, humanitarian assistance provided by US NGOs included medicine for hepatitis, tuberculosis and multidrug-resistant tuberculosis, and malaria; as well as blankets, hygiene kits and food. Nutritional support for children has been a major focus of US and other international NGOs and other aid agencies, including the World Food Program and the United Nations Children's Fund (UNICEF). Malnutrition is a major contributor to the contraction and spread of disease. Some US NGOs have dug wells to provide clean drinking water (not easily diverted from one location to another).
NGO assistance monitoring methodologies vary according to the type of aid. In the medical program administered by one NGO, patients are weighed at every clinic visit. These are generally outpatients who do not all receive supplemental food. For those who are evaluated for supplemental food, in addition to weight, strength measurements are taken, and the weight and strength are tracked over time. The NGO workers are then able to clearly see if there are improvements, which would be expected outcomes from the additional protein/nutrition and treatment.
When in-country, NGO representatives visit the areas targeted to receive their assistance, meet with local officials, inspect warehouses, check logbooks and interact with citizens at the grassroots level.[1] In addition, the National Committee on North Korea (NCNK) facilitates communications between US NGOs and United Nations (UN) agencies operating in North Korea. This collaboration and information sharing has contributed to improved monitoring capabilities and practices as well.
Do these practices provide a solid guarantee that some diversion does not occur? No, however, as a result of the multiple components incorporated into the monitoring protocols and repeated visits, humanitarian workers can generally ascertain over time that assistance is reaching intended recipients. If they sense there is a problem or that aid is not reaching targeted recipients, monitoring protocols are modified, or aid is stopped.
One example of how aid has helped improve lives of vulnerable populations can be seen in changes to child stunting rates. Because of an increased focus on child nutrition by the North Korean government supplemented by international assistance, significant improvements have been made. According to UNICEF, the rate of stunted children decreased from 32.4 percent in 2009 to 19 percent in 2017. However, these figures may regress as treatments have stopped due to the pandemic, and the food situation is worsening.
Since the closure of the North Korean border in early 2020, US NGO humanitarian assistance has not entered the country. Thousands of cargo containers (some including US NGO aid) continue to sit idly on the Chinese side of the border, denied entry into the country by North Korean officials due to COVID-19 contamination fears. Supplies of medicine for tuberculosis (TB) and multidrug-resistant TB patients may be depleted. In that event, North Korean TB patients lacking treatment may die, and the lack of medicine will result in further spread of the disease throughout the North and possibly into South Korea and China. The full extent of the health and food situation in North Korea is yet to be seen; however, the deprivation of medicine and other humanitarian assistance will certainly exacerbate the situation.
Overall, responsible donors to North Korea are cognizant of the diversion challenge. However, there is evidence, through the work of North American NGOs, the UN and others, that meaningful progress continues to be made.
The views in this article reflect the personal perspectives of the author and not the National Committee on North Korea.
---
[1]

North Korean officials do not allow US private NGOs to have permanent service offices in their country. Consequently, prior to the shutdown of North Korea's border due to the COVID-19 pandemic, NGO representatives continued to operate from their US base, some making multiple weeks-long trips on an annual basis.
---