What to Expect for US-ROK and Inter-Korean Relations Under Yoon Suk-yeol
2022 Election Outcome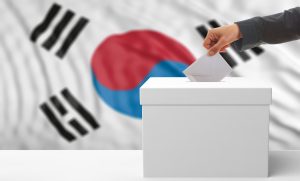 On March 9, the conservative People Power Party's candidate, Yoon Suk-yeol, was elected the next president of South Korea, with 48.56 percent of the electorate vote over his main opponent, Democratic Party's Lee Jae Myung, 47.83 percent. Since the introduction of direct elections, conservative and progressive parties have been in power alternately for 10-year blocks, from the conservative governments of Roh Tae-woo and Kim Young-sam; to the liberal governments of Kim Dae-jung and Roh Moo-hyun; back to the conservative administrations of Lee Myung-bak and Park Geun-hye. This year's election broke that streak, with the liberal party unable to clinch a successive liberal administration after Moon Jae-in. Moreover, given that Moon took office due to the impeachment of President Park Geun-hye and had strong public support in the early days of its inauguration, this change in government after only five years was quite unexpected.
Under President-elect Yoon, significant changes are expected in South Korea's approach to both North Korea and foreign policy in general. Whereas Moon focused on building an inter-Korean peace process, Yoon is expected to follow in the footsteps of previous conservative administrations and put the Democratic People's Republic of Korea (DPRK)'s complete denuclearization as the basis of improving inter-Korean relations while working toward establishing a "comprehensive strategic alliance" with the United States. That means both deepening economic and political ties with Washington, as well as expanding that cooperation beyond the Korean Peninsula to address more regional and global challenges.
Yoon's Close Victory
Why did Korean voters choose Yoon Suk-yeol? This election was unprecedented among all South Korean presidential elections as it was stained with negative campaigns without debate about policy vision or direction. The two driving forces of this election were populism and mudslinging. The welfare populism presented by the two candidates reached a level that is difficult for both the ruling and opposition parties to reverse.
Regarding Yoon's victory, most conservative media in South Korea attribute this win more to the policy failures of Moon Jae-in rather than the vision Yoon presented. This included soaring real estate prices, an obsession with an all-in peace process with North Korea and controversies over Moon's nuclear phase-out policies, building public resentment with the ruling party. However, the most important reason for the explosive opposition to Moon's administration was a tendency toward double standards, or naeronambul (내로남불, "mine is a romance, yours is an affair"). Since Moon proposed fairness and integration as the political goal of his administration, expectations were understandably high in his early days in power. However, a series of scandals involving Moon's close advisers led to national hostility and division.[1] This did not bode well for the ruling party in this election. Certainly, the last-minute merger with Ahn Cheol-soo's People's Party helped Yoon prevail as well.
Shifts in North Korean Policy and Foreign Policy
President-elect Yoon outlined in a post-election speech how South Korea's daunting task is to strengthen its global diplomatic capabilities amidst growing North Korean nuclear threats and strategic competition tensions between US and China. He also noted that it is important to build strong defense capabilities that can reliably suppress any provocation in order to protect the safety, property, territory and sovereignty of the people. Yoon said he would deal firmly with North Korea's illegal and unreasonable actions on principle but would leave the door open for inter-Korean dialogue at any time. He also declared that the Republic of Korea (South Korea, or ROK) should be reborn as a "global pivotal state" that contributes to freedom, peace and prosperity based on bold diplomacy and strong security.
Regarding US-ROK relations, Yoon went on to say that he would rebuild the US-ROK alliance and strengthen a comprehensive strategic alliance by sharing the core values of liberal democracy, market economy and human rights. As for China and Japan, he said he intends to develop mutually respectful ROK-China relations, create future-oriented ROK-Japan relations and strengthen diplomacy around economic security by establishing a tailored global cooperation network for each region. He also declared he would make South Korea a respected country that fulfills its role and responsibility in the international community.
Beyond the lofty rhetoric in his speech, Yoon is expected to bring about significant changes to South Korea's approach to North Korea and the US-ROK alliance. Regarding the ROK's North Korea policy, liberal candidate Lee Jae-myung proposed establishing a peaceful economy system on the Korean Peninsula based on a virtuous cycle of peace and economic co-prosperity, a pledge not much different from his predecessor, Moon Jae-in's approach. These goals reflect a functionalist approach that has been continuously pursued by progressive governments since the Kim Dae-jung administration.
In contrast, Yoon has emphasized that the abolition of North Korea's nuclear weapons program is a prerequisite for all further engagement with the North, making the "realization of North Korea's complete denuclearization" the top foreign and security policy priority. Yoon's proposal can be seen as the successor of Lee Myung-bak's "Vision 3000: Denuclearization and Openness" plan and Park Geun-hye's "Trust-Building Process on the Korean Peninsula," as it mentions that economic support for North Korea is possible even before the denuclearization process is completed if practical denuclearization measures are taken by the DPRK. In particular, Yoon pledged his intention to respond to North Korea based on close coordination with the US. He referred to current international cooperation in implementing the United Nations Security Council's sanctions on North Korea, and, like Lee Myung-bak and Park Geun-hye, he emphasized denuclearizing the DPRK via maximum pressure. More specifically, he believes nuclear negotiations with North Korea should be conducted on the principle of reciprocity and require a predictable denuclearization road map that specifies reciprocal measures according to a step-by-step denuclearization process. While this is not much different from the ROK's existing denuclearization negotiation method, it does require North Korea to make the first move, unlike Moon's willingness to jump start negotiations with peace initiatives up front.
In regards to foreign policy, Lee Jae-myung proposed improving national safety and citizens' quality of life through practical diplomacy centered on national interests. His phrase "practical diplomacy" can be defined as: "foreign policy based on national interests that do not insist on specific ideologies or values." Many viewed this as a pledge to simultaneously pursue strengthening strategic cooperation in the US-ROK alliance and maintain a strategic partnership with China.
Yoon Suk-yeol, on the other hand, pledged to pursue a comprehensive strategic alliance between South Korea and the US as a key foreign policy priority, which is seen as a continuation of the "comprehensive strategic alliance" emphasized during the Lee Myung-bak and Park Geun-hye administrations. "Comprehensive strategic alliance" is the expansion of relations between the ROK and the United States beyond the domains of military and security cooperation into such realms as politics, economics, society and culture.
Moon Jae-in's government had also agreed to a similar approach with the United States, but Yoon views the current US-ROK relationship as in a crisis of trust because of disagreements over how to deal with North Korea and Moon's strategic ambiguity between the US and China. Yoon wants to try to reinvigorate the alliance to the level upheld by Lee Myung-bak and Park Geun-hye. Yoon has said he will actively cooperate with the US for the future vision and common interests of the Asia-Pacific region and global order. In particular, he stressed that South Korea would actively participate in cooperative mechanisms, such as the Quadrilateral Security Dialogue (Quad), by pursuing policies based on liberal democratic values. Regarding the transfer of wartime operational control (OPCON), Yoon has mentioned that it is possible "if South Korea is equipped with appropriate capabilities," but has not specifically suggested under what conditions the transfer would be made.
The Chinese government is watching closely as its relations with South Korea are likely to be reset under a Yoon administration. Yoon noted that it is difficult to walk the tightrope of maintaining strategic ambiguity between the two countries at a time when the US-China confrontation is intensifying. This suggests the possibility of strengthened US-ROK relations but worsening China-ROK relations. In particular, he not only made it clear that he would not carry on with the "three no's policy" adopted by the Moon government in 2017 after months of harsh Chinese sanctions against South Korea for the original deployment of Terminal High Altitude Area Defense (THAAD), but also expressed his intention to introduce additional THAAD units if necessary.[2] The policy of actively participating in the Quad is also expected to have a negative impact on ROK-China relations. In the People Power Party's election pledge book, the ROK-China relationship was described as one that is based on mutual respect, but new tensions are expected if ROK-China relations are reset.
Finally, Yoon has promised to establish a future-oriented ROK-Japan cooperative relationship based on correct historical awareness under the banner of "The Era of Kim Dae-jung-Obuchi Declaration 2.0." Japan's Kishida government is also sending positive signals to Yoon, but ROK-Japan relations are unlikely to improve overnight. This is because various challenges are intertwined, including the ruling on compensation for forced laborers and Japanese military sexual slavery victims, export regulations to South Korea, the release of contaminated water from Fukushima, the listing of Sado Mine as a UNESCO World Heritage Site and the General Security of Military Information Agreement (GSOMIA). Notwithstanding, Yoon does have a more flexible view of ROK-Japan relations than Moon's administration, so there is reason for some optimism in this case.
Challenges Ahead for the Yoon Administration
There are a lot of internal and external challenges facing the Yoon administration. In domestic politics, Yoon Suk-yeol, who won the election by such a narrow margin, faces a situation where he has to launch his administration with less than a majority of electoral votes and while his party holds only 110 out of 300 seats in the National Assembly. Yoon's government needs to execute political reform and integration tasks when a rough road regarding the composition of the cabinet and state administration most likely lies ahead. In addition, South Korea's status and role in the US-China strategic competition needs to be redefined. Economically, Yoon faces the task of increasing jobs—especially white-collar jobs for an overeducated, underemployed workforce—and pushing the country to be a future science and technology powerhouse through achieving innovative growth.
When Yoon won the election, sighs of relief emanated from Tokyo and Washington, along with grunts of disapproval echoing through Beijing and Pyongyang. On the campaign trail, Yoon signaled a more pro-Japan, pro-US policy, and the leaders of those nations swiftly congratulated his victory.
Nevertheless, the foreign policy challenge that exists is as significant as the one that exists in South Korea's domestic politics. The foreign policy environment and conditions that the next South Korean government will face can be summarized into three sets of challenges. First, the international situation is expected to continue systemic fragmentation due to intensifying competition among global powers, deteriorating international governance, and the weakening of institutions and norms worldwide, due to the devastating impact of the COVID-19 pandemic.
Second, Russia's invasion of Ukraine is pushing the world into a second Cold War. Eastern European countries, which are now facing the likelihood of a new Russian threat, are liable to demand an increased presence of US troops and strengthened financial guarantees. Furthermore, US strategy is likely to make a U-turn from Asia to pivot toward Europe. This means that the US has to simultaneously deal with the two front lines of China and Russia, which will inevitably weaken the Indo-Pacific strategy. As the Ukrainian war rapidly transforms the world into a confrontation between liberal democracy and authoritarian states with US-Europe vs. China-Russia, Korea should pay attention to minimizing the risks posed when choosing a side.
Third, the strategic situation on the Korean Peninsula can be summarized as a peace process that is extremely unclear due to being under the triple distress of the suspension of nuclear negotiations between the US and North Korea, the suspension of inter-Korean dialogue and North Korea's voluntary isolation since the pandemic erupted. Meanwhile, the DPRK has already launched its tenth missile test this year and invaded the Northern Limit Line (NLL) for the first time since the two Koreas signed the Comprehensive Military Agreement on September 19, 2018. Furthermore, a new building has been built on the site of the partially dismantled Punggye-ri nuclear test site, and efforts to restore at least some part of the site for future nuclear testing are suspected.
What the Yoon government should keep in mind when confronting such tremendous domestic and international challenges is a sense of strong self-defense and solidarity. Self-reliance, or self-defense, refers to South Korea demonstrating a strong will to be self-reliant in protecting its security and securing the hard power to support it. Solidarity refers to deciding who, what and how South Korea will cooperate to achieve security and prosperity. After Russia's surprise invasion of Ukraine, geopolitical concerns for countries that are caught up in a great power rivalry, such as Ukraine and South Korea, are expected to deepen.
The time has come for South Korea to think about its diplomatic balance and it should prepare for an international order where it is increasingly difficult to maintain strategic ambiguity. In order for middle-power countries, such as the ROK, to ensure strategic autonomy, it is necessary to actively secure diplomatic space with South Korea's national interest rather than passively responding to external changes. To do so, it is of utmost importance to choose diplomacy according to the ROK's national identity and priorities. Currently, most of the issues that the US and China clash over in their strategic competition are of a zero-sum nature, and South Korea will inevitably have to choose a side on the issues that reflect its own national identity. Whereas, if the ROK continues its strategic ambiguity while delaying its choice, it is likely to receive the cold shoulder instead of a warm embrace from either the US or China.
As a liberal democracy and a market economy country, South Korea's choice is obvious. However, how to minimize the risks that accompany this choice amidst growing global uncertainties will be an important task for the new Yoon Suk-yeol administration.
---
[1]

For instance, in 2019, the Korean public was extremely divided over accusations of forgery and preferential treatment in college and internship applications​ surrounding the daughter of Cho Kuk, President Moon's former justice minister and one of his closest allies.

[2]

When Seoul decided to deploy a US-led missile shield system in Seongju, South Korea, about six years ago, China retaliated by banning sales of group tour packages and Korean celebrities from appearing on Chinese television.
---