Construction Restarts at the Wonsan-Kalma Beach Resort and River Work at Wonsan
Commercial satellite imagery indicates North Korea has resumed construction work on the delayed Wonsan-Kalma Coastal Tourism Area and has built a series of levees that divide the lower portion of a river in Wonsan. This latter work is possibly intended to prevent silt buildup at the mouth of the river. While the sand bars make navigation more difficult during the drier seasons, the channeling of the water will help prevent sediment buildup and avoid flooding and the erosion of the riverbank.
The purpose of these new levees is unclear, although reinforcing the nation's flood prevention infrastructure—including "embankments, lakes, rivers, seashores, and seawalls"—was apparently one of the priorities laid out at the Eighth Party Congress in 2021.
Wonsan-Kalma Beach Resort
Work appears to have restarted at the nearby Wonsan-Kalma Coastal Tourism Area after months of very little activity. This once-priority construction project was initially tasked to be complete by April 2019, but was delayed multiple times for aesthetic changes and sourcing problems. Little progress has been made since the beginning of the pandemic in 2020, when tourism came to a halt.
Sometime between May 11 and 15, however, a new soccer pitch has been laid at the sports stadium at the northern end of the resort.
Figure 1. Soccer pitch observed at Wonsan-Kalma Coastal Tourism Area on May 15, 2022.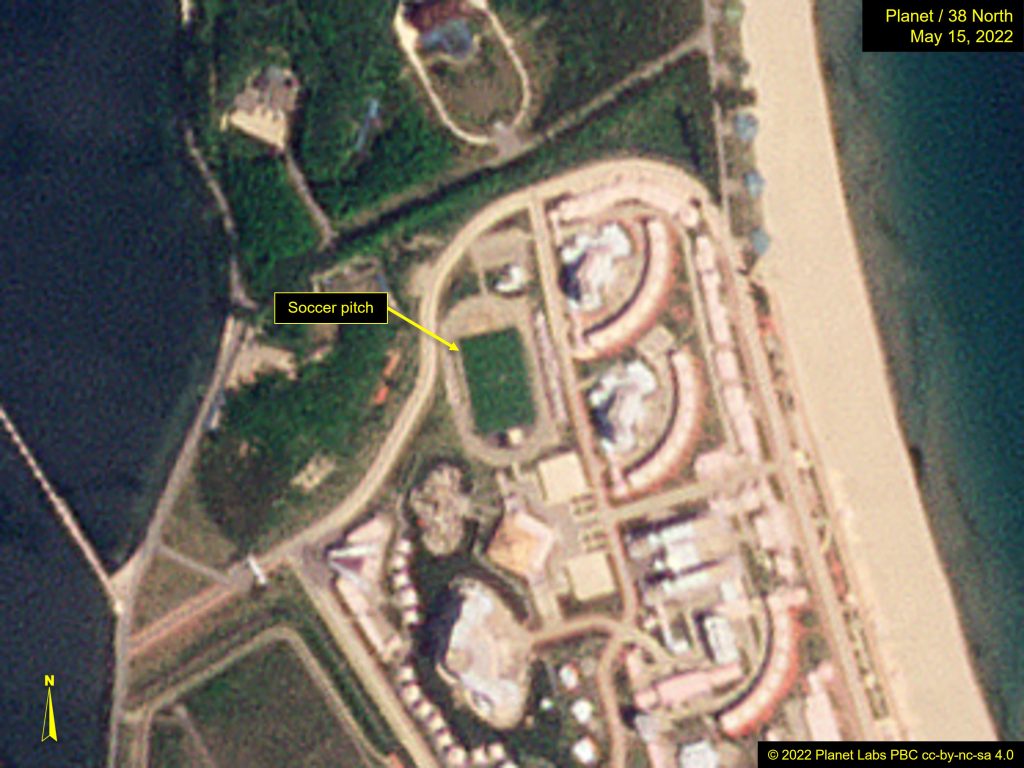 At the southern end of the resort, new construction appears to have begun on a roof over part of the tram depot. Elsewhere in the resort, little activity has been observed.
Recent Levee Activity
The levee work began on April 23 from the southern bank of the Sinpho River, which separates an elite compound thought to be a popular summer vacation spot for Kim Jong Un, from the Songdowon International Children's Union Camp and other secure facilities to the south.
Figure 2. Levee work visible in lower portion of a river in Wonsan.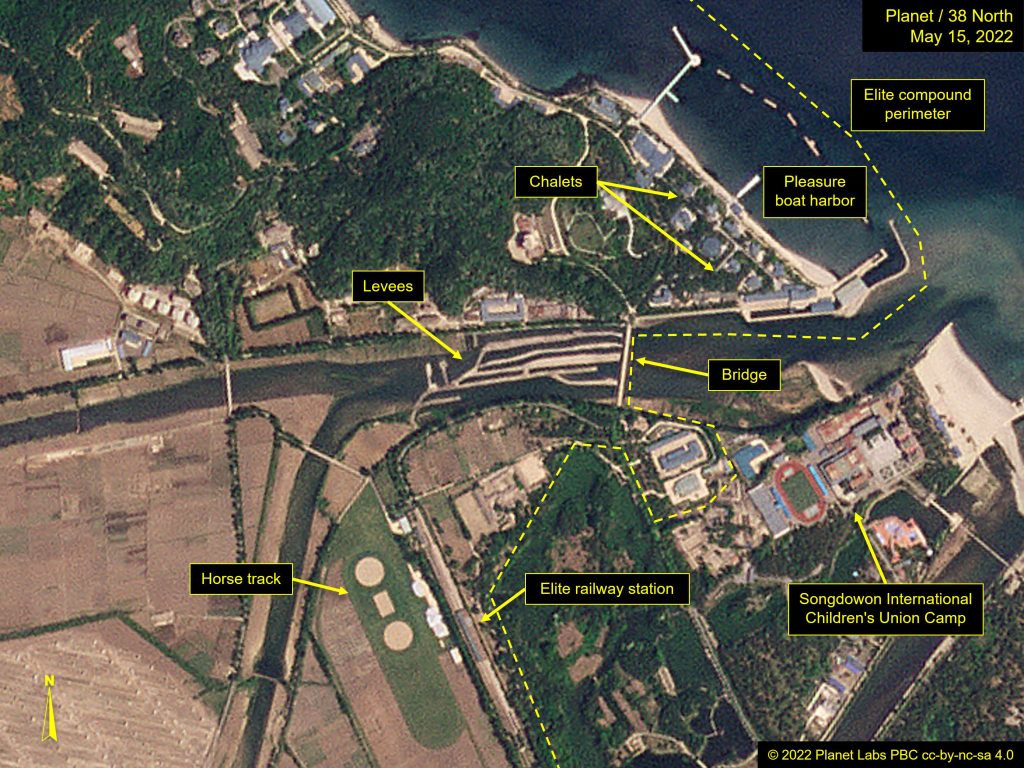 The river is fed by two upstream reservoirs and flows into Wonsan Bay. It widens significantly where the three rivers meet. In this area, the river becomes shallower, the current slows and sediment is deposited creating sand bars. These are visible on some earlier satellite imagery.
The new levees will help prevent the sediment buildup, helping prevent flooding and erosion of the riverbank.