Examining North Korea's COVID-19 Data: A Curious Case Study
It has been just over a month since North Korea announced its first official confirmed case of COVID-19 and began reporting detailed data on the scope and status of the outbreak.
Every day, the party newspaper, Rodong Sinmun, provides its readers with data on the number of new and current cases nationwide (using "fever" as a proxy for confirmed COVID cases, since testing is limited) as well as COVID related deaths. On state television, Ryu Yong Chol, an official with the state emergency epidemic prevention headquarters, appears each morning and evening to walk through provincial data and explain the latest on the epidemic.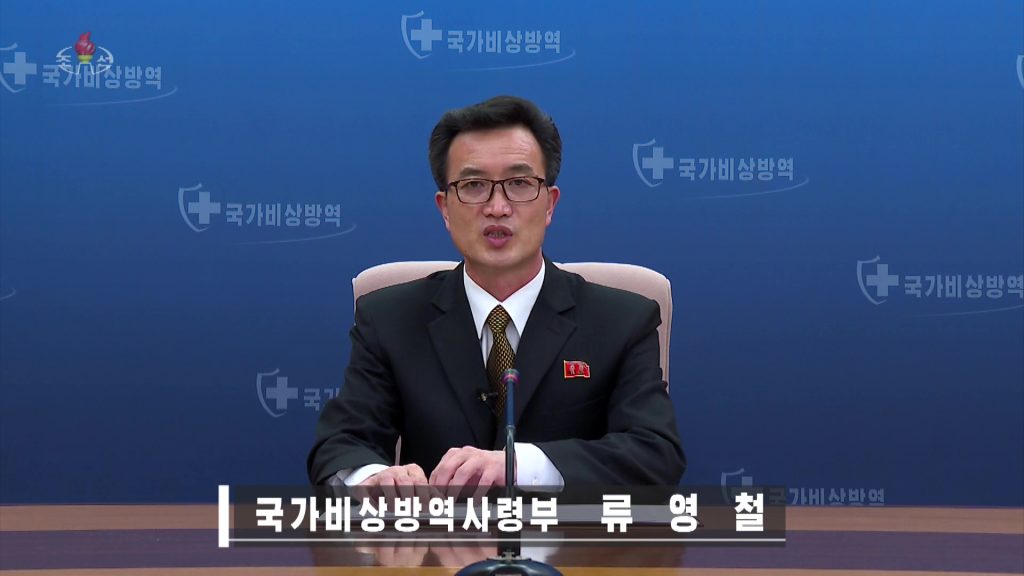 North Korea does not usually release much data on anything. Economic and industrial achievements, or even the budget performance and projections, are typically presented in terms of percentage increases and decreases without ever disclosing actual numbers, so the release of detailed, provincial-level data about the COVID outbreak is exceptional.
It might be easy to reject the state-provided numbers out of hand, due to high mistrust of the North Korean government. However, setting biases aside, it is worth comparing the month's- worth of data in hand, against global COVID outbreak trends to see how it stacks up.
The immediate conclusion? Something isn't right. The figures, especially the number of deaths reported, appear to run contrary to the global experience of COVID-19. Whether that is due to poor data collection, limited testing capabilities, deliberate misreporting, or something else is still unclear. While the data has been useful in at least understanding that the outbreak is nationwide, the chances are high that the situation is worse than that being reported
Deaths
The biggest mystery surrounds the announced number of reported deaths. As of June 21, that stood at 73 people, which is remarkably low for a COVID-19 outbreak that has hit 4.7 million people or roughly 18 percent of a completely unvaccinated population.
At that level, the fatality rate is just 0.002 percent, which is far removed from the global experience.
Globally, the current average fatality rate is 1.18 percent. In advanced countries, it tends to be lower, for instance, 0.13 percent in South Korea and 0.3 percent in Japan, according to Our World In Data. In less developed countries that are more similar to North Korea, it is 3.7 percent in Myanmar, 2.6 percent in Chad and 0.4 percent in Laos and Vietnam. And in New Zealand, which similarly shut its borders to all travel like North Korea, it is 0.1 percent.
Not only is North Korea's COVID-19 death rate exceptionally low, but the timing of when most of the deaths occurred is suspicious. In most cases, deaths from COVID-19 occur two to three weeks after infection, but in North Korea, the greatest number of deaths were reported to have occurred before the epidemic spiked with very few since the first few days of the outbreak.
North Korea said the outbreak began in late April and its first report said 187,800 were under treatment on May 12. That figure swelled to 754,810 people a week later on May 19. However, the number of deaths peaked on May 13 at 21. Two to three weeks after the case peak, deaths averaged less than 1 a day.
The demographics of North Korea's COVID-19 related deaths are also unusual. According to figures broadcast on May 17, when 56 people had been reported dead, the number of deaths of those 61 years of age and above was the same as those 20 years old and under.
In comparison, the latest data from the U.S. Centers for Disease Control put the risk of death from COVID-19 in the US at 25 to 330 times greater for those over 60 years old than those 18-29 years old. In South Korea, just 31 people under 20 have died of COVID-19 versus 22,859 people 60 years of age and above.
Nowhere in the world is the risk to those under 20 anywhere close to that of those over 60, yet in North Korea, they represent the two largest proportions of deaths during the epidemic. State media stopped disclosing details of deaths by age group after just a few days of reporting on May 17.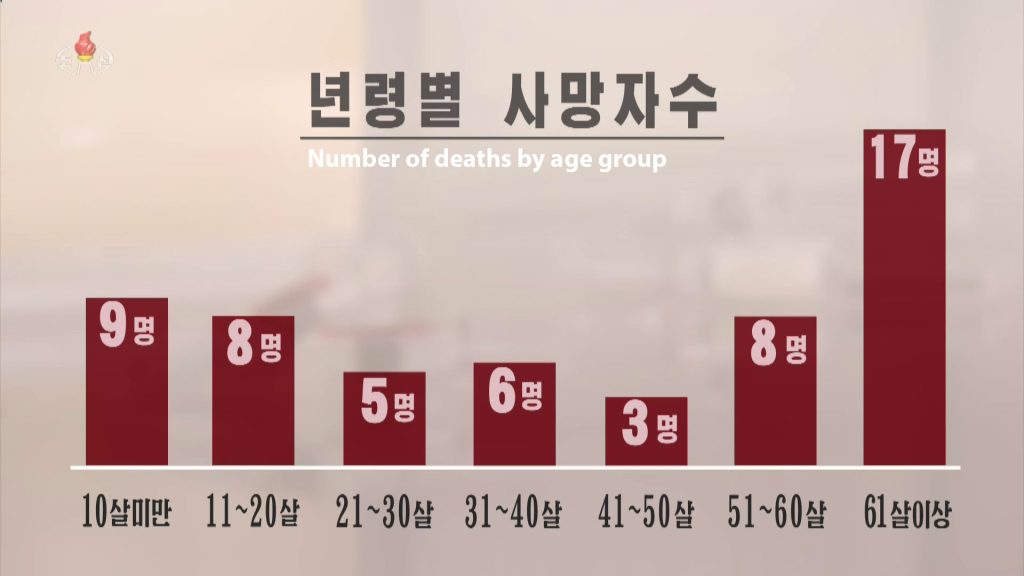 Early on in the epidemic, the state did release data on the cause of death but, if anything, that produces only more confusion. When the death toll stood at 56 people, 29 of the deaths were attributed to drug misuse and side effects rather than illness itself.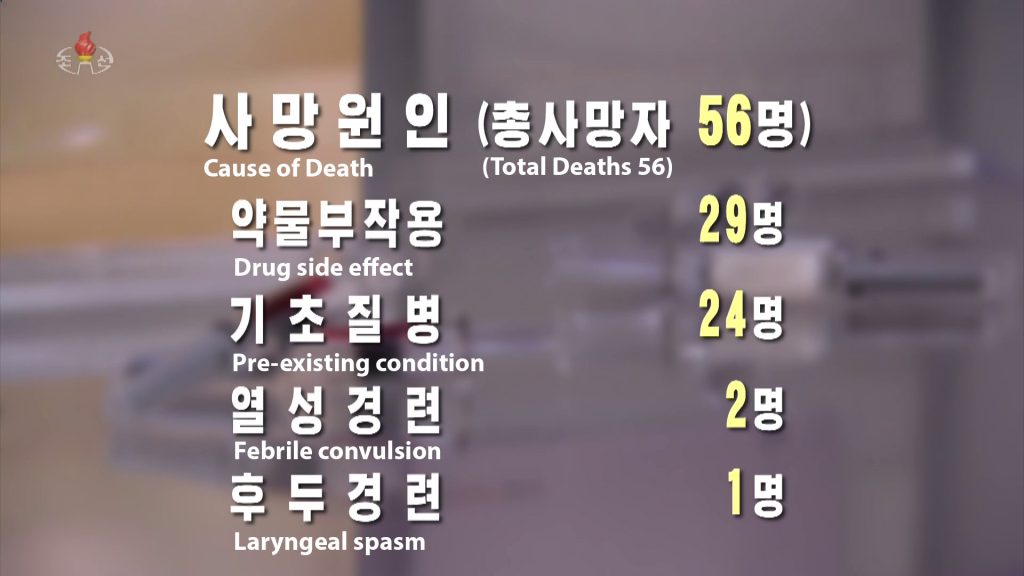 Murky Data
Clearly, something is amiss, but unfortunately, we can't call Pyongyang and query the data. That is a shame because it is unclear exactly what North Korea is counting and how reliably that data is being collected.
Since the beginning of the epidemic, state media has announced "fever" cases and it appears that only a tiny fraction of all announced cases have been confirmed as COVID-19.
On May 13, when the outbreak was first announced, just one of the six deaths was attributed to Omicron BA.2 and the rest were left unattributed, according to state media. After that, no information has been provided on how many of the cases and deaths have been confirmed COVID-19 cases. This is likely due to a lack of testing capacity. In recent weeks, state media has talked about the need to improve testing and on June 14, said lab tests needed to be done "on a more rapid and scientific basis."
If the state is only announcing deaths of those confirmed to have COVID-19, that could explain the low fatality rate. Although if true, that raises the disturbing possibility that the death toll could be considerably higher than has been announced.
It is also possible that some cases are not COVID-19 at all but other illnesses. On May 19, South Korea's National Intelligence Service reportedly told lawmakers that it believed some of the fever cases were due to measles and typhoid, and last week state media announced an intestinal disease outbreak in Haeju City. State media acknowledged this issue on June 9 and said efforts are being made to "correctly discriminate ordinary fever cases from COVID-19," but health experts say the rapid rise in cases indicates the majority likely are COVID.
Beyond the question of exactly what is being reported, it is also unclear how data is being collected—whether this is based on reports from health facilities or some kind of self-reporting or survey data. We know little about the state's ability to accurately survey the population daily and collate and report back accurate numbers.
Misinformation
And finally, there is the real possibility that the figures are being deliberately misreported. This could be happening at the local level, by officials keen to make it look like they have a handle on the epidemic, all the way up to the national level by propaganda chiefs who want to shape the message and public opinion.
Despite reports of outbreaks, North Korea denied any COVID cases for two years. This time, it appears likely the scale of the outbreak and the need for lockdowns in major cities, including Pyongyang, forced it to acknowledge the situation.
Recognizing that the main audience for the data is domestic and not foreign, the motivation for providing it is likely to emphasize the seriousness of the problem and the need to follow public health protocols. At the same time, the government will be eager not to induce panic and has been emphasizing Kim Jong Un's personal attention and sacrifice to addressing the epidemic.
The high case numbers would appear to be enough to convince many that the situation is serious while a low death toll could help prevent too much worry among citizens. Thus, there is ample motivation for the state to keep the number of fatalities artificially low.
Just as foreign analysts have questioned the figures and unusually low fatality rate, so it appears are North Koreans. On June 9, state media reported work was underway to "enhance the scientific accuracy, promptness and credibility of medical checkups, tests and treatment," suggesting internal questioning of the numbers as well.
Even the World Health Organization is having trouble getting accurate information. Its COVID data for the country comes from the same state media announcements that everyone sees and 38 North reports on daily.
"We have real issues getting access to raw data and to the actual situation on the ground," Dr. Mike Ryan, the WHO's executive director of health emergencies, told reporters on June 1. "We are triangulating like everybody else."
(38 North Research Intern Anthony Park contributed to this article)