The Unintended Consequences of NATO's Drift Toward Asia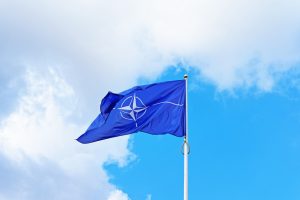 As one might expect, the July 11-12 National Atlantic Treaty Organization's (NATO) leaders summit in Vilnius, Lithuania, concentrated predominately on the ongoing war in Ukraine, NATO's continued military support to the Ukrainian army and how best to deepen the alliance's strategic relationship with Kyiv. But as has become increasingly common over the last several years, NATO also spent time discussing ongoing security issues in Asia, a part of the world traditionally beyond the alliance's Europe-focused remit. NATO, it seems, has made a concerted decision to, if not expand the alliance's responsibilities to the Asia-Pacific theater, then at least transition itself into a regional player.
This years-long drift toward Asia, however, not only has the potential to distract the alliance at a time when Europe is still hosting its biggest war in nearly 80 years—it could also have destabilizing effects in Asia, a region that was already hardening into a collection of competing power blocs between China, Russia and the Democratic People's Republic of Korea (DPRK or North Korea) on the one hand and Japan, the Republic of Korea (South Korea), and the United States on the other. The notion that security in Europe is inextricably linked to security in Asia, and that what happens in Asia will ultimately have economic, political and perhaps even military ramifications for the European continent, is now conventional wisdom within NATO policy circles. The Biden administration has reinforced this paradigm as it continues to emphasize "the battle between democracy and autocracies" as a central plank of its foreign policy.
Washington's allies inside and outside of NATO are taking notice. So are its competitors and adversaries. China, Russia and North Korea have all watched NATO's slow but steady movement in Asia's direction with alarm. The development is serving as adhesive for a deeper strategic relationship between the three powers. In essence, NATO is a driving force behind the very alignment it so often complains about in policy speeches and documents.
NATO Greets South Korea and Japan With Open Arms
Last week's NATO summit produced an extraordinarily long and dense communique touching upon issues as varied as the alliance's defense posture on the eastern flank, defense spending contributions, cybersecurity and nuclear nonproliferation. But some of the communique's strongest words were reserved for China, an Asian superpower that the US Defense Department views as a "pacing challenge" undermining the rules-based international system that Washington and its allies constructed after World War II." "The People's Republic of China's (PRC) stated ambitions and coercive policies challenge our interests, security and values," the communique states, before outlining a series of actions, including Beijing's lack of transparency with respect to its military modernization drive, the alliance takes issue with. Russia, NATO suggests, is a valuable partner for China, and the partnership itself is posing a risk to the rules of the road: "The deepening strategic partnership between the PRC and Russia and their mutually reinforcing attempts to undercut the rules-based international order run counter to our values and interests."
This isn't the first time NATO has mentioned China or the Asia-Pacific writ large. After considerable debate between member states, the alliance agreed to add a single sentence into its December 2019 London communique noting "China's growing influence and international policies present both opportunities and challenges" NATO has to work through. That generalized, mundane statement has since become more pointed; NATO mentioned China in its Strategic Concept last year, with special attention paid to Beijing's "malicious" cyber operations negatively impacting the operational security of the alliance's members. While nobody should expect NATO to authorize deployments to the Taiwan Strait and South China Sea anytime soon, some of NATO's more militarily strong members have engaged in occasional freedom of navigation operations in these areas. The German navy is scheduled to send a two-ship task force to the South China Sea in 2024, and British officials are debating the stationing of a Type-31 frigate in Indo-Pacific waters on a permanent basis.
NATO Secretary General Jens Stoltenberg has spoken about the globalization of security, or the idea that security crises in one region of the world can quickly reverberate in another. The fact that Japan and South Korea were invited to the NATO summit for the second year in a row reflects this construct. Japanese and South Korean officials have apparently bought into the construct as well, using language that is nearly identical to Stoltenberg's in their public comments. "Something happening in East Europe is not only confined to the issue in East Europe, and that affects directly the situation here in the Pacific," Japanese Foreign Minister Yoshimasa Hayashi remarked in May. South Korean President Yoon Suk-yeol had a similar assessment days before NATO's July summit: "Just as incidents in Europe can have a substantial and consequential impact on the Indo-Pacific region, Indo-Pacific events can have immense ramifications for countries in Europe."
NATO, South Korea and Japan have all implemented these words to varying degrees. Japan's National Security Strategy document, published in December, stated that Tokyo "will enhance security cooperation" with like-minded partners, including NATO, to strengthen deterrence. South Korea's own National Security Strategy referenced President Yoon's summit with NATO members in 2022 as an example of Seoul's efforts to "strengthen solidarity with nations sharing universal values" and its attempt to form a global security network. After NATO Secretary General Stoltenberg's January trip to Japan, the alliance and Tokyo both expressed an urgency to upgrade their partnership to a new level and promote cooperation on areas of mutual interest—cyber defense, maritime security and joint military exercises, to name just a few. Although French President Emmanuel Macron blocked the opening of a NATO liaison office on Japanese soil, NATO and Japan are nevertheless on the path toward more serious deliberation on sixteen priority issues. One of those issues is interoperability, ensuring NATO and Japanese forces can calibrate effectively with one another in the field.
These efforts are in addition to improvements in bilateral ROK-Japan relations as well as more durable trilateral military coordination among Washington, Seoul and Tokyo. US, South Korean and Japanese defense officials agreed to regularize trilateral missile defense and anti-submarine exercises back in April. Part of this involves sharing real-time data on North Korean ballistic and cruise missile launches, which would serve a useful and practical function in the event of a war scenario on the Korean Peninsula.
China, Russia and North Korea Respond
NATO, South Korea and Japan have categorized their deepening relationship as an appropriate response to what they collectively describe as challenges to the rules-based international order. China's expansionist sovereignty claims over disputed waterways, Russia's ongoing war in Ukraine and North Korea's incessant ballistic missile launches have no doubt helped make the case (Pyongyang conducted a second test of its Hawsong-18 variant, a solid-fueled intercontinental ballistic missile that marginally strengthens the North's ability to target the US homeland). Beijing, Moscow and Pyongyang, however, interpret the burgeoning ties between NATO and Asian powers as a direct national security threat and clear evidence that the US, the driving force behind the alliance, is intent on bringing NATO to its doorstep. China, Russia and North Korea are cementing their own relations with each other in response to balance the so-called NATO-ization of Asia.
The North Koreans have been particularly incensed about NATO's budding talks with adversarial neighbors like South Korea and Japan. In June 2022, shortly before President Yoon and Prime Minister Kishida traveled to Madrid for the NATO summit, Pyongyang accused the US of trying to establish an Asian NATO as part of a plan to execute its long-term objective of overthrowing the Kim dynasty by force. Pyongyang slammed Kishida's visit with NATO member countries seven months later, alleging that Tokyo was "introducing NATO…into the Asia-Pacific region" and heightening insecurity. A June 2 KCNA report used even harsher language: "The 'war chariot' NATO is dashing toward the Asia-Pacific region, not content with bringing a war calamity to Ukraine at the end of its ceaseless eastward advance."
China and Russia have taken a similar tone, albeit with less rhetorical flourish. Last November, Russian Foreign Minister Sergey Lavrov claimed that NATO wanted to "absorb" Southeast Asia, militarize the region and contain Russian and Chinese interests in the countries that make up the Association of Southeast Asian Nations (ASEAN) community. Commenting on NATO's' concern about a strategic partnership between Beijing and Moscow on July 12, Chinese Foreign Ministry spokesman Wang Wenbin condemned the alliance's communique and urged it not to "sow chaos" in the Asia-Pacific. Beijing and Moscow have operationalized those words by increasing the pace of joint military air and naval exercises between their militaries. Chinese and Russian forces are exercising this week in the Sea of Japan in what looks curiously similar to the joint drills US, South Korean and Japanese forces conduct regularly. This exercise occurs about one month after South Korean and Japanese fighter jets scrambled to respond to joint Russian-Chinese air patrols over the Sea of Japan and East China Sea.
Beijing and Moscow are going beyond the military realm as well, coordinating more effectively at the United Nations Security Council (UNSC) to prevent US-led initiatives from succeeding. Courtesy of Beijing and Moscow's veto power, the Security Council is unable to do anything on the North Korea nuclear and missile file with the exception of a few meaningless statements of condemnation from the US, UK and France. While the Chinese and Russian delegations have argued since at least 2019 that US military drills with South Korea are responsible for Pyongyang's missile testing spree—the Security Council hasn't passed a North Korea sanctions resolution in about six years—it's also true that Beijing and Moscow don't have an incentive to change their position so long as both view the US as the architect of NATO's creep toward Asia.
China, Russia and North Korea are also aiding each other in other discreet ways. The Chinese continue to shield its eyes from heavy oil deliveries bound for the North, effectively shredding the very UN sanctions regime it originally signed up to. If US intelligence is accurate, the North Koreans are at least flirting with the prospect of delivering munitions to Russia for use in Ukraine in exchange for Russian food aid. The Russians, meanwhile, have reportedly resumed oil exports to the North; according to commercial satellite imagery, the small DPRK-Russian border is also open to cargo rail after three years of COVID-related restrictions, a development first reported by Martyn Williams and Peter Makowsy in November. All of this is undoubtedly frustrating to the US and its allies in East Asia. But it's also indicative of balancing behavior from a set of countries with similar complaints about US foreign policy and a mutual interest in counteracting US pressure.
North Korean alignment toward the Russia-China bloc is also notable. In the past, the North Koreans have attempted to minimize their dependence on any one major power in the region, if only to maintain maximum flexibility for themselves. Decent relations with Beijing aside, the Kim dynasty could never be certain that China would be an effective or willing ally in the event of a confrontation with Washington. Pyongyang's long-established policy, first articulated by Kim Il Sung, to keep normalization with the US on the table is now being replaced with a policy of re-alignment toward the Chinese and Russians. How long this policy shift will last is difficult to say. But for the moment, it appears Kim Jong Un has concluded that throwing in its lot with Beijing and Moscow is currently the most effective tactic to counteract what it sees as a cold war-like order forming.
This isn't to suggest that China, Russia and North Korea are perfectly aligned on every subject. They most certainly are not. While Beijing has protected Pyongyang from further sanctions at the Security Council, it remains sensitive to North Korean missile tests, particularly those of longer ranges, that could upset stability in its immediate environment and push the US into deploying even more military assets in Northeast Asia. In November 2022, China reportedly agreed to reiterate its prior position on North Korea's nuclear and missile programs, voting for a draft resolution issued at the First Committee on Disarmament and International Security that condemned the North's six prior nuclear tests and demanded Pyongyang denuclearize. Despite the so-called "no limits" partnership hashed out between Xi Jinping and Vladimir Putin in February 2022, the Chinese don't see eye-to-eye with Russia on the war and have repeatedly stressed their opposition to the use of a Russian tactical nuclear weapon under any circumstances. Yet given what it perceives as the threat of US encirclement in Asia, any differences Beijing has with Moscow and Pyongyang are not nearly as important as working with both to balance US power.
Conclusion
This dynamic, in which the US, NATO and its East Asian allies cement deeper military and political links, is unlikely to change anytime soon. In fact, if NATO's policy documents are any indication, the strategy will accelerate in the near term. NATO invitations to South Korean and Japanese ministers on the heels of major Alliance summits, once a novelty, will become increasingly pro-forma. South Korea and Japan will embrace these invitations with open arms and work to deepen their respective coordination with NATO (and individual NATO member states), in part to hedge against a potential second Trump administration. South Korean and Japanese forces will engage in joint exercises with individual NATO countries with greater frequency, both to send a message to regional adversaries about the strength of their deterrent and as a practical way to improve their respective military capabilities in the event of a conflict. The notion that security is interconnected, and that Asia is no more immune from European security crises than Europe is from Asian ones, is fast becoming a core principle.
Closer relations between West and East, however, is not a cost-free proposition to the US, NATO, South Korea and Japan. This strategic alignment has already produced its share of complaints from China, Russia and North Korea, three states that have their own distinct disputes with Washington but share a similar threat perception on NATO's activity in Asia. While Beijing, Moscow and Pyongyang may be powerless to eliminate this development in its entirety—China's complaints don't receive much weight in Washington these days—the three powers have shown a shared desire to at least plan for it by conducting joint military drills amongst their forces, better coordinating their diplomatic positions in multilateral forums and demonstrating to the US and its NATO and Asian allies that the status-quo will be met with increased collaboration at the strategic level. In short, the more NATO works to get into the Asia security business, the more likely it will inadvertently enable the regional power-bloc confrontation it supposedly wants to discourage.