KJU Visits Ku'msusan on KJI's B-Day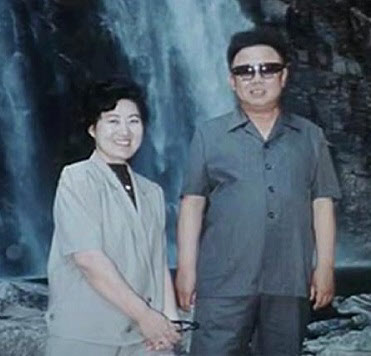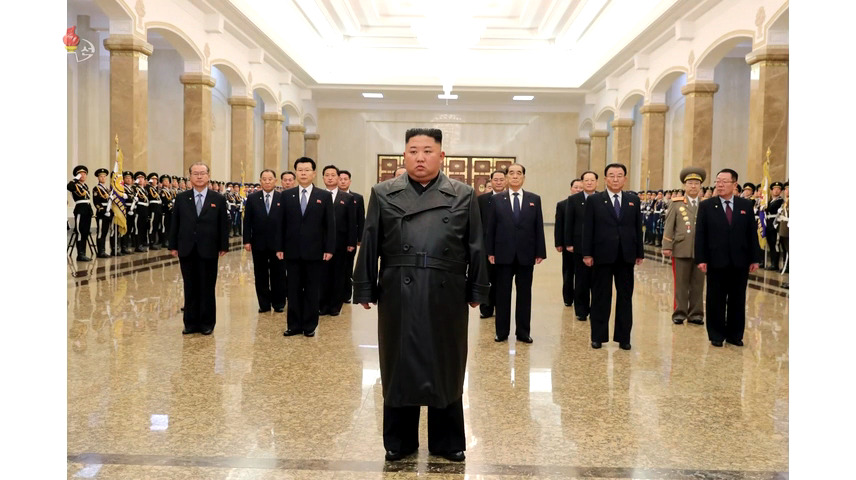 KJU's last observed public event was his attendance at a concert in Samjiyo'n
Kim Jong Un (Kim Cho'ng-u'n), along with select members of the Korean Workers' Party [KWP] Political Bureau visited Ku'msusan Memorial Palace of the Sun on 16 February (Sunday) to commemorate the Day of the Shining Star, the birth anniversary of his father late leader Kim Jong Il (Kim Cho'ng-il).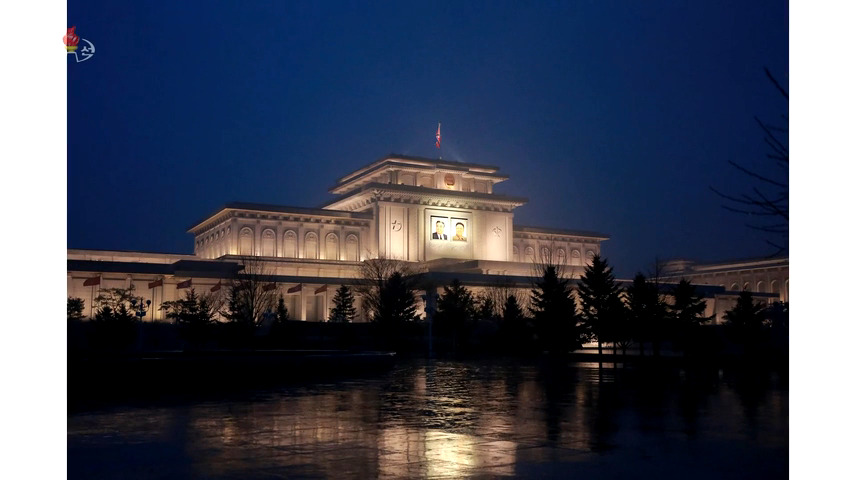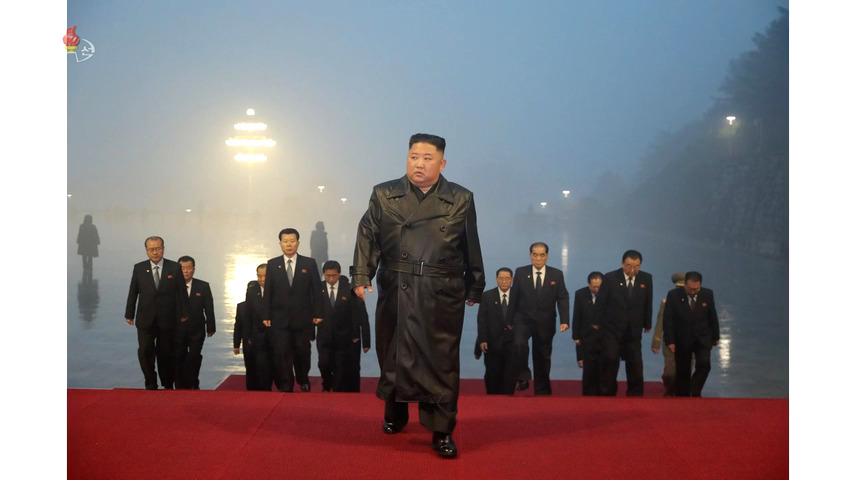 Also in attendance were Supreme People's Assembly [SPA] Presidium President Choe Ryong Hae (Ch'oe Ryong-hae), Senior KWP Vice Chairman Pak Pong Ju (Pak Pong-chu), DPRK Premier Kim Jae Ryong (Kim Chae-ryong), KWP Organization Guidance (Organizational Leadership) Department Director Ri Man Gon (Ri Man-ko'n), KWP Propaganda and Agitation (Publicity and Information) Department Director Ri Il Hwan (Ri Il-hwan), KWP Workers' and Social Organizations Department Director Choe Hwi (Ch'oe Hwi), KWP Munitions Industry Department Director Ri Pyong Chol (Ri Pyo'ng-ch'o'l), KWP Economic Affairs Department Director O Su Yong (O Su-yo'ng), KWP Vice Chairman for Intelligence and ROK Affairs Kim Yong Chol (Kim Yo'ng-ch'o'l), KWP Vice Chairman for Science and Education Pak Thae Song (Pak T'ae-so'ng),   KWP Cadres' Affairs Director Kim Tok Hun (Kim Tok-hun) Minister of State Security Gen. Jong Kyong Thaek (Cho'ng Kyo'ng-t'aek), SPA Presidium Vice President Thae Hyong Chol (T'ae Hyong-ch'o'l), DPRK Vice Premier Ri Ryong Nam (Ri Ryong-nam), DPRK Vice Premier Im Chol Ung (Im Ch'o'l-u'ng), DPRK Vice Premier and State Planning Commission Chairman Kim Il Chol (Kim Il-ch'o'l), KWP United Front Department Director Ri Ho Rim and KWP Light Industry Department Director Ho Chol Man (Ho Ch'o'l-man).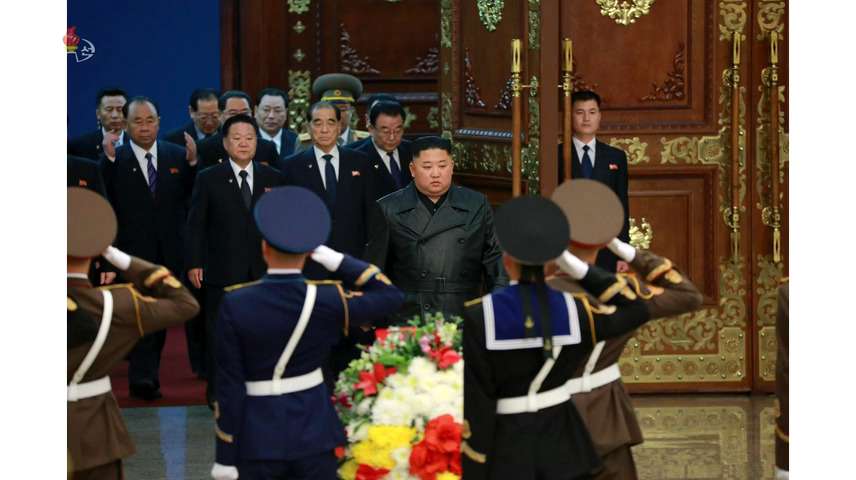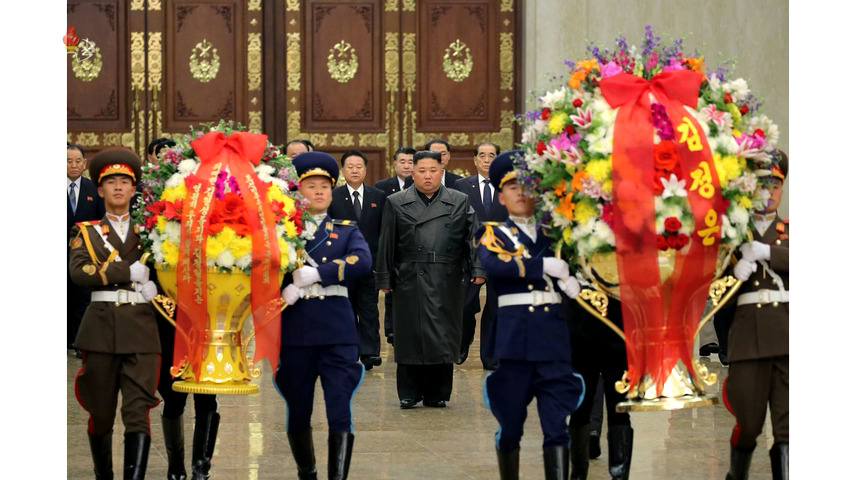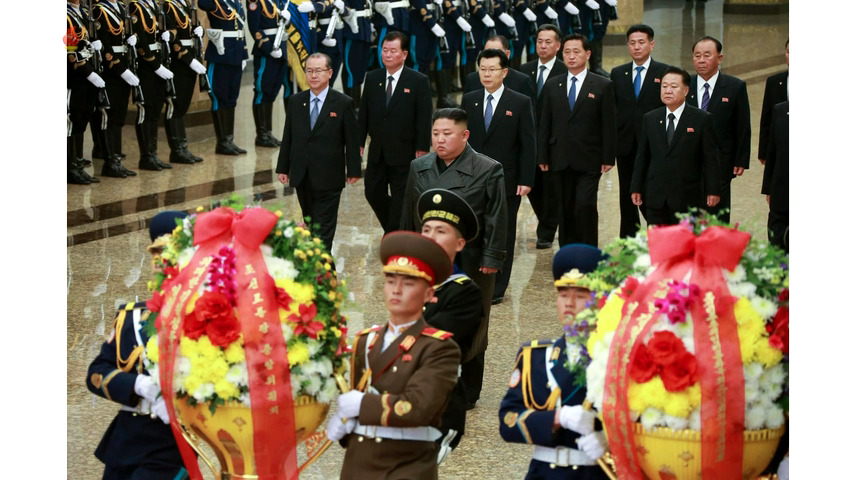 KJU and the visitors entered the statue hall at Ku'msusan.  Floral baskets from the Central Committee, the State Affairs Commission, the SPA Presidium and DPRK Cabinet were placed in front of the statues of Kim Il Sung and Kim Jong Il.  Kim Jong Un and the other visitors paid their respects with a solemn bow in front of the statues.  They then visited the chamber where KJI's remains perpetually lie in state.  According to KCNA, Kim Jong Un paid "the highest tribute" to KJI.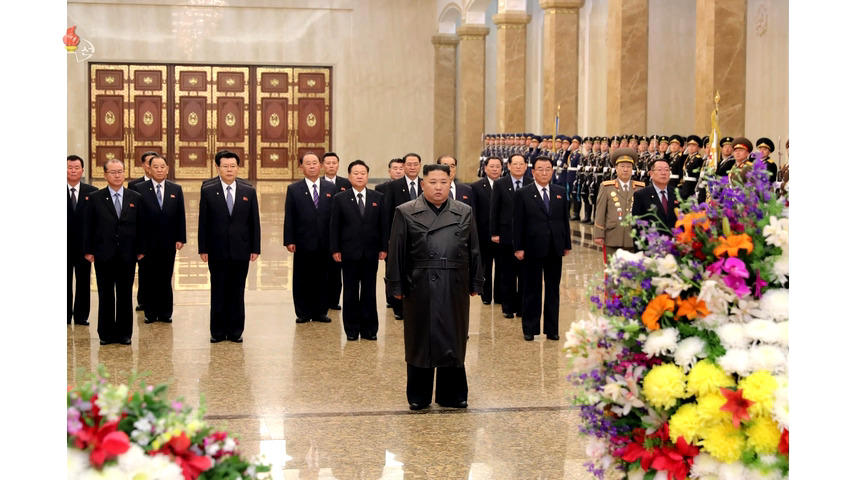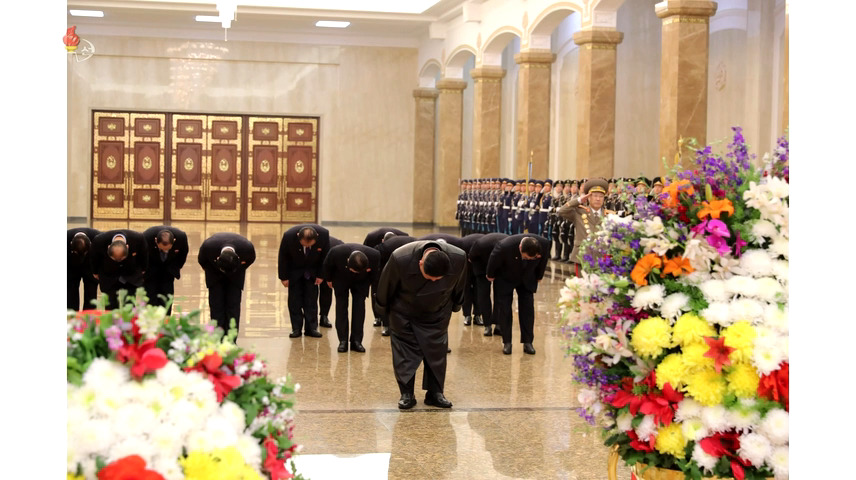 "I think what I need might be a full-length leather coat"
According to South Korea-based Pyongyang watchers, this was Kim Jong Un's first observed public activity in over three weeks (approximately 22 days).  The North Korean public events calendar is relatively light from mid-January to early February.  The country only resumed marking the historical anniversary (8 February 1948) of the Korean People's Army [KPA] as a major holiday in 2018.
Due to ongoing restrictions imposed to prevent the outbreak or spread of coronavirus, the KPA anniversary was commemorated with a profusion of state media activity (editorials, essays, blocks of radio and television programming), but no public events.  Due to a combination of his personality and precedents he has set himself in his public behavior, along with what is currently a pretty grim domestic (internal) environment, Kim Jong Un had little choice but to make a public appearance.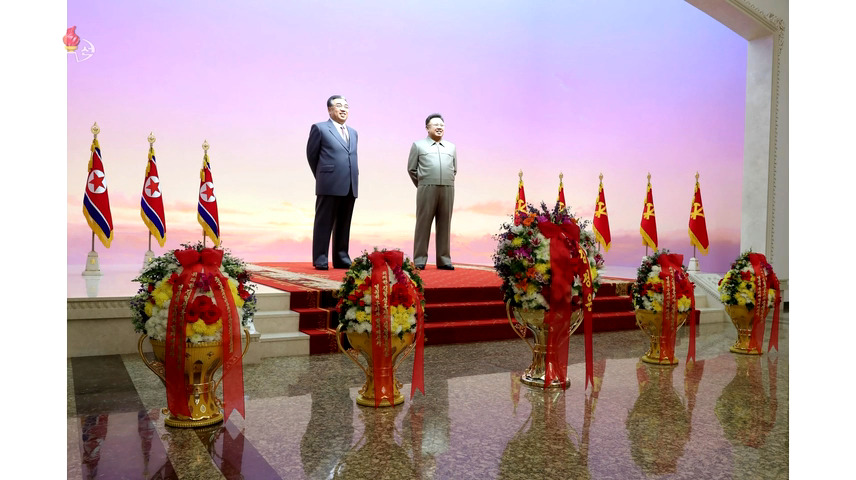 This was one of those events where a high number of current and active members of a DPRK power organization (the Political Bureau) were not in attendance.  As of January 2020, or just following the December 2019 Central Committee plenary session, the Political Bureau consisted of a total of 30 members (both full and alternate members).  At KJU's 16 February 2020 visit to Ku'msusan 12 members (40%) of the Political Bureau were not in attendance.   Let us break these individuals down into cohorts:
KPA High Command None of the high command's top officials–KPA General Political Bureau Director Gen. Kim Su Gil (Kim Su-kil), Chief of the KPA General Staff Department Gen. Pak Jong Chon (Pak Cho'ng-chon) or Minister of the People's Armed Forces Gen. Kim Jong Gwan (Kim Cho'ng-kwan)–attended KJU's Ku'msusan visit.
Central Party Four senior officials of the Central Committee apparatus who also have Political Bureau status were not in attendance: KWP Vice Chairman for Agriculture Pak Thae Dok (Pak T'ae-dok), Second Economy Commission Chairman Jo Chun Ryong (Cho Chun-ryong), KWP International Affairs Department Director Kim Hyong Jun (Kim Hyo'ng-chun) and KWP Civil Defense Department Director Choe Pu Il (Ch'oe Pu-il).  Of this trio, two of these officials' absence is noteworthy.
Kim Hyong Jun was appointed at the December 2019 plenum.  Because the DPRK and PRC are currently pursuing party-to-party relations, rather than state-to-state relations (which one through the countries' respective foreign ministries), Kim is the North's point man with China.  This raises the possibility that Kim is conducting engagement and information coordination with his Chinese counterparts.
Choe Pu Il migrated into the Central Committee apparatus with his December 2019 appointment at the Civil Defense Department [CDD].  There is a high probability that the CDD has already mobilized its network of provincial, county and local civil defense departments to augment ongoing coronavirus preventative measures undertaken by North Korean public health officials.  If there is an outbreak (not isolated cases) of coronavirus in the DPRK, the Civil Defense Department will step its mobilization which general involves coordinating response activities among members of People's Security, workers' and social organizations and elements of the KPA.
Choe's last position was Minister of People's Security which takes a leading role in implementing whatever human and vehicular travel restrictions the central authorities impose in events of national crisis; if there was any outstanding business as Choe transitioned from MPS to the Central Committee, well, that just got awkward.
Regional Party Bosses The three alternate members of the Political Bureau who serve as KWP Provincial Committee Chairmen did not visit Ku'msusan with KJU.  Kangwo'n KWP Provincial Committee Chairman Pak Jong Nam (Pak Cho'ng-nam) and North Hamgyo'ng KWP Provincial Committee Chairman Ri Hi Yong (Ri Hi-yo'ng) were unable to travel to Pyongyang.  The absence of the third party boss, Pyongyang KWP City Committee Chairman Kim Nung O (Kim Nu'ng-o) is unusual considering the locale of this event.
The Body Man Organization Guidance Department Senior Deputy Director Jo Yong Won (Cho Yo'ng-wo'n) did not attend KJU's Ku'msusan visit.  Jo is one of KJU's closest aides, doubling his OGD responsibilities (which are relatively new) with those as a top aide in KJU's Personal Secretariat.  Jo may have attended the event (alongside Hyon Song Wol [Hyon So'ng-wol]) in his PS staff capacity and simply did not line up with the others.
Now, let us engage in two tried and true activities of the Pyongyang watcher–speculation and cherrypicking (usually to support the speculation).
When tabulating some of these absences one has all of the country's top military commanders, the DPRK's new point man on China and the head of the country's civil defense apparatus who also happens to be the country's former top cop and is also highly experienced in crisis management along with one of the Suryo'ng closest aides. Speculatively, these senior officials constitute at least half the membership of whatever interim crisis management team KJU has put into place while the country hopes coronavirus passes it by.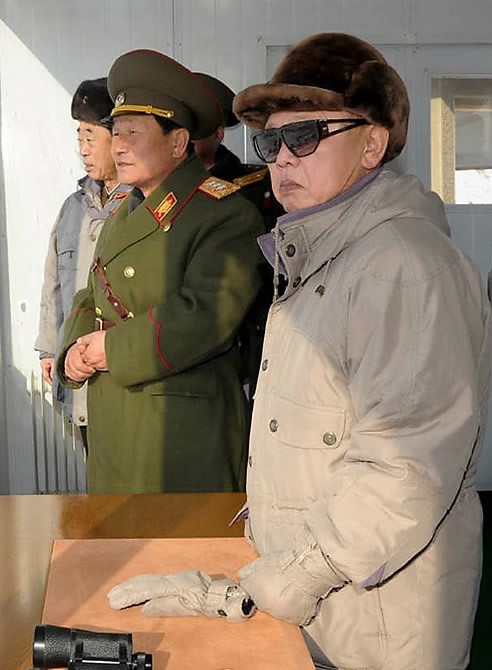 View Original Article