KJU and Central Leadership Visit Ku'msusan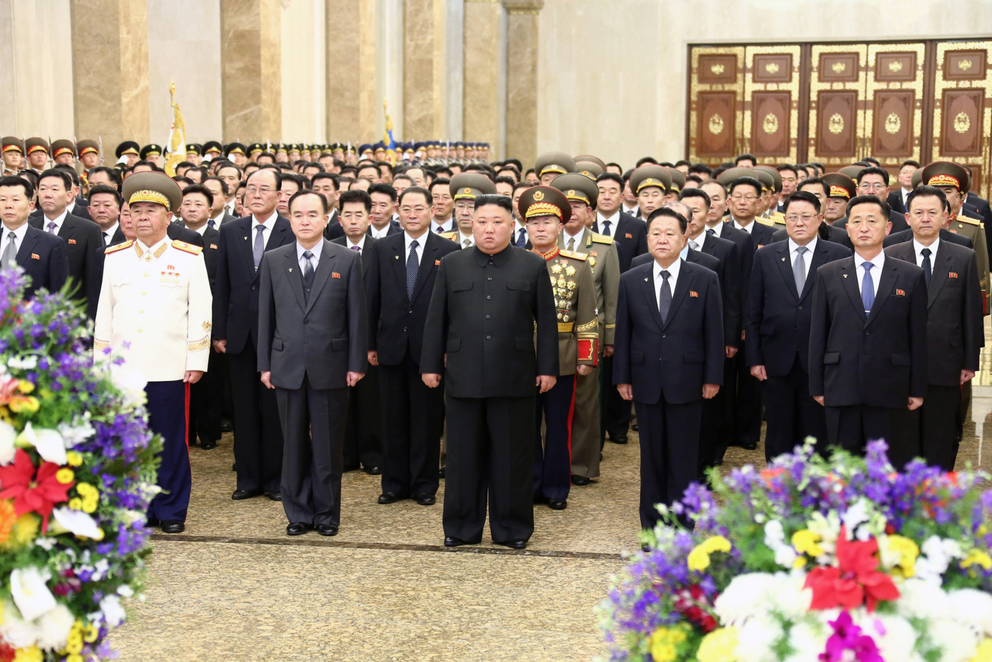 Kim Jong Un (Kim Cho'ng-u'n) and members of the central leadership visited Ku'msusan Palace of the Sun n 16 February (Tuesday) to commemorate the Day of the Shining Star, or birth anniversary of his father, late leader Kim Jong Il (Kim Cho'ng-il).
Among those visiting Ku'msusan were: Workers' Party of Korea [WPK] Secretary Ri Pyong Chol (Ri Pyo'ng-ch'o'l), WPK Secretary Jo Yong Won (Cho Yo'ng-wo'n), Supreme People's Assembly [SPA] Presidium President Choe Ryong Hae (Ch'oe Ryong-hae), DPRK Premier Kim Tok Hun (Kim Tok-hun), WPK Organization Guidance Department (Organization Leadership) Director Kim Jae Ryong (Kim Ch'ae-ryong), WPK Secretary and Propaganda and Agitation (Publicity and Information) Director Pak Thae Song (Pak T'ae-so'ng), WPK Military Affairs Political Leadership Department O Il Jong (O Il-cho'ng), WPK Secretary and Science & Education Department Director Choe Sang Gon (Ch'oe Sang-kon), WPK Secretary and Economic Affairs Department Director O Su Yong (O Su-yo'ng), WPK Secretary and Workers' Organizations Department Director Ri Il-hwan, Chief of the Korean People's Army [KPA] MAR Pak Jong Chon (Pak Cho'ng-chon), Minister of Public Security Gen. Ri Yong Gil (Ri Yo'ng-kil), Minister of State Security Col. Gen. Jong Kyong Thaek (Cho'ng Kyo'ng-t'aek)**, WPK Secretary and Central Auditing Commission Chairman Jong Sang Hak (Cho'ng Sang-hak), WPK Agriculture Department Director Ri Chol Man (Ri Ch'o'l-man), Kangwo'n WPK Provincial Committee Chief Secretary Kim Su Gil (Kim Su-kil), WPK International Affairs Department Director Kim Song Nam (Kim So'ng-nam) and many more.
According to DPRK state media, the KPA was "wrapped in the sublime atmosphere amid the deep yearning for Chairman Kim Jong Il who lived the life of total dedication to the people, unprecedented in history, regarding 'The People Are God' as his motto."  A floral basket from KJU was placed in front of the Kim Il Sung (Kim Il-so'ng) and KJI statues along with floral baskets sent on behalf of the WPK Central Committee, the State Affairs Commission, the SPA Presidium (now called a Standing Committee) and the DPRK Cabinet.
Kim Jong Un, with the other visitors from the central leadership, "paid high tribute" in front of the statues.  KJU and the other visitors then proceeded to the room where Kim Jong Il's preserved remains perpetually lie in state.  KJU "made a bow in the humblest reverence to him who glorified the country into a genuine socialist state centered on the popular masses and provided the firm foundation of prosperity by dint of self-reliance with his outstanding idea and revolutionary leadership, day and night."
Members of the central leadership visiting Ku'msusan with KJU "made the firm resolution to remain loyal to the revolutionary idea and leadership of the General Secretary firmly united around him and fulfill their heavy duty entrusted by the times and history in implementing the important tasks set forth at the 8th Congress of the WPK and the 2nd Plenary meeting of the 8th Central Committee of the WPK and thus achieve the overall development of our own-style socialism."
**this was Minister of State Security Jong Kyong Thaek's first observed appearance in several weeks.  Jong did not attend the WPK Central Committee meeting (2nd plenum of the 8th CC) held 8-11 February**
View Original Article