Kim Jong-un's new model farms
In the most recent issue of Kumsugangsan, the North Koreans highlighted the renovation work of Poman-ri (one of the eight scenic vistas of the songun era).
Here is the article: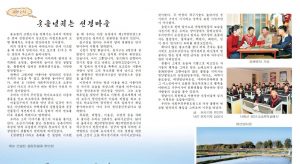 A quick check with the imagery on Planet Labs does indicate that there was a new health complex built (normal at the town level, but only specially allocated at the village level), new apartment buildings constructed, and a school appears to have been renovated (also very common in North Korea these days).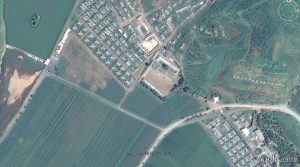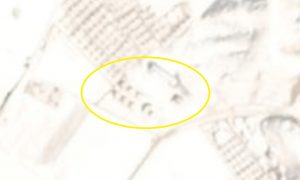 Pictured above (Top): Poman-ri as seen on Google Earth in 2015-8-26 (Bottom): Planet imagery from 2018-2-3 showing renovated area.
This is not the first farm to be "renovated" in the Kim Jong-un era. It is also not the largest village to be renovated (so far it appears to be one of the smallest). So what is going on here? North Korea appears to be in the process of constructing new "model farms" in the KJU era. Previous "model farms," such as Chongsan-ri in Nampho, are primarily associated with revolutionary works of Kim Il-sung or Kim Jong-il. These new farms, however, are intended to spearhead Sci-Tech achievements under Kim Jong-un which can be replicated across the country.
Jangchon-ri  (AKA "DPRK-Libya Friendship Jangchon Co-op Farm") on the outskirts of Pyongyang appears to have been the first of Kim Jong-un's new model farms. Consequently, it has received the most attention in the official media; it has been visited at least twice by Kim Jong-un; and it receives regular foreign tourists, journalists, and even foreign NGOs.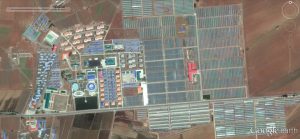 Images via Google Earth. Top dated 2014-3-13 (before). The bottom is dated 2015-5-20 (after)
KCNA reports from Kim Jong-un's first visit to the farm after it was renovated (2015-6-30):
Kim Jong Un, first secretary of the Workers' Party of Korea, first chairman of the DPRK National Defence Commission and supreme commander of the Korean People's Army, gave field guidance to the Jangchon Vegetable Co-op Farm in Sadong District, Pyongyang City, whose looks have undergone a radical change to be a model and a standard of the socialist rural cultural construction.

He set forth a task to build the farm into an exemplary farm and icon of greenhouse vegetable production when providing field guidance to the farm associated with the immortal history of leadership given by President Kim Il Sung and leader Kim Jong Il in June last year. He guided the layout for the construction of Jangchon area several times and took benevolent measures for settling the issues arising in it.

He went round the mosaic depicting smiling Kim Il Sung, a monument to the revolutionary activities of Kim Il Sung and Kim Jong Il, the room for the education in the revolutionary history and the room dedicated to the history of the farm.

He recalled that the farm developed into a dependable producer of vegetables under the warm and meticulous care of Kim Il Sung and Kim Jong Il who made indefatigable efforts to the last moments of their lives to provide the Pyongyang citizens with fresh vegetables all the year round.

He went round the hall of culture, science and technology disseminating center, Jangchon health complex, modern dwelling houses and other places to learn about the construction in detail.

He praised the farm for building the hall of culture as well as a national art theatre so that the farmers may fully enjoy a cultural and emotional life and constructing a nice park and a leisure ground having a volleyball court, a swimming pool, a roller-skate ring and a fishpond.

He was satisfied to see the library, e-reading room and technology study room in the science and technology disseminating center and modern equipment in the soil analysis room and the room for examining damage done by insects.

Appreciating the successful construction of modern dwelling houses, in particular, he was pleased that the farm carried out the party's policy of making an effective use of natural energy and turning the village into an orchard by equipping each house with solar water heater, solar cells and a methane gas supply system and planting fruit trees around each house.

He went round mud-walled plastic sheet greenhouses and arch-style chain greenhouses to learn in detail about the vegetable production and management of the farm.

He enjoyed a bird's-eye view of the farm from the observation deck.

He praised the Pyongyang City for working an eye-opening miracle in the socialist rural cultural construction as required by the party and being able to proudly greet the grand festival in October.

He extended thanks in the name of the Party Central Committee to farmers of the farm and officials and other working people in Pyongyang City for making a positive contribution to turning the Jangchon area into a spectacular farm reminiscent of a rural city as required by the party.

It is the resolution and will of the party to bring about a radical turn in the rural cultural construction with this farm as an example and torch, he said, giving Pyongyang City an instruction to push ahead under a plan with the work to spruce up well the farms on the outskirts of the city on the basis of the successes and experience already gained.

He expressed expectation and belief that Pyongyang City would take the lead in the drive to implement the behests of the leaders and uphold the party policies in the future as a political, economic and cultural hub of socialist Korea having the mission to hold aloft the banner of the three revolutions-ideological, technical and cultural.

He was accompanied by Hwang Pyong So, Choe Ryong Hae and Ri Jae Il.
The words in bold above indicate the types of facilities that are to be constructed at all of the new model farms. These types of facilities are already common at the city- and town-level, but still relatively rare at the village level. It would also be interesting to know if this farm (and other similar model farms) operate under different agriculture policies–such as de-facto family plots, or perhaps some flexibility to make agricultural decisions on the spot. Time will tell.
These types of projects are typically rolled out at the provincial level, so other than Jangchon-ri (Pyongyang) and Poman-ri (North Hwanghae), what other model farms can we point to that are being renovated under this policy?
1. Thaesong-ri (Nampho): This farm was featured on KCTV on 2017-9-21, and miraculously it has not been deleted by YouTube). KCTV described the village as a model village with new facilities that are pleasure to live and work in.
I have previously mentioned this village in Radio Free Asia.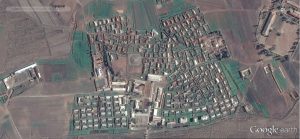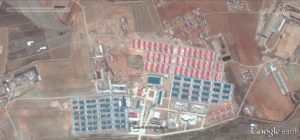 2. Sokha-ri (North Phyongan): This farm was featured on KCTV on 2018-1-9, but YouTube has since deleted the material. Shame on them.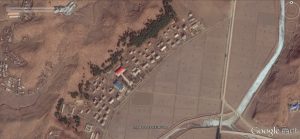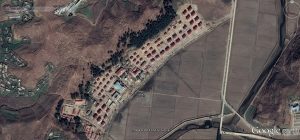 3. Sinchang-ri (South Hwanghae): This farm was featured on KCTV on 2017-9-20. This village has actually undergone at least two rounds of renovations. I believe the first round was done because the village is next to a popular road artery (North Korea has long been cleaning up villages long the main roads). The second round of renovations is due to the new model farm policy under Kim Jong-un.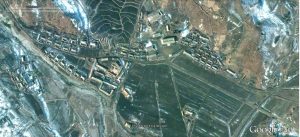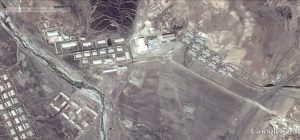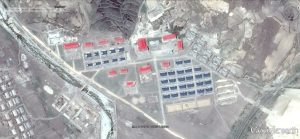 Pictured above (Top): 2006-12-25 (Middle): 2014-3-20–showing completed first renovation (Bottom): 2016-10-23–showing completed second renovation in the new model farm style.
4. Jikha-ri (North Hamgyong):  This was also featured on KCTV on 2017-11-5, but has also been deleted by YouTube. I previously pointed it out to RFA on 2016-6-22.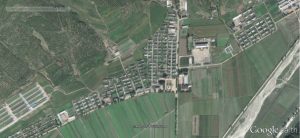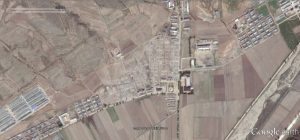 Image above (Top): 2015-9-20 (Bottom): 2016-5-7–showing that the village is under renovation.
5. Phyongsu-dong (South Hamgyong): According to imagery on Planet.com, renovation of this farm has been completed, but I have not see it appear in the North Korean media to date. I previously mentioned it in RFA here.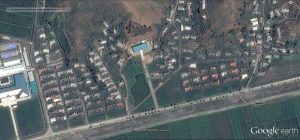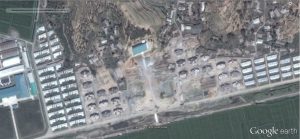 6. Songchon-dong (Kangwon): This farm renovation has yet to appear in the official media (as far as I am aware). I previously reported in RFA that is sits just outside the security perimeter of Kim Jong-un's Wonsan compound: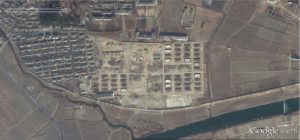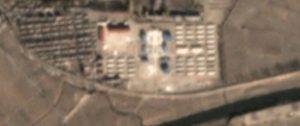 Image dates (Top): 2016-2-26 (Middle): 2017-2-14 (Bottom): Planet image from 2018 showing construction continues to progress.
This is not the only village to be renovated in Kangwon. However, I believe it is the only renovation project in the province related to this new series of model farms. Another village in south Kangwon Province, Thaebek-ri (38.574028°, 127.673046°), has also been renovated in the last few years, and several other farms in Kangwon were renovated as part of the Sepho Tableland Project.
Below is the information that remains TBD.
1. Manbok-dong (Rason): This area in Sonbong was formerly named Paekhak-ri, and it was the site where the North Korean government constructed new housing following floods in the summer of 2015. I could be wrong, but I believe that the post-flood housing is being pragmatically named as the new model farm in the city. However, I could be wrong. I searched for other village renovation in Rason on Planet Labs imagery and Google Earth, but did not find anything significant.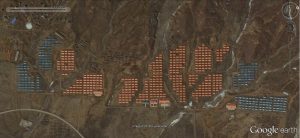 2. South Phyongan: I am still unsure which village in South Phyongan will be designated as the model farm to be built in this new style. I reported in RFA that lots of housing around Pyongyang Airport was being renovated back in May 2017, some of which is in South Phyongan, but none of these housing projects seem to match the new model farm design. According to a later KCTV report on 2017-11-20 (before it was deleted by Youtube), the Ministry of Coal Mining (석탄공업성), Ministry of Forestry (림업성), National Tourism Bureau (국가관광총국), and the Korea Oceanic Company (조선대양총회사) built new housing in the Pyongyang International Airport District. 1,000 homes were built earlier than scheduled and work was continuing on the remaining houses. However, it is possible that construction on the province's new model farm has not yet begun in this province.
3. Jagang Province: I have searched the North Korean media, Google Earth imagery, and Planet imagery, but have not seen where construction on a new model farm has begun.
4. Ryanggang Province:  I have searched the North Korean media, Google Earth imagery, and Planet imagery, but have not seen where construction on a new model farm has begun.
View Original Article