Democratic People's Republic of Korea Official Journal of Invention (조선민주주의인민공화국 발명공보 / Choson Minjujui Inmin Konghwaguk Palmyong Kongbo)
Democratic People's Republic of Korea Official Journal of Invention
조선민주주의인민공화국 발명공보 / Choson Minjujui Inmin Konghwaguk Palmyong Kongbo
Translation and backgrounder by Stephen Mercado
A monthly journal of patent information, published by the Invention Office of the Democratic People's Republic of Korea.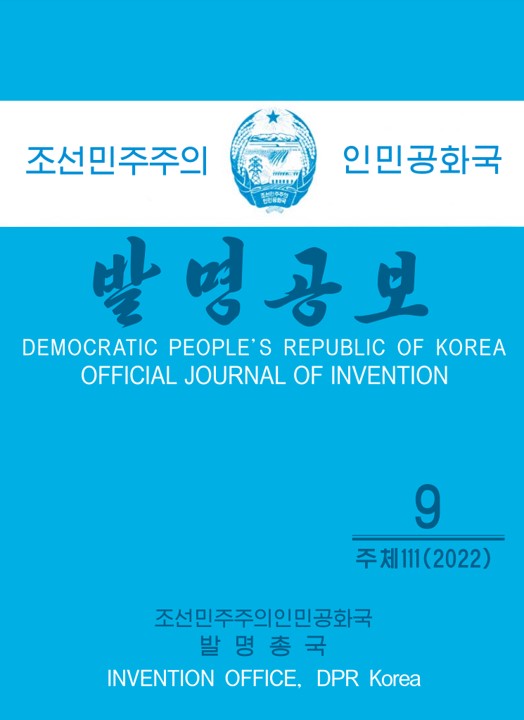 Journal Title: The journal title has various renderings. Democratic People's Republic of Korea Official Journal of Invention is the name in English. Its name in a simplified version of the standard McCune-Reischauer (M-R) transliteration system and the actual title in Korean are listed above. Its full M-R transliteration, as used in catalogs of the Library of Congress and other major libraries, is Chosŏn Minjujuŭi Inmin Konghwaguk Palmyŏng kongbo. The main title in English is the Official Journal of Invention (발명공보).
Author Information: The patent applications include the among the patent classifications the names of the inventors and their affiliated organizations. These organizations include universities, research institutes, and production units, including Kim Il Sung University, the State Academy of Sciences (SAS) Geoenvironmental Information Institute and the Taedonggang Battery Factory.
Subject Matter: The articles are patent applications across a wide range of technologies.
References: The patent applications do not include citations of scientific literature.
Sections: Each issue comprises a front cover; an unnumbered page with a framed quotation of one of the three generations of the Kim family; a table of contents (TOC) in Korean; the articles; a TOC in English; a page of international patent classifications; a guide to patent field codes; and the publishing information. Constituting the main body of the gazette are the patent applications, with bibliographic information, the claim, and, in some cases, a drawing.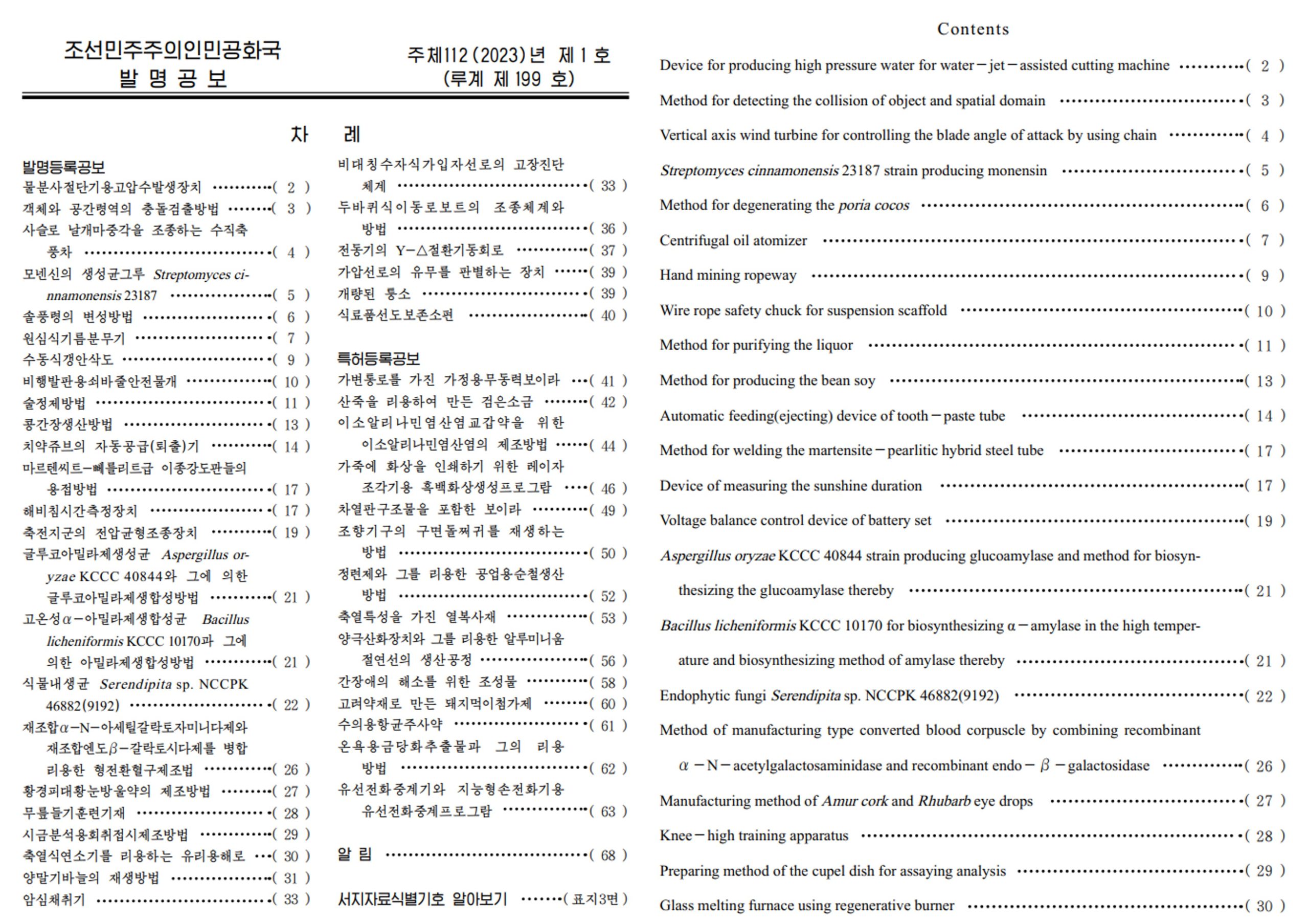 Publisher: The publisher's name in English is the Invention Office, DPR Korea. It is Choson Minjujui Inmin Konghwaguk Palmyong Chongguk in simplified M-R and 조선민주주의인민공화국 발명국 in Korean. The publisher's name appears in Korean on the journal's cover and in the publishing information page; its name in English is on the front cover. In addition, the front cover includes the national emblem of DPR Korea.
The publisher publishes an issue each month starting in January for a total of 12 issues per year. According to the TOC publishing information page, Issue 9 (September), 2022—the latest issue available at the time of writing—was cumulative issue number 195. The publishing information page also indicated that there was an editorial committee (no members named), the publisher was the Invention Office, the place of printing was the Moranbong Printing Plant, the date of printing was 20 August Juche 111 (2022), and the date of issue was 5 September Juche 111 (2022). In the publishing information page, there was no copyright line, periodical publication number, International Standard Serial Number (ISSN), mailing address or telephone number. There was also no bar code on the back cover. The publishing information has shown changes over time; for example, in Issue 1, 2011—the earliest issue available—the place of printing was the Pyongyang General Printing Plant.