Sinuiju International Economic Zone
Continued from:
"North Korea's Special Economic Zones: Plans vs. Progress"
Sinuiju was first labeled a Special Administrative Zone in 2002, but quickly languished when Pyongyang's choice to head the project, a Chinese-Dutch businessman, was jailed in China. A rebranded Sinuiju International Economic Zone was announced in 2013 and signaled a second attempt to develop this region. The zone is focused on southern Sinuiju and the neighboring Ryongchon County where the Chinese have built a new bridge over the Yalu (Amnok) River. Although the bridge was essentially complete by late 2014, at a cost of around $350 million, the North Koreans have yet to build any administrative or transportation infrastructure to support the new border crossing. The North has also failed to complete road improvements from Sinuiju to Anju, which would facilitate the flow of goods through North Phyongan Province along the country's most important trade artery. These factors have delayed the opening of the bridge.
[slideshow id="11781″]
Chinese side of the new Yalu (Amnok) River Bridge (Dandong).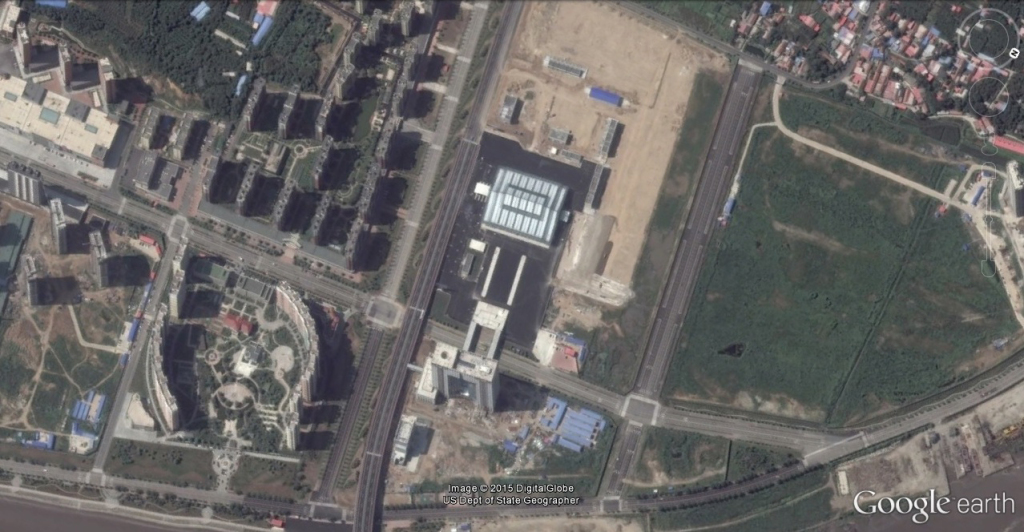 North Korean side of the new Yalu (Amnok) River Bridge (Sinuiju).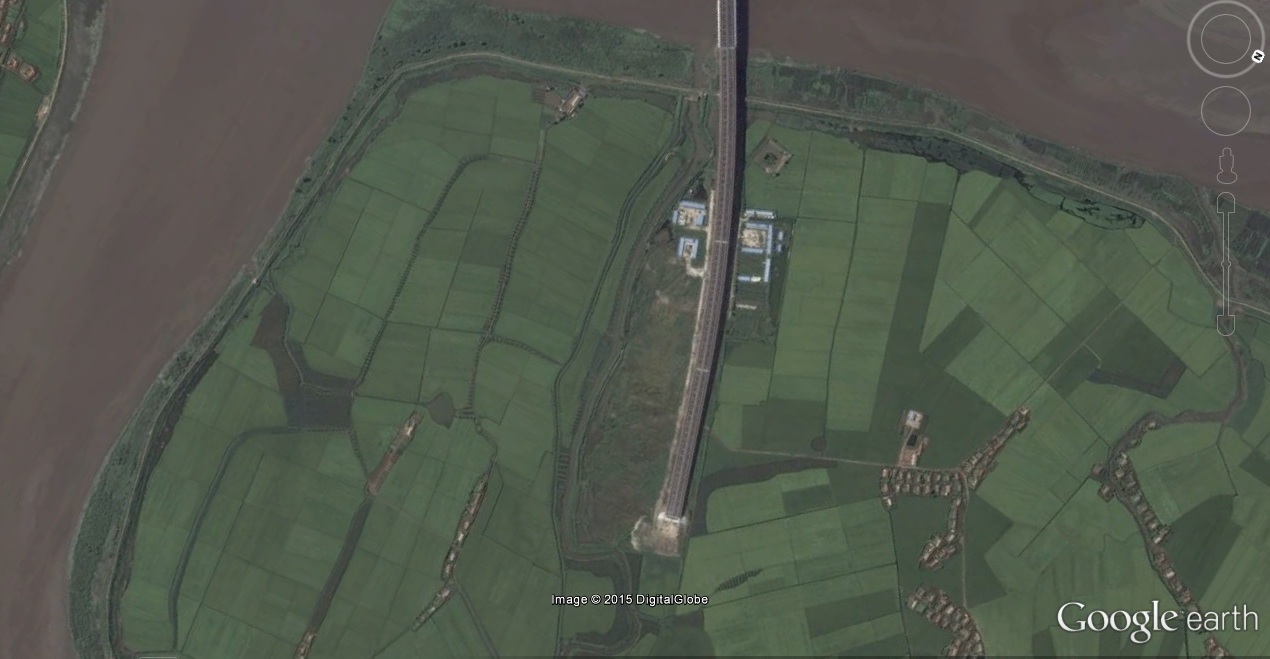 While no significant progress of this zone is yet visible, there is reason to believe that the Sinuiju International Economic Zone may now be a policy priority for both the Chinese and North Korean governments. For instance, in October, South Korean media reported that the Chinese and North Koreans have finalized new plans for the zone:
"According to newly inked guidelines, North Korea and China plan to build at the Sinuiju special administrative region, which totals 132 square kilometers and would include new industrial areas, public areas, a distribution complex, parks and a water supply treatment plant.
This would be in addition to existing factories to manufacture textiles, shoes, chemical fiber and weaving machines. However, the originally envisioned recreational and tourism center, golf course and commercial service district were scrapped from this new master plan.[1]"
Earlier that month, China and North Korea had officially launched the Guomenwan DPRK Trade Zone in Dandong, a project that reportedly cost $158 million and lies just 3.3 km from the foot of the new bridge.[2] The purpose of the new trade zone is to promote commodity trade between the DPRK and Chinese living within 20 km of the border by reducing tariffs on small purchases.[3] The timing of this launch is interesting, as satellite imagery indicates construction of this 40,000 square meter zone was basically completed in December 2013. This delayed launch could have been due to the execution of Jang Song Thaek in December 2013, but it could have also been for bureaucratic or other economic reasons.
The Guomenwan DPRK Trade Zone is situated in Dandong, close the new Yalu River Bridge.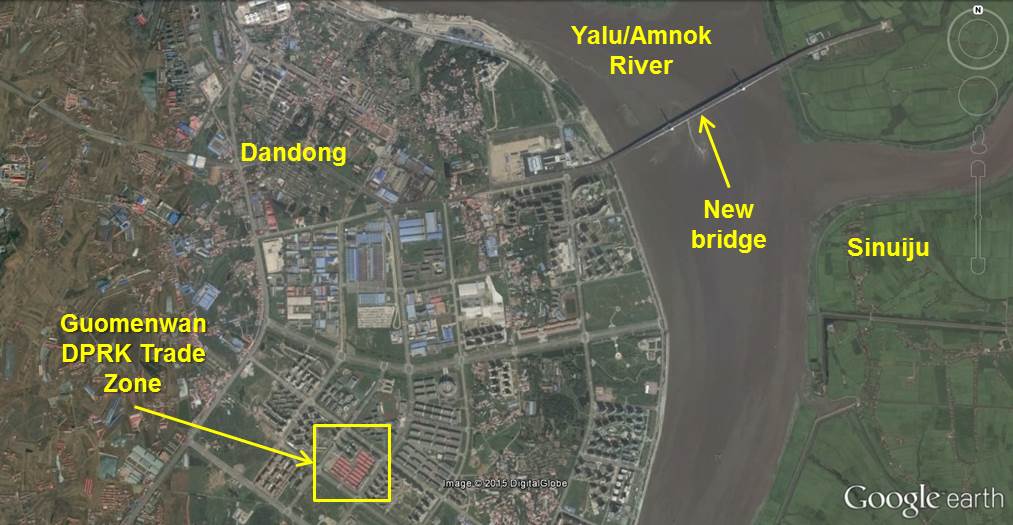 Figure 4. A close up of the Guomenwan DPRK Trade Zone.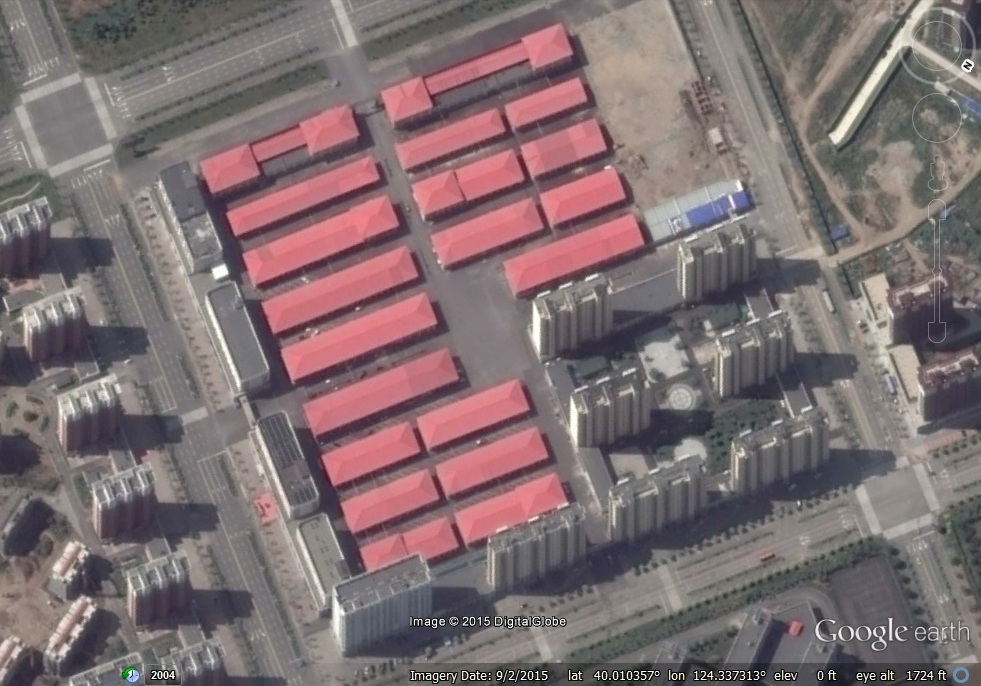 Moreover, recent satellite imagery of Sinuiju reveals efforts underway in 2015 to attract more Chinese tourists.
Construction of a new complex in Sinuiju from March to September 2015.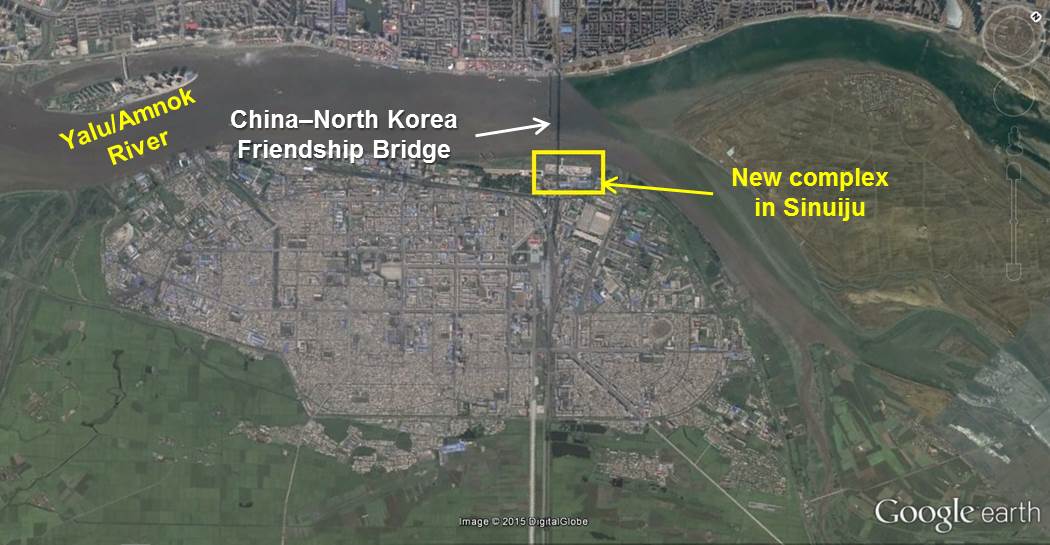 Close up of the new complex.
(Before: March 12, 2015; Google Earth. After: September 2, 2015; Google Earth.)
While it is unclear if this complex is actually part of the Sinuiju International Economic Zone, it is approximately 925 square meters in area and is constructed on reclaimed land under the China-North Korea Friendship Bridge, the busiest DPRK-China border crossing which links Dandong and Sinuiju. It lies between the North Korean customs office in Sinuiju and the Yalu River. The buildings face outward towards the Yalu River and the Dandong city skyline. A pier is visible for riverboats to dock, and media reports suggest that accommodation, restaurants and shopping facilities are also being constructed to facilitate short-stay tourism (the majority of cross-border tourists are day-trippers).[4]
Assuming the strained relations between Pyongyang and Beijing gradually mend, Sinuiju may be able to attract other small or medium sized investments if North Korean policy makers can build an economic environment that is seen as safe and stable for investors. However at this time, aside from the natural resource sector, potential Chinese investors appear to prefer importing North Korean labor or making small consignment orders from North Korean firms, rather than exporting their capital to the DPRK.[5]
Update: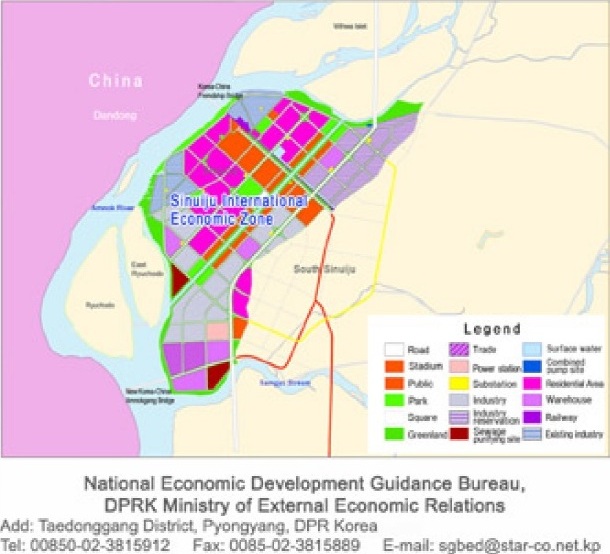 According to the December 2015 issue of the DPRK's quarterly magazine "Foreign Trade," the Sinuiju zone will "[P]rovide opportunity for bonded processing, bonded transportation, trade and financial business, tourism, [and] high-tech industry." Additionally, the article indicates the North Korean government is prioritizing infrastructure investment on items such as the port, airport, railways, roads, power stations, heating and gas, telecom, water and sewage and garbage disposal.
Return to last section: North Korea's Special Economic Zones
Next section: Wonsan-Mt. Kumgang International Tourist Zone
---
---