Developments in the Smaller SEZs
Continued from:
"North Korea's Special Economic Zones: Plans vs. Progress"
Aside from these developments in "the big four," there have been interesting changes in some of the DPRK's smaller SEZs, and this year two more SEZs were announced.
Hwanggumpyong and Wiwha Islands Economic Zones:
Since 2014, Hwanggumpyong has seen the construction of a single large building. While the purpose of this building is yet unclear—some believe it will be a joint Sino-DPRK SEZ administration office while others believe it might be a hotel being constructed by a Chinese firm—construction seems nearing completion.
Building on Hwanggumpyong nears completion.
Images include material Pleiades © CNES 2015. Distribution Airbus DS / Spot Image, all rights reserved.
In December 2013, Chinese media reported that a contract had been finalized for the Onsong Island Tourist Development Zone. According to Chinese media:
North Korea planned to develop the zone into a tourism resort that includes a golf course, swimming pool, horse racing, and restaurants to attract foreigners, said Jin Hualin, an expert on North Korea economy at Yanbian University.

"But the exact development agenda hasn't been set as Tumen will invite investors to make their decisions," he said.[1]
To date, little work has been conducted in the zone.
The Onsong Island Tourist Development Zone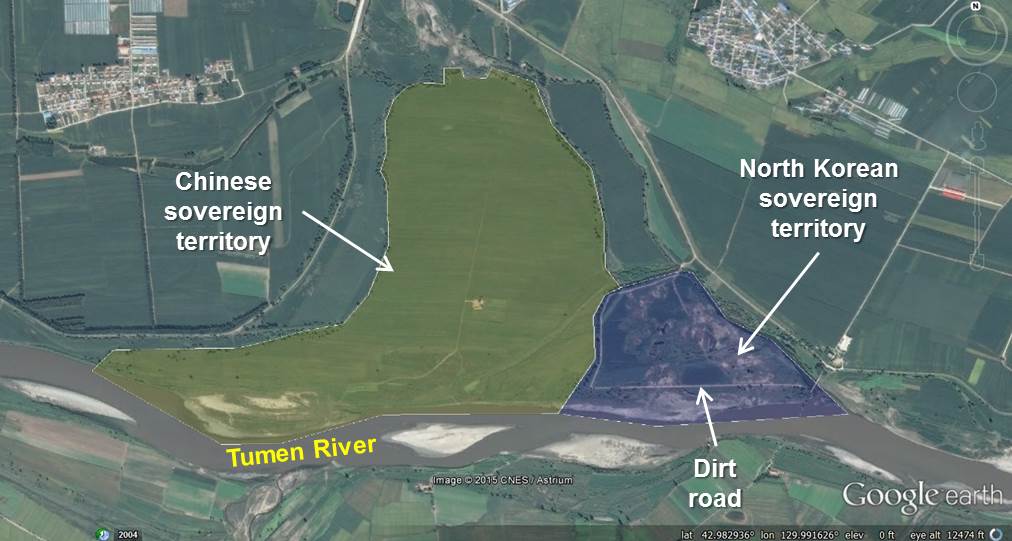 Like Hwanggumpyong on the west coast, the Onsong SEZ is on a patch of land on the Chinese side of the Tumen River. It is not connected to the DPRK mainland either via geography or infrastructure. However, this zone may be unique among the SEZs because part of it lies on Chinese sovereign territory (in yellow) and part of it lies on North Korean sovereign territory (in blue, on the North side of the river). Little work has been done here, although a dirt road was built on the North Korean land between October 6, 2014 and August 5, 2015.
Return to last section: The Rason Economic and Trade Zone
Next section: Two New SEZs Announced in 2015
---
[1]
---