Smoke and Mirrors: DPRK Front Companies in China and Russia
Despite extensive international sanctions, many North Korean designated entities continue to do business around the world using aliases. The effectiveness of the sanctions regime depends on the willingness and ability of the international community to prohibit illicit trade. However, that record has been mixed.
In March 2014, the United Nations Panel of Experts (PoE) singled out a particular North Korean entity as an example of the need for better sanctions enforcement—the Korea Ryonha Machinery Joint Venture Corporation ("Ryonha"). Ryonha is Pyongyang's main producer of CNC machine tools. High-end CNC machine tools are essential for producing military items, including the components that make up missiles and gas centrifuges used to enrich uranium. (The DPRK's enthusiasm for CNC machine tool capabilities is described in a previous 38 North article.)
The United Nations sanctioned Ryonha in January 2013 for "being engaged in or providing support for, including through other illicit means, DPRK's nuclear-related, other weapons of mass destruction-related and ballistic missile-related programmes." This designation obligates States to freeze assets of designated entities operating in their territories. The freeze also applies not only to those assets directly controlled by the designated entity, but those of companies "indirectly" controlled and or "acting on behalf" of designated-entities like Ryonha.
Despite being subject to an asset-freeze, Ryonha remains active internationally. For example, the firm participated in a trade fair in Dandong, China in May 2013 under its own name. The UN Panel of Experts found no evidence in its March 2014 report that the Chinese government took any steps to prevent Ryonha from participating in the fair or to seize its assets. The PoE also noted that the firm appeared to operate in a number of countries under various aliases, and again called on member states to provide information "on those who are acting on behalf of or at the direction of entities and individuals designated."
We have found information that suggests Ryonha has continued to operate in China and Russia until recently, as well as the names under which it does business in those two countries. In China, the evidence suggests that Ryonha operates under "Millim Technology Company" through a Chinese firm called "Suzhou Weihan CNC Technology Co., Ltd." In Russia, Ryonha appears to operate under the name "Koryo Technologies" or KORTEC. Marketing materials published by these companies demonstrate that the CNC machine tools they are selling are produced at the Ryonha Machinery Plant outside Huichon in the DPRK.
The UN Panel of Experts, as well as member states, should closely examine the activities of these companies to determine if they are, in fact, engaged in illicit commerce on behalf of Ryonha.[1] China and Russia, in particular, should investigate whether these entities are controlled directly or indirectly, or working on behalf of Ryonha, and whether their assets should be frozen pursuant to UN Security Council Resolutions.
Huichon Ryonha
North Korea's main center for manufacturing CNC machine tools is the Ryonha factory located near Huichon. Until mid-2010, DPRK state media referred to this site as the Huichon General Machine-Tool Plant, and after mid-2010, as either the Huichon Ryonha General Machinery Plant or the Ryonha General Machinery Plant.
Although the name Ryonha does not appear in DPRK state media until late 2009, it seems to have been in commercial use as early as 2004. The firm appears to have come to the attention of the United States that year, when Taiwanese customs authorities stopped shipments of machine tools destined for Dalian, China. The US and Taiwanese authorities believed that the exporter, Ching Hwee International Trading Company, believed the machine tools were, in fact, bound for North Korea, specially for the "Ryonha Machinery Joint-Venture Company."
Taiwanese authorities initially appear to have lacked a legal authority to stop the shipments. Nevertheless, the US continued to press Taiwan to halt the Chin Hwee's exports to Ryonha. In 2005, the United States designated Ryonha pursuant to Executive Order 13382, an authority aimed at freezing the assets of proliferators of weapons of mass destruction (WMD) and their delivery vehicles. In 2007, Taiwanese authorities successfully prosecuted Ching Hwee for the June 2006 export of a machining center to Ryonha.[2]
In 2009, Kim Jong Il visited the Huichon General Machine Tool Plant, touring the factory floor and posing in front of maps of the site. Based on the maps, as well as the windows in the roof, it is possible to identify the location of the Huichon Machine Tool Plant as: 40°11'16.55″N, 126°13'51.58″E. (The geolocation is described in more depth at Arms Control Wonk.com.)
In December 2010, Kim Jong Il visited the same site, now described as the Huichon Ryonha General Machinery Plant, noting that the facility "has undergone radical changes in a matter of a few months," presumably in reference to his March 2010 visit.[3] Satellite images show that the building Kim visited in 2009 had been replaced by a modern facility. Naenara, a North Korea friendship site, has also published a number of images of inside and outside of the Huichon Ryonha factory, as well as the machine tools it produces. These images are sufficient to link Huichon Ryonha with firms doing business in China and Russia.
Suzhou Weihan[4]
On November 9, 2013, Naenara's Tumblr account—dedicated to collecting images of North  Korea—posted an image of a Ryonha machine tool.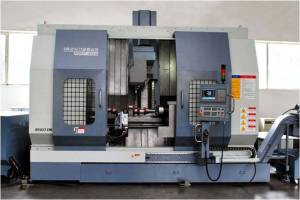 A simple Google image search of the picture revealed an identical image on the website of a Chinese firm that uses the name Suzhou Weihan CNC Technology Co., Ltd. [苏州威汉数控科技有限公司]. As it turns out, this is one of 21 images of the Huichon Ryonha General Machinery Plant that appeared on the Suzhou Weihan website under the heading "North Korean workshop" (朝鲜车间展示). Some images even retained their original KCNA logo.[5]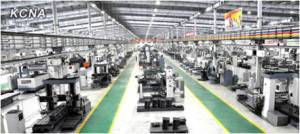 Based on the images of the Huichon Ryonha factory floor and machine tools, it appears that Suzhou Weihan is advertising that it sells machine tools produced by a UN-sanctioned entity.
The website contains other details that link Suzhou Weihan to North Korea. In addition to the images of the Huichon Ryonha General Machinery Plant, the Suzhou Weihan website contains contact information for the China sales office of an entity known as the Millim Technology Company [朝鲜密林技术会社(中国)销售处]. The UN Panel of Experts has already noted that an overseas alias for Ryonha is Millim Technology Company.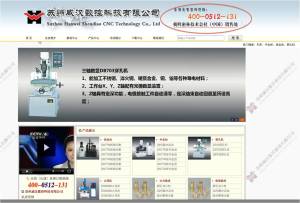 The Suzhou Weihan website registration also explicitly states that "Suzhou Weihan, in collaboration with the largest military enterprise in the DPRK, Millim Technology, is the primary distributor of milling machines, lathes, and machining centers

Finally, the Suzhou Weihan website contains a CCTV news video of the Ryonha exhibit at the 2012 China-DPRK trade fair in Dandong. The short video contains images of Ryonha produced machines, as well as an interview with a "Ryonha sales representative" named Sheng Pingjin (升平进). A person with the same name is also listed as the director of the Millim Technology Company in Chinese business registration documents.

Many questions remain about Suzhou Weihan and its relationship to other Chinese entities. According to Chinese registration documents, the company is owned by three individuals. One of those persons, Yu Kai (禹凯), is listed on many business directory websites as the primary contact for Suzhou Weihan. Registration documents also list Yu Kai as an owner of an additional CNC supply firm in Suzhou, the Suzhou Northern CNC Technology Company (苏州北方数控科技有限公司). A Yu Kai, with the same email address and phone number listed on some Suzhou Weihan sites, is also listed as the sales director of a firm called Suzhou Changfeng Electric Technology Company (苏州长风机电科技有限公司). Neither of these companies' websites, however, show any overt links to North Korea.
Finally, one Suzhou Weihan website contains a reference to the China National Machinery Import and Export Co. Ltd., but the reference is only in English. The name is generic and can be translated several ways in Chinese, but it may indicate the involvement of additional Chinese firms in the import of DPRK machine tools into China.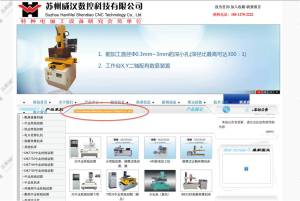 KORTEC
In Russia, Huichon Ryonha appears to operate as Koryo Technologies or KORTEC. Like the image of the Ryonha machine tools on the Suzhou Weihan website, a simple Google search in Russian for "North Korea cnc site:.ru" brings up a brochure for a firm called KORTEC.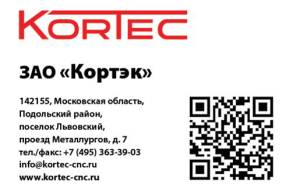 The brochure includes a physical address, website and QR code.[6]
The website (http://kortec.cnc.ru/) described the firm as having been established following an August 2011 meeting between then-Russian President Dmitri Medvedev and Kim Jong Il.[7] According to the company's website, KORTEC is the sole distributor of "Ryonha Machinery Corporation products."[8]
The brochure for Koryo Technologies shows images of the outside of the manufacturing facility and the factory floor in North Korea, as well as seven machine tools. The images of the exterior and factory floor are photos of the Huichon Ryonha plant. The machine tools on the KORTEC brochure are branded identically to the milling machine that led us to the Suzhou Weihan website.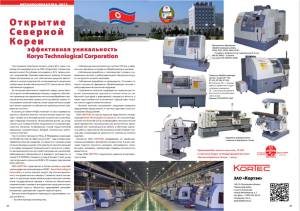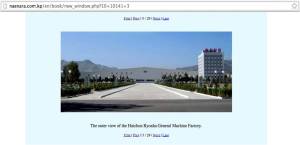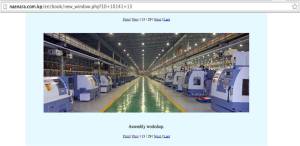 Conclusion
The websites and marketing materials for Suzhou Weihan, Millim and KORTEC strongly suggest that Huichon Ryonha continues to do business in China and Russia despite being subject to an asset freeze. Russia and China should assist the UN Panel of Experts in examining the activities of these entities to determine if they are, in fact, either controlled by Ryonha or acting on its behalf. China and Russia may be obligated to freeze the assets of these firms pursuant to UN Security Council resolutions.
APPENDIX: Company Information
Suzhou Weihan CNC Technology Co., Ltd. [9] 苏州威汉数控科技有限公司
| | |
| --- | --- |
| Legal Representative | Yu Kai (禹凯) |
| Registration Number | 320512000108973 |
| Registered Address | 苏州高新区中峰街158号 |
| Other Addresses | 苏州泰山路2号 ; 中国苏州市高新区华圩路83号; 高新区前桥路161号 |
| Websites | http://www.whsk-sz.com http://szweihan.1688.com/ http://www.qhj168.com http://szwhsk.co.sonhoo.com http://suzhouweihan.6903.com |
| Phone Numbers | 13338653863; 0512-88605378; 18012702222; 86 0512 66623990; 0512-69209585; 0512-81870102; 18962123711; |
| Email Addresses | changfeng_sz@126.com; andkai@126.com; szwhsk@126.com ; zwhlyx@126.com; |
Millim Technology Company 朝鲜密林技术会社
According to a search of Chinese company registration information from the Administration for Industry and Commerce, Millim Technology Company is registered in Liaoning province with the headquarters located in Dandong. (Dandong is just across the border from the DPRK.) It is registered as a foreign establishment. Another office is registered in Beijing.
| | | |
| --- | --- | --- |
| Location | Dandong[10] | Beijing[11] |
| Legal Representative | Sheng Jinping (升平进) | Xu Jingtai (徐景泰) |
| Registration Number | 210000500009675 | 110000450151180 |
| Registered Address | 丹东市振兴区沿江开发区H区53# | 北京市东城区琉璃井路38号任你行宾馆四层412号 |
| Phone Number | 0415-3830337 | |
| Other information | Beijing legal representative: Yin Ri (尹日) | |
Koryo Technology Company (KORTEC)
КОРТЭК kortec-cnc.ru
ЗAO
107123, Россия, г. Москва,
ул. Большая Семеновская, д. 55, стр. 5
Тел.: +7 (495) 363-39-03
Факс: +7 (495) 363-39-03
info@kortec-cnc.ru
http://www.kortec-cnc.ru
Jeffrey Lewis is Director of the East Asia Nonproliferation Program at the James Martin Center for Nonproliferation Studies (CNS), Monterey Institute of International Studies, and a frequent contributor to 38 North. Catherine Dill is a Research Associate in the East Asia and Nonproliferation Program (EANP) and the Export Control and Nonproliferation Program (XNP) at CNS.
—————————————–
[1] In this case, illicit commerce refers to business activity conducted in contravention of the requirements of UN Security Council Resolutions 1718 and 2087, which all UN Member States are called upon to implement as per Article 41 of Chapter VII of the UN Charter. See: http://www.un.org/sc/committees/1718/.
[2] UN Security Council, "Final report of the Panel of Experts submitted pursuant to resolution 2050 (2012)," June 11, 2013, p. 29, http://www.un.org/ga/search/view_doc.asp?symbol=S/2013/337.
[3] In 2011, KCNA reported that Kim Jong Il had visited the Huichon Ryonha facility "several" times. State-media records only one visit using that name, but images of Kim's visit demonstrate that the Huichon General Machine-Tool Plant and the Huichon Ryonha General Machinery Plant are the same site.
[4] The company lists the English translation for its name as Suzhou Hanwei Shendiao CNC Technology Company Ltd. A better translation is Suzhou Weihan CNC Technology Company Limited, which correctly transliterates 'weihan [威汉]' and does not include the extraneous phrase 'shendiao,' which is not in the Chinese name.
[5] In recent weeks, the Suzhou Weihan website has been removed. It is archived at: https://web.archive.org/web/20140729235716/http://www.whsk-sz.com. Other websites hosted on business directories remain.
[6] Quick Response (QR) Codes are a type of barcodes often used in advertising.
[7] In recent weeks, KORTEC has removed its main website. It is archived here: https://web.archive.org/web/20130418042223/http://kortec-cnc.ru.
[8] In Russian, "Ryonha Machinery" is translated as Рёнхамаш (Renhamash).
[9] http://www.jsgsj.gov.cn:58888/province/.
[10] http://www.lngs.gov.cn/detail.aspx?SEQ=267000000000027809.