Major Construction Progresses at Sohae: Possible Prep for Mobile Missile Systems
Summary
New commercial satellite imagery indicates that North Korea is moving ahead with major construction projects at its Sohae Satellite Launching Station (Tongchang-ri). While it is too soon to reach a definitive judgment, evidence is growing that these activities are intended to support the two main priorities for North Korea's rocket program—launches of larger rockets and of new mobile missiles—and that Sohae will be the main, and perhaps sole, test facility in the future.
Imagery from October 9, 2013 indicates that a possible second flat mobile missile launch pad, in addition to another possible pad first identified in August, may now be under construction. Moreover, a new road connecting the new launch area with the missile assembly building and Sohae railhead is being built along with two new bridges. The new road has been strengthened and widened for use by heavy vehicles, possibly including transporter-erector-launchers (TELs) for mobile missiles.
While work on the first flat mobile launch pad stopped over the past two months, construction activities at the Unha launch gantry have continued, possibly to upgrade that facility to handle future larger rockets. Other activities intended to upgrade Sohae for increased future operations, such as the construction of permanent instrumentation buildings to monitor tests, have also moved forward.
Activities related to the upgrading of the Unha launch pad may be completed soon, allowing Pyongyang to proceed with another space launch should it decide to do so. Other construction activities, particularly those related to the possible flat mobile missile launch pads, will take longer to complete, perhaps by mid-2014 depending on the rate of construction.
Overview of Construction Activities
North Korea initiated a major construction program in late spring, early summer 2013 at the Sohae Satellite Launching Station. These projects, in conjunction with the halt in construction activities at the older Tonghae launch facility, indicate that Sohae is likely to be the main, and perhaps only, North Korean test site in the future for space launch vehicles and long range ballistic missiles. Moreover, activities at Sohae are consistent with what observers believe will be Pyongyang's two main priorities in developing its program. First, there have been reports that the North is building larger space launch vehicles than the Unha-3 tested in December 2012. Second, North Korea has built but not yet tested new generations of mobile missiles, the Musudan regional range missile and the KN-08 rocket believed to have intercontinental range.
Since construction at Sohae is only a few months old, it is not yet possible to make definitive judgments on all of its objectives. However, there is growing evidence to suggest that the projects underway are related to preparing for future tests of larger space launch vehicles and mobile missiles systems (figure 1). These projects are:
Leveling of ground for a new possible flat launch pad for mobile missiles in the early stages of construction at the location of the incomplete radar-tracking site.
Construction of a new wider road and bridges from the missile assembly building to the possible new pad that might be intended to support heavier vehicles such as transporter-erector-launchers (TEL) for mobile missiles.
A new compound near the rail terminal that could serve a number of purposes, one of which is to support military units associated with mobile missiles.
Construction of a possible new launch pad for mobile missiles near the existing Unha gantry first identified by 38 North in August 2013 (however, no further work has been done since then).
Continued construction of permanent instrumentation buildings for monitoring tests to replace a mobile instrumentation site.
Continued work at the Unha-3 launch pad possibly intended to enable it to handle larger space launch vehicles.
Figure 1. Overview of the Sohae Satellite Launching Station showing major construction projects underway.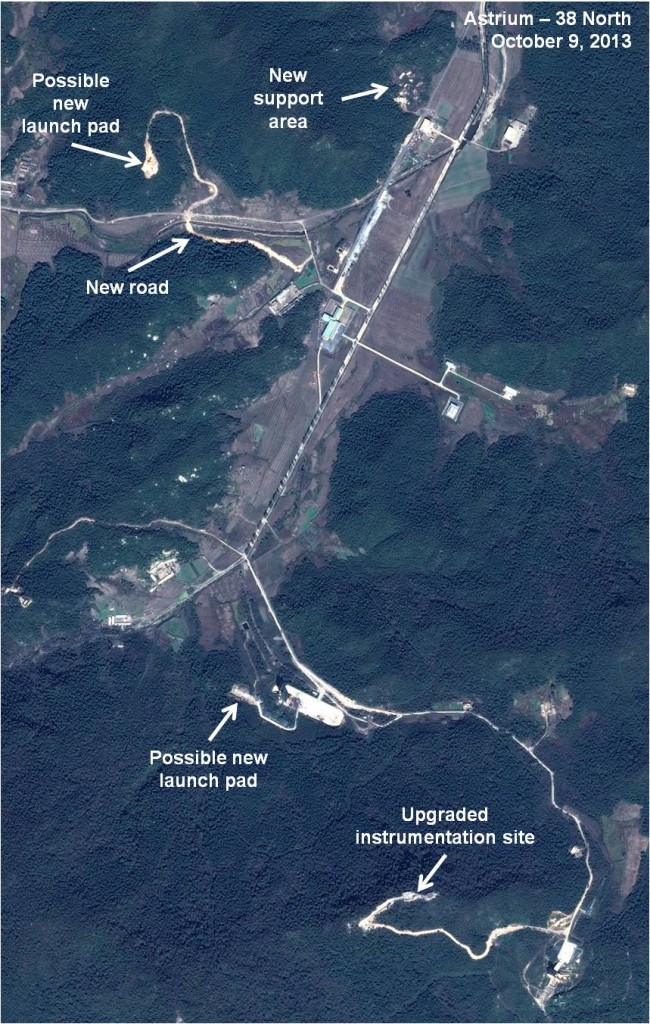 Possible New Mobile Missile Launch Pad
New commercial satellite imagery from October 9, 2013 indicates that, rather than restarting the construction of a permanent radar tracking facility as was previously believed, North Korea might be building a flat launch pad. (While construction is at a very early stage, there is no indication of a flame trench or gantry tower, reinforcing the preliminary conclusion that this may be a flat pad.) Foundations for new buildings, built in 2005, have been removed and what may be the outlines of a rectangular launch area is now visible. It appears that the area of the possible pad has been built up and leveled during September by earth moving equipment that has been present for the past few months.
Figure 2. New possible launch pad under construction.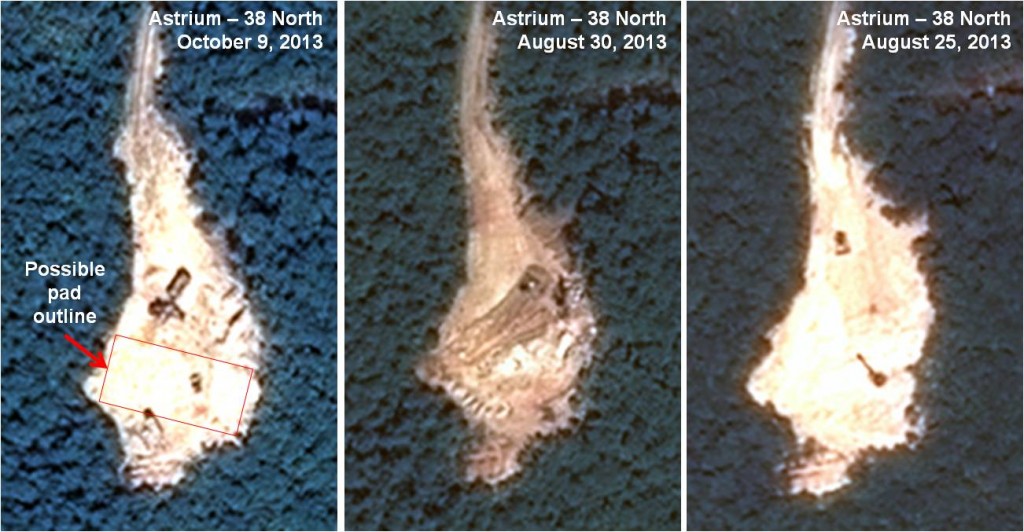 The rectangular surface, which may be incomplete, measures about 45m by 20m, considerably smaller than the 65m by 40m possible flat launch pad for mobile missiles first identified by 38 North under construction near the existing Unha pad. However, the possible new pad would still be large enough to handle the KN-08, Musudan and shorter-range missiles. This possible new pad is also aligned on the same azimuth. As a result, rockets would head due south and would not pass over South Korea or Japan.
If the surface is a launch pad it is probably for mobile missiles and their TELs. The transporter could enter onto the pad from the right side, launch its missile and leave on the left. While it is still be too early to make a definitive judgment on the purpose of this construction activity, there appear to be few alternative explanations. For example, the Sohae facility already has an observation building and a new permanent instrumentation site. Moreover, the new road connecting the possible pad to the missile assembly building is a significant indicator that it is related to missile launches or training.
New Road from the Assembly Building to the Possible New Launch Pad
Recent imagery also indicates that the North is constructing a new, much wider road and two new heavy-duty bridges connecting the rocket assembly building with the possible new launch pad. Moreover, the North Koreans have widened the steam channel to lessen the chance of flooding in the valley. Construction progressed in September with the lower section of the road completed. Further work will require connecting to the existing road into the assembly building.
Figure 3. New road connecting the missile assembly building with the possible new pad.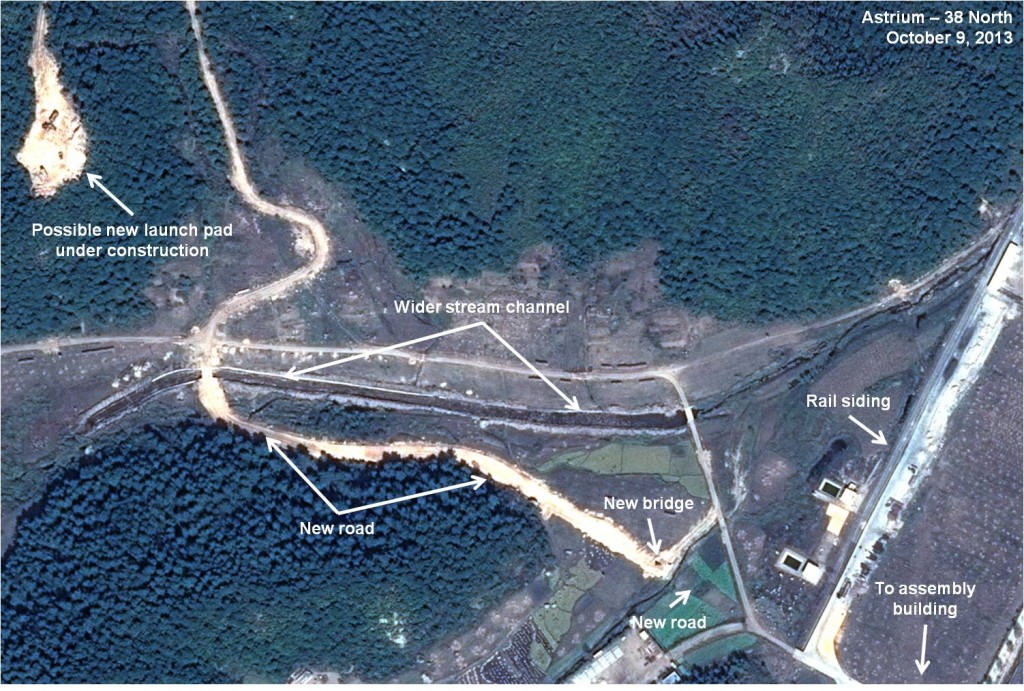 One possible explanation for the construction of this wider road and new bridges is to support the anticipated movement of heavy vehicles, such as TELs for mobile missiles. If this hypothesis proves correct, the TELs would be shipped to Sohae by rail, off loaded at the nearby siding, moved into the assembly building and mated with missiles. Then the TELs would move along the widened road to the new pad, launch their missiles and return to the assembly building for reloading or to the rail siding for shipment back to their units.
Construction of New Support Buildings Near Rail Terminal
Construction is continuing on at least 14 new buildings near the Sohae rail terminal. Work probably started in early summer with foundations for most of the structures completed by August. By the beginning of October, 10 of the new buildings were externally complete and others in the mid-stage of construction (figures 4 and 5).
A wide road from the rail station connects to the entrances of three new buildings that are probably garages since there are no room dividers inside. The purpose of these garages remains unclear. They are too small to house either TELs for regional or intercontinental-range missiles. These garages could be used for a number of purposes, including sheltering support vehicles needed by missile units for fueling and for transporting security troops. Construction is also under way at the rail terminal with a crane visible in the parking area. The largest building is a ten-stall garage with each stall about 7 to 8 meters long (figure 5).
Figure 4. New construction project near rail terminal.
Figure 5. Major construction project near and at the rail terminal.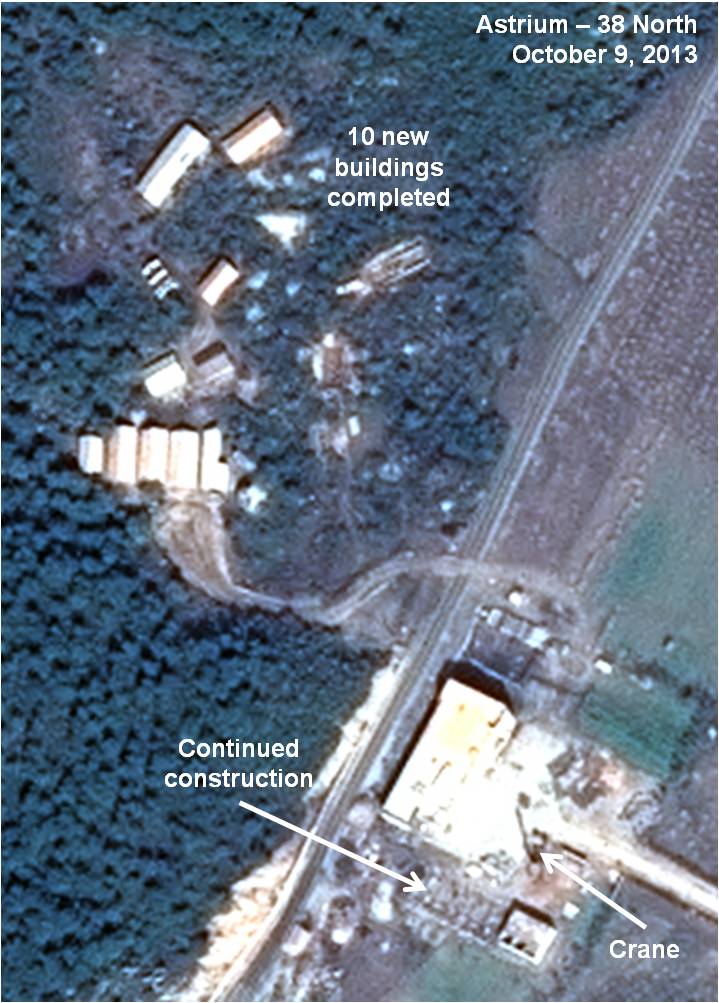 Continued Construction at Unha-3 Launch Pad
Work continues at the Unha launch pad although its exact purpose remains unclear. Construction material remains cluttered at the gantry tower end of the pad and the movable launch stand has been positioned slightly forward out from under the gantry tower (figures 6 and 7). (Imagery from August shows the same amount of material but some has been moved to new positions in the most recent photo showing that work is ongoing.)
Possible explanations for this construction activity include: 1) the upper most platforms on the gantry are being built out for a larger new rocket reported to be under development; 2) the launch stand is being modified, possibly for the larger rocket; and 3) the North Koreans are conducting structural repairs at the pad.
Figure 6. Unidentified construction material on the launch pad and/or gantry tower.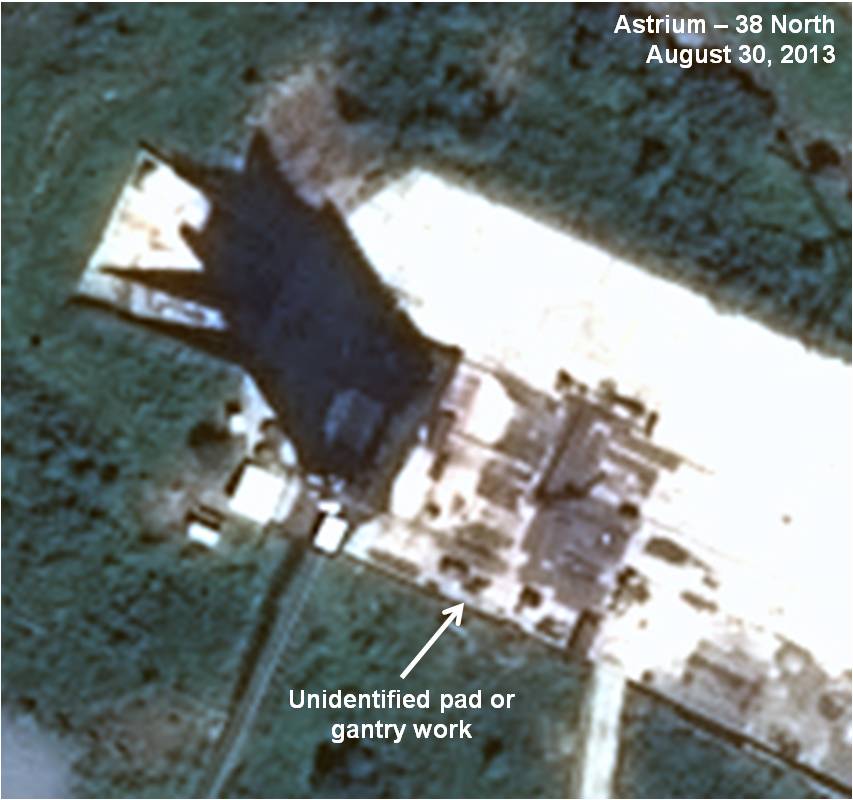 Figure 7. Continued work on the launch pad and/or gantry tower.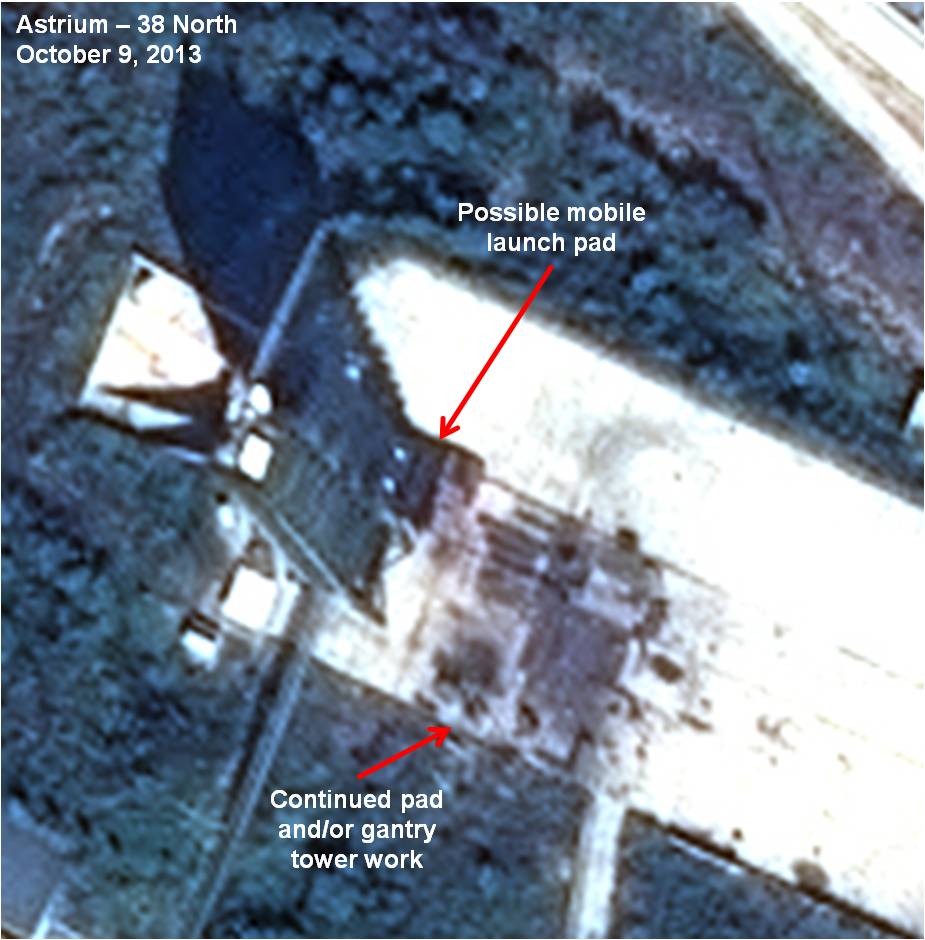 Mobile Missile Launch Pad Near Unha Launch Gantry
No further construction has taken place at the site of a possible flat launch pad for mobile missiles located near the Unha launch pad first identified by 38 North in August 2013. It is unclear why work has stopped although it may be because construction troops were occupied by other activities at Sohae.
Figure 8. Possible flat launch pad for mobile missiles.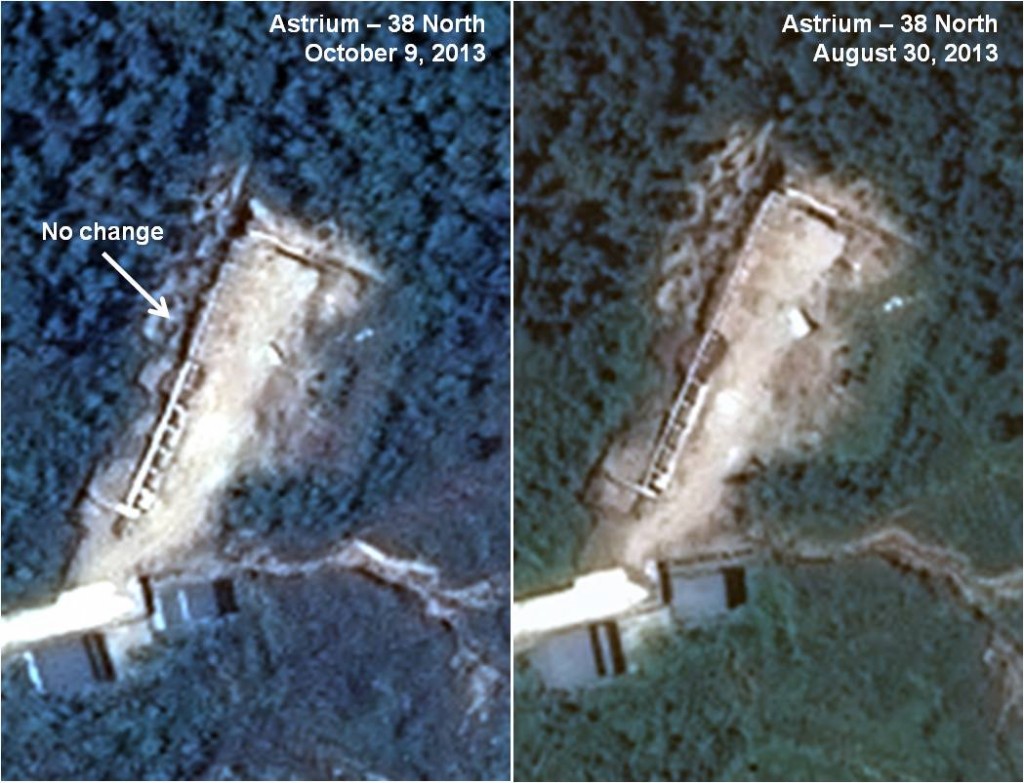 Construction of a Permanent Instrumentation Site
Work is continuing on a permanent instrumentation site to replace mobile equipment used to monitor the last two Unha rocket launches in 2012. As of October 9, two new buildings were completed. This installation may be intended to support increased launch activity in the future, such as large space launch vehicles and mobile missile tests. The new site is likely to include tracking radars, telemetry receiving systems and optical cameras (figure 9).
Figure 9. Upgrading of the Sohae instrumentation site.