The Incheon Asiad: Playing Games, Or a Game-Changer?
Antonio Gramsci or Yogi Berra? It's not often you see those two in the same sentence. Yet I find these two figures—or rather, things each of them said—helpful in sketching a dilemma which faces all of us in the North Korea business. In a phrase: Dare we hope for better things?
Yes, said the Italian Marxist…with qualifications. His famous maxim proclaimed: "Pessimism of the intelligence, optimism of the will." In tough times, when objectively the outlook looks bleak, there is still always hope. Though it didn't exactly work out that way for poor Antonio himself, who sickened and died at age 46 as a prisoner of Mussolini.
Also of Italian descent, and happily still with us, is Yogi Berra. The great baseball player-coach's famous Yogiisms include: "It's déjà vu all over again." In the context of inter-Korean relations, this is an apt retort to a once often-heard Korean proverb, glibly optimistic but nearly always false. Sijaki banida: The first step is half the journey. The hell it is. In reality, don't we just keep starting over and then sliding back? It's just snakes and ladders: no lasting progress.
So you see, I'm torn. Yearning for better, both in North Korea and between North and South, every now and then I dare to hope that it's really happening. One such Gramsci moment came back in February, when the Koreas held their first high-level talks for seven years. An article I wrote then was cautiously optimistic that this might usher in a new phase. It didn't. All they agreed on was to hold family reunions and stop bad-mouthing each other. Yet within three months, the DPRK media was insulting the ROK President, Park Geun-hye, with unprecedented sexist foulness, even by their own standards.
Cheerleaders? That's Sooooo 2002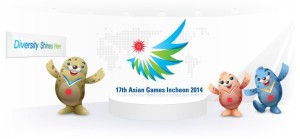 Once bitten, twice shy. Five months later, the news that North Korea planned to send a team of cheerleaders as well as athletes to the 17th Asian Games (Asiad), which kick off in South Korea's port city of Incheon on September 19, got some folks all excited, but it left me cold. Déjà vu all over again. Cheerleaders? Great news the first time they came: 12 years ago, when Busan hosted an earlier Asiad (the 14th). That really was a breakthrough: the excitement was palpable, as I described in that earlier article. All was fresh then, and hope hung in the air.
But now? In a recent 38 North article, much of whose general tenor I agree with, James Church optimistically predicts that the North's cheerleaders "wowed South Korean audiences then [Busan 2002]…and likely would again." Would they? Will they? The first time was special, but this will be the fourth time already. And their visits in between—to Daegu in 2003 for the Universiade world student games, then Incheon in 2005 for the Asian athletics championships—were hardly unalloyed triumphs.
Remember that bizarre incident in Daegu, immortalized by a Chosun Ilbo headline: "Fear of Kim's Wetness Stirs Up Cheerleaders?" Their buses passed some well-wishers waving posters of Kim Dae-jung and Kim Jong Il. It was raining. The buses screeched to a halt, the girls piled out and through angry tears upbraided the astonished fans for letting the sacred visage of the Leader get wet. Distraught, they grabbed the banners, keeping their Kim's face reverently dry, and took them on the bus. That burst the bubble. Pretty girls, sure—but pretty creepy at that.
So this time, if they do come again—which has yet to be confirmed—the gilt will be off the gingerbread. A recent piece in the JoongAng Ilbo, headlined, "North's cheerleaders toe treacherous line," is a case in point. Not that it's malevolent, just unsparingly detailed about what being a North Korean cheerleader means in practice. Among other things: compulsory Botox, allegedly. Or free plastic surgery, to put a more positive spin on it.
On the plus side, there's upward social mobility for some. The article has a photo of one of the 2005 crew, a very young-looking Ri Sol Ju: then a schoolgirl, now Pyongyang's first lady. But the downside is that stepping out of line, literally or metaphorically, could be fatal. Say the wrong thing, or blab back home about the wealth you saw down South, and the gulag awaits: the fate, or so the article claims, of one of the girls who came to Daegu. Sins of omission risk punishment too, as those weeping banner-snatchers well knew: They had to do what they did.
Yet despite all this, and without illusions, I'm starting to get just a little bit excited again. This is always a judgment call, and others may call it differently. In his latest piece for Forbes, veteran observer Don Kirk clearly feels a need to deflate excessive expectations aroused by the Pope's recent week in South Korea. While the visit was a huge success, the pontiff's message of peace and reconciliation on the peninsula fell on deaf ears: not only in Pyongyang but equally, says Kirk, as regards his hosts in Seoul. The article's blunt headline sums it up: "Pope's Plea For Peace…Fails To Ease Tensions; U.S., S. Korea Open War Games."
True, Ulchi Freedom Guardian (UFG) kicked off as per on August 18, and as usual, North Korea threatened merciless reaction. Déjà vu all over again, like every year. But at the risk of falling into Gramscian illusions once more, overall, I read the current conjuncture rather more optimistically than Kirk. There is a lot going on at the moment, and some of it looks hopeful.
A Politer Pyongyang
The language, for a start. True, the DPRK's Rodong Sinmun promptly dissed Park's latest overtures made in her Liberation Day address, but note the tone. Park was described as "South Korea's chief executive." That beats puppet, let alone whore or comfort woman. The article criticized her speech as "old-fashioned, tedious" and "incoherent." Negative, but worlds away from past "venomous swish of her skirt" and the like.
The article also accused Park of focusing on the wrong issues: "She talked much about 'environment, public welfare and cultural progress,' something far out of [sic] the most urgent problems." One may disagree, but at least this is reasoned debate. That was also evident in North Korea's own Liberation Day statement by the Committee for the Peaceful Reunification of Korea (CPRK). Along with standard boilerplate—withdraw US forces, pull down the [non-existent] concrete wall, etc.—was a demand "to implement the already agreed north-south agreements." That is neither new, nor unreasonable. Pyongyang's frustration at the regime change inherent in democracy is understandable, if oddly put: CPRK complains of "peddling anything frequently whenever the regime is replaced by another." Did they mean back-pedalling, perhaps?
Yet here's the nub. The CPRK goes on: "The humanitarian work, the rejoining of railways and roads and social cooperation called for by the south Korean authorities will be satisfactorily settled if the June 15 joint declaration and the October 4 declaration are implemented as they are reflected in those declarations" (emphasis added). I'm surprised this hasn't attracted more comment, for it directly addresses the main themes of Park's Dresden declaration, which at the time, Pyongyang rejected out of hand. This looks to be a far more positive response.
Meanwhile, Park was reprising some of the very themes in her Dresden speech. Her latest offer includes cross-border river and forest management projects, as well as inviting the North to an upcoming conference on biodiversity in Pyeongchang in October. (Since this is a UN conference with 20,000 attendees expected from 193 countries, the DPRK is presumably entitled to be there anyway.) On a more populist note, Park proposed joint cultural events next year to mark the 70th anniversary of Korea's liberation from Japanese rule in 1945. Japan-bashing plays well in both Koreas, but this offer is wickedly timed given the current tentative Tokyo-Pyongyang rapprochement.
May We Rebuild Your Roads and Rails?
But infrastructure is the intriguing part. More detail came on August 18 when the Unification Ministry (MOU) submitted its new action plan to the ROK National Assembly. According to Xinhua, this involves two major repair and renovation projects: the highway from Kaesong to Pyongyang, and the railway all the way up to Sinuiju. And there's more: flood prevention on the Imjin River, support for North Korea's fishing fleet and boosting inter-Korean shipping. All of it could even start this year, if relations improve.
It's no surprise Xinhua would pick up this story. China stands to lose its recent unchallenged economic hegemony in the DPRK if South Korea comes back into the game. Yet a revealing Freudian slip suggests some paranoia in Beijing. According to Xinhua, Seoul's offer includes flood prevention on the Yalu River. Since the Yalu (Amnokgang) is the western Sino-DPRK border, with several joint hydroelectric power plants, Beijing might well be unnerved if Seoul stuck its oar in so far north. But relax, comrades: it's the Imjingang. The Yalu you can keep.
As for road and rail renovation, unconfirmed reports had claimed that China has that contract stitched up already. Presumably MOU knows better. Or is this is a last-ditch bid to persuade Kim Jong Un to choose KTX instead of CRH? More widely, could this be a belated attempt by Seoul to start clawing back some of the economic presence and heft it had begun to build north of the DMZ in the sunshine era, but then unwisely threw away during the past six years? Two related hares we lack space to chase here, though important, are: 1) if Northern infrastructure is such a great idea now, why did Seoul pooh-pooh it last December; and 2) who's the unlucky sap that got fined in May for seeking a piece of the Chinese action? That's harsh, given that Seoul is encouraging a Southern consortium to take a stake in Russian Railways' project to upgrade the cross-border rail link from Khasan to Rajin (already finished) and port facilities at the latter (a work in progress). Where's the policy consistency here?
May 24 Measures: Seoul's Mixed Signals
Modernizing North Korea's major road and rail arteries would self-evidently drive a coach and horses through the South's May 24 sanctions, imposed in 2010 in reprisal for the sinking of the Cheonan, which ban any trade with or investment in the North except for the Kaesong Industrial Complex (KIC). Yet on this front, Seoul is still sending out mixed signals. Xinhua said the May 24 measures would be lifted, as logically they must be if any of this goes ahead. Yet on August 18, even as Seoul called on Pyongyang to accept its recent offer of unconditional high-level talks, unification minister Ryoo Kihl-jae insisted that "it's difficult to imagine…unilaterally lifting the sanctions… If (the North) needs the May 24 sanctions to be removed, it should come to the negotiating table and discuss it there."
Of course, conditionality and sequencing are always key in any negotiating process, and there are no a priori rights and wrongs on who should move first and what linkages to make. Unlike some critics, I support Seoul's staunch rebuff of Pyongyang's perennial ploy to link progress in inter-Korean ties with scaling down or halting routine annual defensive US-ROK military exercises. North Korea would need to behave a lot better to deserve a big concession like that.
But what does get my goat is to see these two headlines in the same day's Yonhap newsfeed, on August 19. On the one hand: "Park calls for N. Korea's positive response to her overture." But in the same breath: "Seoul rules out unilateral removal of sanctions on North." This makes no sense. If South Korea truly wants to kick-start serious dialogue, then a ban that it imposed unilaterally—I didn't say without cause, before hawks swoop down on me—and which has in no way advanced the ROK's interests, can be lifted unilaterally too.
As of now, the two sides are really not far apart. I don't know why it took Park so long to get to this point. But I'm glad she has adjusted the blend of stick and carrot toward the latter, and also that she is now talking about unification as a shared endeavour—rather than a contingency for which the South, and only the South, must brace itself and prepare, like for a hurricane.
Say It with Flowers
Then there are the flowers. On August 17, the sun shone in Kaesong, metaphorically at least. In an unmistakable gesture, Kim Jong Un personally sent a wreath for the fifth anniversary of the death of former President Kim Dae-jung. To deliver it he dispatched Party secretary Kim Yang Gon, his number one man on relations with Seoul. The Southern team that crossed the border to receive this included the late Kim's son and two heavy hitters from the sunshine era: DJ's former chief of staff Park Jie-won, still a major figure and indeed, a re-rising star in the liberal opposition New Politics Alliance for Democracy (NPAD), and ex-unification minister Lim Dong-won. It was smiles all round. Naturally Kim Yang Gon had a go at Park's stance, but one doubts he came all the way to Kaesong just to moan. Might there have been a secret message?
The final positive straw in the wind brings us back to where we started: the Incheon Asiad. In itself this might just be déjà vu all over again, except for two facts. One is the timing, which with any luck may encourage the two Koreas to find common ground on the bigger stuff as well. The other is that the North is still coming at all despite throwing a hissy fit in July when it threatened to withdraw, accusing the South of obstruction and reneging on earlier pledges.
One specific issue is that the South, in KCNA's inimitable English, "went so mean as to talk about paying one's own expenses, after raising the issue of expenses for the players group and the cheerleading squad which the DPRK side has never mentioned." Annoying as the North's habit of expecting others to pick up the tab may be, that is what Seoul had done on all the past three such occasions. Total cost, according to the afore-cited JoongAng article: 2.45 billion won (US$2.4 million)—or a few meters of high speed rail track. Cheap at the price, surely?
But given the North's propensity to flounce off in high dudgeon on the slightest pretext, what is striking is that that didn't happen this time. To speculate, for once Kim Jong Un's apparent impulsiveness may be a plus. A known sports buff, the Young Marshal clearly decided that despite July's row, Team DPRK is heading to Incheon anyway.
Hint after hint came from Pyongyang, such as Kim personally coaching both the men's and women's soccer squads. On August 14, Asiad organizers said North Korea had duly sent in the names of 150 athletes in 14 sports, plus 202 coaches, referees and staff. On August 20, Ryang Song Ho, dean of Pyongyang's College of Physical Education, flew into Incheon (airport) heading an eight-strong delegation, which took part in the Asiad group draw the next day.
Ryang spoke at a conference on sports in Asia held in Incheon. Unsurprisingly, he trumpeted the "thousands of multifunctional sports facilities and sports parks" built across North Korea in the past 2-3 years—that is, since Kim Jong Un inherited power—"to realise the goal of sports development set by the state," calling them "facilities which embody the civilisation of the new era." Evidently the Young Marshal takes his sport very seriously, and is keen for the DPRK to make a splash and do him proud in Incheon.
Maybe that's why North Korea, unusually, seems minded to compromise. Presumably it was Ryang who conveyed the scaled-back suggestion that MOU announced on August 22. Pyongyang will still send 150 athletes, but has cut the support staff accompanying them from 202 to 123. Nothing was said about cheerleaders. While the North's downsizing is no doubt driven by costs, Seoul is now hinting that it might pick up some of the tab after all. For some reason the two sides have decided to settle the remaining details by exchanging letters; it would surely be more efficient just to hold a meeting. On August 26, the South kicked off, sending a two-page missive via Panmunjom. This wasn't published, but according to Yonhap, South Korea's quasi-official news agency, among other "working issues …there is a problem with the North's plan to use the Yellow Sea route for a flight carrying the delegation." Why should that be a problem, one wonders? Could it all still end in tears? Another account, however, suggests Seoul has already approved the flight plan.
Overall, I'm still optimistic about a turn to inter-Korean détente rather than the usual discord.
Indeed, there is everything to play for—and I don't just mean sport. Let's hope the Incheon Asiad will spur both Koreas to stop "playing games." Instead they should keep their eyes on the prize and strive to get North-South relations back onto a win-win track. Kudos to Kim Jong Un for taking the risk of sending hundreds of his people over into enemy territory: a less bold spirit would have backed off. If she is wise, the ever-cautious Park Geun-hye will find some way to reciprocate. Like Gramsci, at this juncture, I dare to hope once more that this time the Koreas won't blow it. But as Yogi Berra said: It ain't over till it's over.