North Korea Building New Transport Corridor and Border Crossing
North Korea Building New Transport Corridor and Border Crossing
While observers have focused attention on road improvements along the DPRK's east and west coasts in Rason and Sinuiju, since 2011, the DPRK has been constructing a new highway segment linking Huichon to Manpho, where a new border crossing is under construction. This new road and border crossing is important because, once completed, it will offer Pyongyang its first true international trade route on a paved highway.[1] This will open up trading opportunities between China and the DPRK, particularly in the reclusive Jagang Province, in tourism, consumer goods, minerals/mining and (potentially) military hardware.
Figure 1. New road construction between Huichon and Manpho.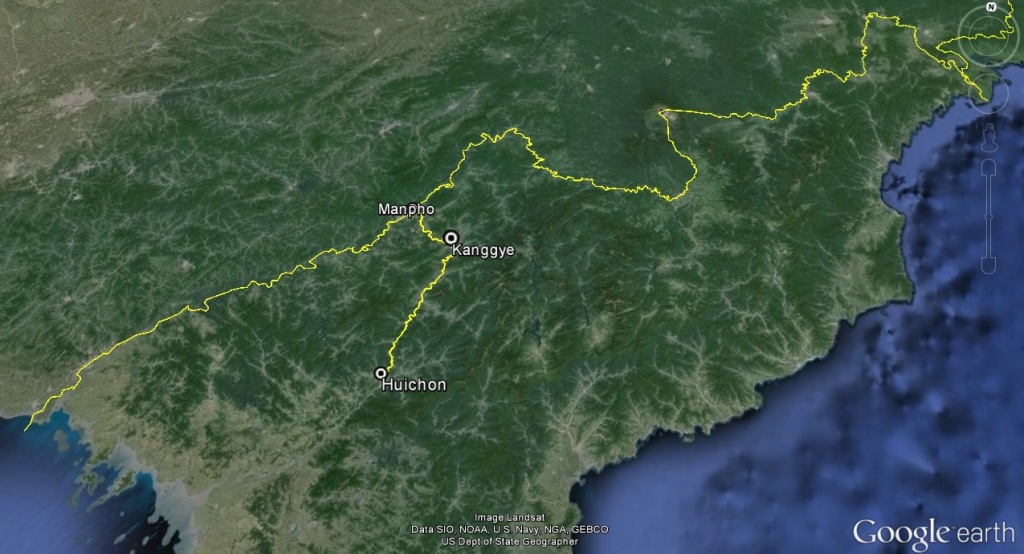 Background
Planning for this new road and border crossing likely began in 2010 when Chinese-DPRK relations were at a high point. The Chinese government was interested in promoting economic development in its northeast provinces which would require numerous initiatives to achieve greater access to the DPRK's ports, natural resources and consumers.
At the same time, in North Korea, there appeared a desire to expand cooperation on economic projects with China. Additionally, in January 2011, the DPRK cabinet is reported to have adopted the "10-Year State Strategy Plan for Economic Development," which, among other things, calls for an investment into programs for developing natural resources and the construction of 3,000 km of highways.[2]
Road Construction
Starting in Huichon and passing through the provincial capital of Kanggye (the only provincial capital that is still closed to western visitors[3]), the new road segment, which complements an existing railway line, is approximately 176 km long. Based on KCTV footage and KCNA reports, work on the highway segment probably began in early 2011. In addition to the road itself, new supporting infrastructure such as gas stations, cell phone towers, and possible security checkpoints have also been constructed.
Figure 2. Significant road improvements are visible between Huichon and Kanggye.
Image before: June 9, 2004; image after: September 19, 2011.
Work on the new road, however, is not complete. Commercial satellite imagery dated as late as October 2014 indicates that the southern segment of the new road, linking Huichon and Kanggye, has received priority over the northern segment linking Kanggye with the new border crossing in Manpho. In this northern segment, large stretches of dirt road still require straightening, widening and paving (or bypassing) before the road will be suitable for heavy shipping traffic. The pattern of construction, in which work is proceeding, from the south towards the northern border in Manpho, implies that the road work is being driven by the North Koreans themselves rather than the Chinese (who would travel south from the border along the new road as they were constructing it).
Figure 3. Heavy construction continues on the Kanggye-Manpho highway segment.
Image before: April 19, 2014; image after: October 21, 2014. Images © 2015 Google Earth.
Commercial satellite imagery shows that approximately four new tunnels were constructed on the Huichon-Kanggye segment to facilitate transportation of large shipping vehicles (preventing the need to climb narrow switchbacks over mountainous terrain). Figure 4 below identifies one of the four new tunnels under construction. It lies south of the town of Jonchon and is just over 1.1 km in length.
Figure 4. New tunnels help facilitate transport of large shipping vehicles.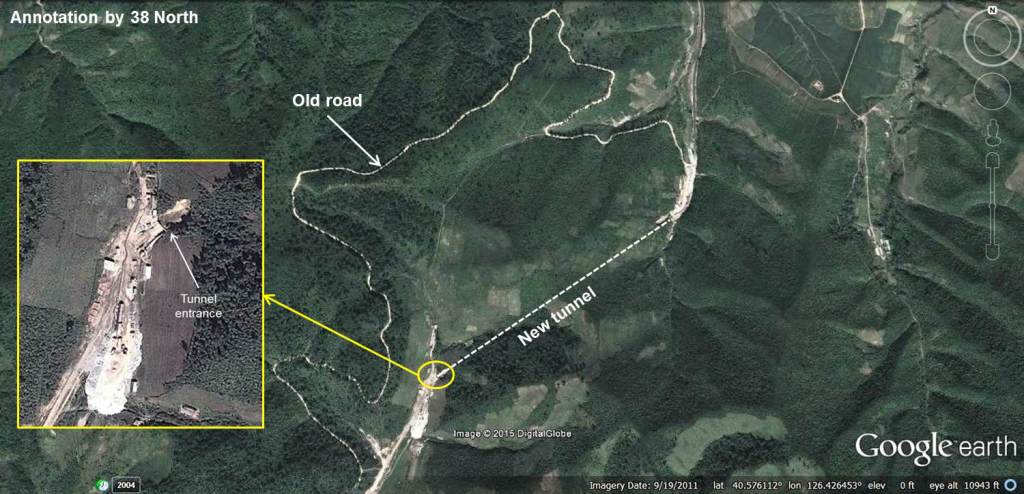 Border-Bridge
The new road segment terminates at a new but incomplete border crossing in Manpho. The bridge is approximately 322 meters, spanning the Amnok (Yalu) River. On the DPRK side, a bridge access road and what is probably a customs office have been constructed.
Figure 5. The new Manpho border crossing.
Image before: October 16, 2005; image after: December 21, 2012. Images © 2015 Google Earth.
It is unclear from publicly available satellite imagery when construction on the Manpho-China Bridge was begun, but on May 10, 2012, KCNA announced that an agreement was signed "on jointly building, managing and preserving the Manpho-Jian border bridge between the DPRK and China." The agreement was signed by Vice-Minister of Foreign Affairs Pak Kil Yon and Liu Hongcai, former Chinese ambassador to the DPRK. Moreover, the North Koreans launched a beautification drive to improve the view of the city from the Chinese side. New housing, a new gymnasium and a river-front levee were built. According to KCNA: "The people in Kanggye and Manpho paved tens of km of roads or improved them, built new houses and carried out tens of thousands of square meters of roofing, drastically changing their appearance."
Figure 6. New housing in Manpho meant to improve the view of the city from China.
Image before: October 16, 2005; image after: December 21, 2012. Images © 2015 Google Earth.
On the Chinese Side
On the Chinese side of the border, a village next to the river was displaced shortly after construction began to make way for the new bridge. As of October 2014, little progress seems to have been made on a Chinese customs office or road transportation.
Figure 7. Progress is slow on the Chinese side of the border crossing.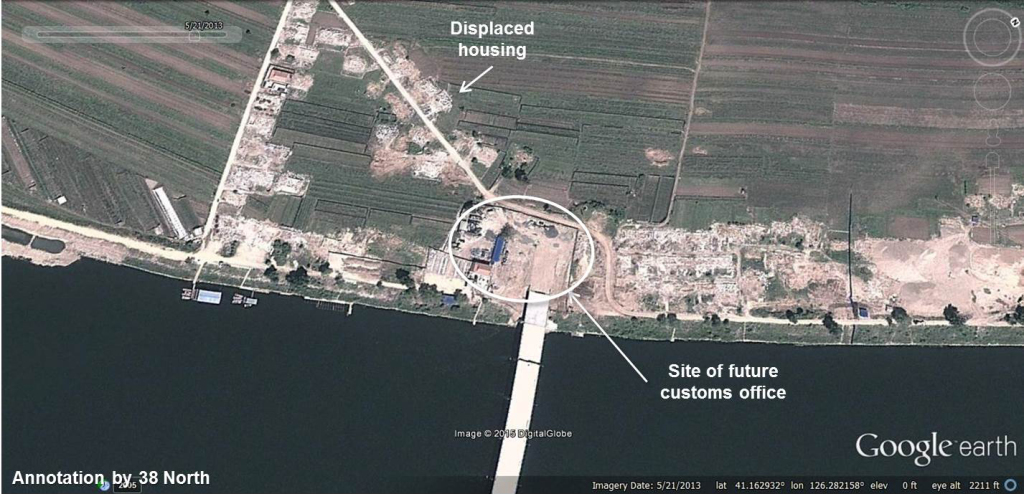 The Chinese are not ignoring the project, however. On November 19, 2014, the Global Times reported:
A project to build a new bridge connecting China and North Korea opened a call for bids, according to the official website of Jilin government on Monday.
The step officially moves the project linking Ji'an, Jilin Province to Manpo, North Korea across the Yalu River into a new phase.
According to the bid announcement, this project was approved by the National Development and Reform Commission and funded by the government. The highway bridge will be about 8.77 kilometers long and meet China's highest highway quality standards, allowing for average travel speeds of 60 kilometers per hour. Ji'an, in the southeast of Jilin Province, is one of the biggest three border crossings between China and North Korea.
Although no significant work has yet begun on the road on the Chinese side of the border, they have moved ahead with renovations and improvements to a levee that will simultaneously reduce potential flood damage and hinder the ability of North Koreans who try to unofficially cross the river and enter Chinese territory.
Figure 8. Border protections measures seen on the Chinese side of the Manpho border crossing.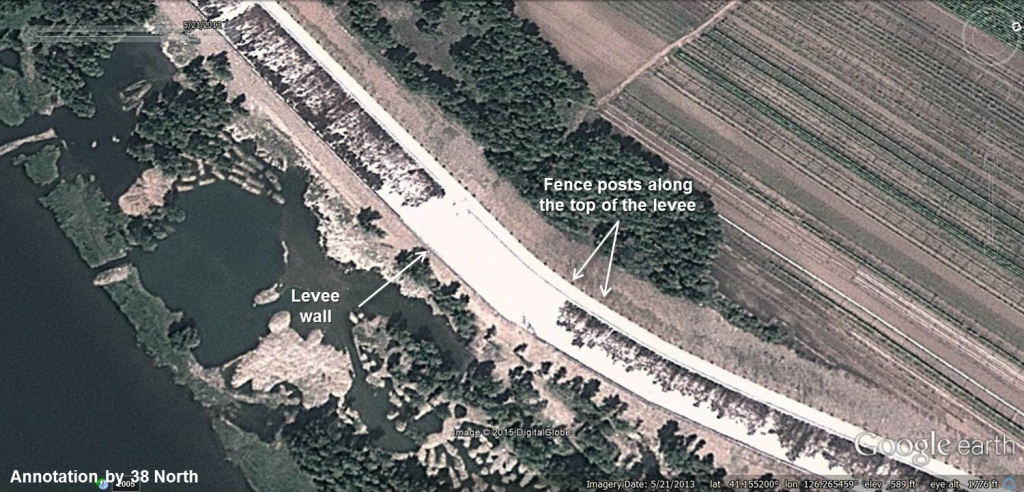 Uses and Benefits
This new border crossing will likely bring benefits to economic units in Jagang Province that cannot take advantage of the incumbent train service. For example, there are many mines along the transportation corridor that could potentially seek out new export markets in China. This new border crossing will also be the gateway for the Manpho Economic Development Zone, a special economic zone conceived of as two separate lots which the DPRK plans to locate roughly 8 km and 18 km southwest of the new bridge. Nearly 3,000 tourists have visited the DPRK via Manpho (on train) since the 1990s, and more could take advantage of opportunities in the DPRK if traveling in their own cars by road. It is also worth pointing out that North Korean consumers in Jagang province and further south will potentially benefit from a greater selection of imported Chinese goods, or perhaps lower costs for purchasing such goods.
Figure 9. The new Manpho-Jian Bridge in relation to the planned Manpho Economic Development Zone.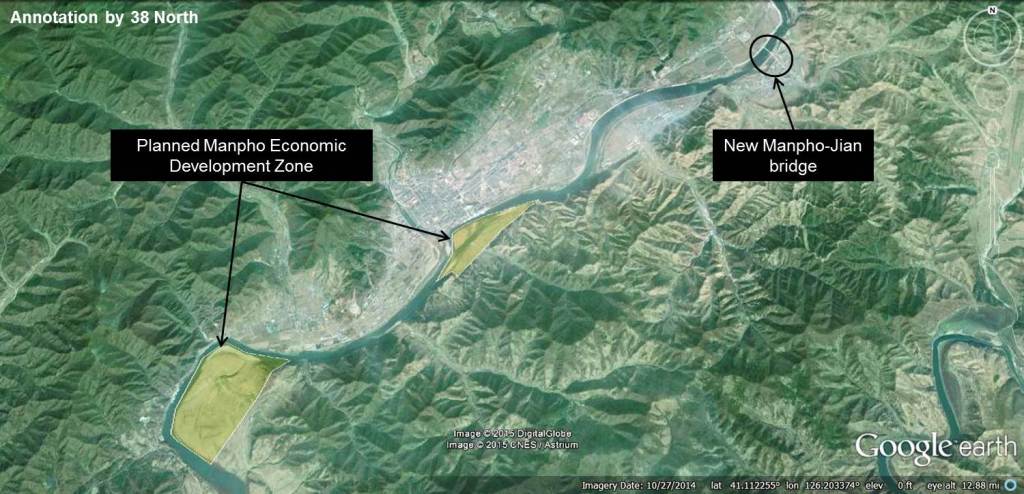 However, the new transport corridor could also benefit the DPRK's military. Numerous military factories are built both above and below ground along this transportation corridor, particularly in Kanggye, Songgan and Jonchon, where a TEL factory was publicly disclosed last year.  At a minimum, these factories will benefit from lower transportation costs if they can directly import their inputs by road from the Chinese border, and a larger, paved road will facilitate distribution of military produce throughout the country. Conversely, these military factories will gain an additional transportation alternative from which they may seek to export their products to other countries. The sensitivity of the Jonchon-Kanggye transportation corridor and its proximity to the Chinese border will make the Manpho border crossing of particular importance to those in the international community concerned about the DPRK's WMD and proliferation activities.
Conclusion
The DPRK continues to make gradual improvements to its transportation infrastructure, particularly in locations that facilitate exchanges with China. In the case of the new Manpho bridge it will be interesting to see which kinds of goods move easiest or most frequently across the border and how the new border crossing benefits neighboring territories. Given the sensitivity of the transportation corridor, it will also be interesting to see how security along the new road is managed.
————————-
[1] Since a paved road from Pyongyang to Huichon already exists, this new highway will link Pyongyang to Manpho. And although there is a paved highway linking the Kaesong Industrial Complex (KIC) to South Korea, since the KIC has few linkages with the North Korean economy, it is not fair to refer to the complex as a hub of North Korean exports.
[2] Cho Bong-hyun, "The Development of Economic Zones in North Korea and Inter-Korean Economic Cooperation," Vantage Point 37, No. 12 (December 2014): 32.
[3] Hyesan has received a few western visitors, but it still not regularly visited. According to tour operators, Hyesan is expected to become a regular tourist destination in the future.