North Korea's Friends in Singapore Running Flags of Convenience
Personal relationships are one of the most under-discussed aspects of nonproliferation and sanctions implementation. Yet understanding them is crucial to both. For decades, North Korea has maintained a close circle of friends in Singapore that have aided the country's overseas trade. They have marketed North Korean products, secured service contracts for North Korean laborers and managed North Korean ships. In 2013, they cooperated with a sanctioned entity, Ocean Maritime Management (OMM), to deliver a large consignment of weapons and related parts from Cuba to North Korea aboard the Chong Chon Gang. The UN Panel of Experts on North Korea drew attention in its most recent report to one corner of the Singaporean network, Senat Shipping Ltd., and its role in facilitating the Chong Chon Gang shipment and associated payments.[1]
Further research using business intelligence tools shows that, in fact, two connected families of companies in Singapore, run by individuals who harbor strong affections for North Korea and cooperate with sanctioned entities, are at the center of the North's operations on the island. Moreover, these individuals and entities appear to be in control of the registries for the Mongolian, Kiribati, Tuvalu and Niue flags of convenience—a term used to refer to a flag of a country under which a ship owned in a different country can be registered—all of which are used by the North Korean fleet. While there is currently no evidence to conclude that they are intent on using those flags of convenience to facilitate illicit activity, their previous involvement with sanctioned North Korean entities and activity is cause for vigilance and concern.
Senat Shipping and Korasia
Two groups of companies and five individuals are particularly significant in North Korea's Singaporean network.
Senat Shipping Pte. Ltd. is at the forefront of the first group. While it was registered in Singapore in its current form in 2004, it had been operating under other guises well before then. Senat Shipping is owned by Lai Yong Chian (known as Leonard Lai) and his wife, Sun Ya. The 2015 UN Panel of Experts report states that they have "undertaken extensive activities on behalf of OMM,"[2] an entity sanctioned by the UN in 2014. The company has also been "extensively involved in the operation of Democratic People's Republic of Korea-flagged vessels controlled by OMM and the arrangements for related financial transactions on behalf of OMM."[3] Senat's vessel the Dawnlight (IMO 9110236) makes frequent visits to the DPRK.
Leonard Lai's operations extend beyond Senat, however. He and his wife own United Green Pte. Ltd. in Singapore, whose official description states that the company provides "ship chartering, ship management, and crew manning' services. They are also the registered directors of Myohyang Honghwa Food Staff Pte. Ltd., which currently describes its business as "general import and export," though the company's previous names point to business beyond the agri-food industry. Compounding these suspicions is the fact that a representative of a Myohyang General Corporation in Singapore is presently advertising North Korean ship crew services in China. Furthermore, an individual named Jonathan Foong (who will reappear later in this article) claims to be an advisor to the Korean "Myohyang International Maritime Institute."
Leonard Lai does not hide his affinity for North Korea. In 2008 he went on record for the Singapore Business Federation encouraging companies to do business with the DPRK, adding that "companies can leverage off the strong loyalty and relationship-driven aspects of [North] Koreans." In fact, Senat Shipping has ten mentions in KCNA, the most recent in mid-2014. Leonard appears to enjoy bringing flowers to the DPRK mission in Singapore and throwing parties in Kim Jong Il's and Kim Il Sung's honor.
Lai's business interests converge with that of a second family of North Korean-loving Singaporean companies, through their operations in Panama. There he is a director of the shipping firm Sovereign Ventures, Inc., alongside compatriots Chong Koy Sen and Lim Mei Peng. These individuals are also Directors of Sovereign Ventures (Singapore) and its parent company Korasia, which maintains a Panama office as well as a Singapore site. Both companies have managed North Korean vessels since their establishment in the late 1980s. And in 2001, Korasia was awarded the first onshore oil contract in North Korea.[4] Given their business partnership in the form of the Panamanian arm of a Singaporean company, it is reasonable to believe that Chong Koy Sen, Lim Mei Peng and Leonard Lai regularly do business together in Singapore as well.
Ship Registries
Of concern is the fact that all three individuals have a hand in managing registries for key flags of convenience in order to take advantage of generous tax regulations or lenient crew, safety and transparency requirements. Korasia and Sovereign Ventures managed the Cambodian flag registry until 2002, when a North Korean vessel sailing under the Cambodian flag was caught by the French Navy smuggling large amounts of cocaine.
Today, they appear to continue to have a managerial role in the registries for Kiribati, Tuvalu, and Niue. Following the same legal and organizational pattern used to set up the Cambodian registry, Korasia appears to have registered separate companies for each of these countries in Singapore: Kiribati Ship Registry Pte. Ltd., TISR Pte. Ltd. (Tuvalu International Ship Registry), and the Niue Ship Registry Pte. Ltd., respectively. These companies are registered at the same address as Korasia and Sovereign Ventures in Singapore, (Unit 25, 10 Anson Road). The listed Secretary for Korasia and Sovereign Ventures, Tan Peng Peng, is also the listed Secretary for the Kiribati and Niue registries. Chong Koy Sen and Lim Mei Peng are Directors for the Tuvalu registry.
As for the Mongolian registry, it was, for at least some time, managed by Sovereign Ventures and Chong Koy Sen. Asked by the New York Times in 2004 how the management of the registry was going, Chong simply replied "quite well." Today, there is no official link between the Mongolian registry and Chong Koy Sen, and it is unclear whether or when Sovereign Ventures stepped back from the role. Indeed, it appears that the role may have been merely handed by Chong to his Sovereign Ventures (Panama) business associate, Leonard Lai. Leonard Lai is a registered Director of the company while Senat Shipping is listed as a shareholder alongside the Mongolia Maritime Administration and the Ulaanbaatar Property Relations Department. A social media profile for an employee of Senat Shipping further substantiates the connection; he identifies himself as the surveyor for the Mongolian flag registry. Jonathan Foong, the aforementioned Advisor to the Myohyang International Maritime Institute in the DPRK—the Singaporean operation which appears to be run by Leonard Lai—also makes an appearance as a Director for the Mongolia Ship Registry Pte. Ltd. in Singapore.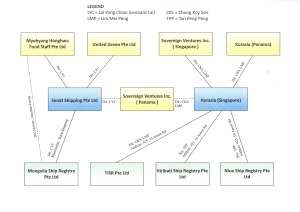 Explanations Needed
The evidence suggests that the national flag registries of Mongolia, Kiribati, Tuvalu, and Niue appear to be managed by companies and individuals that have close links to the DPRK, that have facilitated illicit activity on North Korea's behalf, and that have dealings with UN-sanctioned entities. However, the extent to which Korasia and Senat Shipping's involvement with these flags of convenience has enhanced the DPRK's ability to re-flag its fleet and conceal the true affiliations of its vessel and their management, remains unclear.
The longstanding ties between the involved companies and individuals with North Korea, as well as their past behaviour, points to the need for the governments of these countries to investigate the situation. Questions have already been quietly raised. In 2012, a Niuean MP, eager to ensure that the "Niuean flag of convenience will not be abused," expressed concern about the management of the registry by its Singaporean partner. Larry Dinger, the former US Ambassador to Kiribati and Tuvalu put it (slightly) more bluntly: "Kiribati and Tuvalu have sidled into the clutches of a company and an industry that appear unlikely to benefit the Pacific region or the world."[5]
Further cooperation and information from the relevant government authorities can fill gaps in understanding the management and use of these registries, and ensure that North Korea cannot simply rely on its old friends to facilitate sanctions evasion. All UN Member States have pledged to cooperate to implement the sanctions regime against North Korea. As Leonard Lai himself warned the members of the Singapore Business Federation, "promises, when made, need to be kept."
____________________
[1] United Nations, Security Council, Report of the Panel of Experts Established Pursuant to Resolution 1874, S/2015/131 (23 February 2015), Annex 29, pp. 196-198, available from undocs.org/S/2015/131.
[2] Ibid., 196.
[3] Ibid.
[4] Keun Wook Paik, "North Korea and Seabed Petroleum," Seabed Petroleum in Northeast Asia: Conflict or Cooperation? (2011): 7, accessed June 15, 2015, http://www.wilsoncenter.org/sites/default/files/Keun_Wook_Paik.pdf.
[5] "Cable 07SUVA169, Kiribati new flag of convenience ship registry," Wikileaks, March 18, 2007, accessed June 15, 2015, https://wikileaks.org/cable/2007/03/07SUVA169.html.