North Korea: Long-Range Rocket Launch Unlikely On or Before October 10
A 38 North exclusive with analysis by Jack Liu and Joseph S. Bermudez Jr.
Recent commercial satellite imagery of North Korea's Sohae Satellite Launching Station ("Tongchang-ri") indicates that the fourth launch of a long-range space launch vehicle (SLV), while still possible, is unlikely on or before October 10, the 70th anniversary of the Workers' Party of Korea (WPK). Despite speculation by the international media, there are no signs at the launch pad or the Sohae facility of preparations to launch an SLV. Moreover, in a September 22 CNN interview (updated on September 23), North Korean space scientists stated that it is "very wrong" to "think that we are about to launch a satellite on a particular festival day, on a particular anniversary or on a major holiday" given the difficult scientific challenges of space exploration.
Specifically:
In the September 17 image, the work platforms (the part of the gantry tower that wraps around a launch vehicle to enable personnel to access it), which had been previously enshrouded by an environmental cover to protect it against wind and rain, had been uncovered, revealing that no space launch vehicle or missile was present. Subsequently, on September 21, the work platforms of the gantry tower had swung back forward over the small, square rail-mounted launch pad at the base of the gantry tower. The top segments were once again under the environmental cover but the bottom segment, the largest and widest, remained open and uncovered, allowing visual confirmation that an SLV or missile was not present. The reason for this activity remains unclear but one possibility is that the North is testing the system.
In addition, there were no significant activities at other facilities—nearby fuel and oxidizer storage buildings, the launch control center and VIP housing and the launch control building—where an uptick would be normal if launch preparations were underway.
It is still possible that the North Koreans may be conducting checkout and processing of the rocket stages at the fixed and movable buildings at the east end of the launch pad. They will then be moved to the tower in the next few weeks. If that is the case, a launch is still possible. However, if the stages are not present, and there is no evidence to suggest they are, and the North Koreans follow past procedures for preparations, a launch is unlikely.
Figure 1. Environmental cover was removed from gantry tower.
 Images include material Pleiades © CNES 2015. Distribution Airbus DS / Spot Image, all rights reserved. For media licensing options, please contact [email protected]
Figure 2. Work platforms are closed, with cover replaced only on top segments.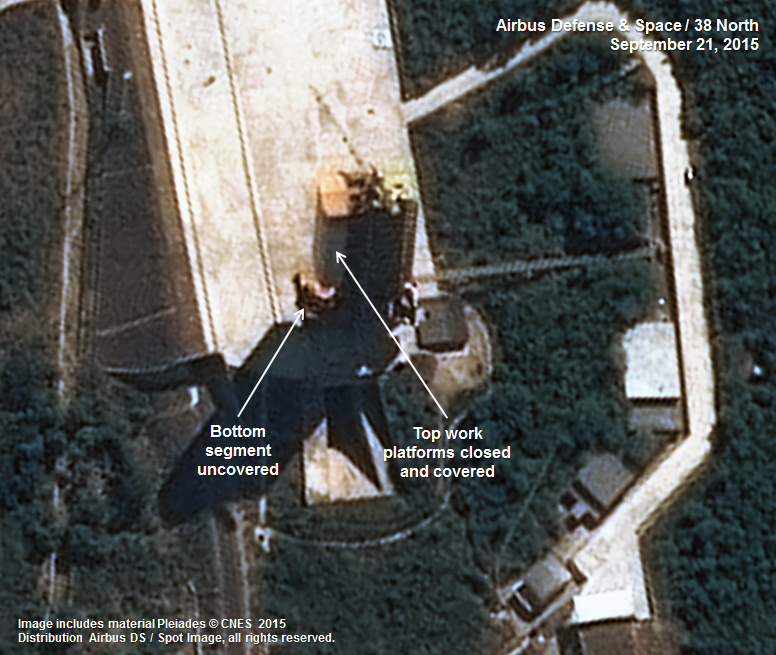 There has also been speculation that the North may be planning to launch a long-range missile with military applications because it has recently completed construction programs—including an underground rail spur leading to the launch pad from the main rail station as well as a shed at that station covering the tracks—intended to conceal preparations. While that remains a possibility, equally or more likely is that these measures were taken to complicate the efforts of outsiders to observe any activities at the Sohae facility including preparations for satellite launches.
In addition, recent imagery also shows continued construction progress at the vertical engine test stand unrelated to any potential launch preparations. The North Koreans have undertaken a modernization effort that includes expanding existing structures, constucting new large fuel/oxidizer buildings and work on the test stand structure itself.
Figure 3. Construction of new fuel/oxidizer buildings at engine test stand begins.
 Images include material Pleiades © CNES 2015. Distribution Airbus DS / Spot Image, all rights reserved. For media licensing options, please contact [email protected]
The most recent imagery indicates the addition of a fourth  new building under construction. The southeast fuel/oxidizer building in now being partially covered with earth. Activity is also noted on the test stand structure itself and a roof-like structure covers most of the top of the stand. This activity suggests that they are commiting themselves to develop the capability to test large rocket engines in the future.
Figure 4. Continued construction on fuel/oxidizer buildings at the engine test stand begins.