Little Activity at North Korea's Sinpo South Shipyard; Recent Media Reports of New Submarine Pens Nearby Incorrect
Recent commercial satellite imagery indicates no significant submarine related activity at the Sinpo South Shipyard, home port of North Korea's sole GORAE-class experimental ballistic missile submarine. Specifically:
In the secure boat basin, the GORAE-class submarine remains berthed at its normal location in the secure boat basin as last seen on July 14. The heavy-lift crane, vehicles and shipping container previously observed dockside are no longer present. The netting suspended over the boat's decks remains in place and no activity is observed on the dock. The submersible test stand barge remains at the same location it has been in for the past three months and two "mother ships" remain in their same locations.
Present on the concrete pad of the test stand—1,100 meters to the southwest of the secure boat basin—is a small cluster small vehicles or pieces of equipment. Whether this activity is in support of ongoing testing or routine maintenance is unclear.
Figure 1. GORAE-class submarine and two mother ships berthed at the Sinpo's secure boat basin.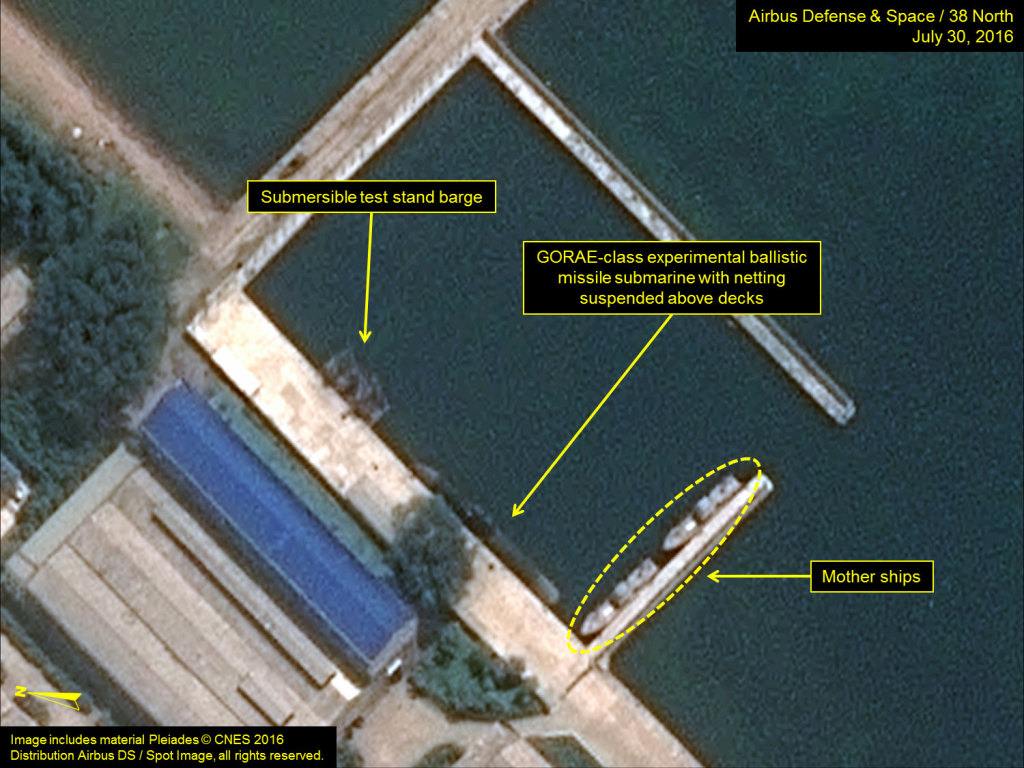 Figure 2. Vehicles or equipment seen on the Sinpo test stand.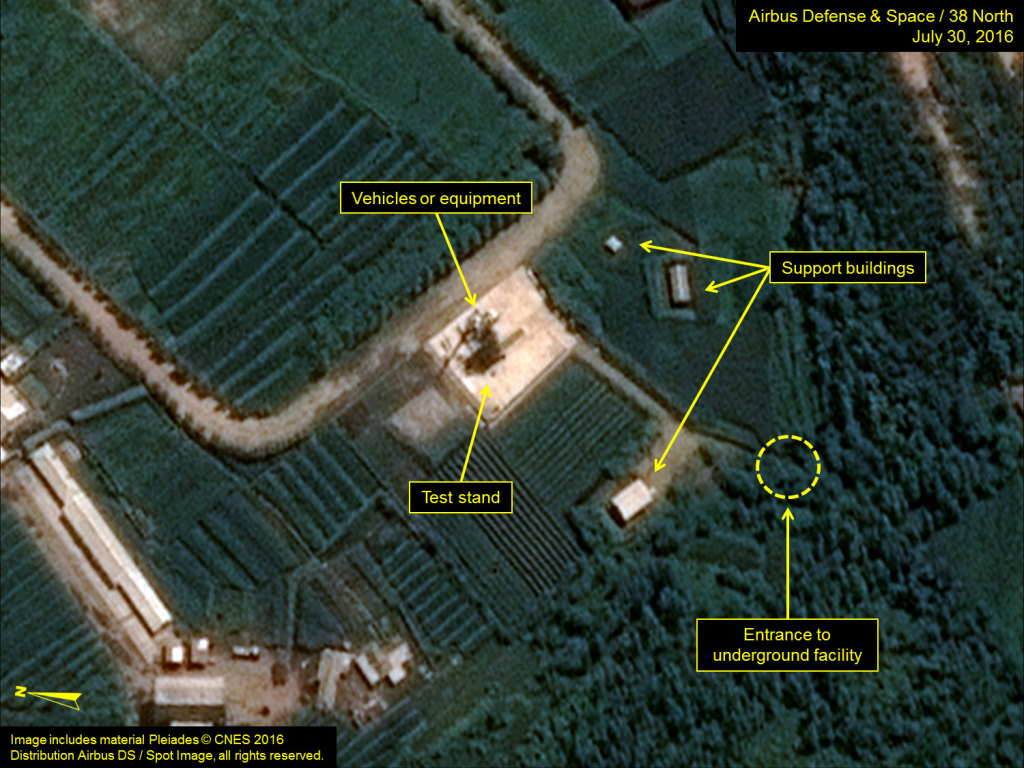 A number of construction activities have been spotted in the area of the Sinpo South Shipyard, the most important of which appears to be taking place on the point of the Yuktaeso-ri Peninsula, 2.3 kilometers south of the shipyard.[1] While media reports have identified this new facility as submarine pens for a new large class of ballistic missile submarines under development by North Korea, that analysis is incorrect.
Figure 3. Areas of construction on the Yuktaeso-ri Peninsula, south of the Sinpo South Shipyard.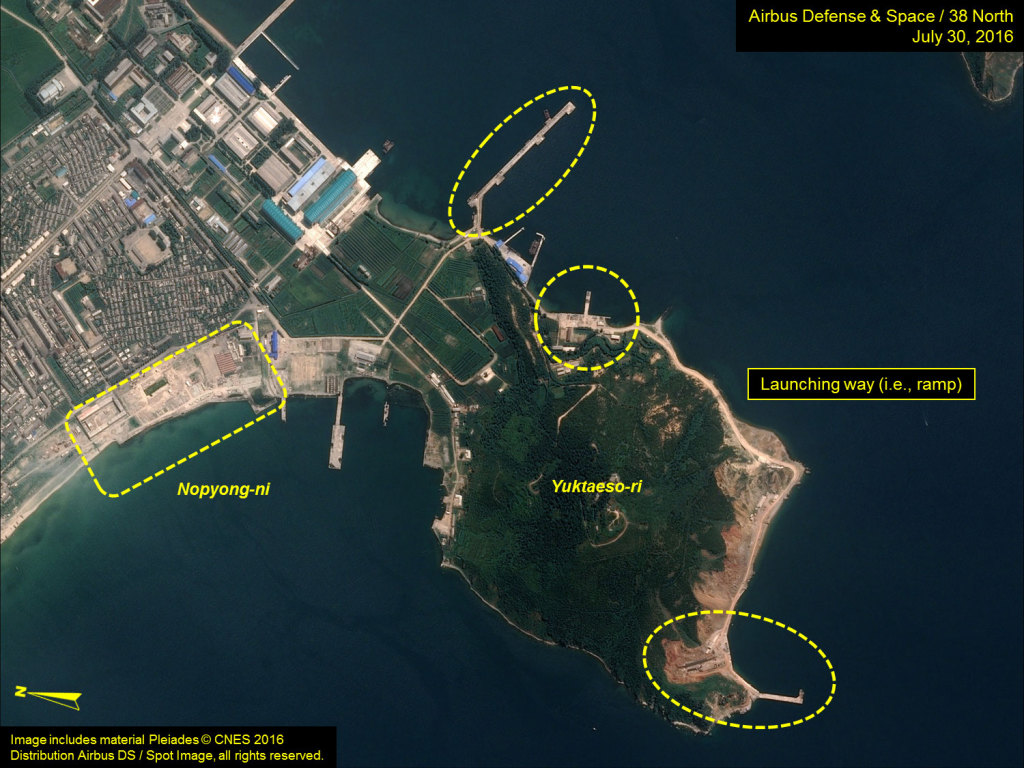 Submarine pens are typified by sea-level reinforced concrete structures similar to those built by Germany during World War II at Saint-Nazaire, France. North Korea has not and does not employ such facilities. Rather, Pyongyang uses "underground berthing" facilities in which a sea-level facility is excavated from under a coastal hill in a manner similar to that seen at the former Soviet submarine base at Balaklava, Ukraine. Those North Korean underground berthing facilities are in protected bays, have two sea-level entrances that face approximately 90 degrees away from open water, are further protected by short, very high, L-shaped, reinforced sea walls, and have blast doors—all to mitigate naval and aerial bombardment. Along the East Sea (Sea of Japan) coast, there are two underground facilities primarily associated with submarine operations—Chaho Navy Base 45 km northeast of Sinpo (generally associated with SANGO- and ROMEO-class submarines) and the Toejo-dong Navy Base, 36 km southwest of Sinpo (generally associated with YUGO- and SANGO-class submarines).
Figure 4. Chaho Navy Base, northeast of the Sinpo South Shipyard.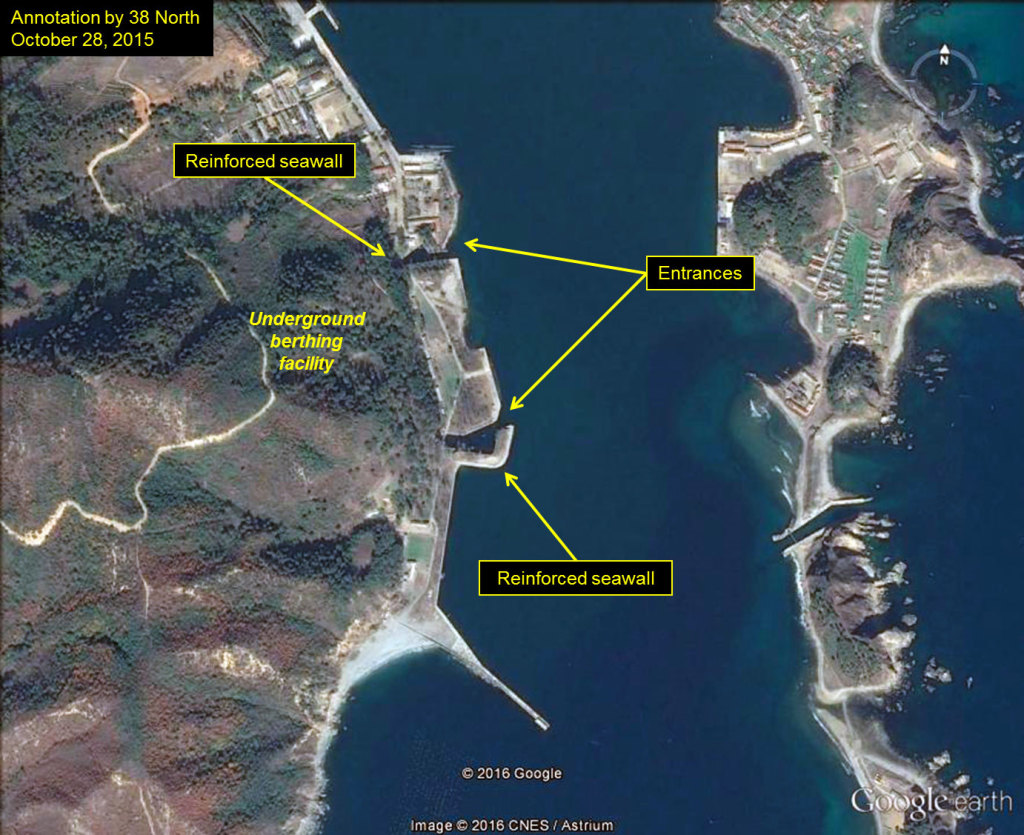 Figure 5. Toejo-dong Navy Based, southwest of the Sinpo South Shipyard.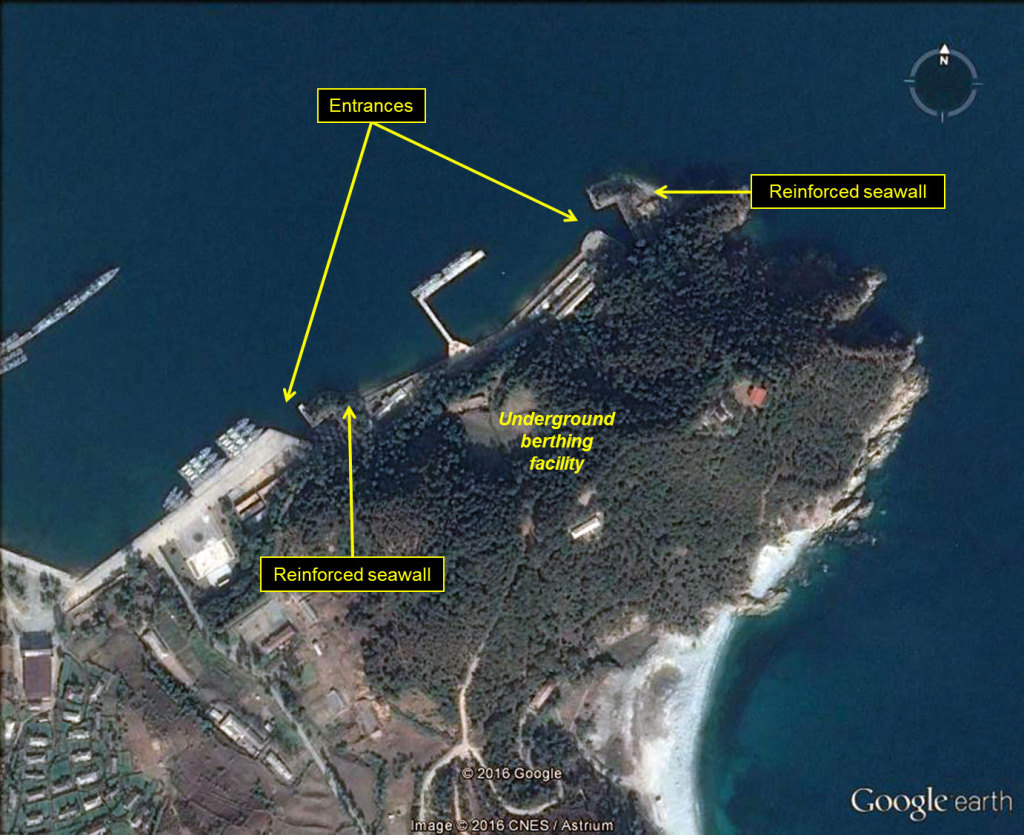 The facility under construction on the point of the Yuktaeso-ri Peninsula currently supports none of these characteristics. It consists of an L-shaped jetty (165-meters-long as of July) and what appears to be a large (110-meters by 15-meters) maritime construction or maintenance hall with a sea frontage 110-meters-long. Furthermore, the facility is above sea-level, has a sea frontage with what appears to be notches for launching ways, does not have two sea-level entrances, faces directly out into open water and is unlikely to have blast doors or high protective sea walls. All of these characteristics strongly indicate that it will not be used for fortified protection of future ballistic missile submarines.[2]
Figures 6-9. Construction at the Yuktaeso-ri Peninsula facilities.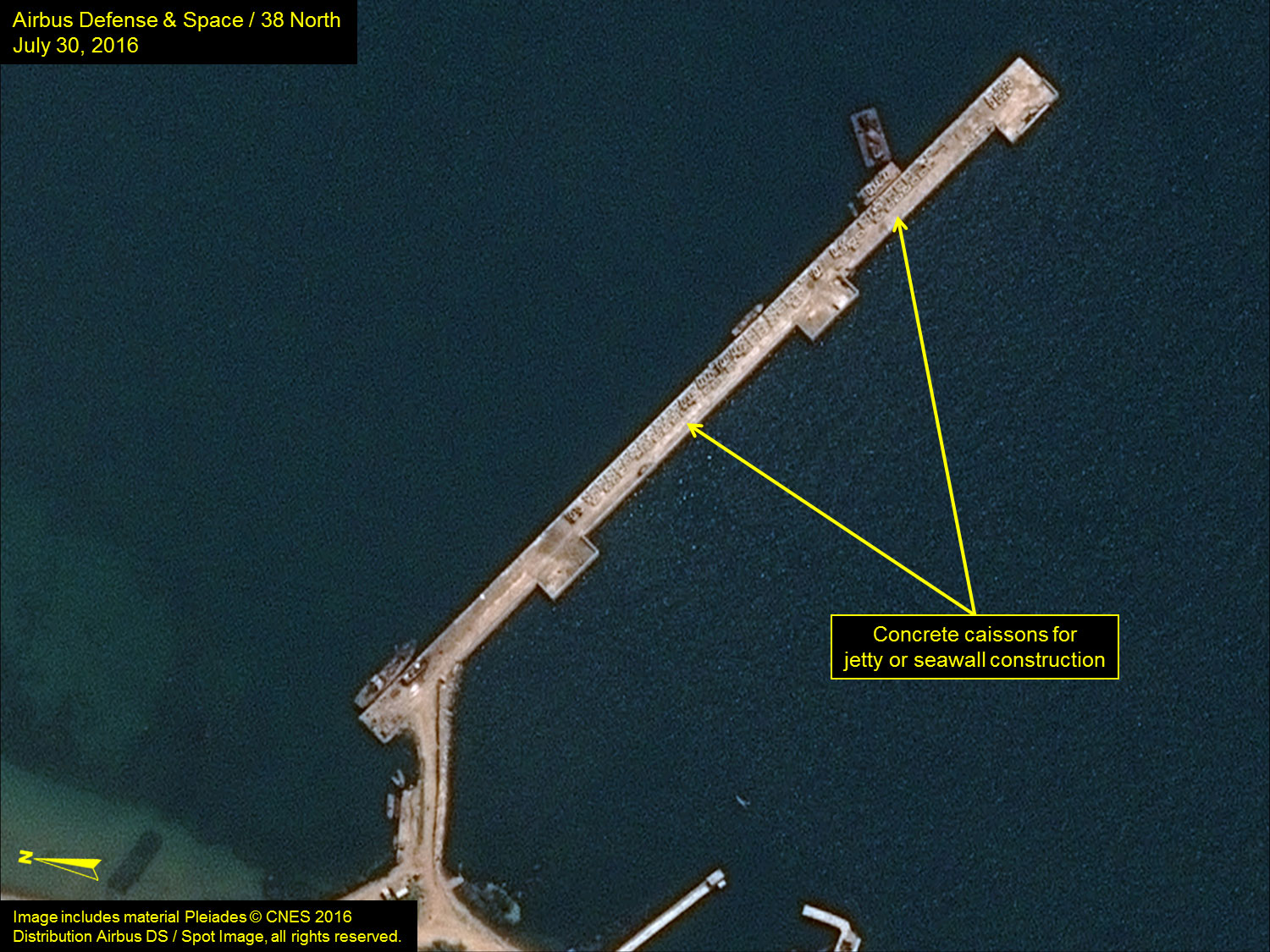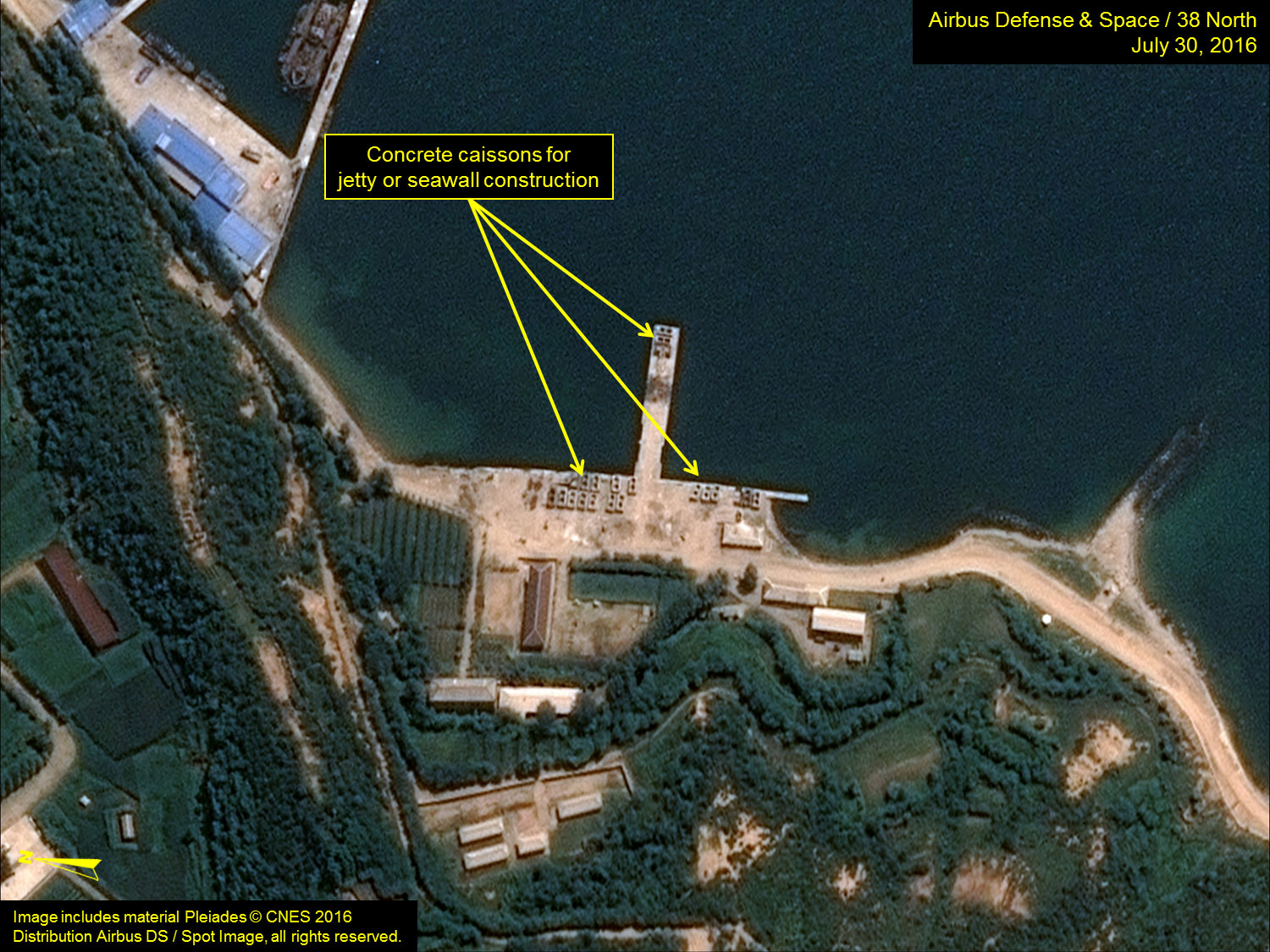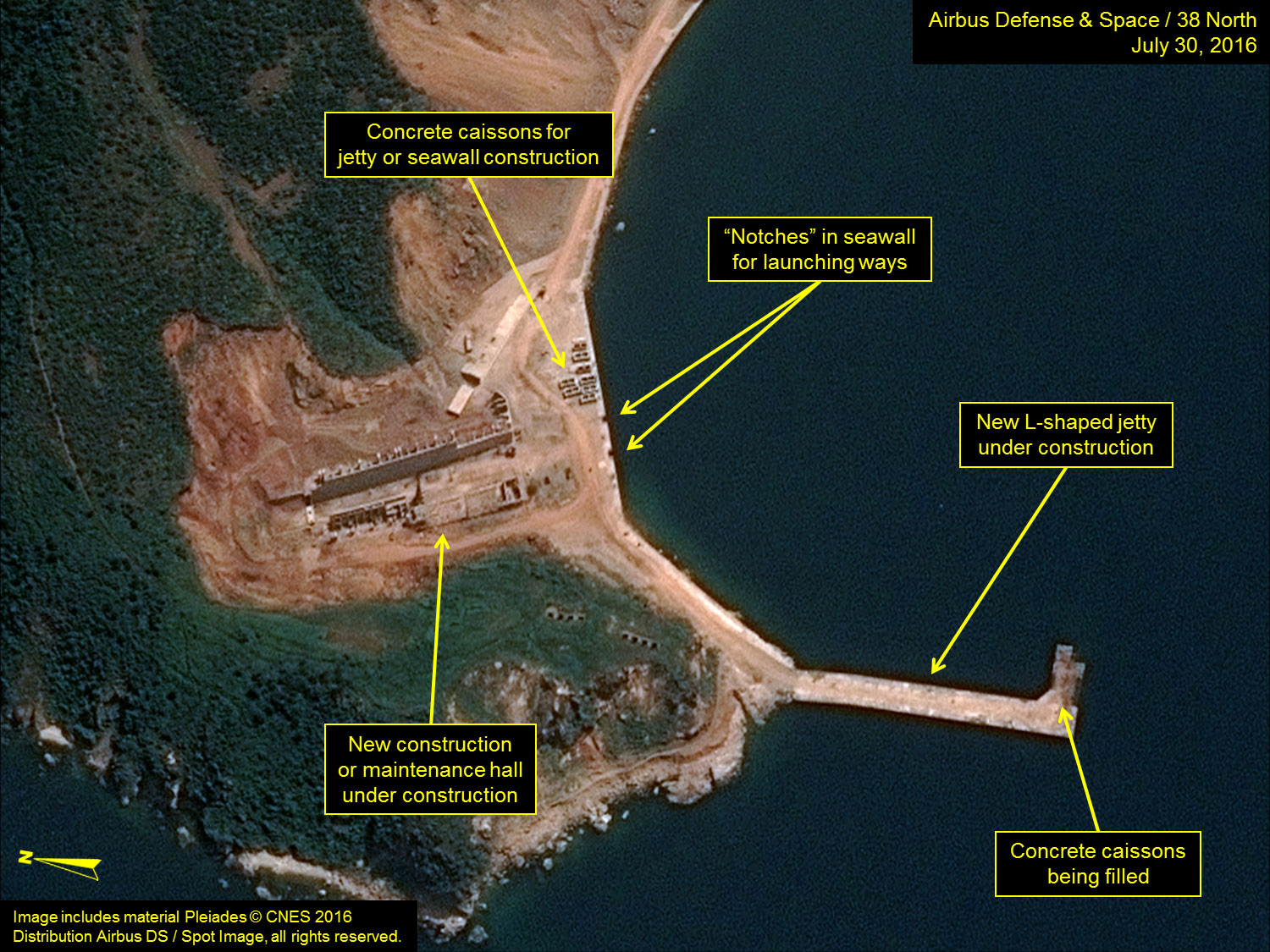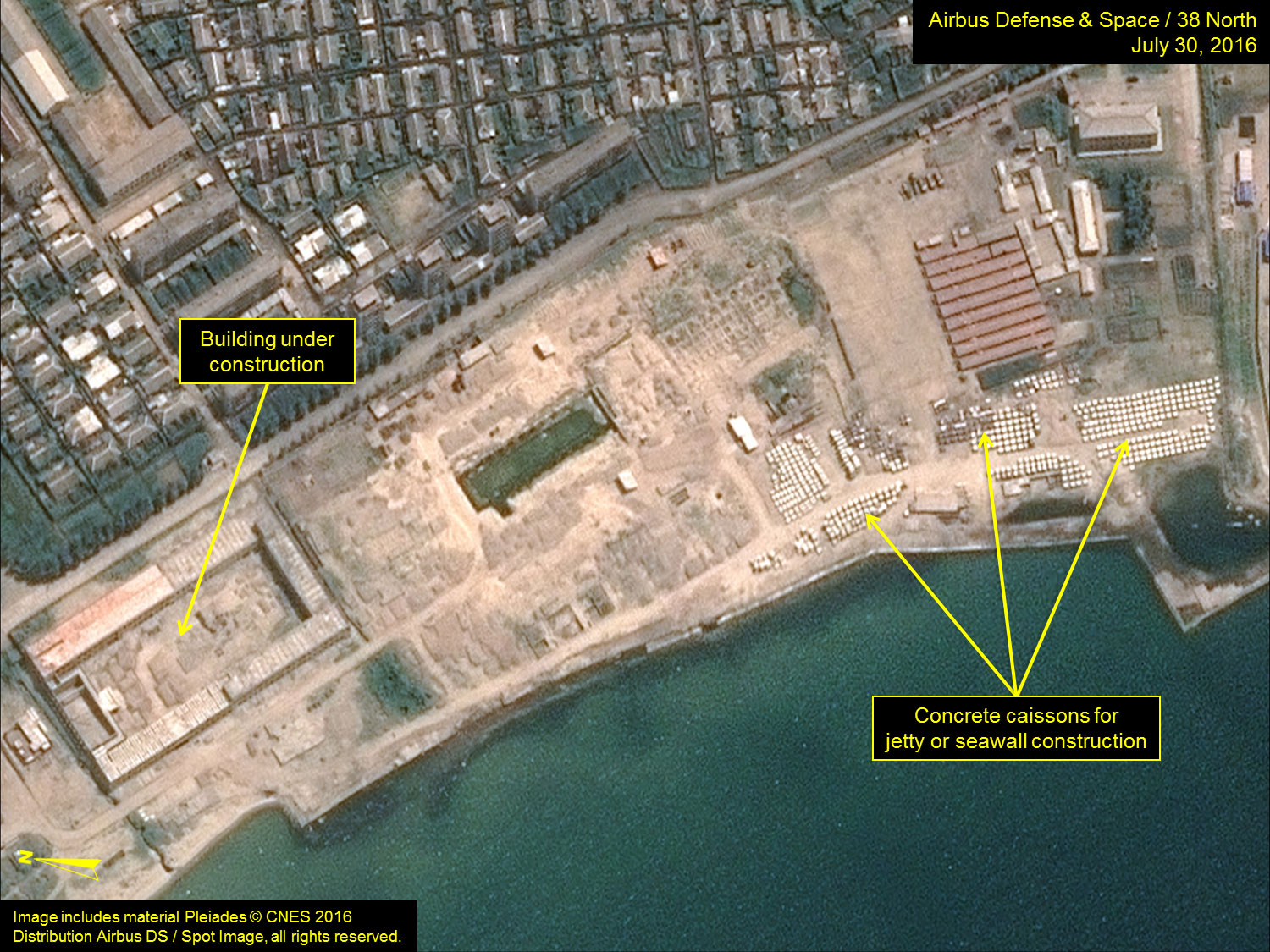 Click on image for close-up of slide. Image includes material Pleiades © CNES 2016. Distribution Airbus DS / Spot Image, all rights reserved. For media licensing options, please contact [email protected].
The Yuktaeso-ri Peninsula facility is, however, clearly maritime related and its proximity to the Sinpo South Shipyard strongly suggests that it is associated with that shipyard. If and how this new facility will be associated with the GORAE-class ballistic missile submarine or future ballistic missile submarines is currently unclear. If it is to be associated with those programs, it is more likely to play a maintenance or construction role.
_______________
[1] The large jetty at the very south end of the Sinpo South Shipyard and a small dock south of that, at Yuktaeso-ri have for the past year been a staging location for concrete caissons for construction of the launching way at the yard's construction halls and the seawall and jetty for a project at the point of the Yuktaeso-ri Peninsula. This latter project appears to be for a maritime construction or maintenance hall. At Nopyong-ni, a small port 500 meters to the west, it appears that a small revitalization project begun in 2015 is continuing. And, since early 2016, concrete blocks—likely for the repair of the seawall and piers—are being stockpiled. This project does not appear to be related to any of the construction efforts at Sinpo or Yuktaeso-ri.
[2] It is conceivable that once the Yuktaeso-ri Peninsula facility is complete, it could be partially or fully covered with earth. This, however, would not provide anywhere near the protection of a typical North Korean underground berthing facility.