North Korea's Sohae Launch Facility: Activity at Launch Pad and Rocket Engine Test Area
Summary
Commercial satellite imagery from October 1 supports recent reports of increased activity at the Sohae Satellite Launching Station, including crates on the launch pad next to the gantry tower and vehicles near the fuel and oxidizer buildings. However, since both the gantry tower and the assembly structures on the launch pad are covered, it is unclear whether this activity is related to launch preparations or other operations. Additionally, work continues at the vertical engine test stand.
Launch Pad
Recent commercial satellite imagery from October 1 shows crates next to the gantry tower on the launch pad and several large vehicles in front of the newly built fuel/oxidizer bunker. However, environmental covers make it impossible to observe if a space launch vehicle or related components are located at the gantry tower or have been moved into the assembly structures.
Figure 1. Activity at the Launch Pad.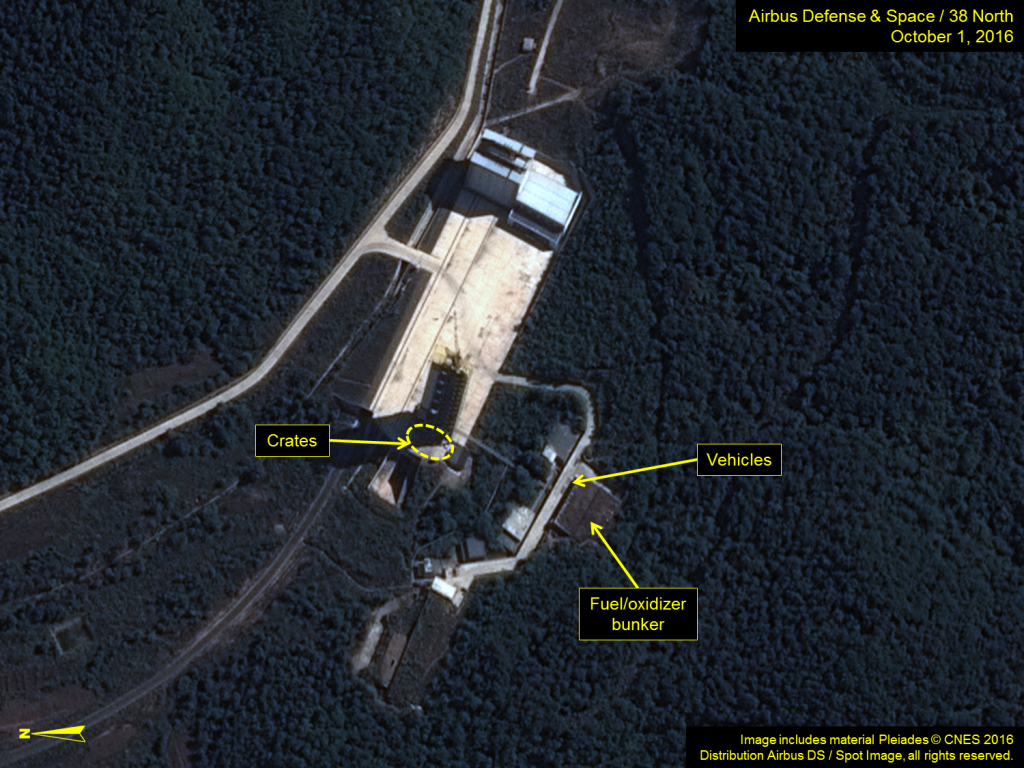 Vertical Engine Test Stand
Imagery from October 1 shows the rail-mounted environmental shelter located next to the test stand indicating ongoing work whose purpose is unclear. It may indicate preparations for a  new engine test or continued work at the test stand in the aftermath of the September 20 engine test.  (The vegetation burn area from that test is almost double the area of previous tests.)
Figure 2. Extended vegetation burn area evident at Vertical Engine Test Stand.