Spring Has Sprung at Punggye-ri, but a Sixth Nuclear Test Likely Still on Stand-by
Commercial satellite imagery of the Punggye-ri Nuclear Test Site from May 18, 2017, shows a relatively low level of activity around the North Portal, where test preparations have been observed this year. However, at the Main Administrative Area, new equipment/material deliveries are observed and possible building construction has started where a small support building was razed late last year. While the site appears to continue in stand-by mode, a sixth nuclear test could still be conducted at any time with minimal advance warning.
North Portal
Satellite imagery from May 18 shows only minor activity at the North Portal. There was at least one probable rail cart on the track going out to the spoil pile, but no evidence of recent dumping of excavated material, indicating there has been no new tunneling activity. The view angle and resolution of the image, combined with the springtime vegetation growth, make observation of the tunnel entrance itself difficult. However, there does appear to be less water in the drainage ditch leading from the tunnel compared to earlier this month.
Figure 1. Minimal activity at the North Portal.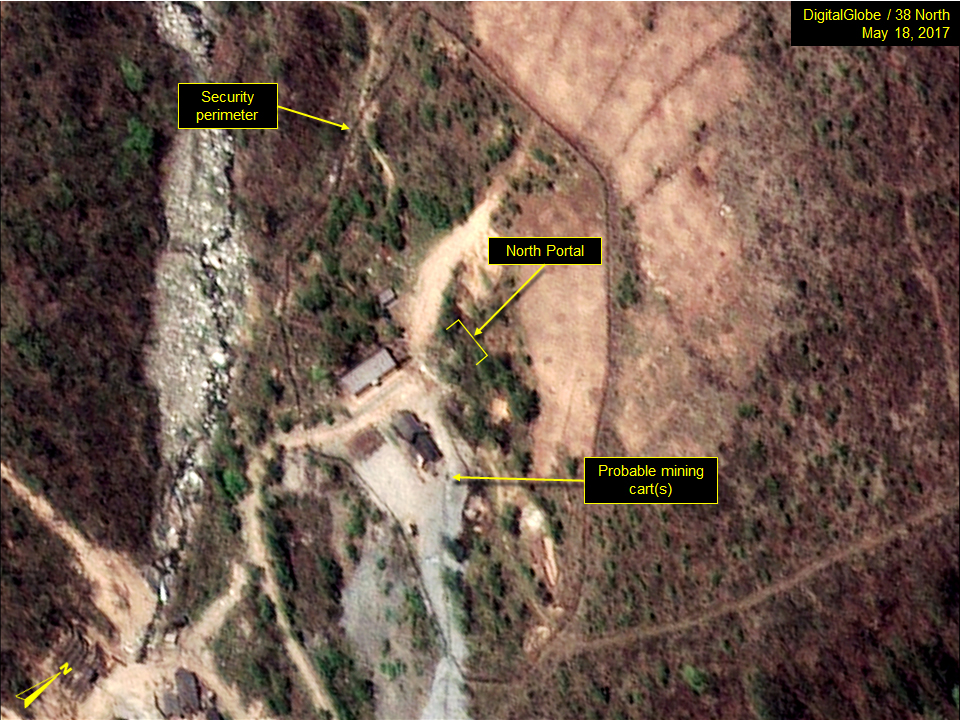 Figure 2. No evidence of recent dumping on the North Portal spoil pile.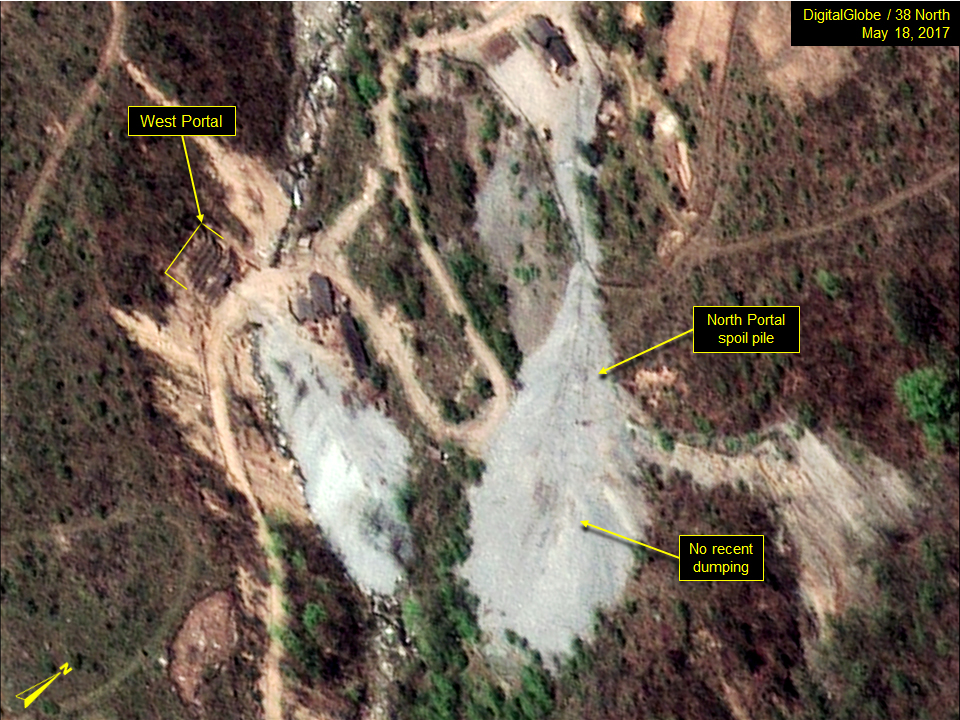 Other Areas
In the Main Administrative Area (the main test support area), at least three personnel were present in the upper courtyard; a probable tarp or tent (~4 m x 10 m), covering equipment/material or supplies for an unknown purpose, is in the lower courtyard near where a dark-toned vehicle was observed on May 3. There was also another light-toned piece of equipment/material noted near the greenhouse.
Some plantings appear to have started growing within that greenhouse as evidenced by mottling green and reddish patterns seen through the glass roof.
There is new construction activity just south of the Main Administrative Area in an area where a small (~5 m x 14 m) support building had been razed by November 2016. Additionally, at least two probable blue sheds or shipping containers were newly placed near that construction area, just east of a larger support building.
A small light-toned, box-shaped object/vehicle was in the road within a separately secured area southwest of the Main Administrative Area, near the South Portal. That area had apparently previously served as a security forces training area (which included an obstacle training course). However, since being separately secured, that area now seems to serve a different, as yet unknown function.
No new activity is discernible at either the South or West Portals or the Command Center and there are no vehicles or personnel in these areas. There were also no vehicles observed on the road between the Portals Area and the Command Center, but it should also be noted that large portions of that road are now obscured with vegetative cover.
Figure 3. Personnel and new equipment/supplies observed in the Main Administrative Area; new construction and activity just south of the support area.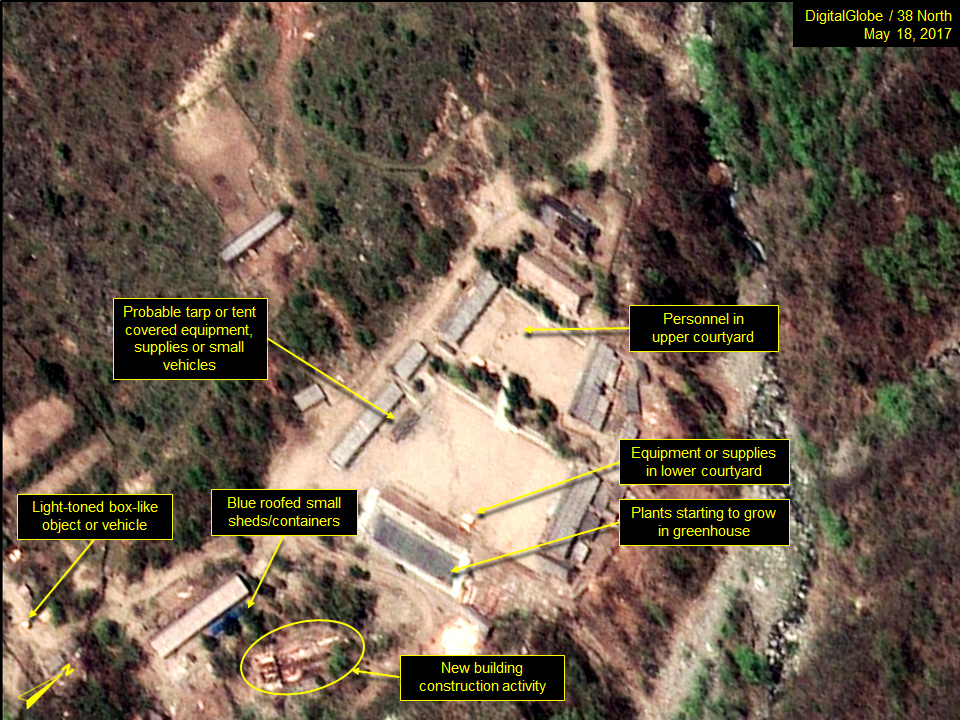 Figure 4. Close-up of new construction activity.
Figure 5. Area of new construction relative to the South Portal.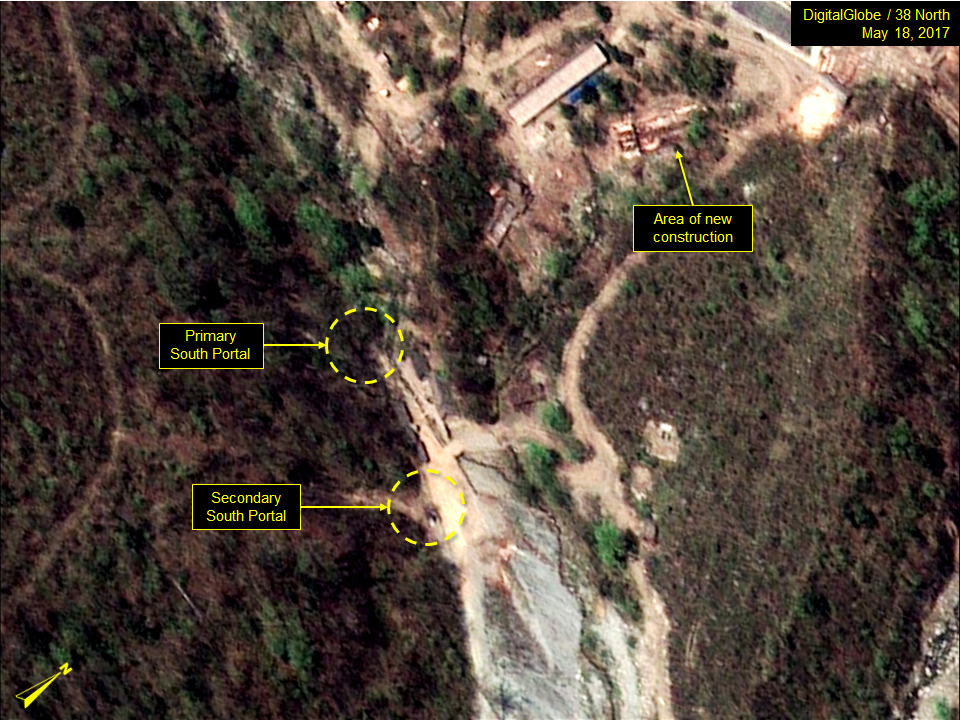 Implications
Given the unusually high level of activity observed earlier this year with no subsequent testing, and no significant new activity at the North Portal, a nuclear test has most likely been postponed and the facility remains in stand-by mode. However, other more innocuous activities (likely part of ongoing maintenance and repairs) are continuing within and near the Main Administrative Area. As long as the site continues in what likely is stand-by status, a sixth nuclear test could be conducted at any time with minimal advance warning.