Quick Takes: Work Continues on the Submersible Sea-launched Ballistic Missile Test Stand Barge at Nampo
Commercial satellite imagery from January 6 indicates work on North Korea's second submersible ballistic missile test stand barge,[1] berthed at the Nampo Navy Shipyard, is ongoing. Since the last report, when the barge was moved to the nearby fitting-out dock, there is now a small floating crane moored alongside the barge and its boom is extended over it. The purpose of the work is unclear. However, it is probably related to final stages of repair before declaring the barge operational since both the test stand barge and floating crane are located at the fitting-out dock.[2] It is unclear when the barge will become operational.
Figure 1. Work continues on submersible test stand barge seen at Nampo Navy Shipyard.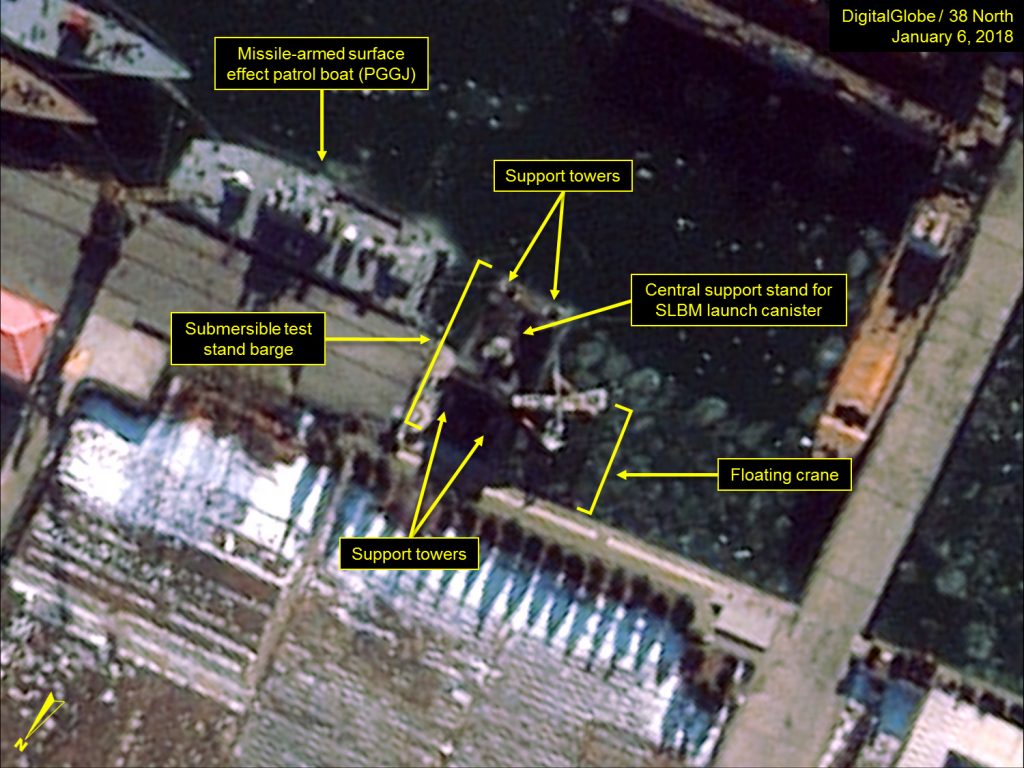 ---
[1]

The first submersible ballistic missile test stand barge was acquired during 2014 and is based at the Sinpo South Shipyard. This barge supports the development of the Pukguksong-1 SLBM and the SINPO-Class experimental ballistic missile submarine (SSBA). Both barges appear to be identical in size (~9 meters-by-22.5-meters) and are very similar in size and layout to the old Russian PSD-4 test stand barges.

[2]

The fitting-out dock is where vessels are positioned when their hulls are sound yet they require systems (e.g., pumps, electrical, communications, etc.) to be installed and minor work completed prior to being placed into service.
---